One thing I've always felt really sad about is the fact that we do not have an oven. I had a stay home mama who loved to bake and could bake really well. I remember that it was nice to wake up to the smells of baked goods in the morning and to be able to hold a freshly baked warm biscuit or cake in my little hands for tea. I also distinctly remember staying up past my bedtime, helping my mom with whatever she was baking. Our electric mixer was spoilt since I was a little girl and it needed little hands to manually turn the mixing bowl to achieve an even mix. I usually do this job, while my mom huddled over the wok cooking things like pineapple filing for pineapple tarts.
My mother hadn't had the chance to bake for a long time because her oven had broken down. I was deliriously happy that my airfryer could bake. When the hubby went travelling again for business, and my in-laws went on holiday at the same time, I brought the airfryer home to my mama for her to have a go at it.
As a seasoned baker, my mama asked questions. "Are you sure this thing can bake?" "How does it work?". I spent some time trying to explain rapid air technology to her but it worked fastest and easiest when I showed her this picture: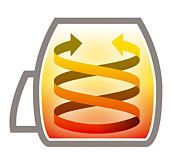 After that she said "Oorr" (you can interpret it as "I see") and we got down to work.
She's kept her old, just a little broken down mixer and the orange weighing scale we used to use so often. When she brought them out, memories flooded my mind. We work in the same way as before — I ask too many questions and want to do too many things on my own, she by the sideline correcting grievous mistakes. Only now, I'm a mother of one, and I no longer needed to stand on a chair to reach the table.
We made a really decadent Chocolate Lava Cake that day. It turned out just the way I like it, I'll show you: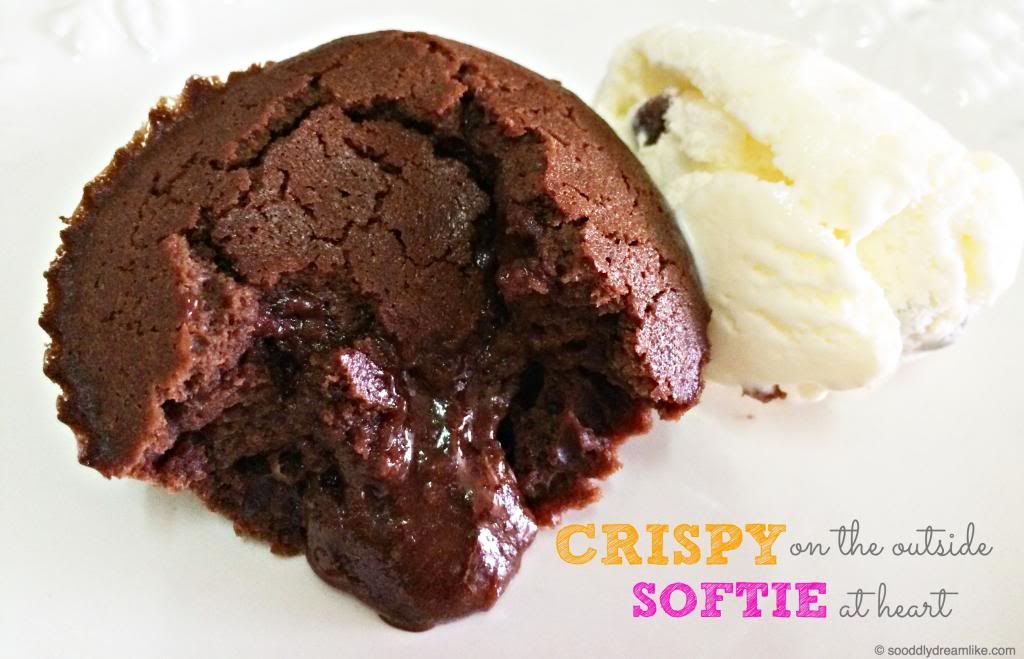 It is extremely rich and decadent but once in a while, you gotta live on the wild side. I made double the portion so that we could have enough to send some around our kampung. The neighbours were thrilled.
Chocolate lava cake is really easy to make and I have my mama's permission to share this with the whole wide world. Sure, there are plenty of such recipes out there, but this is the one my mama taught me.
Ready?
Ingredients
Chocolate mixture
25g dark baking chocolate, chopped
125g butter
Fresh orange juice from 1/2 an orange
"Creamy" Mixture (as my mom calls it)
2 eggs
70g fine caster sugar
1/2 teaspoon milo powder
Dry mixture
75g Hong Kong Flour
1 pinch baking powder
1 pinch salt
Secret Ingredient
Pieces of Chocolate / Truffle of your choice
*Before you select your chocolate, see tip from my mama at step 6 below
Method
(1) Melt the chocolate and butter slowly in a bowl placed on top of a pot of boiling water.
Tip from the mama: You can use any good baking chocolate but nothing beats Valrhona baking chocolate ( we used Guanaja 70% because "for a cake like this, only the best chocolate will do"). Also, bring the chocolate and butter out first while you are getting the other ingredients / setting up, so that they can melt faster and you dun over cook the chocolate.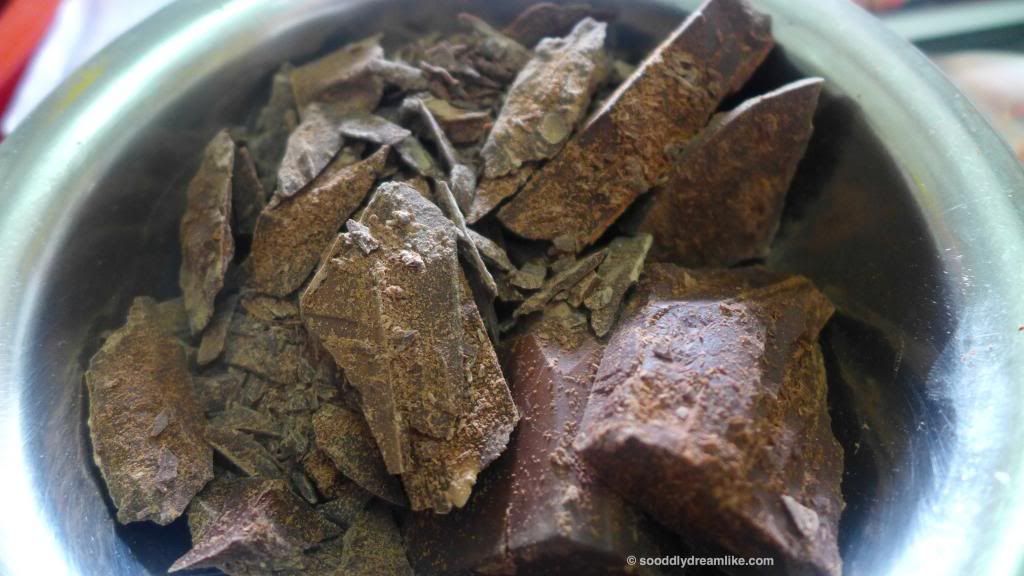 (2) When the chocolate and butter are completely melted add orange juice gradually and stir to combine. We juiced one orange, used about 3/4 cup for 2 times the amount of ingredients, so I estimate, you'll need juice from half an orange or less.
Tip from the mama: Add gradually, half cup of orange juice is around the amount needed but if you see that the orange juice cannot mix well into the mixture anymore, it's time to stop adding.
(3) Mix the "Creamy mixture" (i.e. eggs + sugar + milo powder) with an electric mixer (you can use manual strength but it's hard work) to a creamy consistency, like so: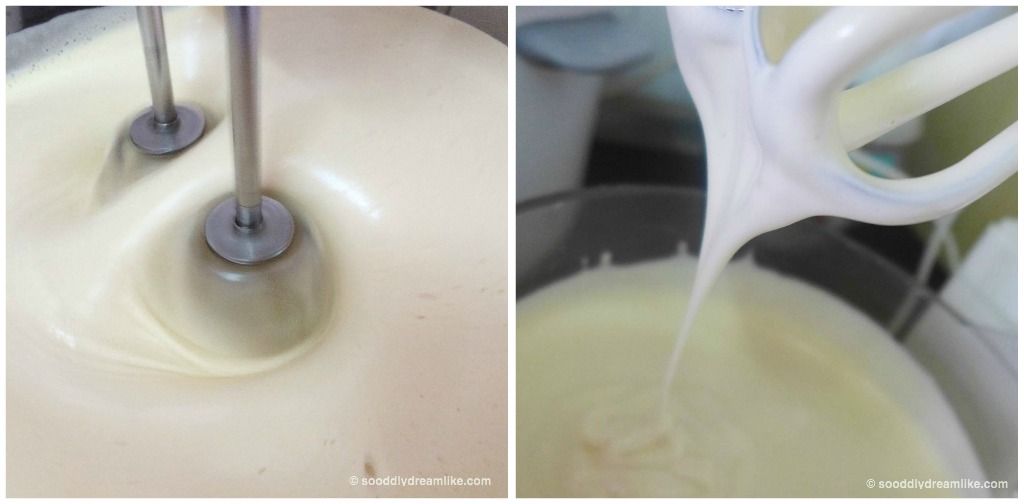 Tip from the mama: Start mixing while you are melting the chocolate, it takes a while.
(4) When the creamy mixture is done, add the Chocolate mixture into the Creamy mixture into your mixer, mix until well blended together before gently stirring in the flour, baking powder and salt. You must do this gently but quickly to avoid losing the bubbles of air incorporated in your mixture while you were mixing. When you get a smooth chocolate-colored mixture without lumps of flour, you're done.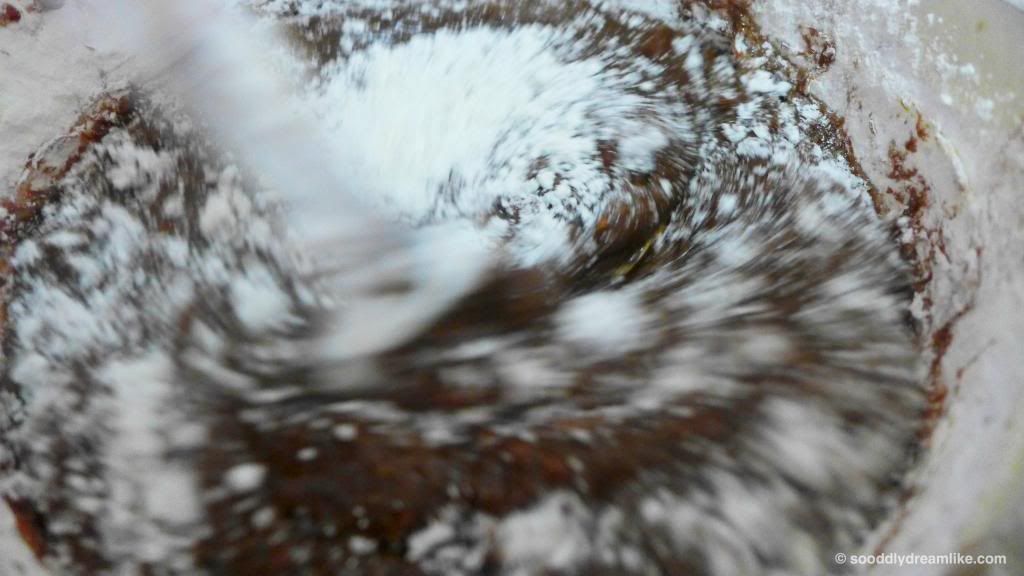 (5) Preheat the Airfryer to 180 degrees C for 5 minutes (so technically, the next step should take only about 5 minutes).
(6) Pour mixture into baking container of your choice, halfway. I don't normally like silicon but we didn't have others on hand, so we used these silicon cupcake baking containers. Now for the secret ingredient. Drop chocolate / truffle of your choice into the batter and hide cover them up with more batter. Fill each container only about 80% full.
Tip from the mama: If you have a very sweet tooth, you can choose sweet chocolate but because the cake itself will be very rich, my mama says it's usually best to use bittersweet chocolate in order not to overkill on the chocolate. It's true, I used good sweet dark chocolate with nougat and it was just a tad too sweet for me although totally delicious for the brother)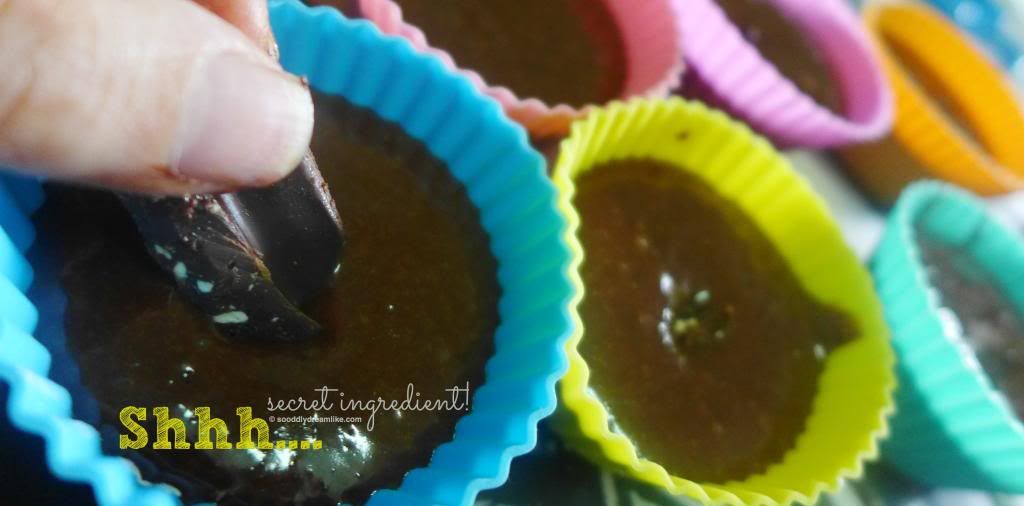 (7) If you're using baking containers that are not silicon, you'll need to butter the bottom and sides, so that your cake can be removed more easily after baking. When you've filled up your containers, place them in the basket of your Airfryer, set the temperature for 180 degrees and timer for 8 minutes. And bake!
Tip from the mama: Baking time depends on the type of container you use. We tried 8 minutes in the first instance and it was just right for our regular sized cupcake molds but, if your baking container is deeper you can try about 10 minutes (she tried on a separate occasion on her own and it was just right).
I have the Philips Avance XL Airfryer ( LOVE!!!) and it was large enough for me to fit in a total of 7 normal sized cupcake molds. I think 8 is possible.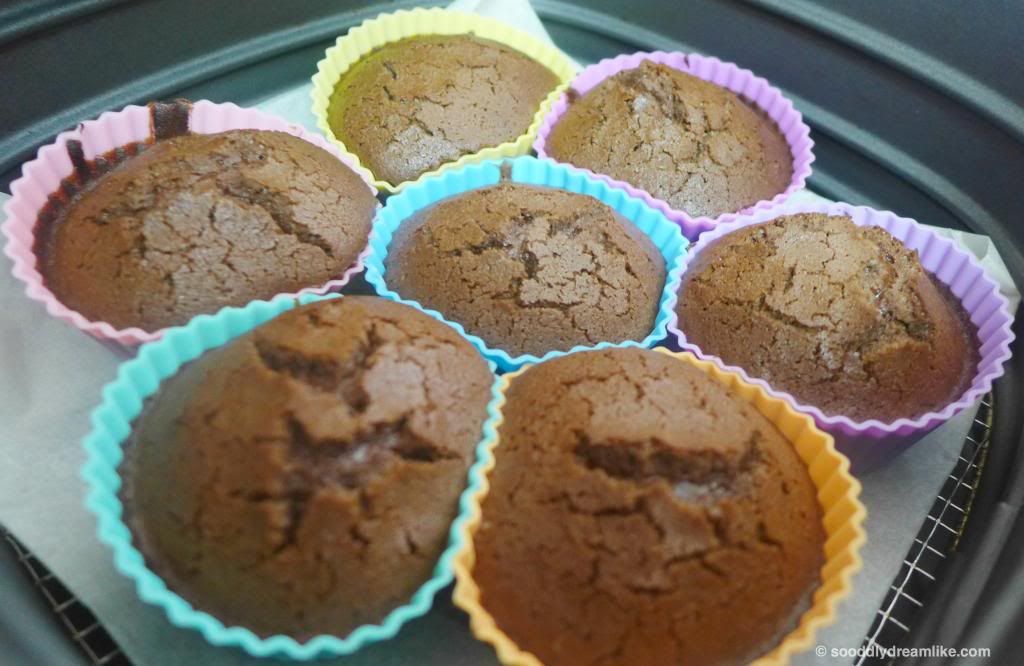 Here's the final outcome again: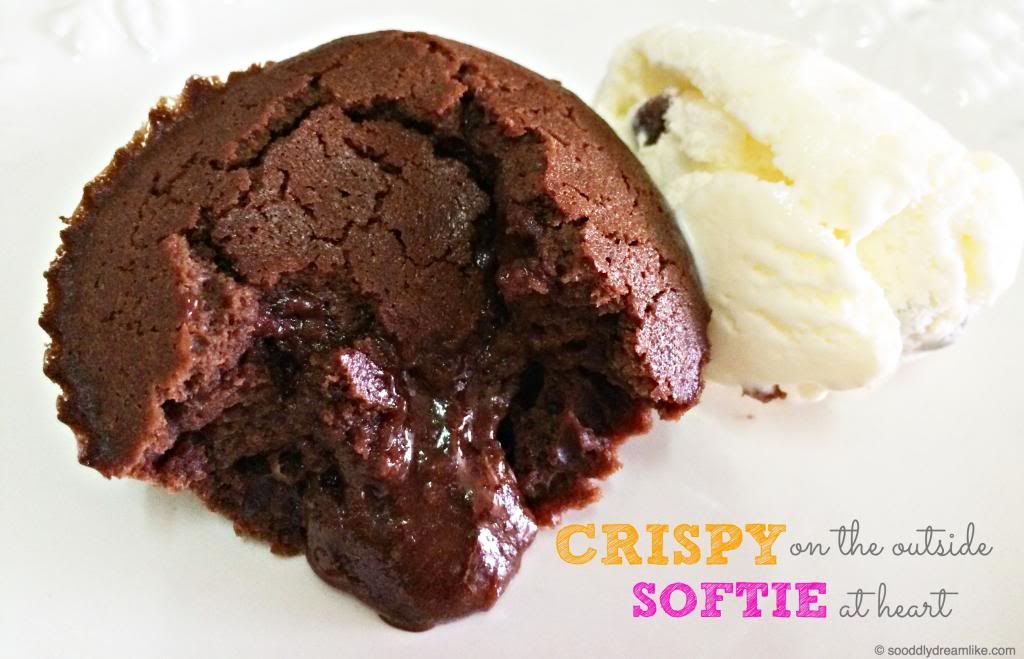 The chocolate lava cake with a crispy crust, moist cake and rich chocolate oozing out from its heart. Serve immediately (read: hot) with a scope of vanilla ice-cream.
Just in time for Christmas! Have a happy one!
COOK WITH AIR TODAY!
Quote SoOddlyDreamlike and buy the Viva Digital Airfryer at $399 (Usual price: $459), FREE $50 SHOPPING VOUCHER and Avance XL Airfryer at $479 (Usual price: $539), FREE $50 SHOPPING VOUCHER at the PHILIPS EXPERIENCE SHOWROOM. This promotion is valid from 1st December till 31st January 2014. Limited to 1 Airfryer per person. IC must be produced.
PHILIPS EXPERIENCE SHOWROOM
Address: 620A Lorong 1 Toa Payoh Building TP4 Level 1 S(319762)
Tel: 6882 5800
Opening hours: Monday to Friday: 9.00 am – 7.00 pm Saturday: 9.00 am – 1.00 pm.
Closed on Sundays and Public Holidays.
The Viva Digital Airfryer and Avance XL Airfryer are also available at regular prices in leading electronics stores, department stores and supermarkets island-wide.
Keep life simple with the PHILIPS Avance Collection Airfryer XL with Rapid Air technology (S$539). Available in stores in December 2013 at leading electronics and departmental stores.
Disclosure: I received the Philips Avance XL Airfryer for reviewing purposes. No compensation was received for this post. All opinions are my own