When I get time off, I enjoy going where I can rest my mind and replenish my energy. Eating out is as much about absorbing positive, restful vibes from the atmosphere and refreshing my mind as it is about feeding my body.
Last Sunday, I had brunch at Outpost No. 903 Gastrobar, a place drenched with heritage and now decorated with nostalgia. The restaurant lives in the Tin Tee House, a rare single story shophouse built a long time ago. Just being there, soaking up the beauty of the building, was an experience in itself.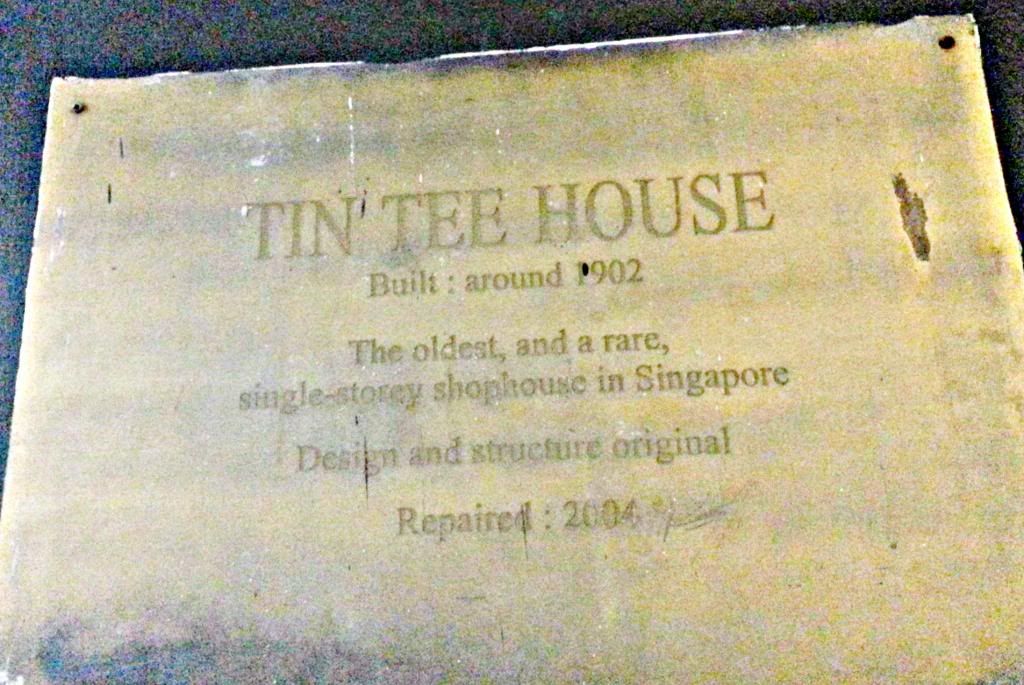 I love the beams and the structural beauty that can be observed, if you look carefully. In fact, when I first stepped into the restaurant, I was a little in awe. One can't help wondering who were the earliest occupants of Tin Tee House and what did they do in this place. I tried to research but could not find anything, so it remains a mystery to me.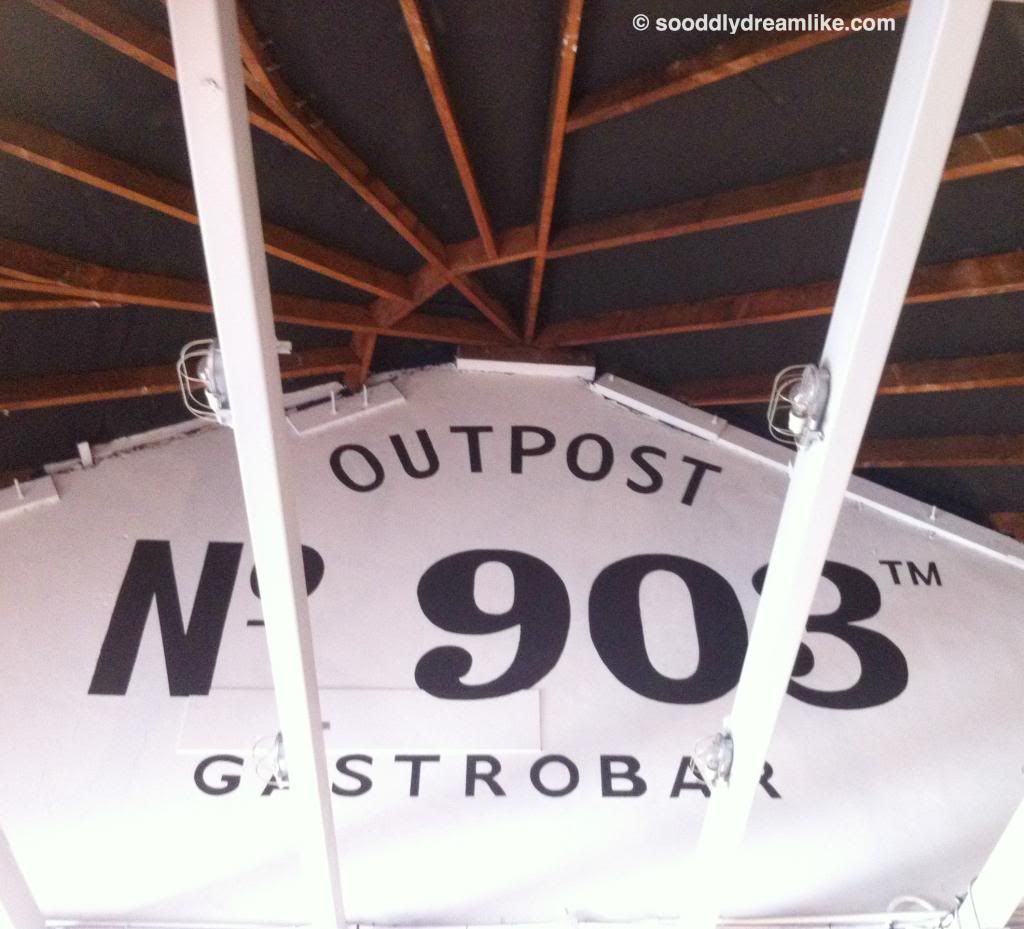 The decor were sourced from Vietnam and they are charming pieces with stories of their own. Like a beam that was originally part of a railway track and mismatched chairs with personality of their own.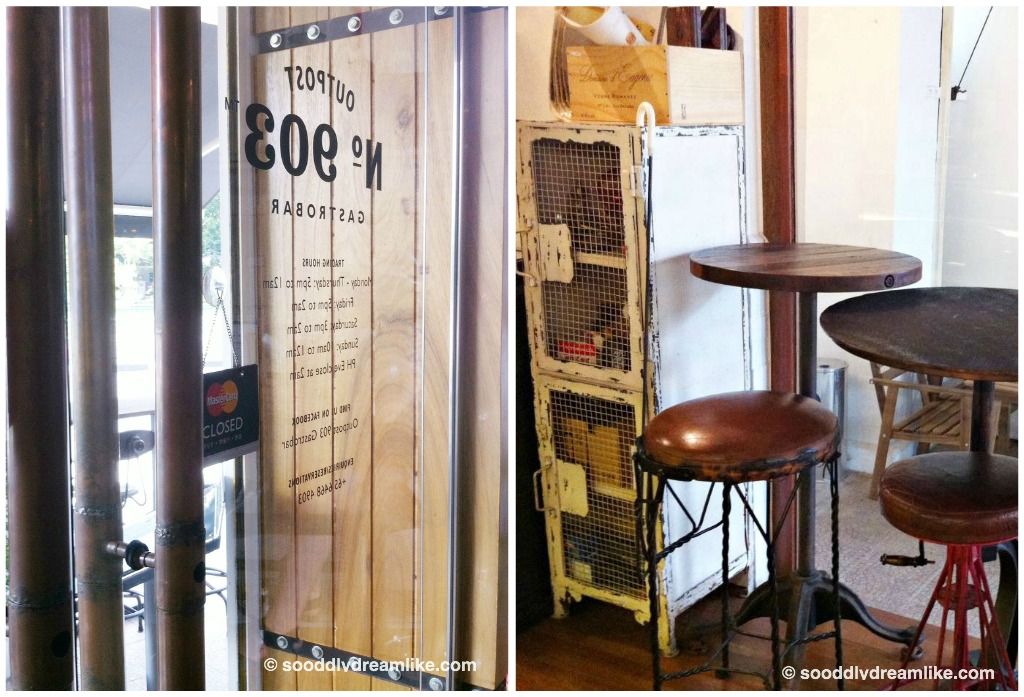 I am particularly fond of these interesting lights.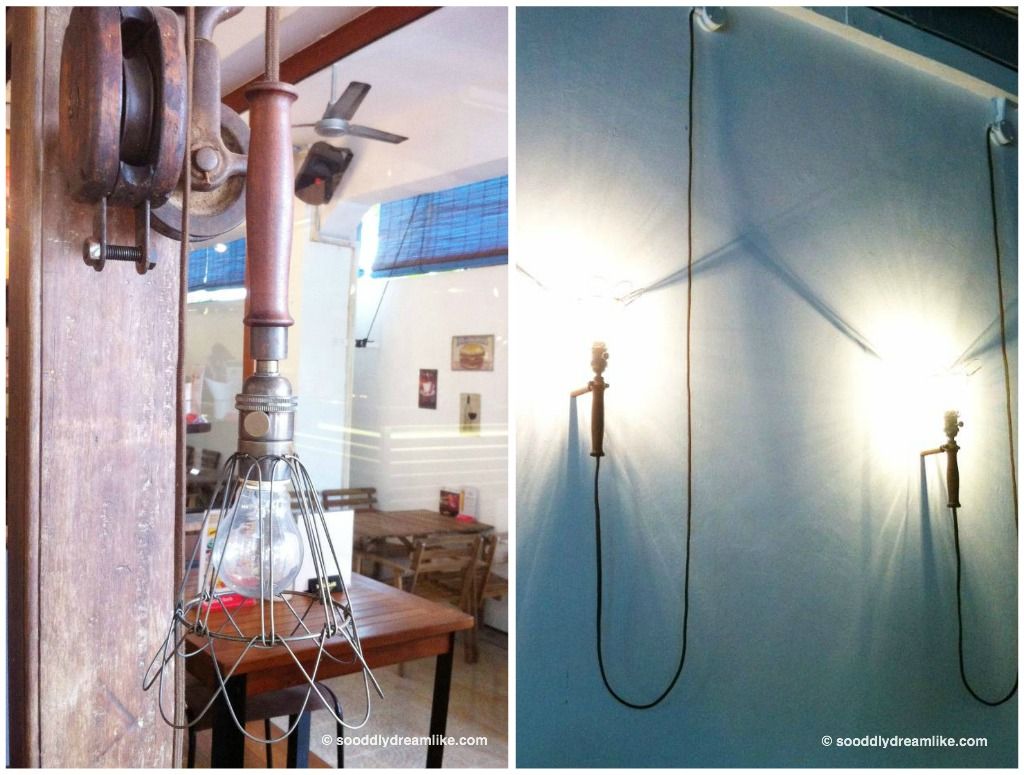 Even these accessories, sold within the restaurant (actually a brand owned by one of their customers) are special in their own right. "Kampung spirit" says lady boss Lin Youyi (Iriana Halim), better known as ex-presenter on Channel 8's Good Morning, Singapore!. You Yi co-owns the restaurant with her husband, Alfred.

I almost forgot, I was there for a food tasting session. Specifically their Sunday Brunch menu, available only on Sundays from 10am to 5pm (have you seen the pictures on my instagram?).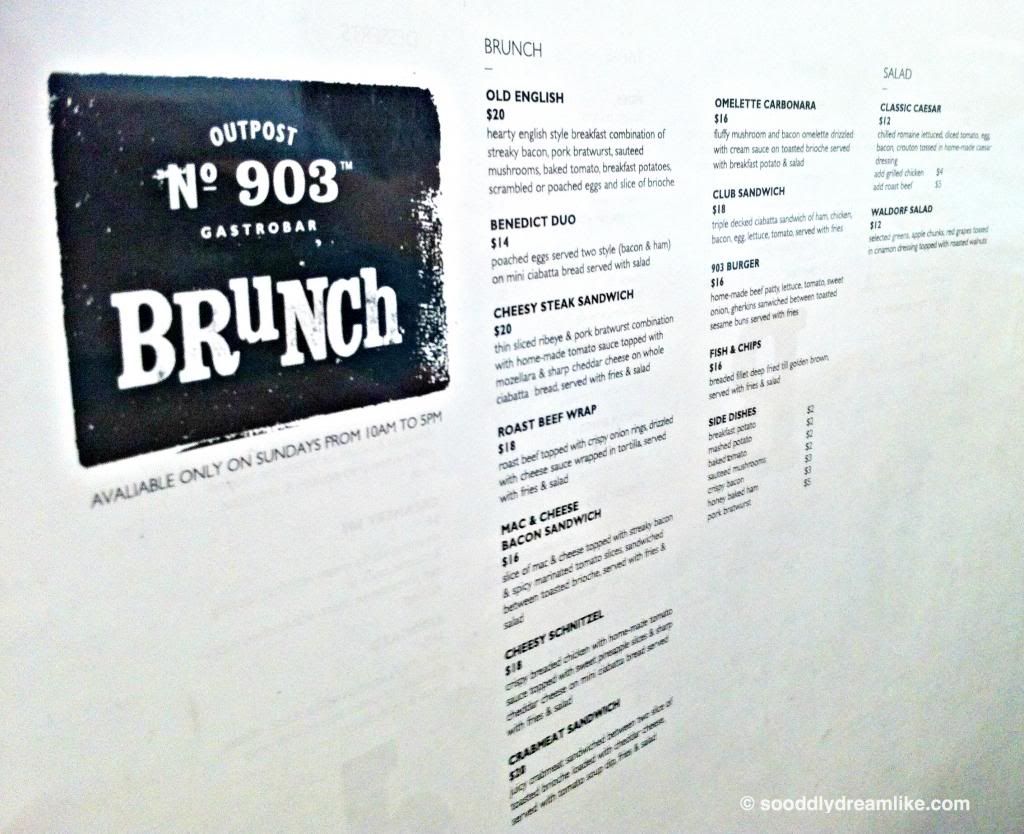 I'll like to start first with the 903 Burger ($16) which has a home made beef patty, lettuce, tomato, sweet gherkins and sweet onions and is topped with a perfect sunny side up. This burger is constructed with some of my favourite things. We shared the burger as there was so much good food on the table and, lucky me, I had the bit with the warm, perfect egg yolk. Delicious!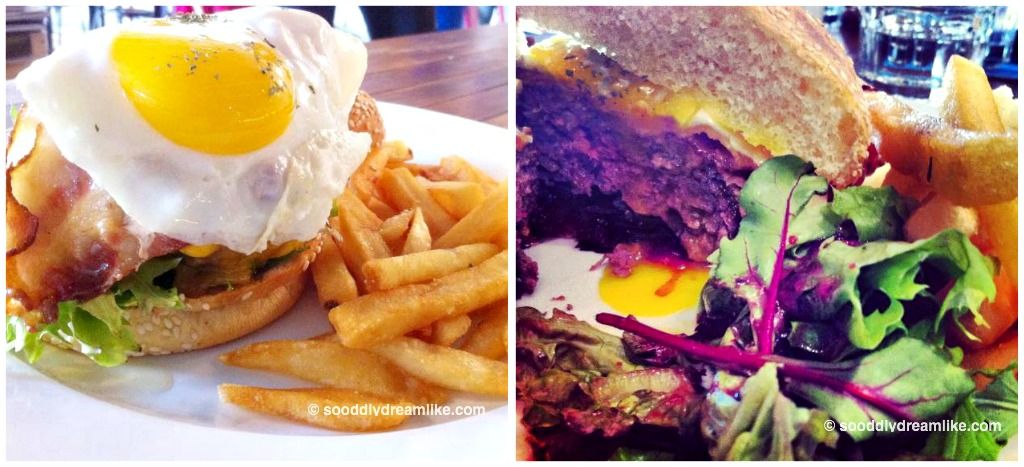 My favourite that day though was the Cheesy Steak Sandwich ($20). This sandwich is a thin sliced ribeye and pork bratwurst combination with home-made tomato topped with mozerella and sharp chedder cheese. This one is my love because it's so wholesome. Delicious, moist fillings are complemented perfectly by the warm, buttery brioche bread. Despite having double the portion which others had (I err helped to clear the plate, so that we could make space for more food), it didn't make me sick at all and I say this with authority because I had the sandwich without the salad. This sandwich is seriously good on it's own.
The Mac & Cheese Bacon Sandwich ($16) contains a slice of mac & cheese topped with streaky bacon and marinated tomato slice, served on toasted brioche. A slice of mac & cheese? How curious! After tasting, I finally understood how it works. The mac(aroni) was larger than what I'm used to and is cemented with cheese to form a slice and they paired it with everyone's favourite, bacon. Mac & Cheese lovers can try this one.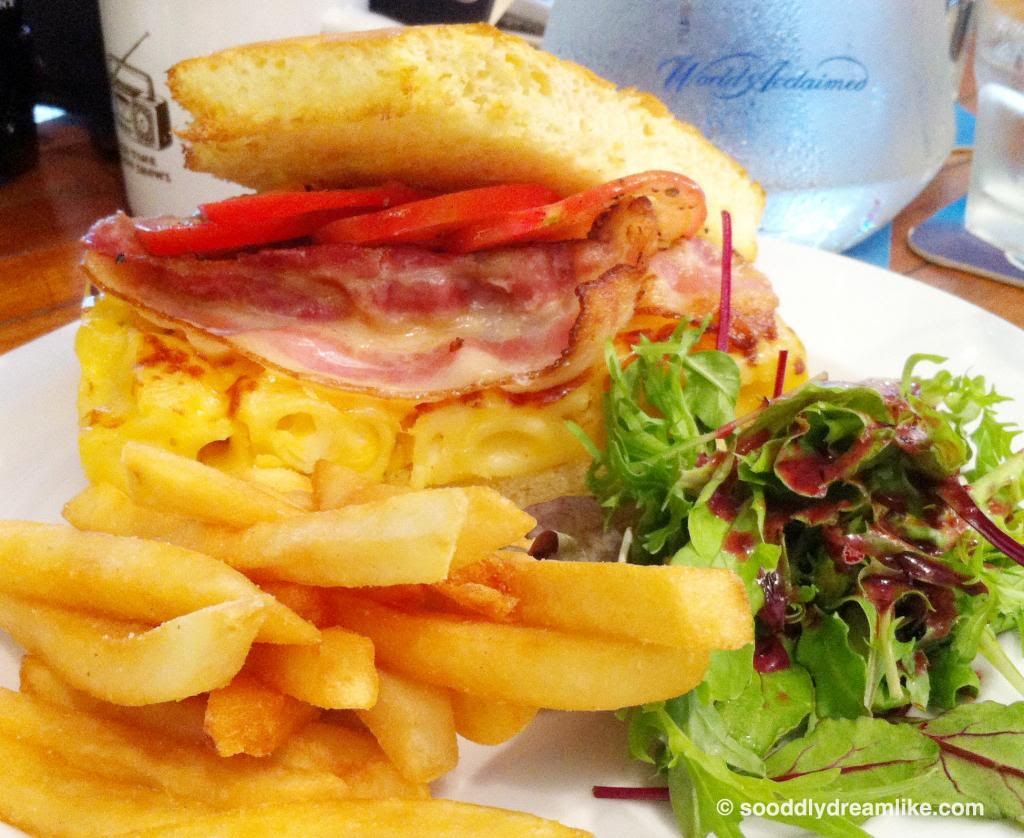 The Crabmeat Sandwich ($20) was supposed to have juicy crabmeat sandwiched between 2 slices of toasted brioche loaded with cheddar cheese and served with a tangy tomato soup dip. Everything in the description was true except that the crabmeat was dry to me. I don't rule out the possibility that it was because we had neglected to eat the dish when it was served fresh, due to the phototaking. I love the bread though and the tangy sauce, which tasted like seafood and was delicious with fries.
Up till here, you might have noticed that the dishes above were served with fries and salads. These are standard but if you like, you can opt for all salad as sides or vice versa. Truffle fries (!!!) are available for a nominal top up.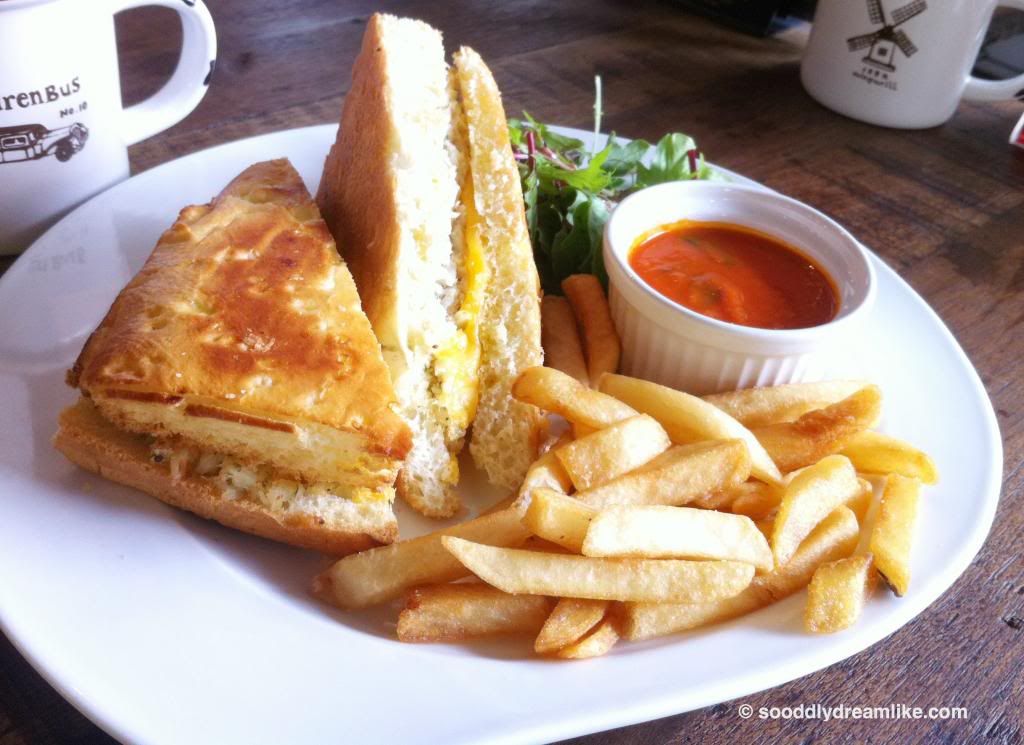 The Benedict Duo ($14) gives lovers of this breakfast item the best of both worlds because the poached eggs are served with both ham and bacon on two separate mini ciabatta bread. I like the crusty bread, the eggs did not turn sourish (speaking from bad experience elsewhere) and the taste remained good even if we didn't manage to eat this when served fresh.
I was mighty pleased with the Chocolate Lava Cake ($14), served with vanilla ice cream. The crust (yes, crust) tasted of chocolate and not sugar and the warm chocolate lava was fully co-operative when we needed to take a picture. I could see tiny black spots in the ice-cream.. could it be vanilla beans?
The Mango Float ($12) is a dessert, not a drink. It consists of layered graham biscuit with mango cream topped with fresh mango slices and is made with an incredible amount of hard work, layer by layer, using the freshest of the freshest mangoes. Timing the preparation of each layer is crucial to the success of this dessert. The outcome is an extremely refreshing dessert. Perfect end to a hearty meal.
We didn't have beer for brunch that day but I happened to have friends who have visited the restaurant, which features more than forty beers and ciders, with six beers on tap, and a long list of wine and spirits. My friends said that they had a beery good time.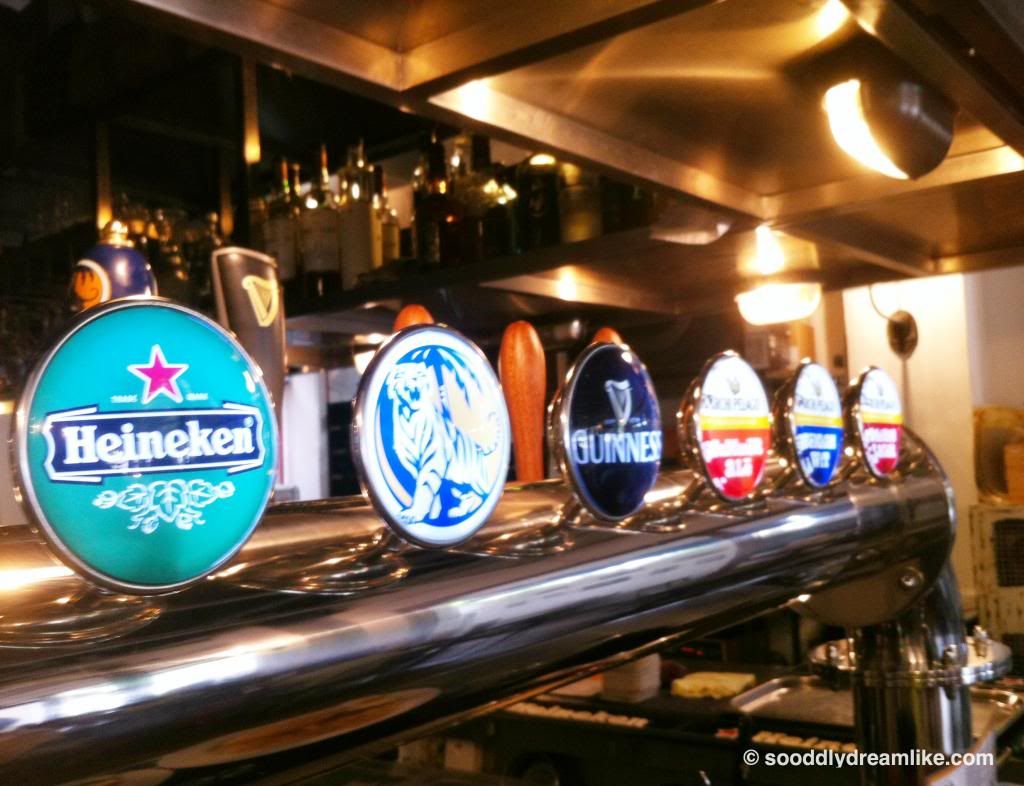 The restaurant has a TV (for "soccer matches, F1 and… NDP" says You Yi. Haha!) but I am particularly fond of restaurants with a performing area. Being a performer myself, when I see a small performing area, I tend to assume that it's not easy to be hired to perform there. You either have to be a good one-man show or a good two-man show. If I can sneak out again when the performers are on, I'll let you know if my theory holds true.
Now I just want to show you, what hard work it is for bloggers to bring a food post to you. First you have to tahan not eating the delicious food laid before you, next, for parent bloggers specifically, you have to sacrifice some baby photos in your phone memory to make space for the said food pictures to be taken and lastly, you have to stuff yourself full of good food. It's hard work, right?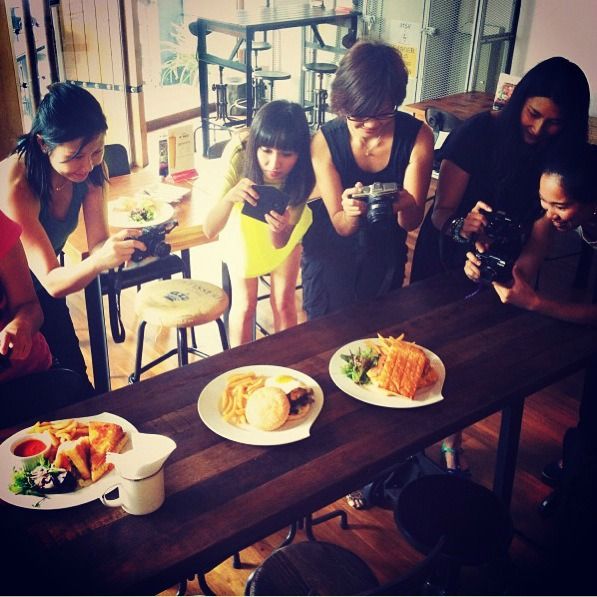 Good thing is, we play hard too! Afterall, you're talking about a group of mom bloggers, relieved of all duties for as long as we were there. Our host, You Yi, is spunky and super easy to get along with. Her effervescent personality rubs off on you quickly and all of us had fun that day.

We were getting high on selfies and this is mine with You Yi. She is gorgeous and looked like it took her minimal effort to be so.
Outpost 903 Gastrobar is a quaint restaurant that is not huge in physical size but huge in heritage. For me, that's where the charm is – intimate, cozy and mysterious. Good for hearty food and chats with close friends. I like and I'm likely to be back.
Outpost No. 903 Gastrobar
("Outpost" was intended to reflect how the place is "a station away from the main forces". Cute!)
903 Bukit Timah Road
Singapore 589620
Facebook: http://www.facebook.com/Outpost903
Tel: 6468 4903
Email: info@outpost903.com
Closed on Tuesdays
How-to-get-there driving tip: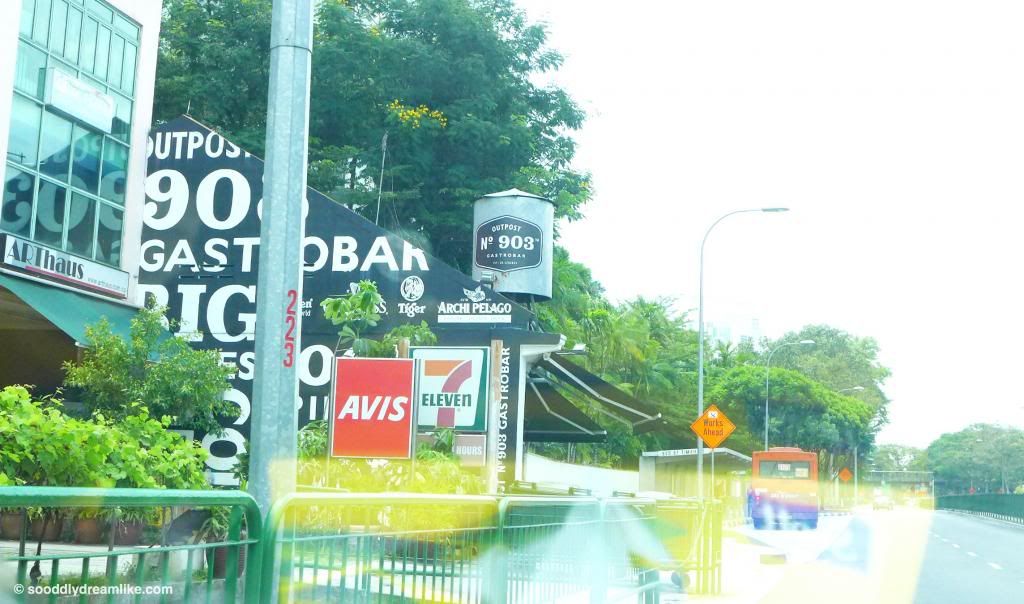 Parking:
Park behind the restaurant or along Cherry Avenue.
UPDATE: Outpost 903 Gastrobar has stopped operating, temporarily as I understand it. It's a great pity for now but I will update on their new location when I hear of it.
Disclosure: I was invited for a food tasting session at Outpost 903 Gastrobar with some blogger friends. We went on the pretext of "work" but it was really a fun get-together, as you can tell. No monetary compensation was received, all opinions my own and all photos taken with my iPhone4, unless otherwise credited. Nice anot?
Linking up with Jennifer for: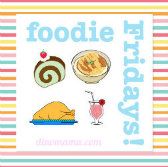 ******
If you liked this post, do connect with me on your preferred platform. Keep in touch!