I spend a lot of time these days learning about nutritious foods and finding out how I can incorporate them in our diets realistically. I have been surprised to discover that receiving proper nutrition made me feel energised instead of lethargic after meals. The energy I receive feels like clean fuel running through my body.
My partaking in this review was by chance but after reading up on the restaurant online, I was pretty keen to try the food at at ONAKA Restaurant and Wine Bar. They seem to serve exactly the type of food I was looking to learn about, intentionally nutritious without taking away the greatest joy in food — its taste.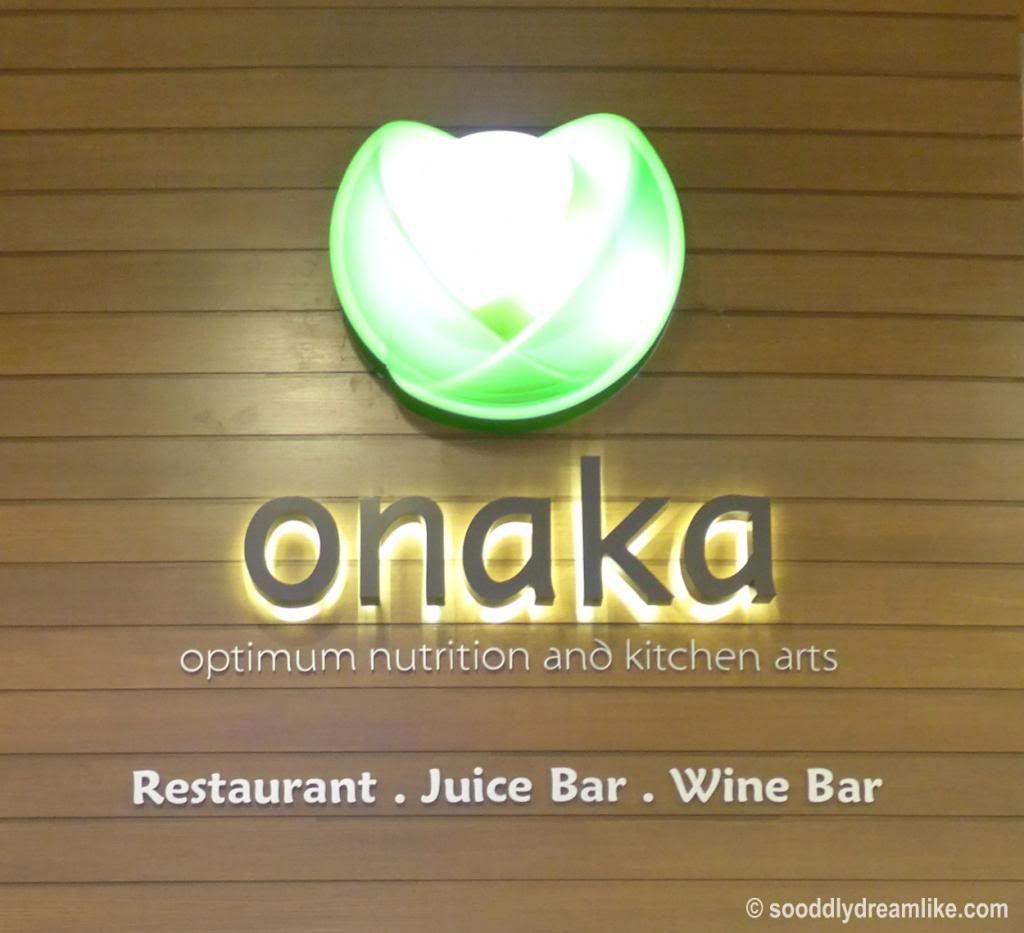 The restaurant and it's menu is not intimidating. You don't have to know your healthy foods before dining there and they do not act like food snobs.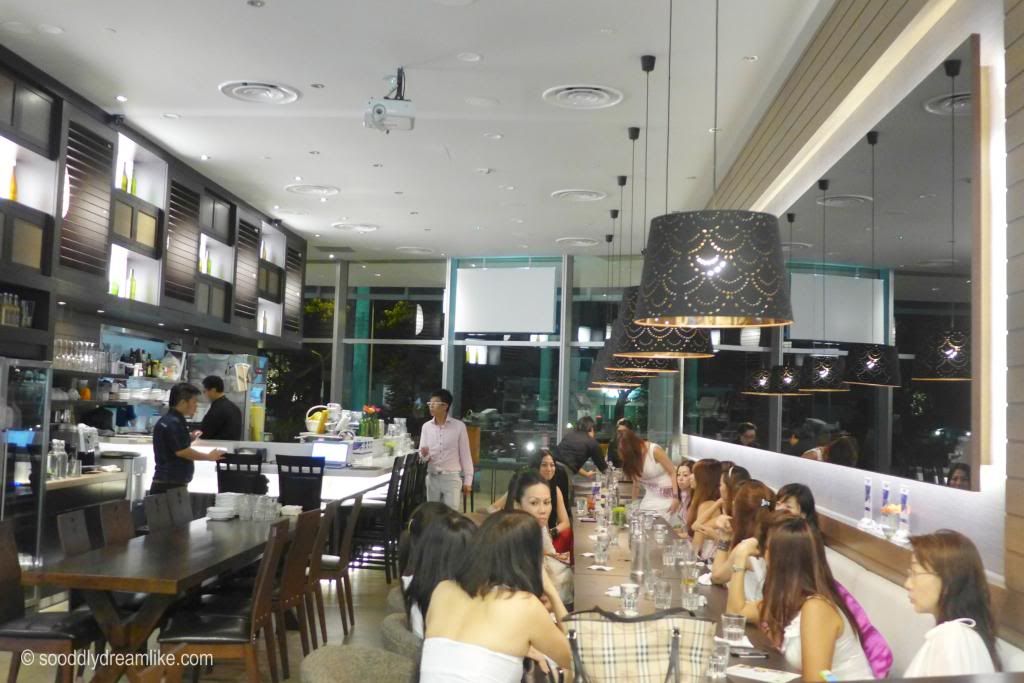 The table is set with simple, classy tableware that encourages focus on the food instead of the place.
We were hosted by Chefs Jason and Rosalind, who made the effort to share about the nutrition and thought that was put into each dish served to us. It is a pity however, that I could not hear some of what they were discussing (because they stood right at the other end of the table) but from whatever I did hear, they were clearly passionate about what they were doing but not imposing.
When the food was served, I was pleasantly surprised with their ingenious use of ingredients to give taste, presentation and nutrition to each dish.
The cold hummus contrasted well with warm bread and the olives were really tasty. My tastebuds needed a little getting used to when tasting the Watermelon Sashimi because it tasted like crunchy sashimi (even a little fishy) but I knew it was made with watermelon.
The roll was light (made with real Tuna sashimi this time!) and the salad was refreshing, although my personal preference is that salad dressing have no contact with my avocados.
The risotto made with barley (regulates blood sugar) was chewy instead of starchy and went well with the seafood. The warm soba was fragrant and flavourful but not overpowered by the taste of mushrooms — delicious.

It is quite difficult not to like juicy prawns with chewy rice noodles drenched in hot and sour soup but the pineapple rice made with brown rice was a tad too dry for me.

The beef was very tender after being simmered slowly under low heat in red wine sauce for 48 hours. The lamb was similarly tender and does not smell at all.

What I remember about the portobello is that the mushroom was juicy. If you ever visit ONAKA looking for a fish dish, please, try the Pear and Salmon, it tastes super super good.(Psst: You're supposed to rojak the Pear and Salmon before eating)

I can't decide if the Duck Pancake or the Pear and Salmon is my 2nd favourite dish of the night. The duck pancake (think: pecking duck with crepes but healthier) was so good I caught myself looking around to see if I there was enough for me to get a second helping. The seabass was fresh and a good combination with the crispy pumpkin seed crust.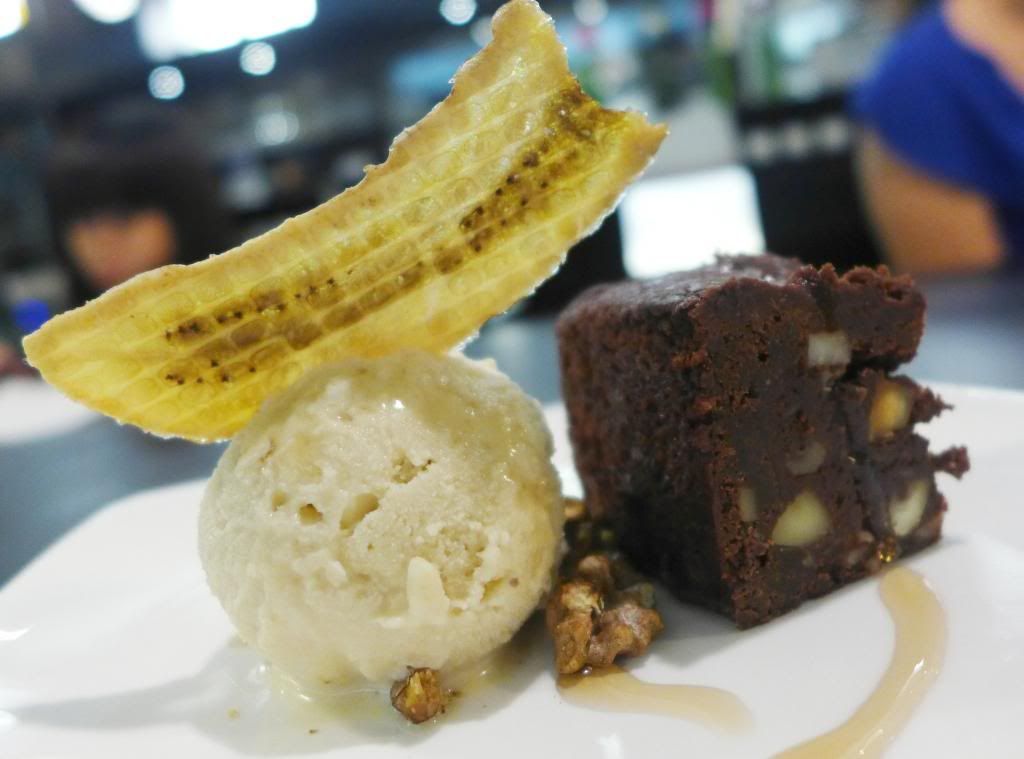 My absolute favourite out of everything. The ice-cream is crème de la crème, positively exploding with the sweet, fragrant taste of bananas. SO GOOD. Either the brownie was made with really good quality cacao or there is a little bit of liquor in there, intoxicating. Together, this was really one unforgettable dessert. I don't need food to be fancy, I just need the food to be real and, to me, this is it.

One of the guest at our table was Sophia, Irene's daughter. ONAKA was very thoughtful in preparing a special meal just for her. It pleased everybody and, from what I hear, the skewers were "yummy!".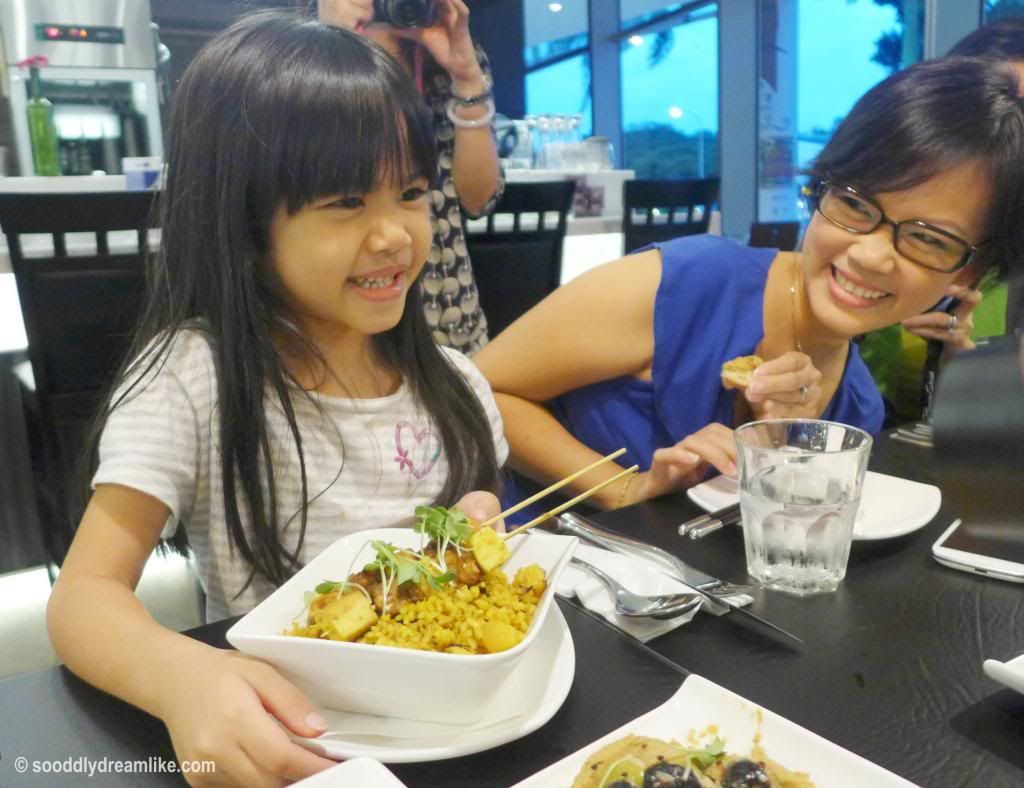 Towards the end of the dinner, when we were enjoying our dessert, someone must have noticed that Sophia was a little bored and they gave her something to draw with. I like the thoughtfulness.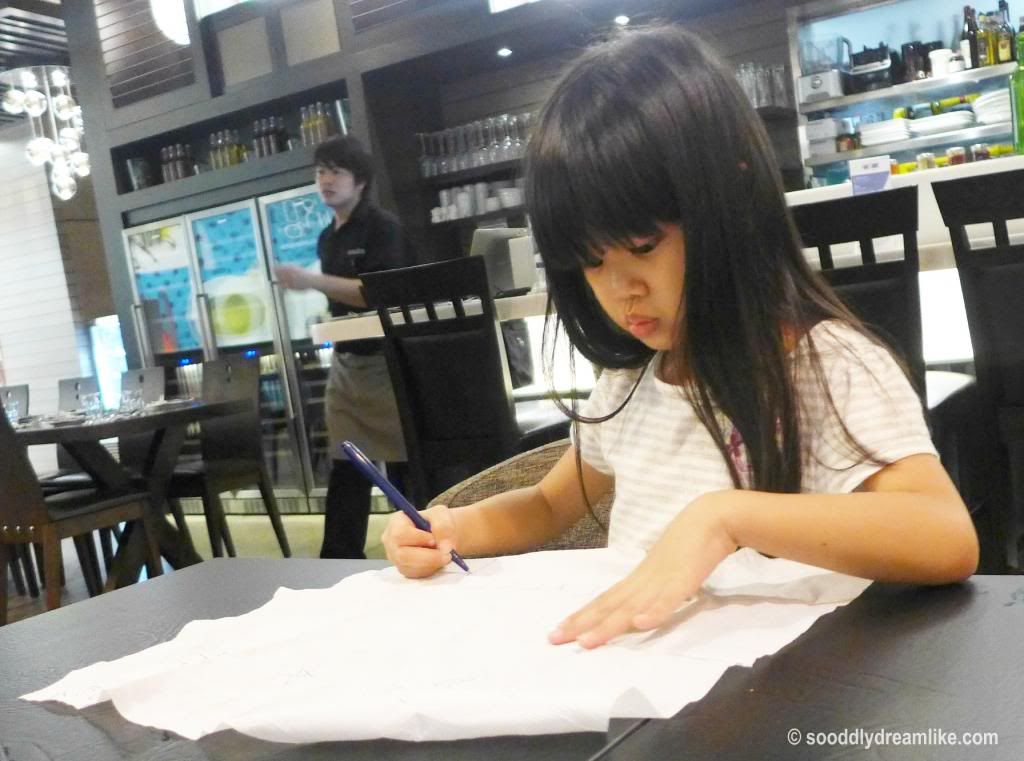 One other thing I learnt from eating at ONAKA is pacing yourself when eating a meal so that you do not over-eat. If you scroll up again to look at the sequence with which our food was served, you'll realise that ONAKA had planned our dinner thoughtfully.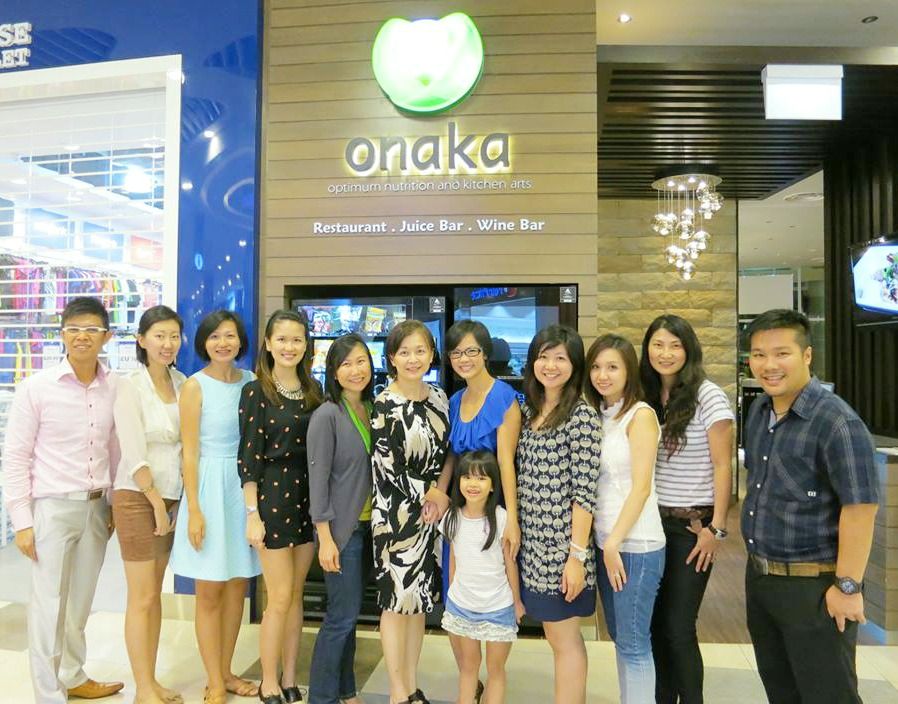 I dined with a few mommies from the Singapore Mom Bloggers group and had a good chat with some of them towards the end of the meal. Good food and companion made this meal really enjoyable for me. Overall, this is one restaurant I really enjoyed and highly recommend.
ONAKA Restaurant & Wine Bar
460 Alexandra Road
#01-32 Alexandra Retail Centre
Tel: 6270 2012
Mon to Fri: 11.30am – 10pm (Last order 9.30pm)
Sat & Sun: 10am – 10pm (Last order 9.30pm)
Brunch menu 10am – 4pm
* Disclosure: This review was due to an invitation from ONAKA Restaurant & Wine Bar. No monetary compensation was received, and all opinions are my own.
Linking this post up with Jennifer's Foodie Fridays: