Food Review
Beanstro by The Coffee Bean & Tea Leaf® (CBTL) has opened their second outlet at Takashimaya!
Strategically overlooking the Takashimaya Square, Beanstro is a halal-certified casual dining restaurant which offers a selection of American cuisine ranging from all-day breakfast, soups, salads, quiches, grilled sandwiches, open-faced sandwiches, pasta, mains, side dishes and desserts. Of course, they also serve the hand-crafted beverages which CBTL is known for.
From the main entrance, Beanstro is decorated in sync with the CBTL branding, so much so that I would have mistaken it for a CBTL outlet. When you step into the restaurant however, there is a slightly different vibe. I felt that there was an unmistakable Asian touch. The place was pretty chill but comfy – good for tired legs, hungry tummies and weary souls.

Our table was set for three since I invited 2 of my closest friends to join me for dinner but the Forever Late Friend (haha, kidding la!) was uh late and so Punctual Friend I started dinner without him. Out of habit, I opened up the sugar bowl and was pleased to find brown sugar a marginally healthier choice of sugar as compared to white sugar.

There were plenty to choose from off the menu and we had a hard time deciding. Steven, the restaurant manager worked his magic and told us to just sit back and enjoy the food – he would take care of the ordering but we were told to please feel free to let him know if we wanted to try anything in particular.

This slightly salty soup (made from fish maw, cuttlefish and mixed vegetables we heard) was the first dish we sampled for the night. It tasted pretty good with the Peach Compote topping and there was a piece of juicy scallop in the soup. The best part about it is, unexpectedly, the garlic bread – Fragrant, toasted goodness.
We guessed that the wax paper placed under the plate was to prevent it from slipping and Steven confirmed that. It was a touch which I appreciated for the thoughtfulness.

My friend, an ardent fan of fruits, vegetables and salads rated this highly. She said the handmade dressing was special and overall, the salad was refreshing. The tuna was moist but not soggy and had no fishy smell. We could smell sesame oil and lime as we tasted the salad, it was a good starter.

Steven told us that the egg was painstakingly cooked with hot water and vinegar and redone if it did not turn out well. I appreciate the effort but I am not a fan of the Beanstro version. Whilst the bread was delicious, I felt that the cheese and egg combination, was sourish and gelat and the ham, too salty for my taste. My friend felt it was OK but she thought the ham was too salty as well.

I love avocados and was secretly happy that Steven ordered this Open-faced sandwich for us instead of the restaurant recommended steak sandwich. It was easy to eat because the huge and crunchy prawns had been completely de-shelled so that you can pop the juicy bits right into your mouth without worrying about a tak-glam (not glamorous) moment.
I was disappointed that the avocados were soggy from the salad dressing but I must make a special mention of the sandwich base; the warm and crispy multi-grain bread was a good balance to the ice-cold prawns. Overall, I liked this dish.
Steven proudly (deservingly so) informed me that this pasta is not pre-prepared and heated up when orders are placed instead, it is cooked fresh when ordered. I asked and Steven told me that this pasta comes only in one choice of pasta – Fettuccine. At first, I felt that it was a bummer since I usually preferred linguine, but after I tasted the pasta, I could understand why. The pasta sauce was spicy and tangy but not overpowering when served with Fettuccine cooked al dente. The balance might not be optimum if served with other pasta choices. We liked the pasta and felt that it deserve the coffee bean (Chef's Recommendation) on Beanstro's menu.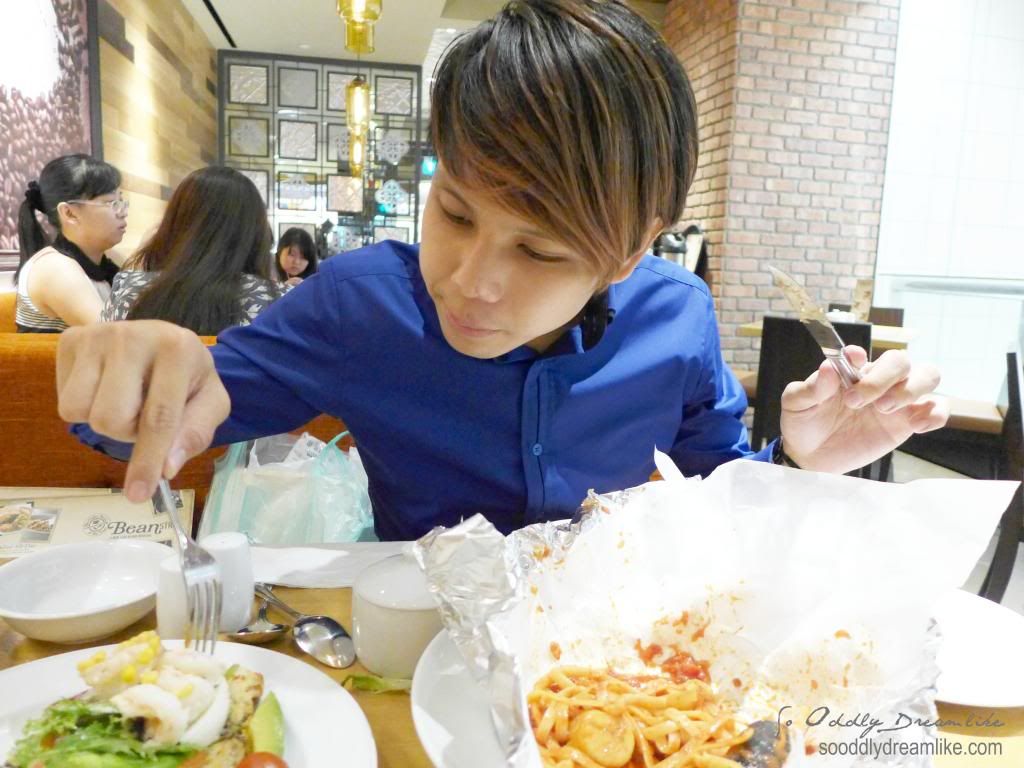 Shortly after we tucked into the pasta, the Forever Late Friend arrives, famished from Salsa dance practice. He checks out the food that we have and proceeds to exclaim "hmmm nice!". That was about 1hour to 1.5 hours after we have started eating and I am pleased to report that the food pretty much stayed tasty through all that time although they would taste even better warm.

The chicken was tender but we unanimously felt that Beanstro could go a lot easier on the salt. Our opinions differed on the accompanying vegetables. Glamorously Late Friend felt that the Carrot tasted good with the sauce but the rest of us felt that for a dish like this, the vegetables should be kept fresh and crunchy so that they can retain their natural sweetness and be a better complement to the rest of the dish. All of us liked the fries.
I was the only one who sampled a portion of the steak because the rest of them do not take beef. It was done medium rare which to me, is the only way you can test taste a piece of steak (opinions may differ). I had high hopes, but this was unforgettable only because it was too salty. Less the salt, the chewy and pretty juicy steak would have made a much better impression. The potatoes were very nicely roasted though, I throughly enjoyed it.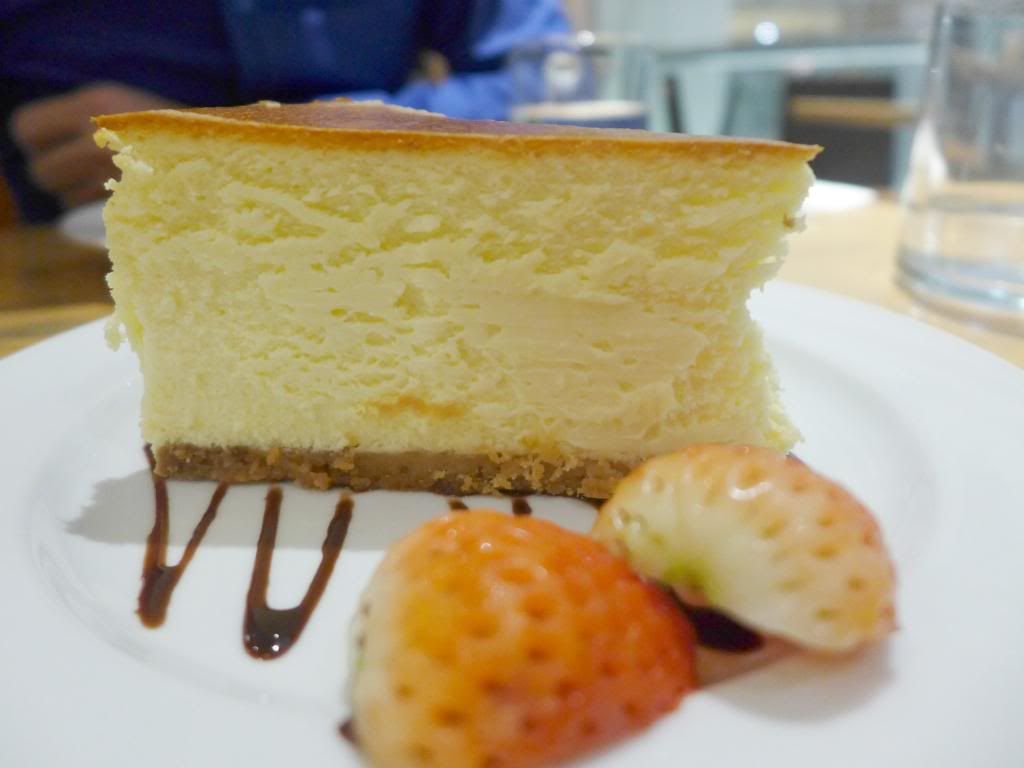 This is LOVE! Much much better than what I was expecting and possibly one of my favourit-est version of the Cheesecake. Creamy and lemon-ey, this cheese cake had an incredibly fine but dense texture. I don't feel gelat (sick) even after eating quite a lot of it.

Our unanimous impression is that this tasted like the smooth egg tart you can get from one of those old bakery shops with a strong following. A very big one. With cherry. Not a big fan of egg tarts, so we didn't enjoy it so much but I believe others might like it. I'm a big big fan of the CBTL whipped cream though.

Another Beanstro reviewer felt that its bread and butter pudding was one of the best she had ever tried but I thought it was pretty normal. You can get whiffs of the fragrant butter and taste the milky smoothness of the dessert but it was not memorable. Next time I dine at Beanstro, I would probably go for my personal favourites instead – Tiramisu and Creme Brûlée.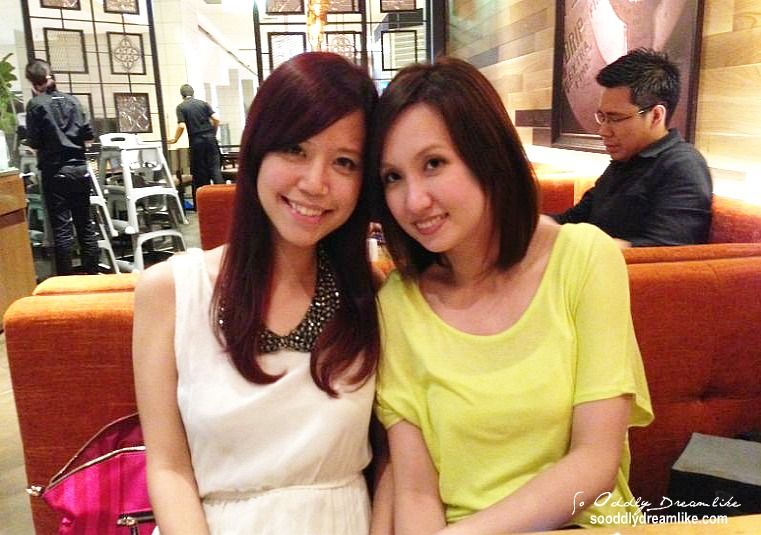 I was sad to be so full that I decided against ordering the CBTL Chai Latte but thats us, still happy at the end of the lovely dinner. Overall, we're convinced that you can't go wrong with bread items on the Beanstro Menu and that cheesecake.
Beanstro Takashimaya
391 Orchard Road
#B1-37
Ngee Ann City
Singapore 238872
Tel: 62351610
Operating hours: Monday to Sunday; 8am – 11pm
Disclosure: So Oddly Dreamlike was invited for a food tasting at Beanstro but all opinions are my own.