For a period during my childhood, I remember my mom cooking up a feast and demonstrating the virtues of Tupperware containers to an audience at home. I looked forward to to these gatherings because it meant that we would get to eat all the good food as well. Yes, My mom was a "Tupperware Auntie"! And since then, "Auntie" was what I associated the Tupperware brand with. Do you think this way too?
Early this month, I was invited to a Mother's Day Tea Party, Tupper-ware styled. At the Tupperware Mother's Day Tea Party, I discovered that Tupperware Brands includes an unexpectedly large range of products ranging from skincare , food, cleaning solutions, water filter, cutlery, pots and pans, containers (of course!) and almost everything you can imagine you will need in a kitchen. It was news to me and it was news to a whole bunch of my friends when I shared the information with them.
I love Tupperware but because of my impression of the Tupperware Brand, I felt like my status as a "Auntie" had finally been carved in stone and sealed with wax but boy, was I wrong! I left really impressed with how ingenious the Tupperware design was, they are smart kitchen hacks that would totally help noob cooks (like me) in the kitchen – it's not auntie at all to be efficient!
Don't believe? I show you.
This turbo chopper is one of my favourites. It can chop small portions of food into tiny bits quickly and effortlessly (think: hard boiled egg, shallots, garlic and even nuts!) – perfect to use for prepping breakfast and condiments.
This pressure saucepan allows you to cook eggs with just 2 tablespoons of water.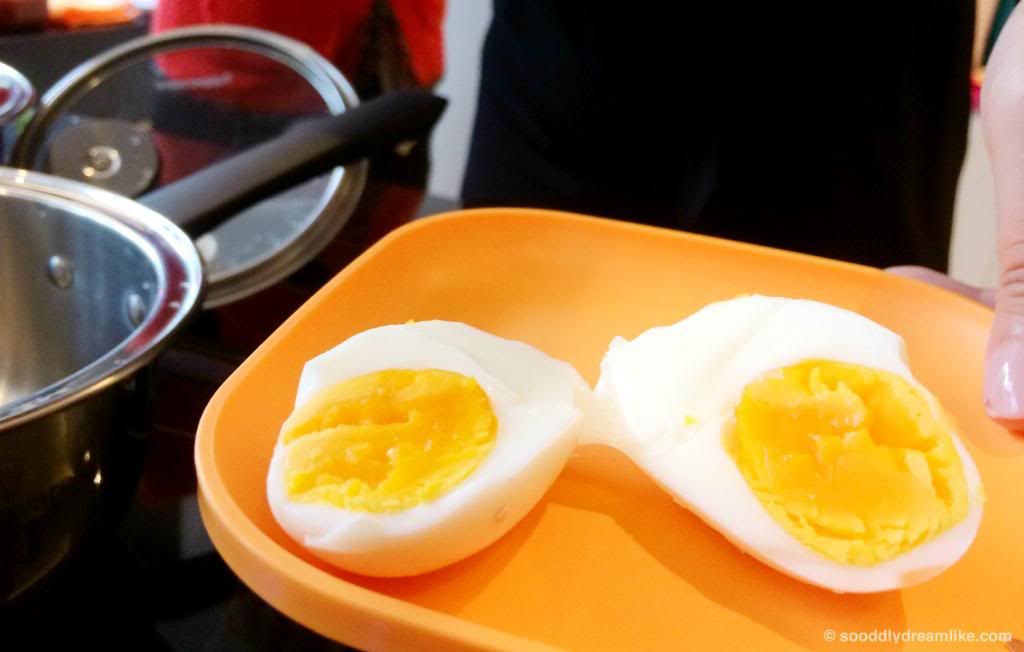 This pressure pan can bake, toast and steam (you know how much love multi-functional kitchen equipment, right?):

Tupperware have containers that can prolong the freshness of your fruits and vegetables. We were told that the vegetables used in cooking that day (a Wednesday) was purchased on the Monday before but they still looked and tasted so crisp and fresh!
This rice dispenser has a mechanism that filters your rice for weevils and a drawer that dispenses exactly one standard cup of rice each time.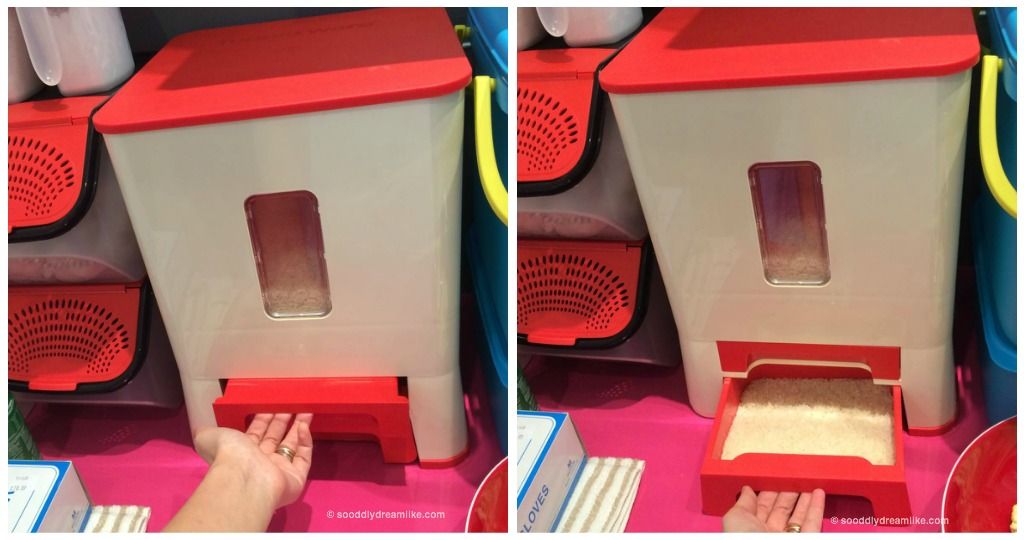 This is a steamer which you can pop into your microwave for quick, easy and nutritious meals. I tasted the mixed grain chicken rice that day (made with Tupperware's chicken rice asian meals pre-mix) and it was so good, I asked for the recipe down to the brand of the rice they used.
And here's some of Tupperware's food products.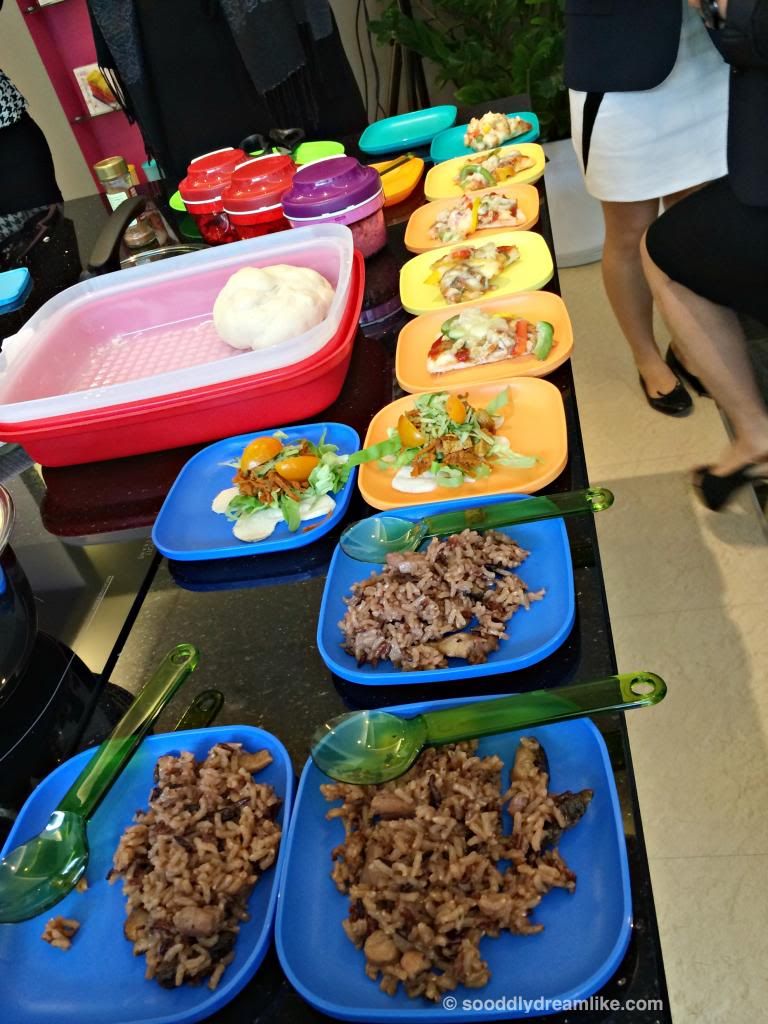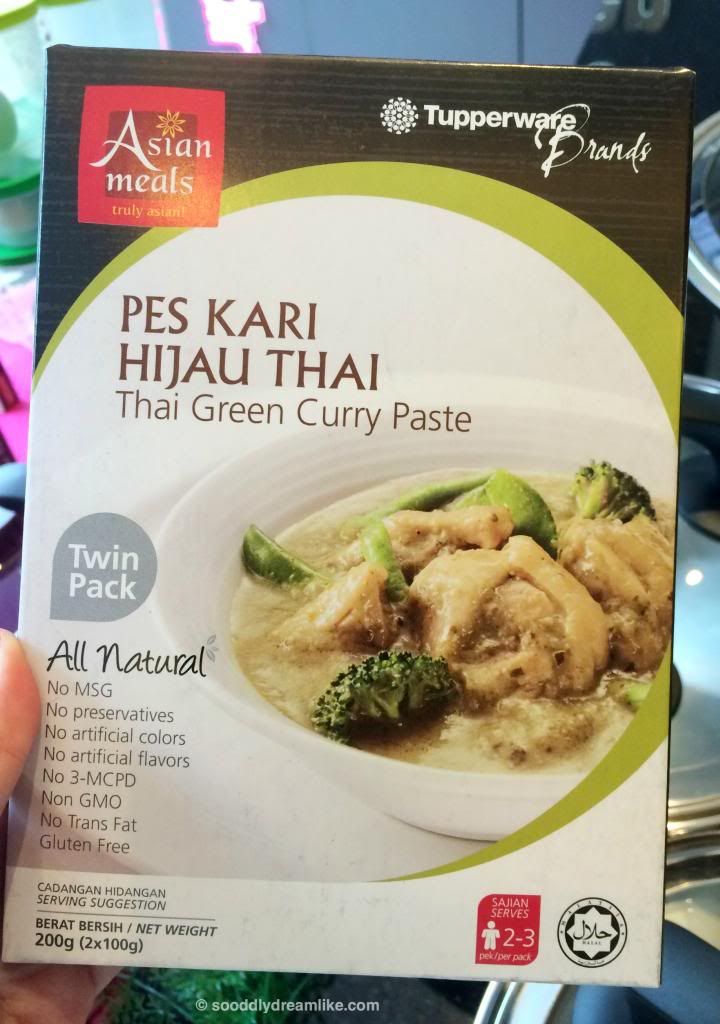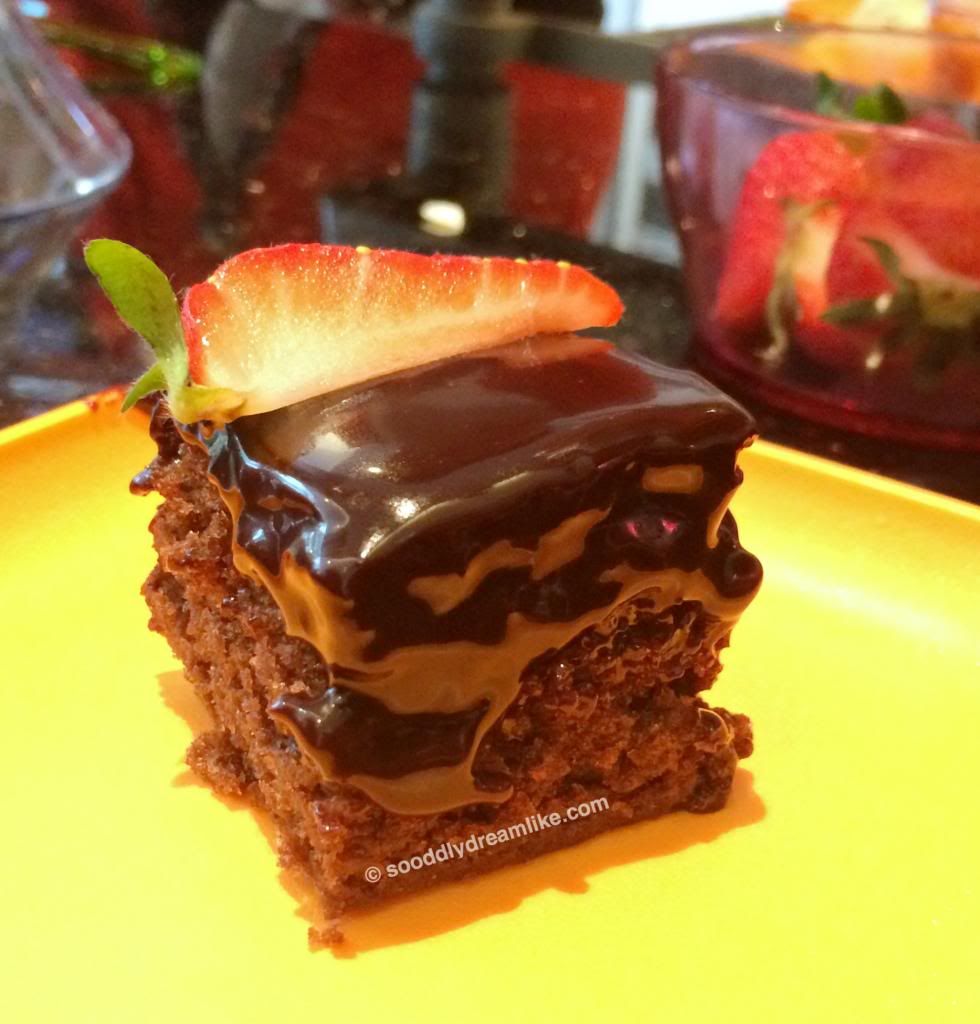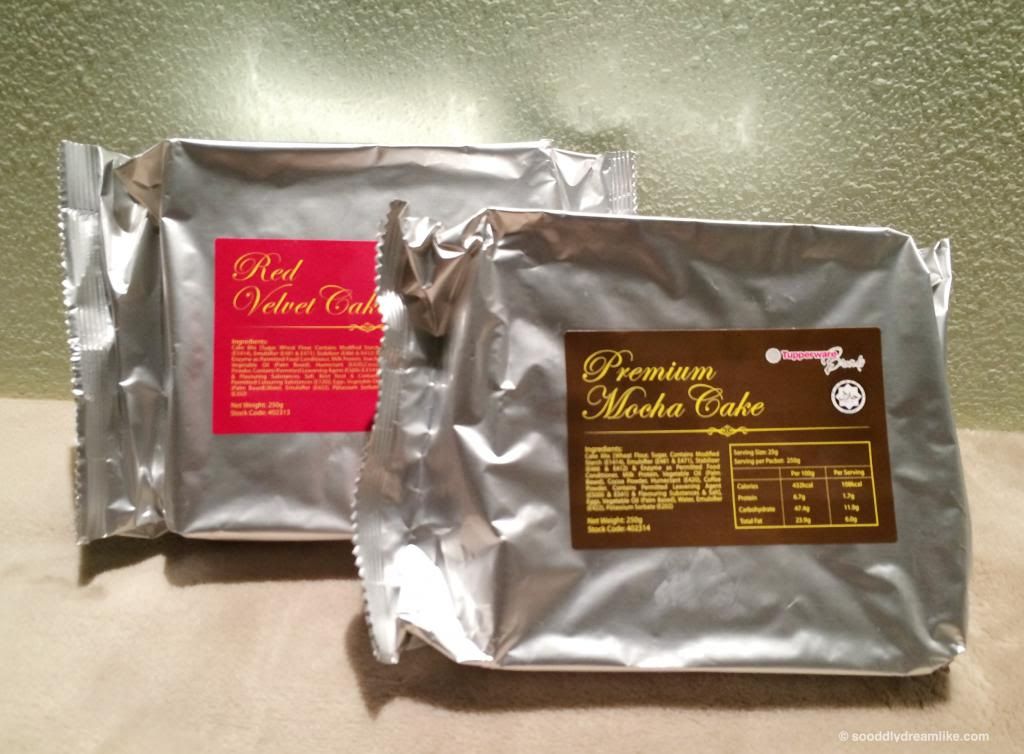 This is the beauty that I was gifted with at the Tea Party. I made me so very happy!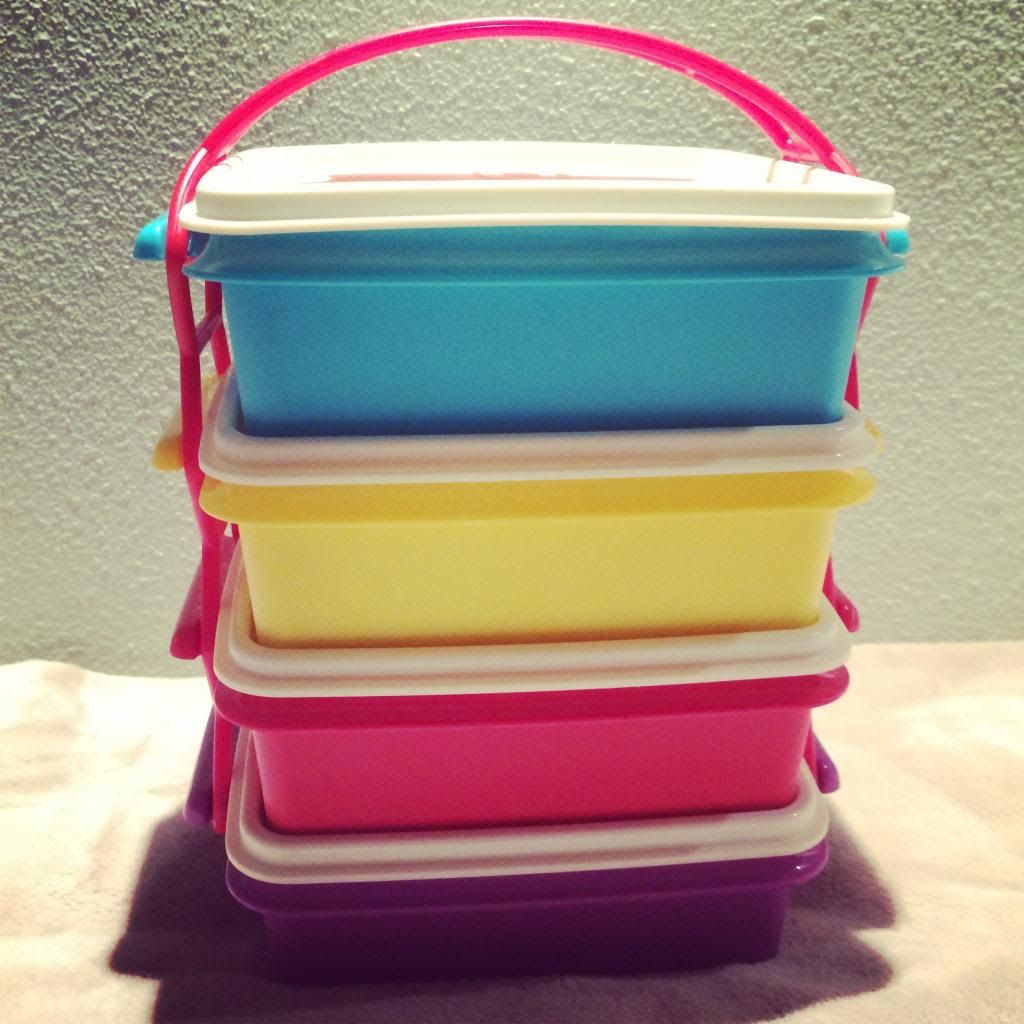 I was texting Angeline before arriving at Tupperware Singapore, where the tea party was held. "I'm in Tupperware heaven" is exactly what I texted her when I reached. It's incredible to experience Tupperware's range of products, I was a little overwhelmed but now that we've (Tupperware and I, I mean) been properly introduced, I can't look back anymore.
Are there any products you fancy from this post?
Disclosure: I was invited to the Tupperware Mother's Day Tea Party and compensated with a token amount. The initial ignorance and all opinions are my own.
******
When life gets busy, I keep simple records of our daily life on my Dayre. I also use Instagram and update my Facebook Page pretty often. To keep all sorts of ideas, I pin them to my Pinterest. If you enjoyed reading this post, connect with me on the various platforms I'm on and you won't miss an update!