I looked forward to the euphoria of holding my baby right after birth. The euphoria which everybody said they experienced. I often imagined how it would be like. Although I couldn't imagine the feelings I would feel, I imagined that she would be warm to touch, fragile and all squashed up from being, well, squashed up in my uterus. I want to see it, I want to feel it, I want to hold my warm baby in my arms.
It didn't happen. There was no crowning moment and none of the sudden halt in time or space as my baby was born. No direct latch on as soon as possible right after birth, no tears of joy, no photos of her on the weighing scale, no first family photo in the delivery room. I thought that that was it – that I only have to deal with my suffocating disappointment with the fact that I didn't get to experience a natural birth, that I didn't latch my baby on within 5 minutes of her birth, that I didn't hear her first cry, that the hubby was not permitted in the operating theatre and did not witness her birth as well. As I lie on a cold bed in the recovery room, that was what I thought. Until the effects of the epidural wore off.
Pain.
It's not something I can explain easily but birthing for 44 hours, out of which a good 22 hours was without pain relief, had completely destroyed my pain tolerance. I never wanted to feel pain again. Not even a little. I cried the first time I tried to sit up because I felt the tight stitches holding what I think was two separate sides to the bottom, center part of me. I was holding the hubs's left hand at that time, the one on which he wears our wedding ring. He cringed badly and uncontrollably withdrew his hand because (he said) it felt like I was going to fracture his bones.
I stayed hospitalised for 5 days. During which I requested the hubs to inform our friends and family that I was well, thank you for your kind wishes. We declined visitors after the 2nd day. I wanted to avoid hearing old wives tales and speculations on why I had failed to give birth naturally and/or any other speculations or unsolicited advices. All I wanted was to be able to rest, quietly and to deal with the pain, quietly. I was very, very depressed.
In the course of all these, one person was always by my bedside, for as long as they allowed him to be. Usually a sleepyhead, he reported at the hospital first thing in the morning, often before official visiting hours just to try his luck to see if they would let him see me earlier. I threw tantrums often but he took it with a big sigh and a huge dose of patience. He ate (my leftovers) only after he has fed me the hospital food, gave me water in a straw when my lips were cracking, held my hand as I screamed in pain when I experienced blocked ducts and the lactation consultation had to press hard on them to release the milk. He cleaned me when I had to pee into a bed pan and he cleaned me in the toilet when I had to defecate. Always with a smile on his face.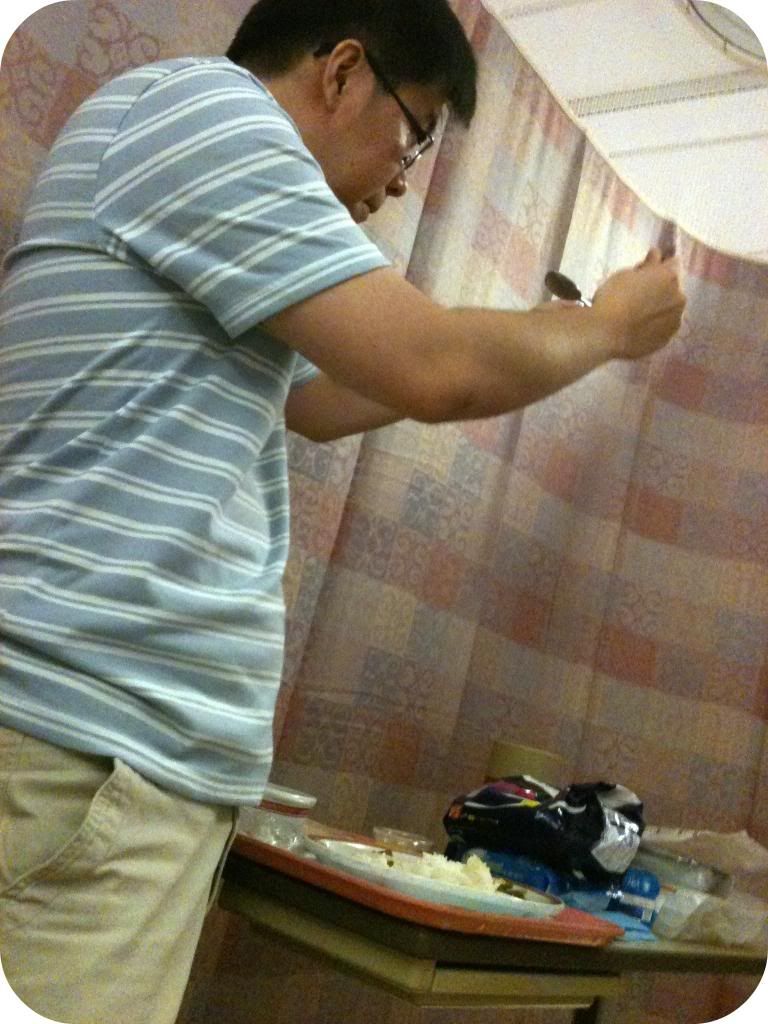 He encouraged me to get off the bed but I refused to because it hurt too much. He wouldn't give up on me although (he later told me) he feared in his heart that I would never stand up again. His patience and persistence paid off. I found myself slowly having the courage to sit up. And then I stood up by the bedside. And then I took my first steps. I never imagined it would be so but it was like, I had to learn to walk all over again. By the fourth day, he had me walking, one step at a time, feet on the floor, arms over his, face to face, usually with tears flowing down my face. He motivated me by asking me to imagine how good it would be for me to be able to walk and bring the little girl out on my own. He celebrated with me each time I managed to walk a further distance and told me about a beautiful garden on the hospital premises that he would like me to bring me. I never did get to go to the garden because I didn't have the confidence to walk that far but I did manage to recover enough to be discharged by the 5th day.
After my discharge, there were many incidents that tested our relationship severely (maybe one day, I will write about them), but each time I remember what happened at the hospital, I feel lucky to be married to this man. To be very honest, I always thought that marriage vows were for the wedding day. I never knew that one day, I would be so lucky to experience it.
Linking up with:
You can also find me here: