Last Sunday, Joy and I participated in our first ever run together, sponsored by Capella Strollers Singapore – the Shape Run's Stroller Fun Run!
We're really not morning people, especially not the little girl. Joy was upset at being woken up so early in the morning but when I mentioned we were going for a run ( I should have done that earlier!) , she stopped wailing and started to co-operate!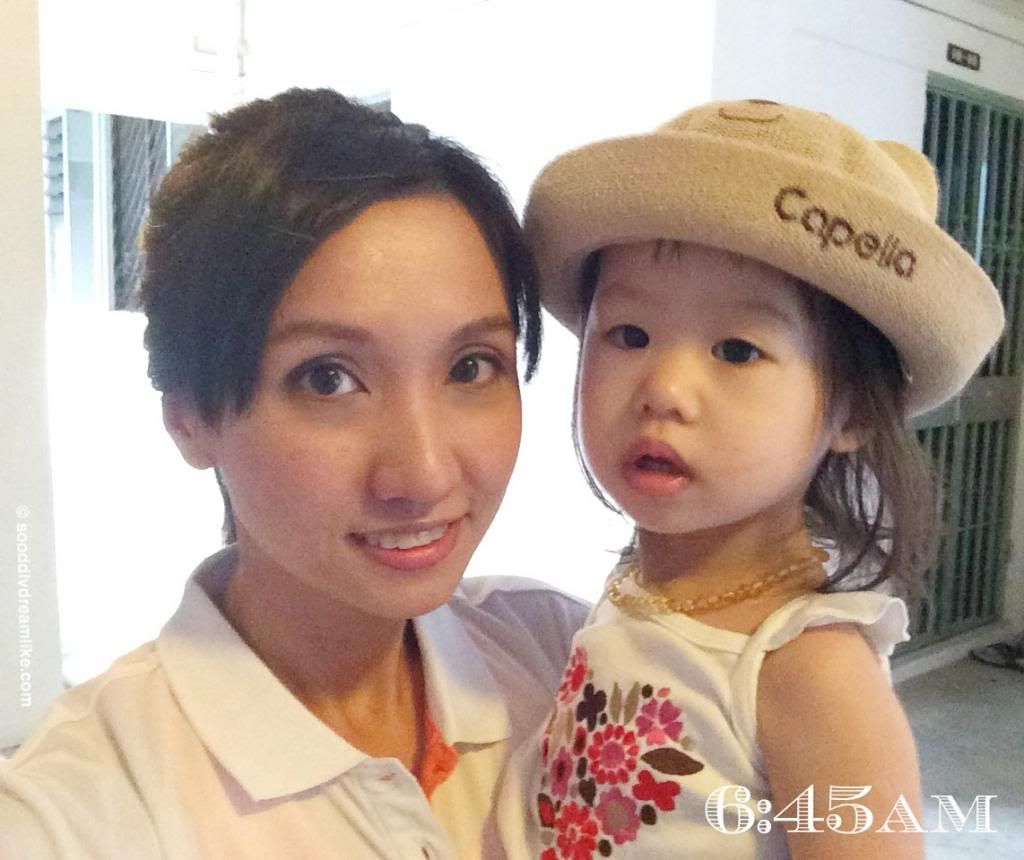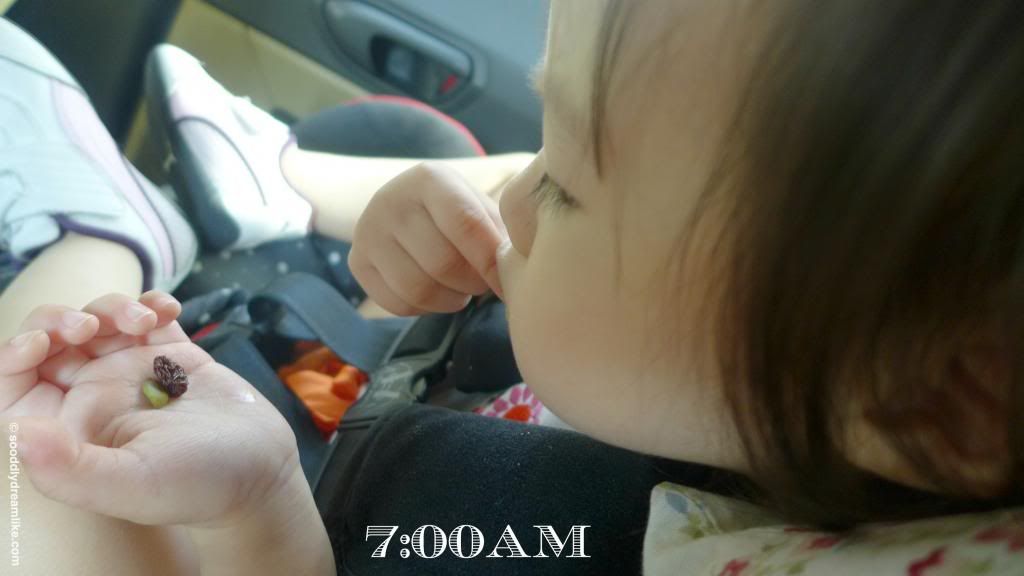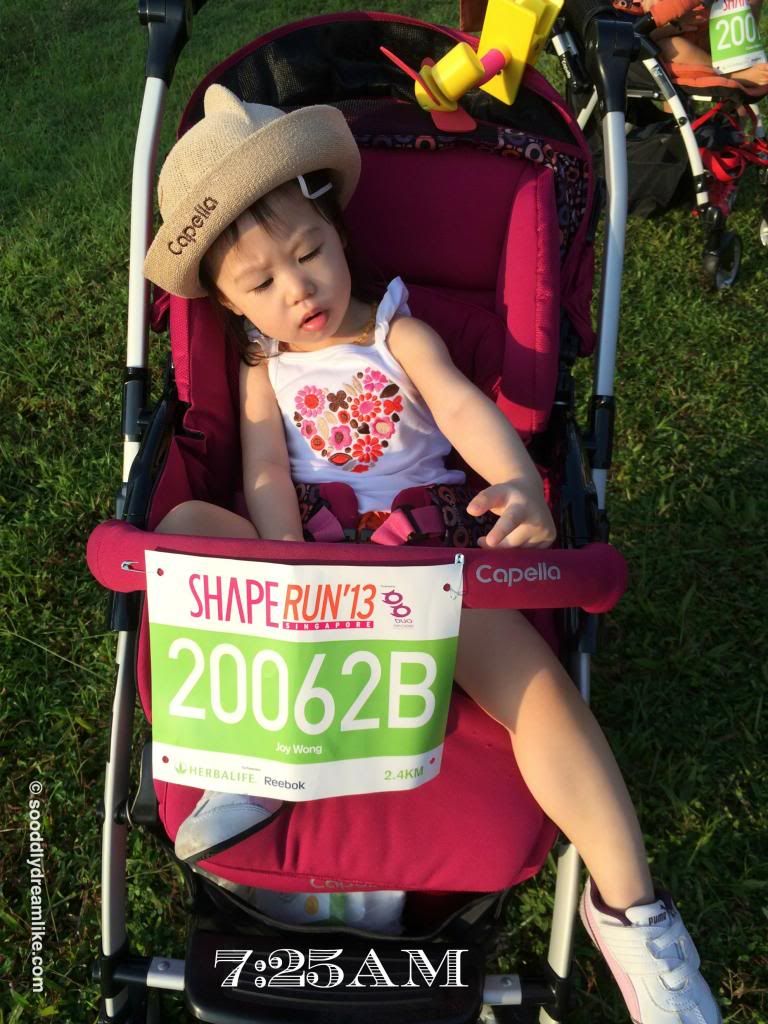 This is all of us, together with Andy and Eileen, bosses of Taime Pte Ltd who are distributors of Capella Strollers in Singapore, and Agnes, representing Taime, who takes good care of us. Our group of mom bloggers have been testing and using the Capella ConyTM (S230T-13) strollers since June this year and now's the time to use it for the Shape Run!
We took lots of photos of course! This is my favourite, those expressions are priceless!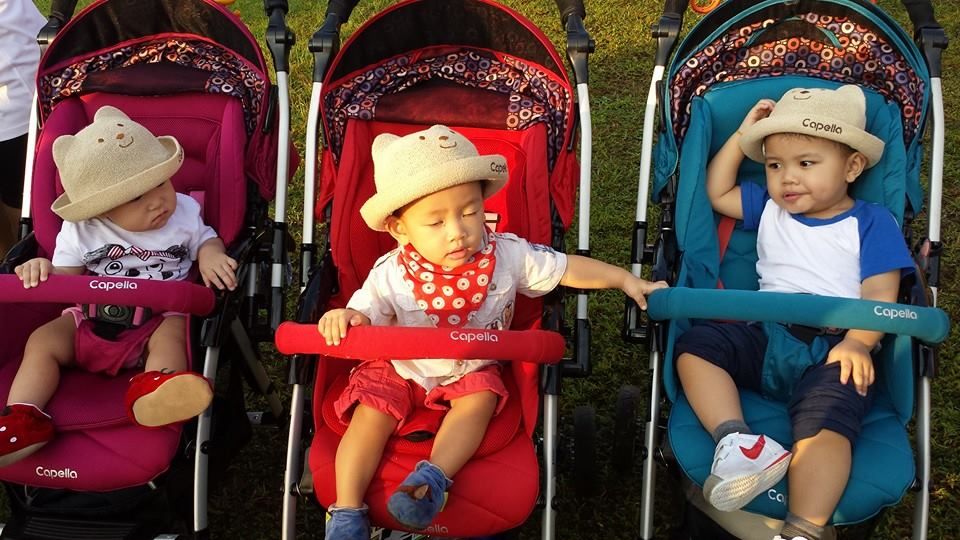 Joy and I with our number tags on, all ready to start running!
When we made it to the start line, Joy was really happy that the organisers were giving out balloons. I think they made her day, right at the start.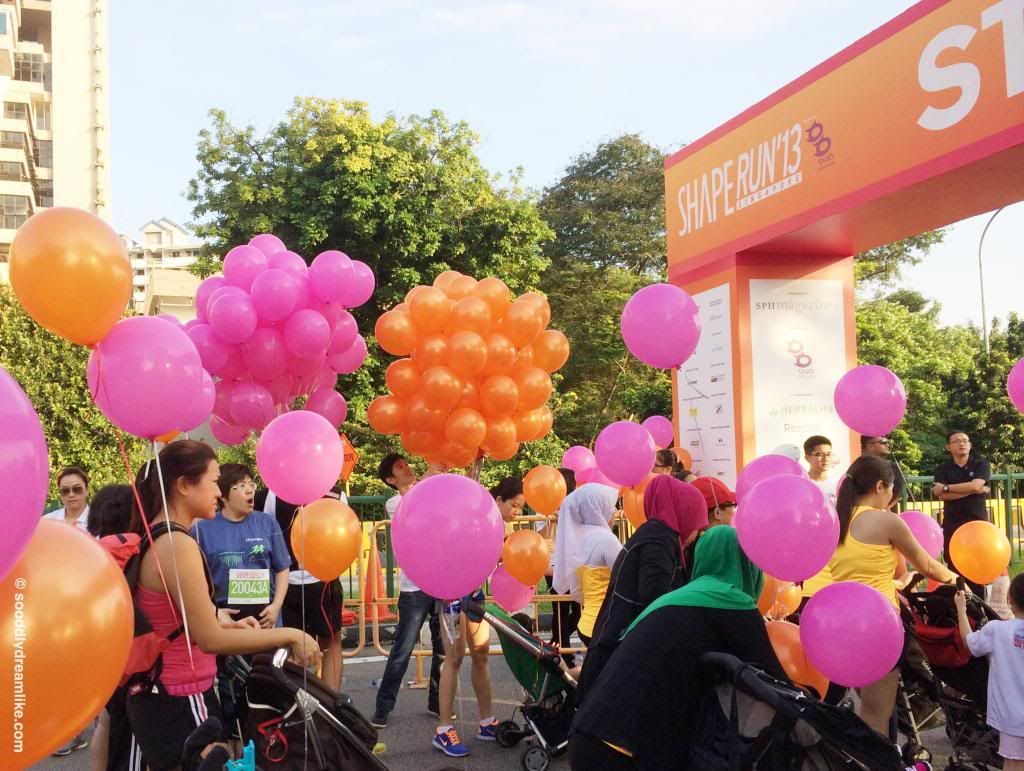 While waiting to start what do bloggers do? We take photos of course!
Eileen, Mabel and I happened to be wearing purple shoes!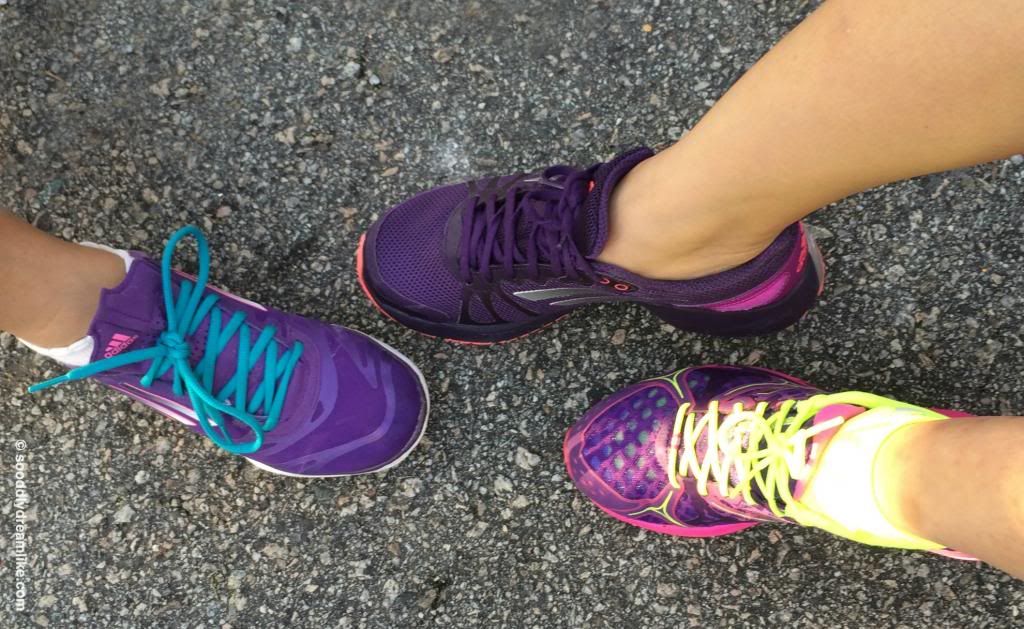 This was taken moments before the race started, I love how colorful everything was, the balloons really injected a fun atmosphere.
The run started and everyone was running but Mabel, Irene and I started off trigger happy!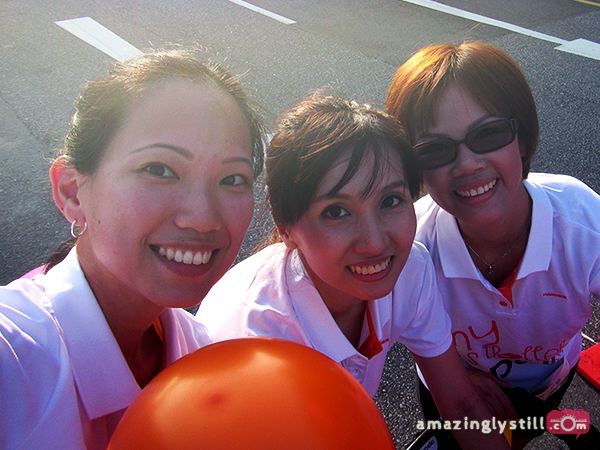 It's been at least a decade since I last ran a race so I'm not on form. Before long, I could see many people pushing ahead of me. Haha! Like many mommies in the fun run, I did a combination of brisk walking and running.
No matter what you do in life, just press on and you'll get there somehow. This is Joy and I after we passed the u-turn!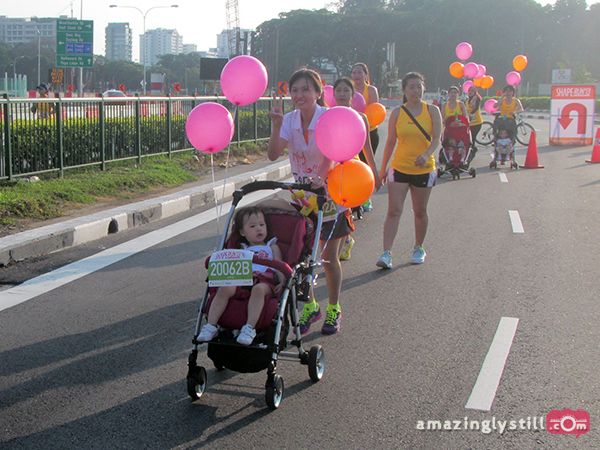 Love this photo of Mabel, Irene and I running towards the finish line.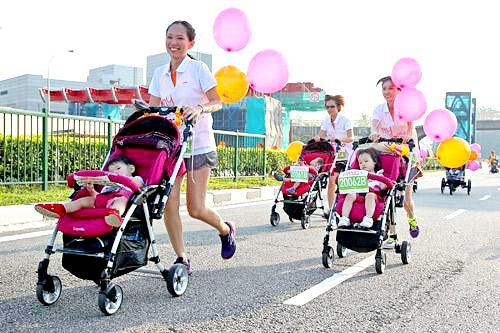 I brisk walked a fair bit before I saw the finishing line in the distance and pacers (i think) who ran past me said "Hey, Capella! Run!". That and sight of the finishing line really motivated me to run. I ran at a speed I felt I could sustain and motivated myself constantly to keep going until I reached the finishing line. Yeah!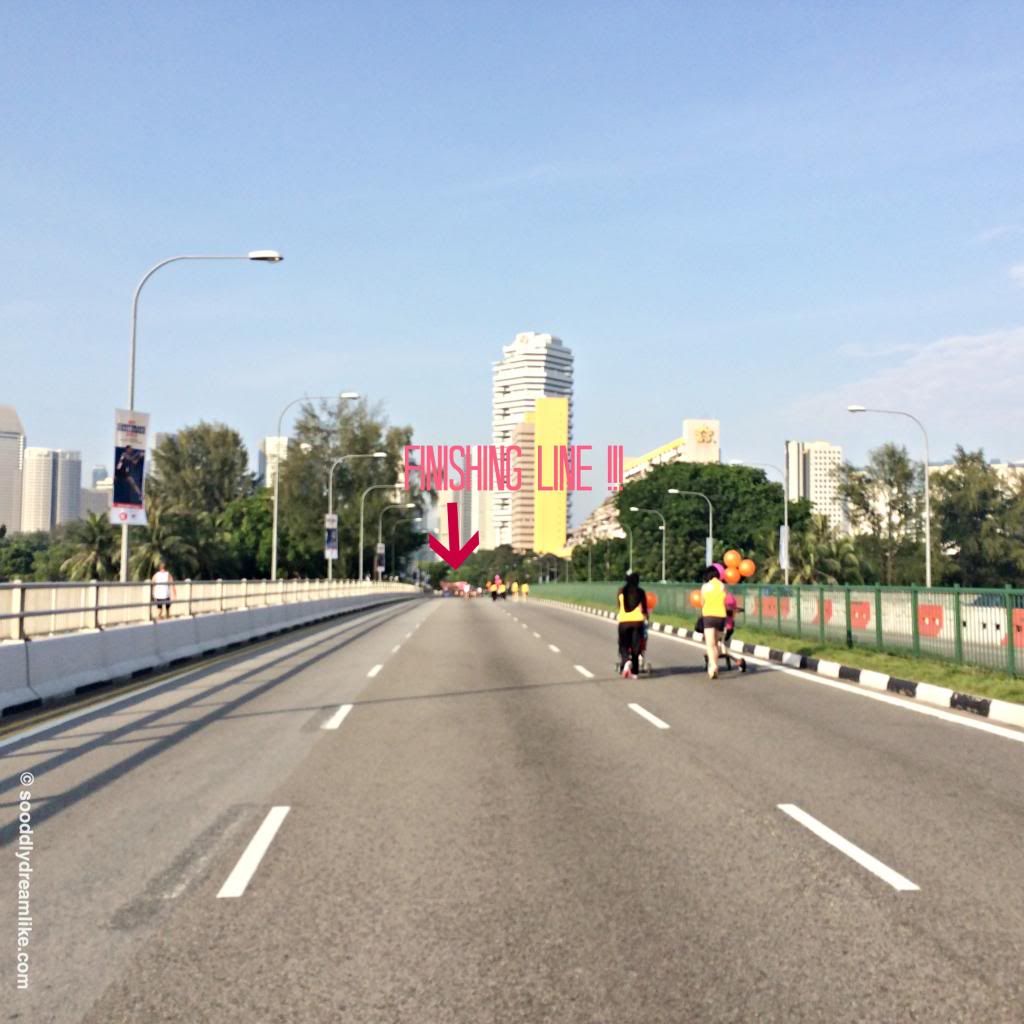 I was panting badly, dead tired and ready to crash when we finally finished the run, although it took less time than I thought we would take.
When recovering, I took out my phone to try and capture some photos but all I could manage was…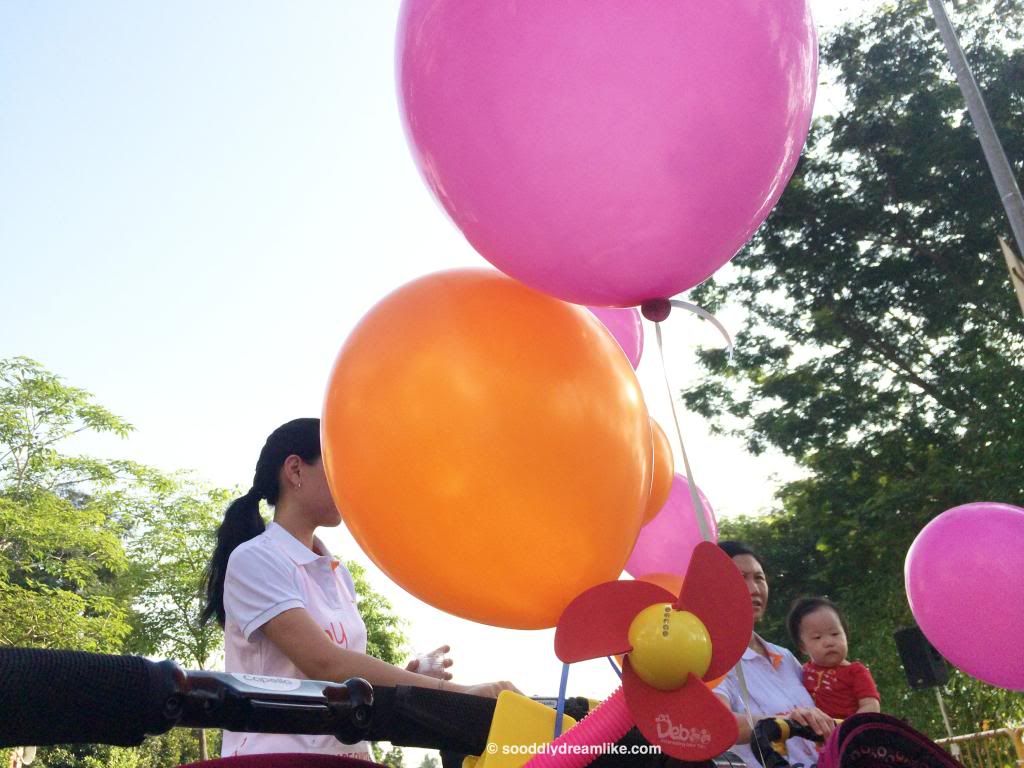 There I was, trying to take photos whilst squatting beside Joy and catching my breathe. When Irene realised it, she turned to ask me "eh Estella, what are you doing?!"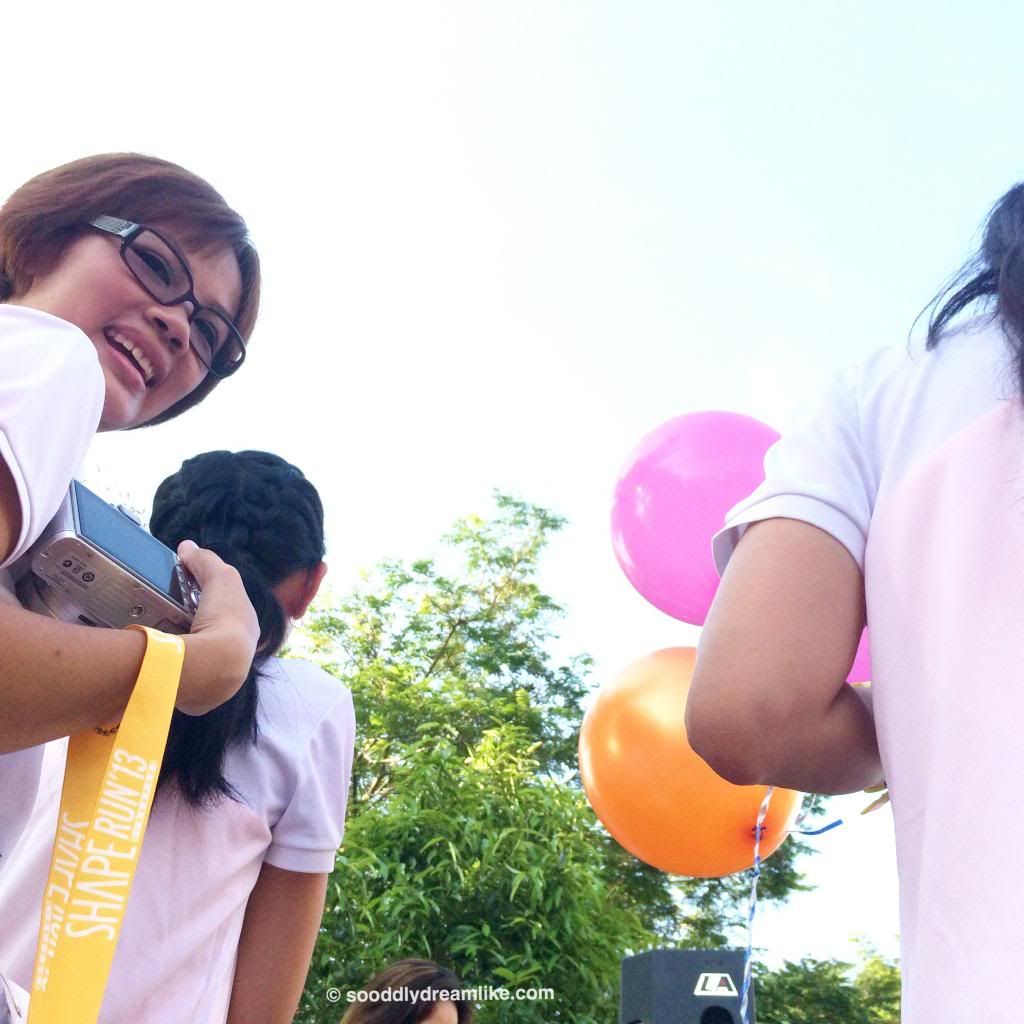 "Take photo lo" I said and Cherie immediately knew what to do next. Haha!
And the next thing I know, the three of them were posing for me, haha! Love the smiles!
When I told them I was still very tired, they joined me in squatting beside my stroller for a photo. LOL. Jake, June's son, was somewhere nearby and he joined in for some fun (I find it so adorable that he's taking the selfie with us like a pro). So this, is the story of the selfie taken while squatting.
Jake is a really adorable little man, in terms of his actions.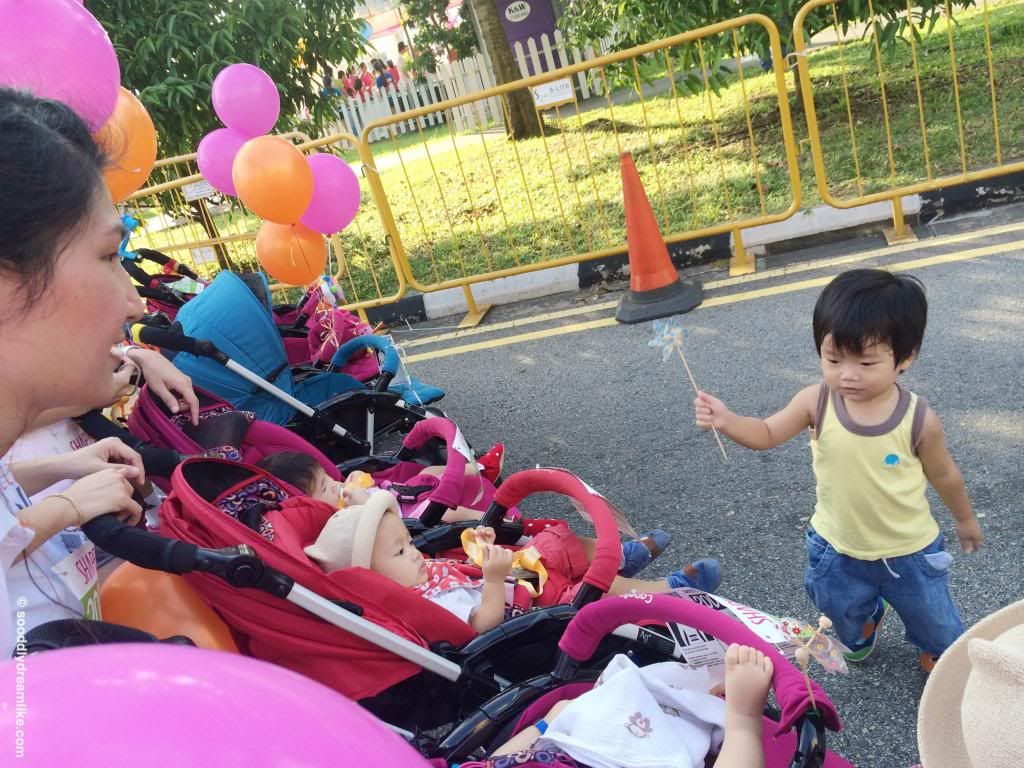 Mabel the selfie expert went to the run with something to do in mind. She wanted to take a selfie with all 10 of us in the picture! She did a good job don't you think, there's room for many more!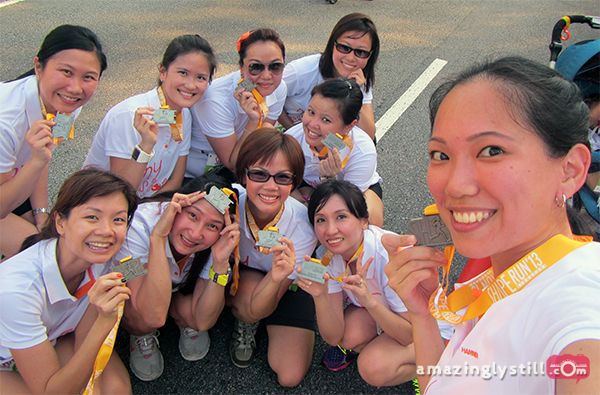 Heres all of us, after the run!
Of course, I took some photos with my Joy!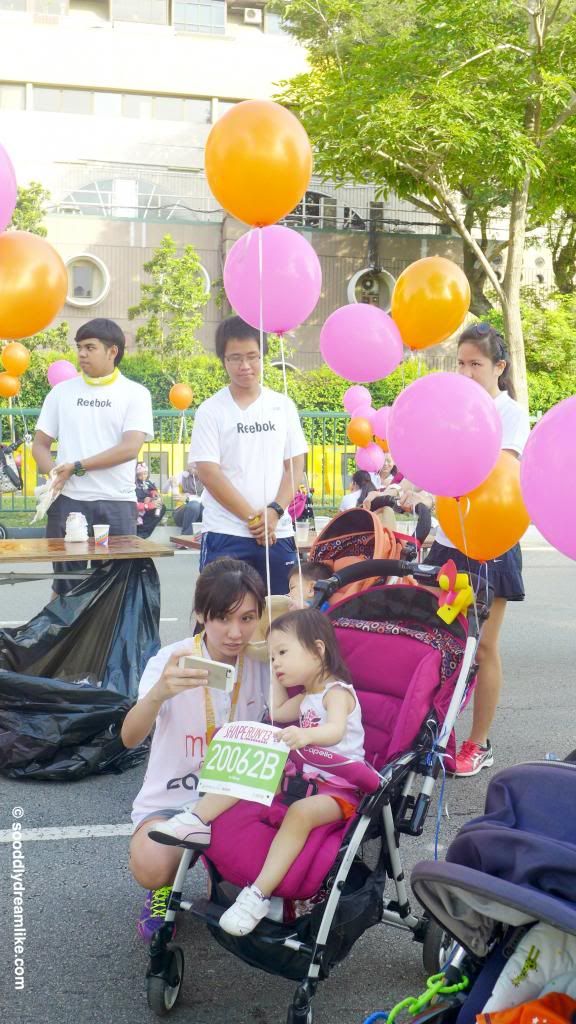 We made it together!
And nobody should forget the people who were by the kerb side, straining their necks and holding their cameras high to take photos of us.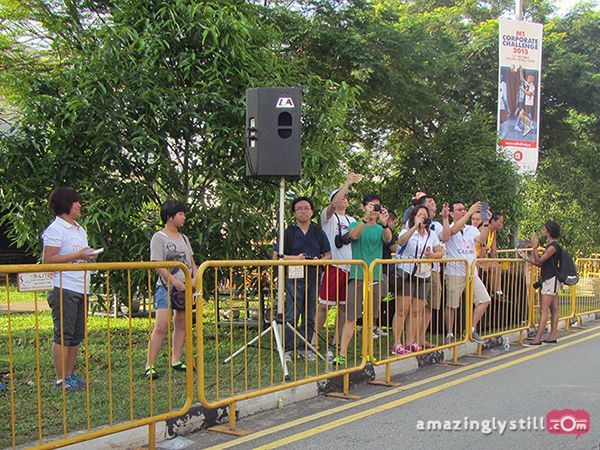 We moved from the road to the field after the run and Joy, greatly influenced by myself on matters regarding the sun, asked for her shades.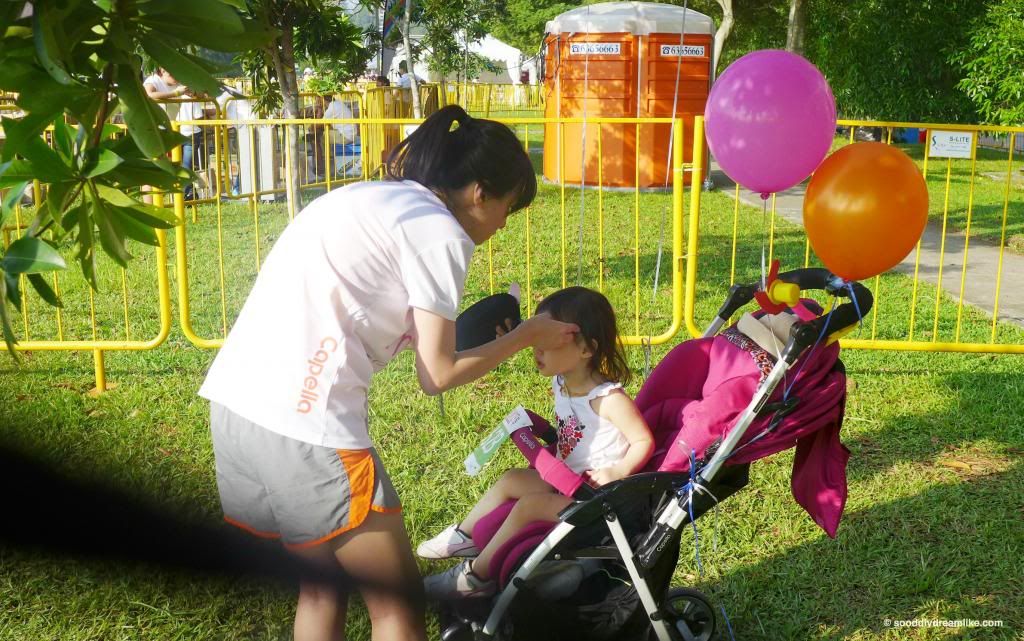 We both protected ourselves adequately before stepping into the sun.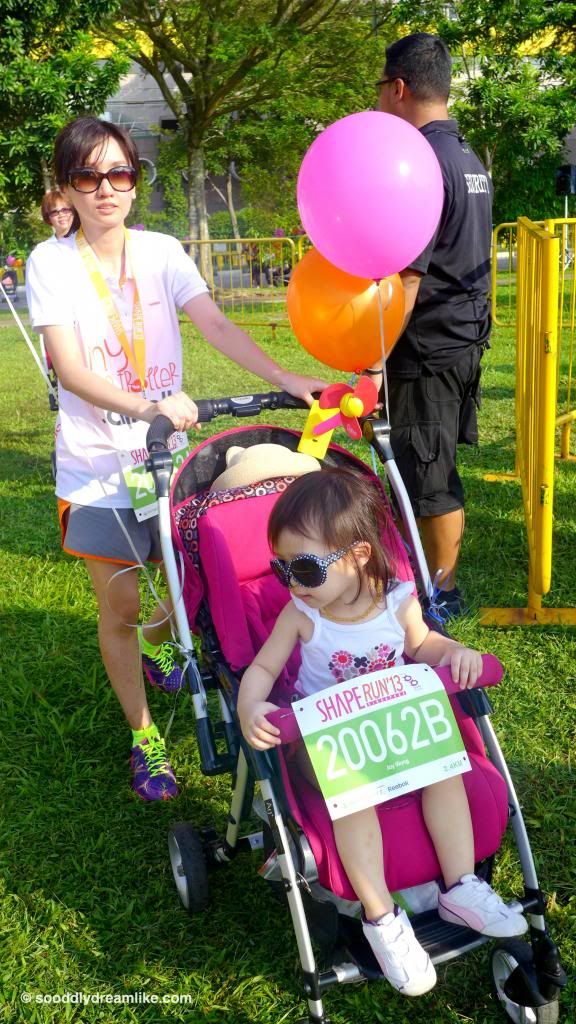 The next two photos are in this post just because I like them.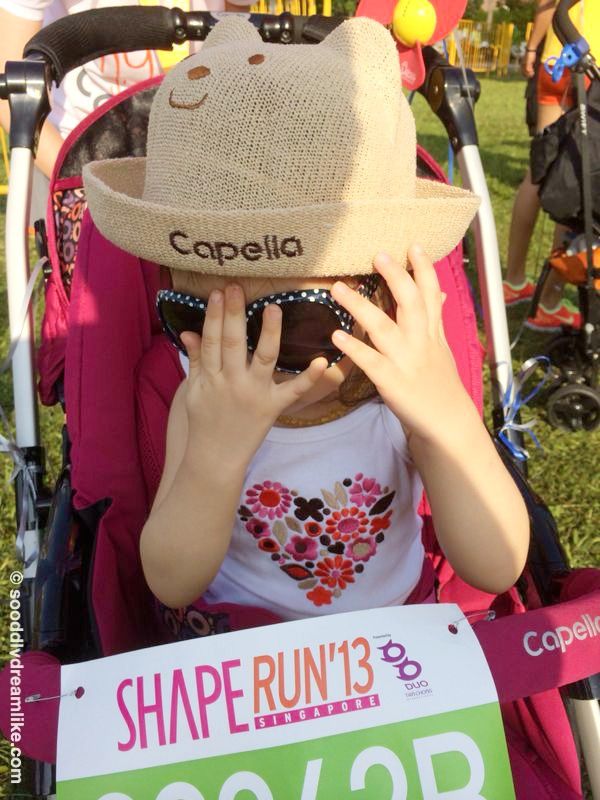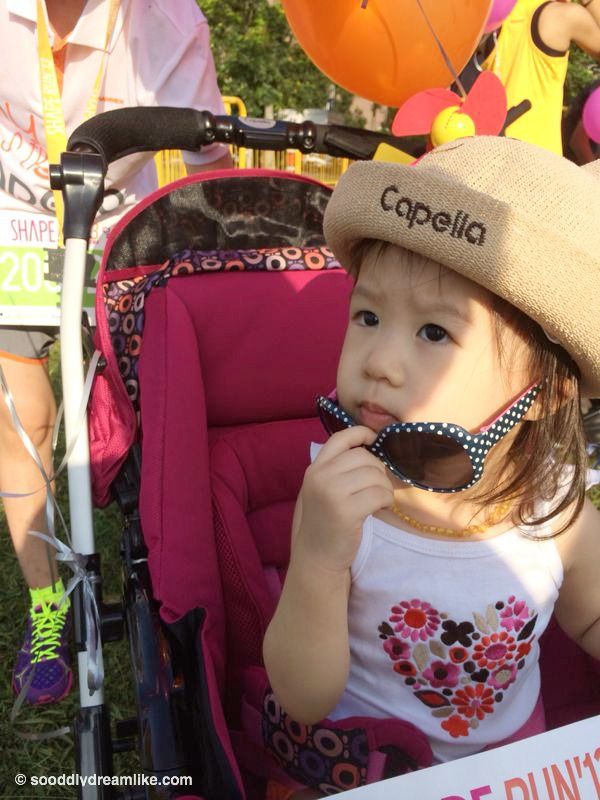 After the run, we went for breakfast and the little girl showed obvious signs of being worn out from the morning's activities.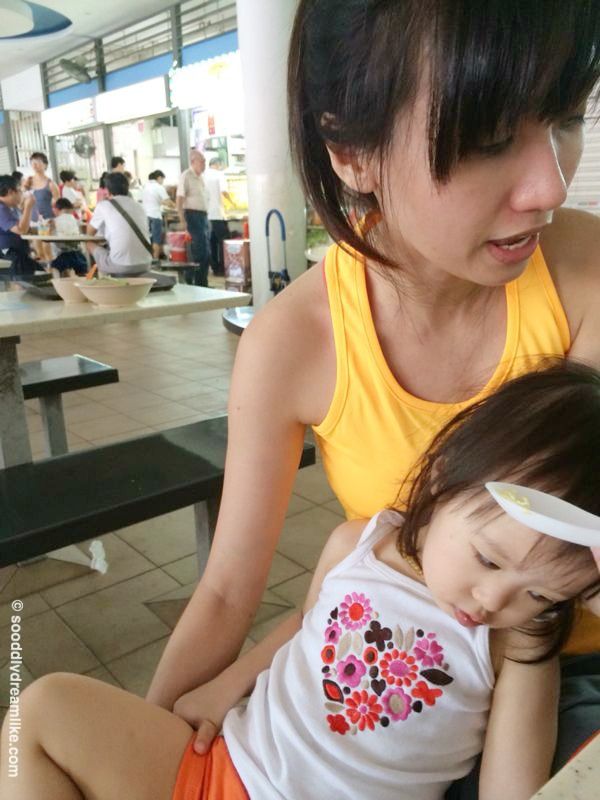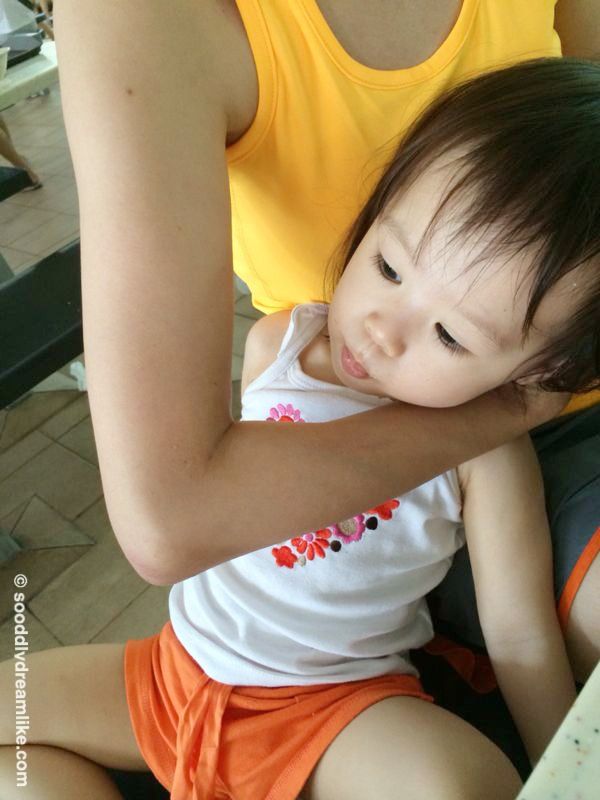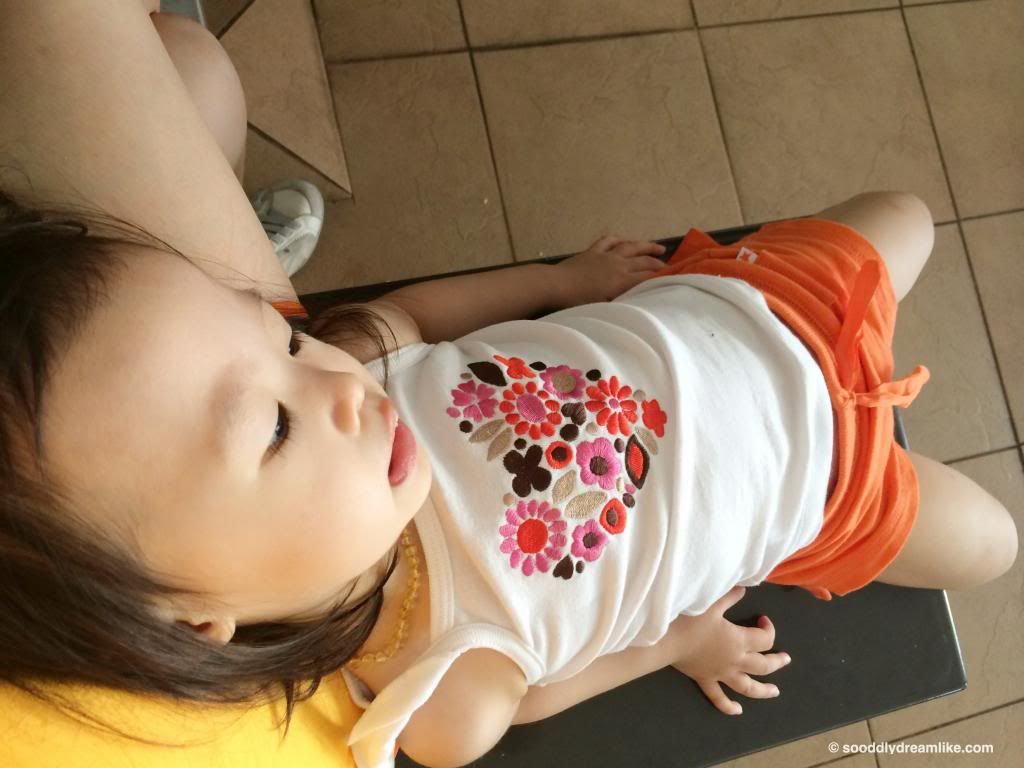 I really liked how the run made her go down for her nap earlier in the day. We both had a good nap after we cleaned ourselves upon reaching home.
The day's events aside, our Capella ConyTM (S230T-13) stroller has been with us on many a day, travelling on different terrains, shielding my little girl from the sun and protecting her from the rain (more on this in another post, perhaps). I am happy with this ride and the conveniences it has afforded us. Thank you, Capella!
More information about Capella's strollers via their facebook page here and Taime's website here.
Disclosure: I was gifted with the Capella ConyTM S230T-13 Smart Travel System for the purposes of test, review and participating in Shape Run 2013. Registration fee and transportation allowance for the Shape Run were provided for. No other compensation was received and all opinions are mine.
******
If you liked this post, do connect with me on your preferred platform, keep in touch!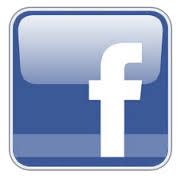 Facebook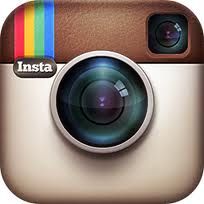 Instagram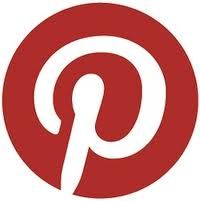 Pinterest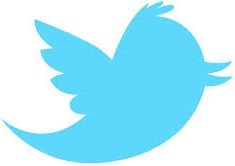 Twitter