Origins Nail Spa is located at Bukit Batok Central, within walking distance from Bukit Batok MRT station. I estimate it to be about 5-7 minutes walk if you know exactly where it is. Daddy drove me there and had little problem locating the salon.
The nail salon is nestled at a quiet corner and decorated in earth colors.
The sitting area (where my hands were worked on) has a glass display where you can look at nail art samples whilst your hands get pampered.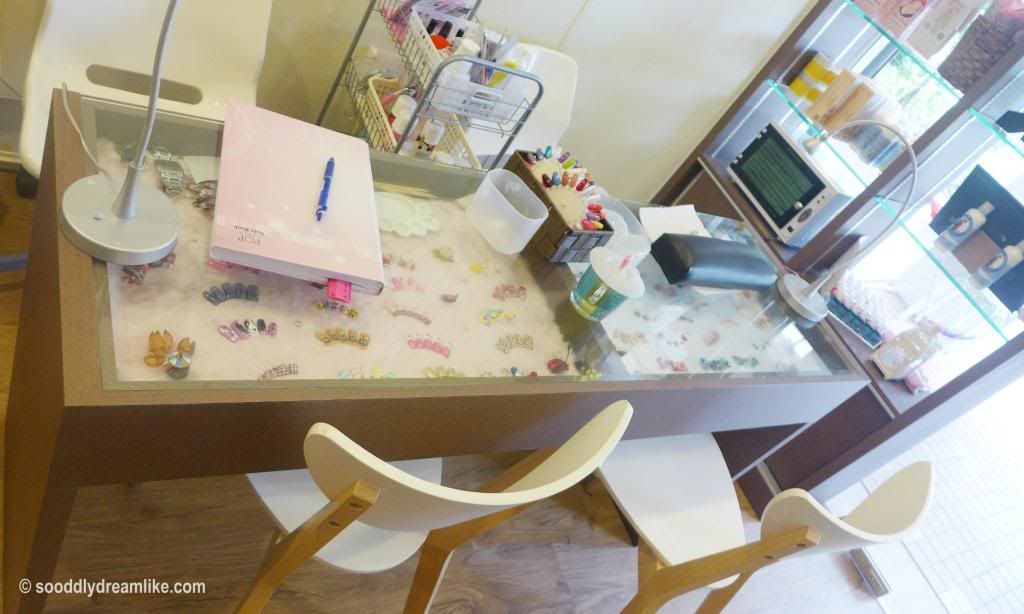 Upon arrival I was served a glass of warm tea. Throughout the session, my manicurist, Yan, checked a few times on whether I needed more to quench my thirst.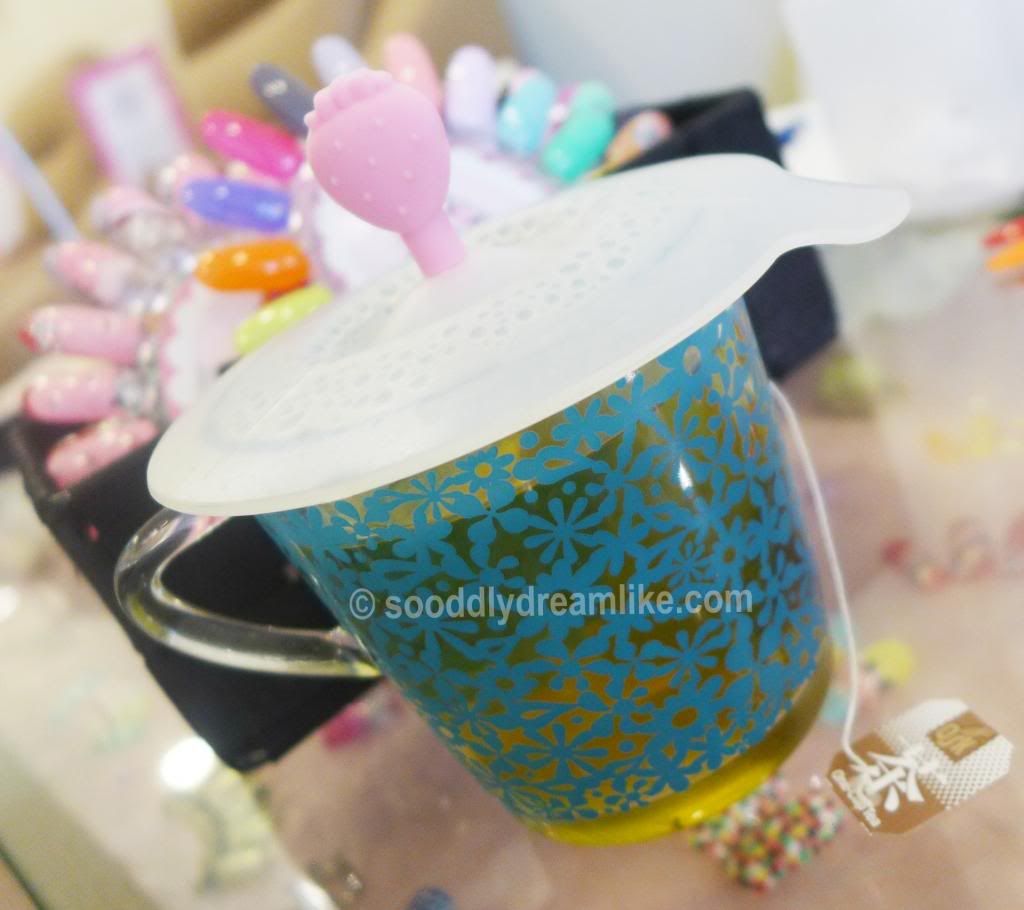 The salon carries OPI, China Glaze, Zoya (yay!), Bling as well as..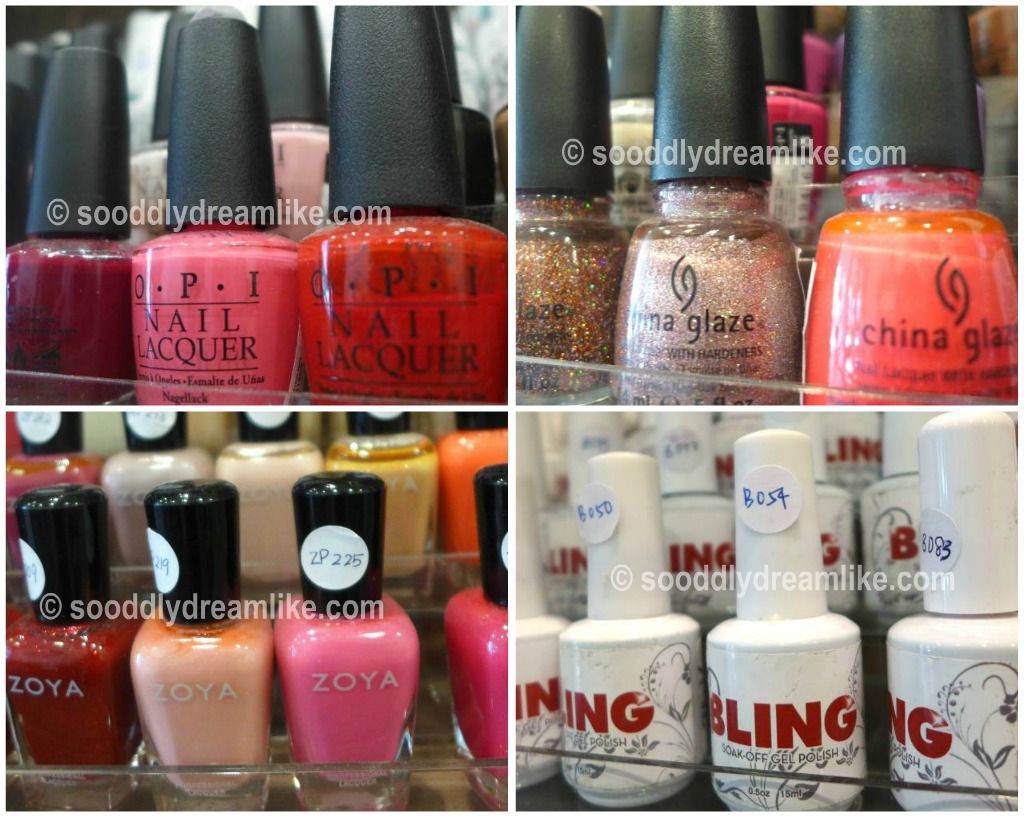 Angel Pro polishes, which I do not normally see in nail salons.

Origins Nail Spa also carries a range of polishes that are less toxic (see the plastic plate behind? the polishes were painted on it does not melt the plastic plate) and can be applied for children.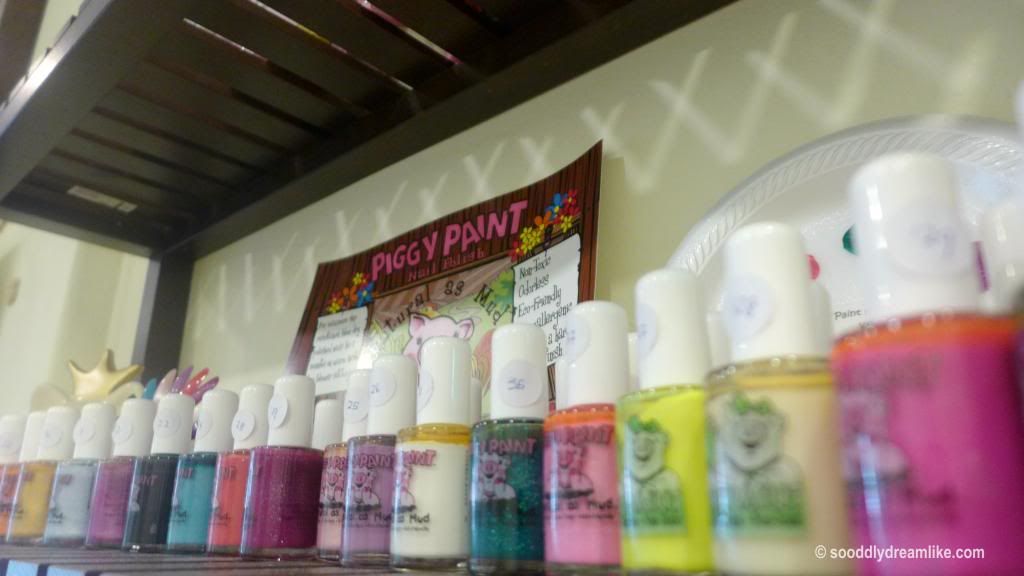 I found there to be a wide range of colors and the nail art samples displayed showed a good variety that are not restricted to the usual boring flower decorations.

Since my session is not inclusive of nail art, I did not try. However the bling polishes caught my eye. I learnt from a manicurist from another nail salon that if you have short nails, some bling polishes give your nails dimension and makes it look less boring.
I am not one to go for garish bling polishes so I opted for a sparkly beige bling shade for my hands and a plum glitter shade for my feet.
Apart from a classic manicure and pedicure, my session included a spa session (scrub, mask and massage) for my hands and feet, which you will read about later.
First my manicurist filed and cleaned my nails before she started on the scrub and mask for my hands.
For my hands, I chose to try the Ginger Scrub (Warming, Soothes Aches, Nourish) and Chocolate (Anti Oxidant, Repair, Rejuvenate, Firming) Mask. My original choice for the hand mask was Balinese Boreh (Warming, For Muscle Aches or wind) but when I arrived, I was advised that the Balinese Boreh mask is more suitable for the leg / feet. I decided that that was ok too, since I can try another type of mask.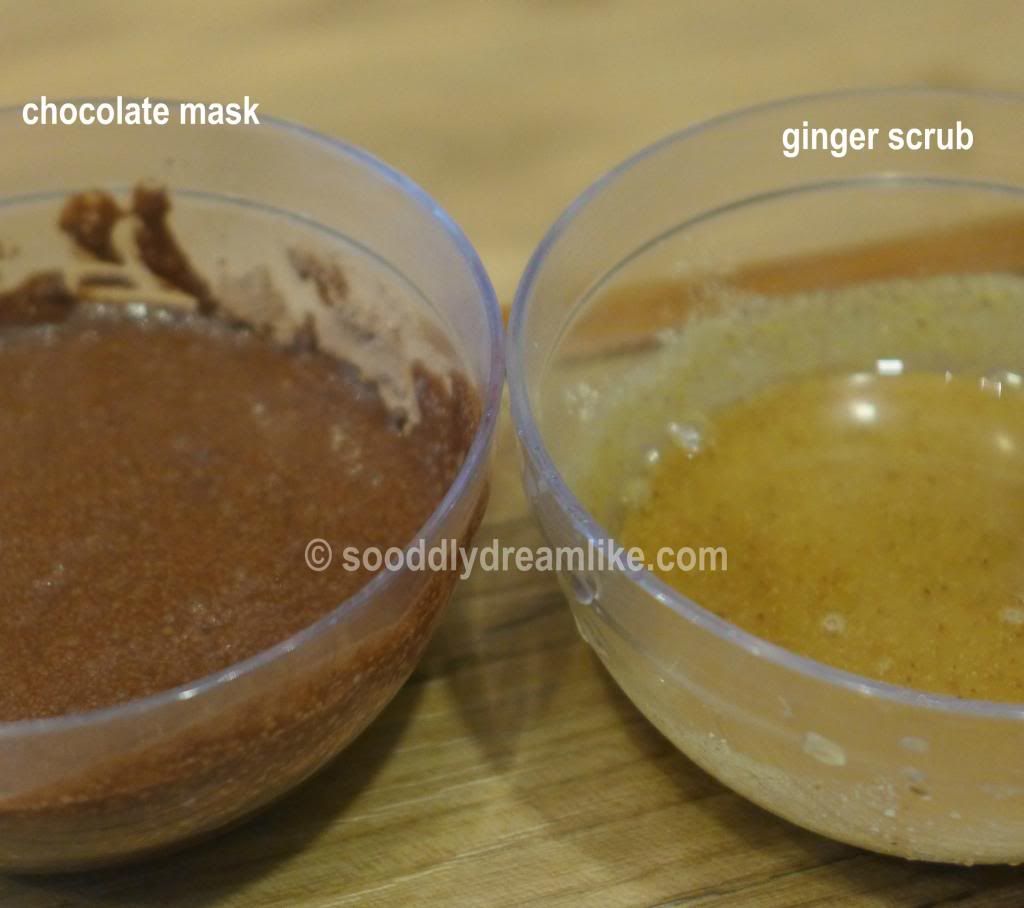 The mask was applied on my hands over a huge wooden bowl of water. Then massaged in and rinsed. I felt a warming, tingling sensation that relaxed me. The particles did not feel painful on contact.

Next the chocolate mask was applied onto my hands with a brush and then sealed with cling wrap. It smelt heavenly.
After the mask was rinsed off I looked at my skin condition and found it pretty drying so do not opt out the hand massage (with lotion) session that is included. I didn't get a hand massage because both of us forgot about it.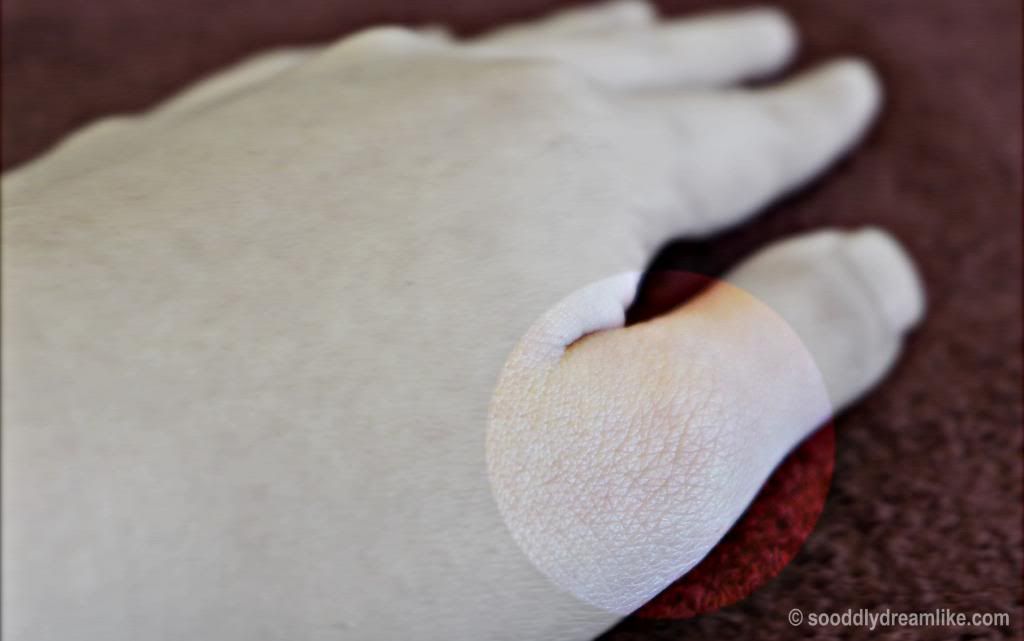 After the mask, base coat was applied, followed by the polish of my choice. I like that the polish application was done under a spot light, so the manicurist has better sight of the job and I too, can see better how it was going.

The finished paint job.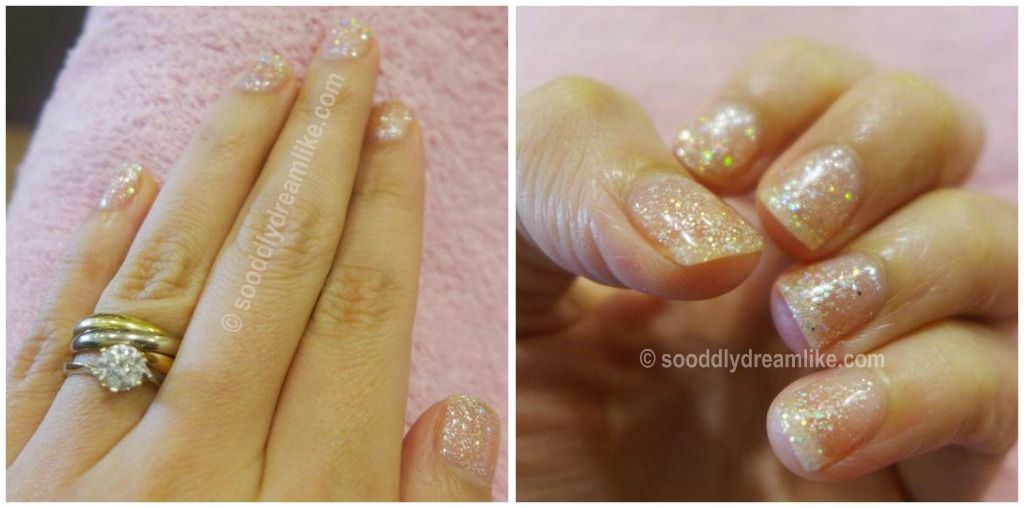 After my nails were painted, I was given a warm blanket for my lap before we got started on the session for my legs / feet.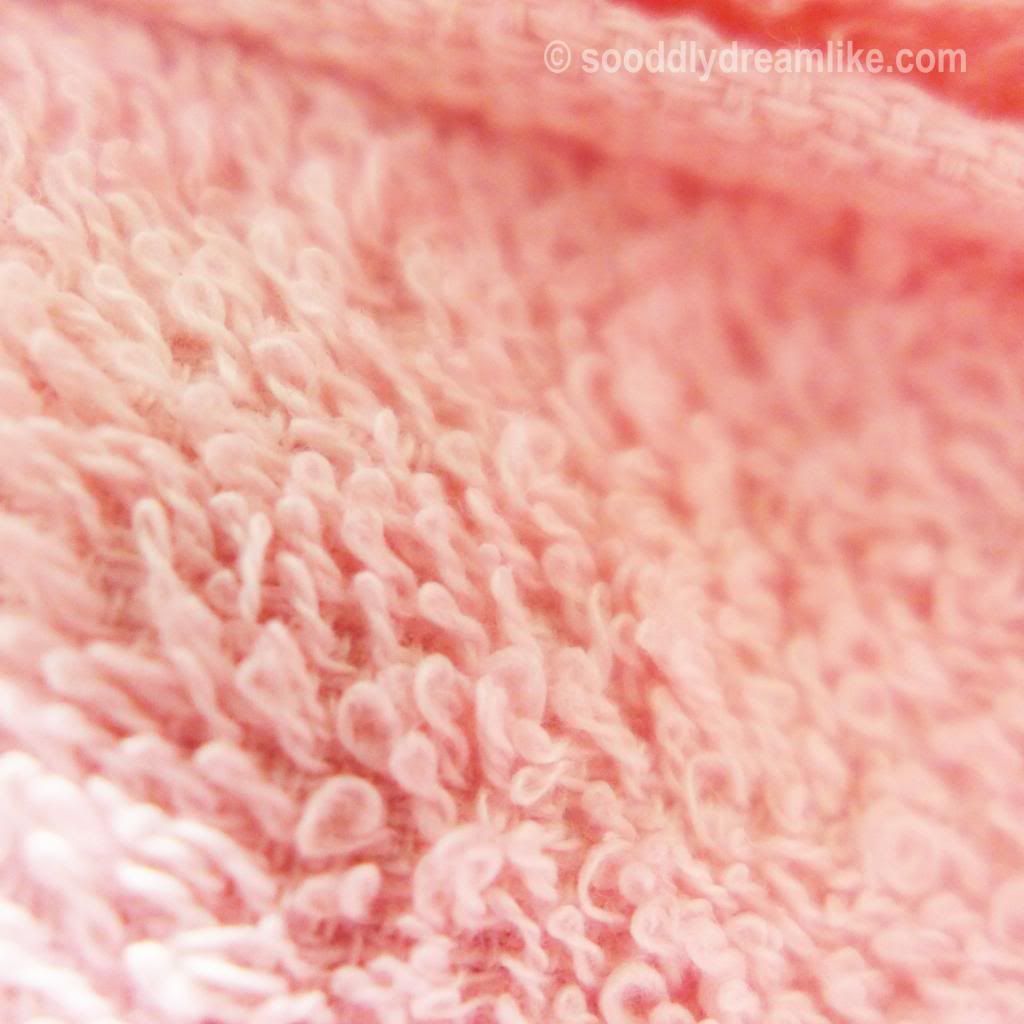 First my feet were soaked in a warm, ocean blue pool of water in the foot sink.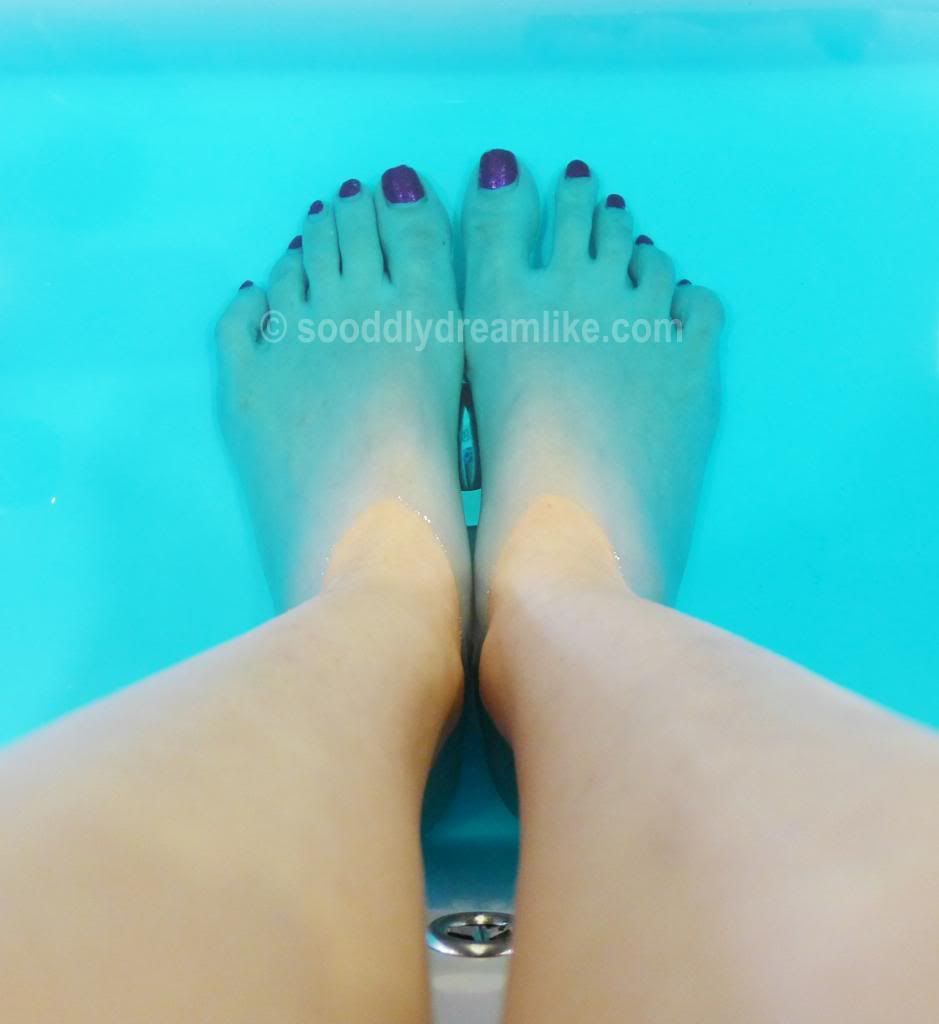 Whilst my feet were being soaked, the manicurist prepared my foot scrub and mask. My choice was Ginger (Warming, Soothes Aches, Nourish) for the scrub and Balinese Boreh (Warming, For Muscle Aches or wind) for the mask.
After the scrub the mask was applied on my legs with a brush and then sealed with cling wrap. I like the Balinese Boreh mask much more than the chocolate mask in combination with the ginger scrub. I can feel the warming and comforting effect of this combination.
This time we did not forget the feet massage. This is the part i enjoyed most out of the session. So relaxing and so comfortable.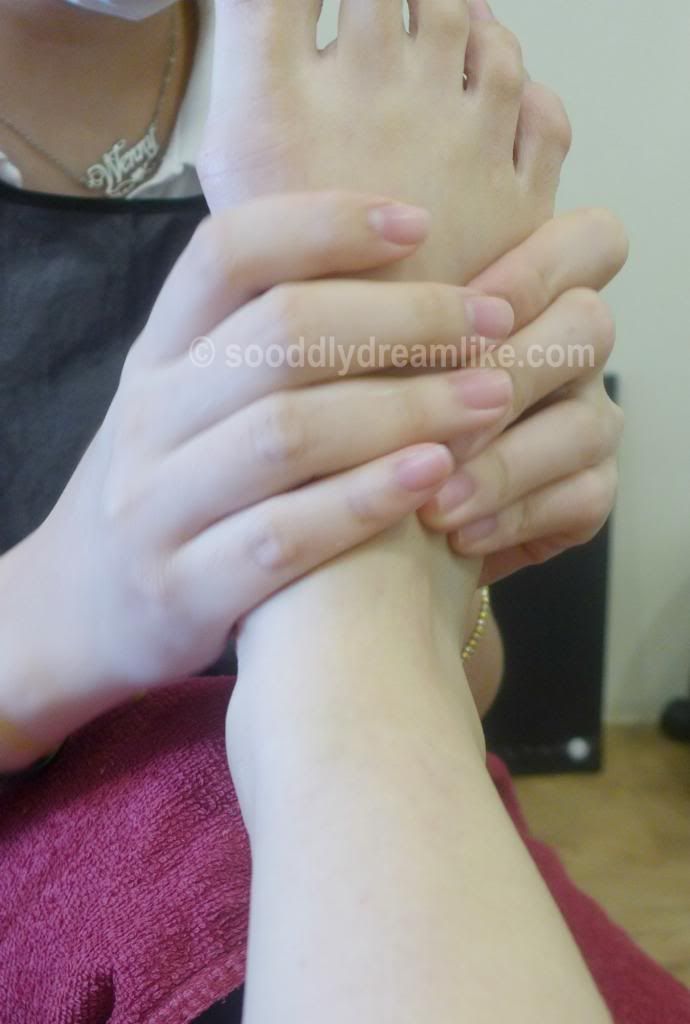 After the feet spa, my toes were painted in the polish of my choice. I love the color but the paint job was not very even. I did not notice right away but if you do visit, remember to check and just inform the service staff to correct it if it happens.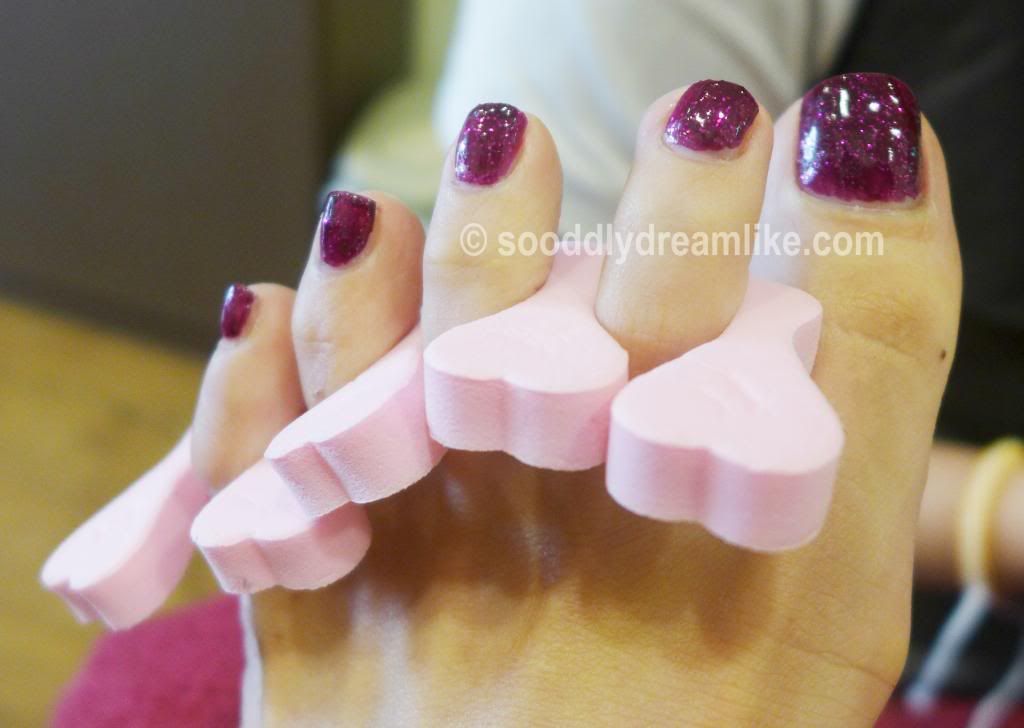 Overall, the experience was satisfactory because it also included a good scrub / mask for my hands and feet and I loved that foot massage. This is me, relaxed after the session.
**** GIVEAWAY ****
One reader will win a complimentary classic manicure session at Origins Nail Spa. This giveaway will close on 21 June 2013 and results will be announced in an edit of this post so look out for it on my blog and/or on my FaceBook page here!
To join, all you need to do is leave a comment and tell me what you enjoy most about a manicure and pedicure session or share your favourite nail colour / brand. THATS IT!
**** PROMOTION ****
On top of the giveaway, Origins Nail Spa has an ongoing GSS promotion valid from 1 June to 30 July 2013. Prices are attractive! To enjoy the promotion, simply print out the coupon below and bring it along with you when you visit.
Origins Nail Spa
644 Bukit Batok Central
#01-68
Singapore 650644
Tel: 65650350
Email: book@originsnailspa.com
Facebook: https://www.facebook.com/OriginsNailSpa
Appointments:
Monday – Friday (11am to 6pm)
Saturday & Public Holidays (10am to 6pm)
Closed on Sundays
**** WINNER ANNOUNCEMENT ****

joyJoy just picked a winner! First she took one of the rolled up names in Daddy's palm and then she took it all the way to the room door and placed it on the floor (no idea why?!). I took it to be the winner so congratulations to…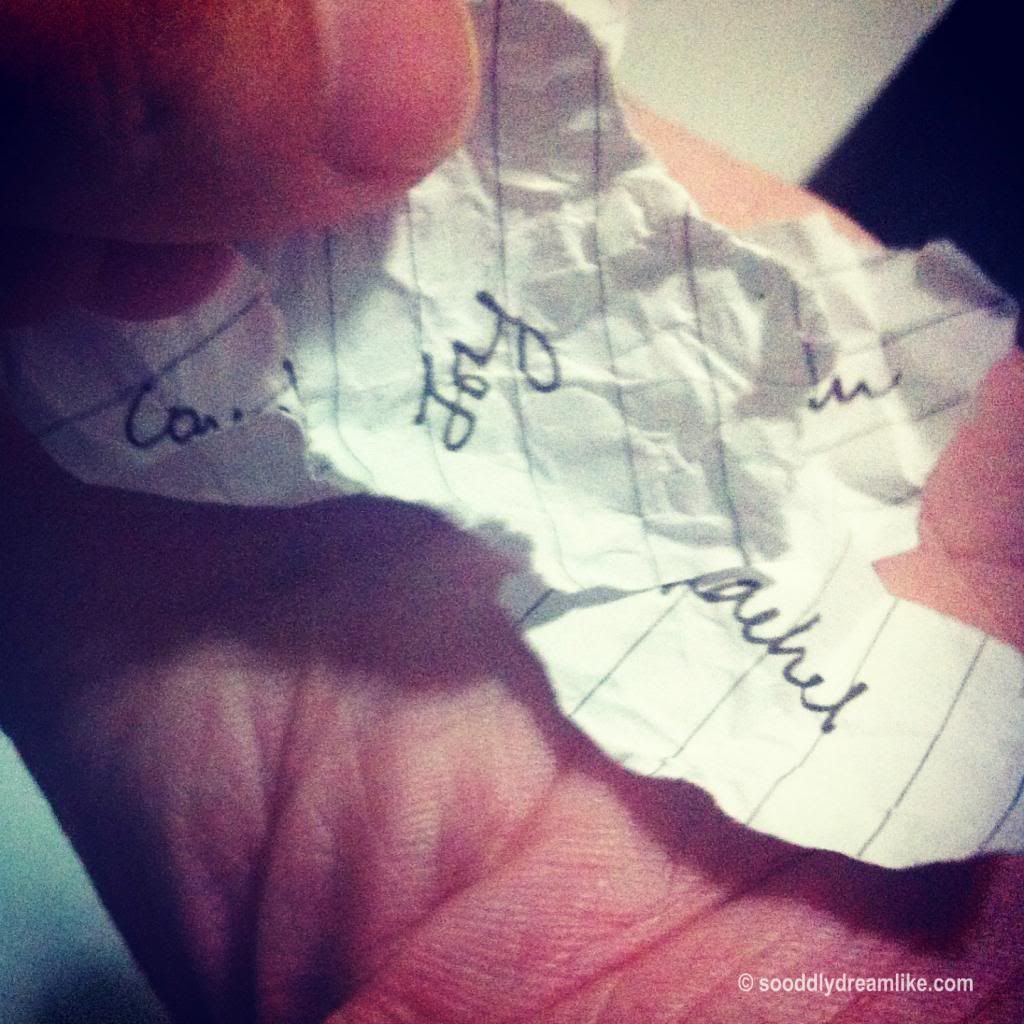 What a coincidence that Joy picked Joy. :)
Disclosure: I was invited for a complimentary classic manicure, pedicure and nail spa session. No other compensation was received and all opinions are my own.