Sponsored Post
After I explained how online grocery shopping worked for me, I was asked the same question numerous times…Why do I like to shop on RedMart so much?
Good question! This one is easy! Let me count the ways….
Selection of groceries
Almost all the groceries I need are available on RedMart, including a surprisingly selection of organic groceries and certain others I was unable to locate in just one store.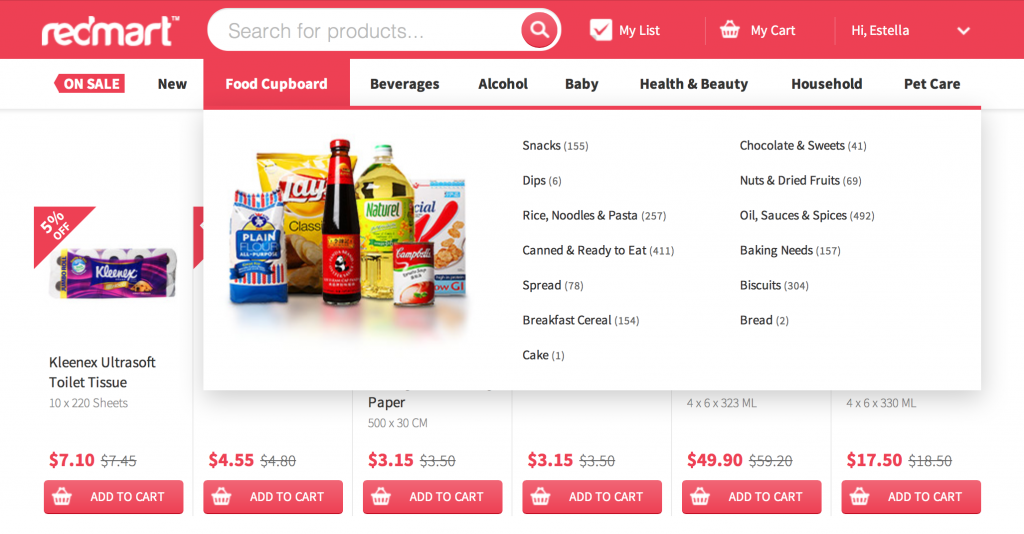 For products that are not available on RedMart yet, a request can be sent for their merchandising elves to work their magic. You should try, I did!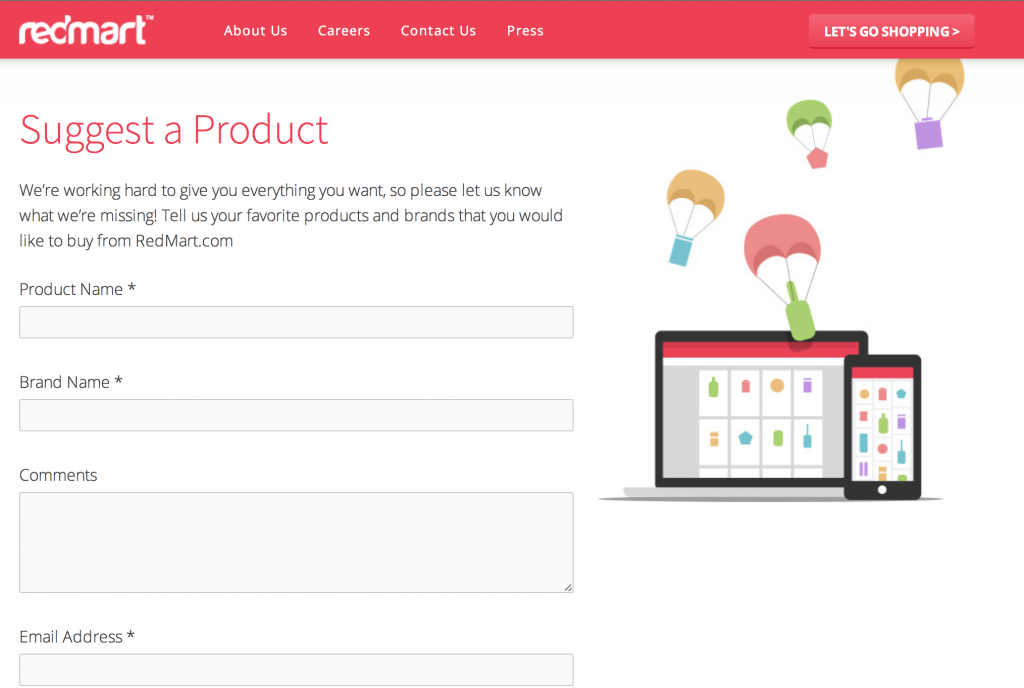 Thoughtful shopping user-interface
On RedMart.com, I can see the actual product labels for myself! I'm making a conscious effort to read product labels to avoid buying products I will end up not using for health reasons so this is important to me. It almost feels like I'm at the supermarket, except I'm either buying from the comfort of my home or I'm saving time buying on the go on my mobile.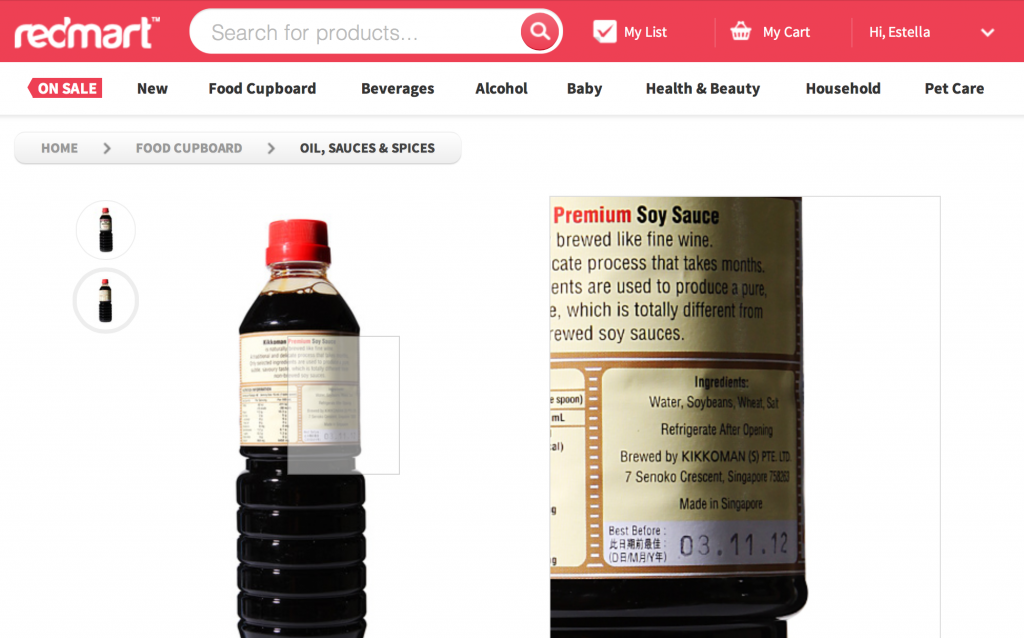 When a product goes out of stock, I can easily track when it is available again by utilizing the "NOTIFY ME" button.
Looking for what I want is a breeze because the search function available on RedMart.com is very effective, even if I don't know forget how to spell what I'm looking for.
Important information is available or easily accessible at a glance on RedMart.com. All it takes is a quick peep at the relevant places to get them!
On RedMart.com, I am not automatically directed to the grocery basket page after I "Add to Cart" and my train of (shopping) thought is not lost due to that distraction. If I should want to have a quick review of my grocery basket, I just need to point my curser to the basket icon and a easy on the eye view of it's contents will be shown. Love it.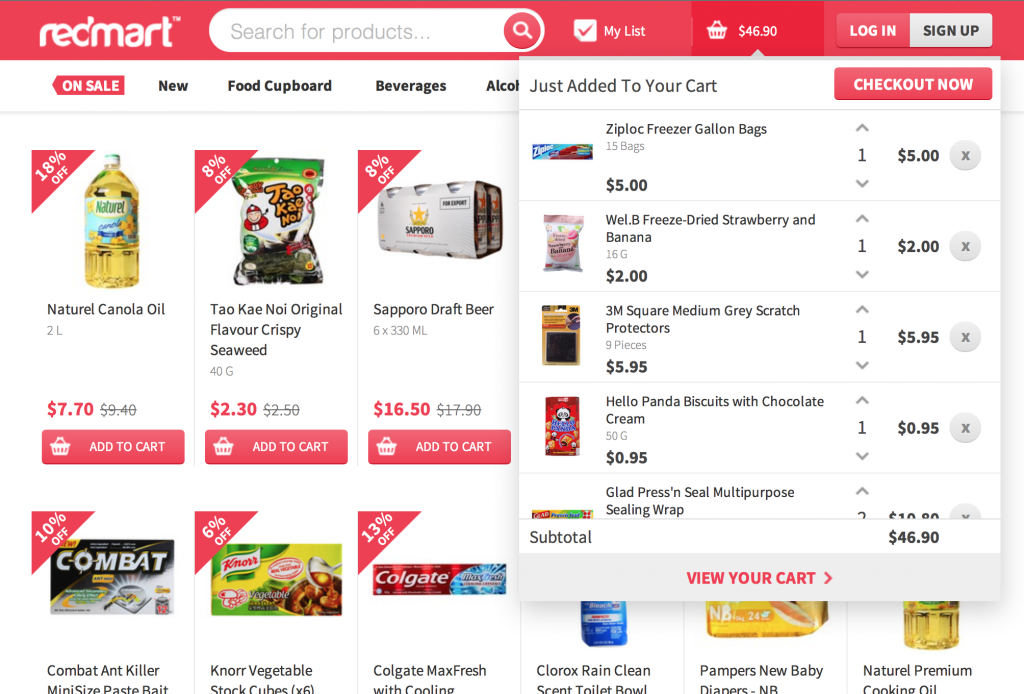 On RedMart.com, grocery listings load seamlessly as you scroll, making it effortless to navigate. On the RedMart App, the landing screen shows important information (like, what's on sale?). Touch on "see all" and the same seamless loading experience is replicated.
Reordering is a breeze
It is super easy to re-experience the convenience of shopping on RedMart since previous orders are automatically consolidated in an easy re-order list. In fact, I'd say it's easier than making the first order.
Delivery is free and good
Free delivery for orders of S$49 and above (usually S$75 and above, already an amount that is easily hit) has been extended till 30 September 2013.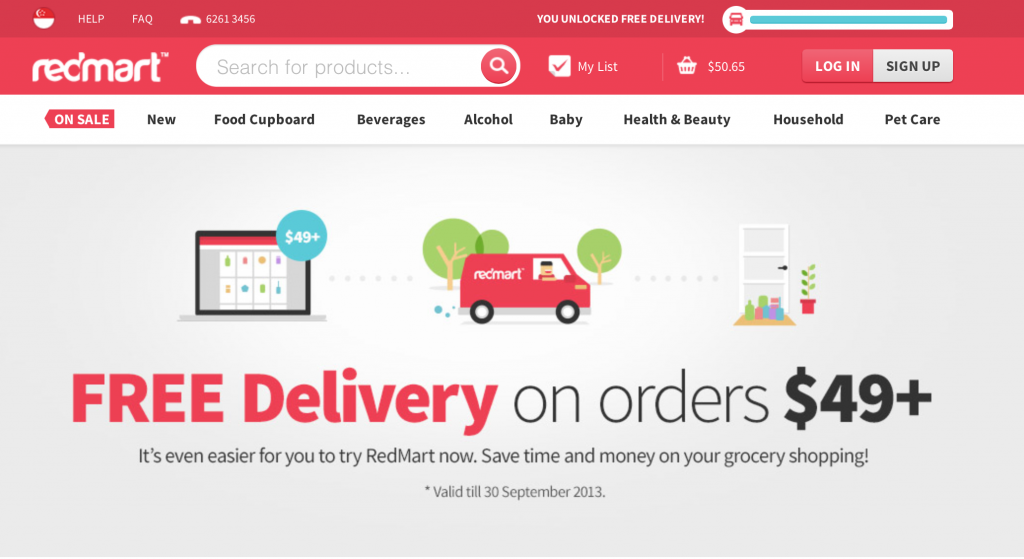 Delivery is made latest on the very next day. For same day delivery, all I need to do is to order before 10 am that day so, say I order say at midnight, it is possible to have the groceries delivered to me when I wake up the next day! On delivery day, a sms will be sent to remind of the delivery, maybe just in case I thought it was all just a dream (hahaha sorry, too puny for me to resist!).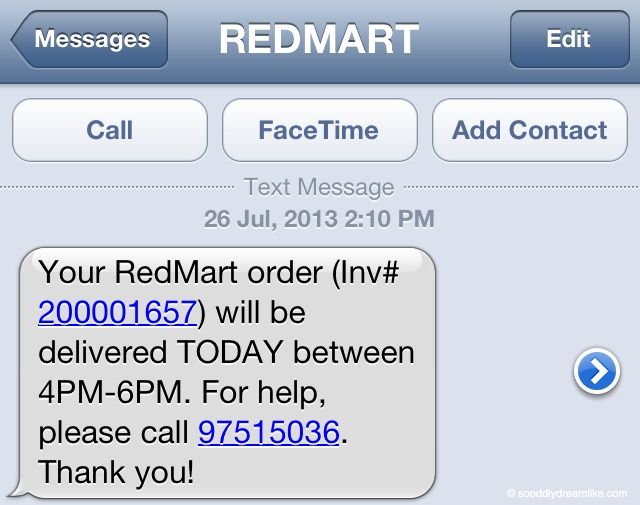 When my orders were delivered by RedMart, they arrived so well protected!

I learnt later that RedMart does not use external delivery services so, they can take care of your groceries from start to end.

Planning is easy, Flexibility is an option.
I know right, it's easy to say I want to be there when my delivery is supposed to be there. Changes and emergencies do happen and I'm happy that RedMart has thought about this.

There is even an option to authorise RedMart to leave your groceries at the doorstep even if you are not around.

I feel like I will actually receive help when I need it
Have you read RedMart's FAQ? It is so well thought out, with contact information and all that it made me feel they are serious about supporting their customers.
So go on, try grocery shopping with RedMart if you haven't, I have a discount code below you can use!. If you have done so already, it's so cool, right? :)
****** DISCOUNT CODE !!! ******
Get an additional 10% off on your first purchase! All you've got to do is enter the discount code 'rm sodream' before you check out! Happy shopping!
Disclosure: This is Part 2 of 2 scheduled posts relating to RedMart.com. I am compensated for this but all opinions and views are my own.
******
If you liked this post, do connect with me on your preferred platform. Keep in touch!