In the mornings, it is possible for me to have hair that behaves somewhat… if I do a lot of prep work the night before that is. Prep work like blow drying my hair before I sleep or pushing all of my hair upwards after lying on the pillow so that I don't sleep on the ends (Bonus: this gives me some volume).
But of course, these unorthodox methods don't work all the time despite my best efforts.
No how. When I really need my hair to behave, I rely on my trusty hair straighteners. Since I re-discovered hair-straighteners, I style my hair everyday to avoid the disaster you see above. What I love most about have a straightener is that I don't need to go to a salon for styling on special occasions, I can just do it on my own!
Coincidentally, when one of my old straighteners died on me, Philips sent me their ProCare Hair Straightener for review. Yay!
First Impressions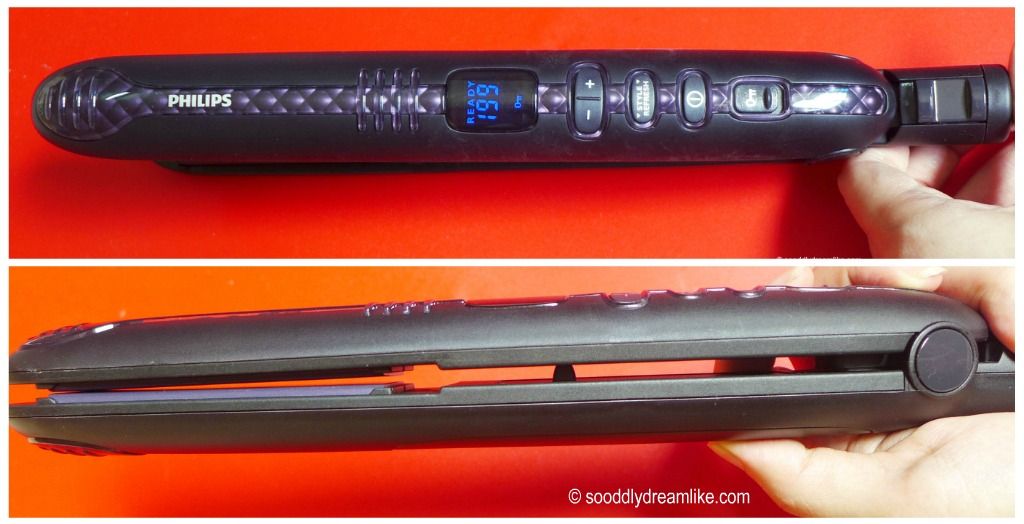 Pretty isn't it! At first sight, the Philips ProCare Straightener is aesthetically pleasing. The straightener is light and it's width (about 2 inches) is just about enough for creating curls and waves. I also noticed two unusual buttons on the hair straightener, namely, the Style Refresh button and the push button with a lock symbol on it. Curious Curious.
Very Quick Try
To me, hair straighteners must pass the test of a very quick try. A good straightener should allow you to be able to style as desired without spending too much time and effort.
First, I tried using the straightener to create big curls in the morning and wore it for half a day. After cooking, cleaning up after a little girl, bathing the said little girl and putting her down for a nap, I straightened my hair. In the picture below, I only treated my hair once (sompah!).
In the picture on the right above, you can still see a few strands of hair which I missed out treating but the whole straightening process for this side of my hair took less than a minute. All I did was, gather hair, treat once, let it go. The results were amazing and very quick.
Excited much? Wait… There's more!
This straightener is also (very) good for curling. No kidding. I have not curled my hair using a straightener in a long, long time. It just didn't work out for me in the past, not on a daily basis anyway because it took too much time with my old straightener and the outcome was curled hair that looked dry enough to start a fire with. One try with my rusty hair curling skills ( I had to watch a youtube video to remember how to do it) and this straightener blew me away.
All pictures above are unedited except for cropping and water-marking. I put the straightener to the ultimate test by taking these pictures under strong sunlight (nothing escapes sunlight) and no hair product (big no no please) whatsoever to make the hair look better. It is exhilarating to see just how bouncy and fluffy the curls were. And look at that shine!
I must say, I'm impressed. This is a straightener that gives fast control in styling and restyling, all at the push of a button.
(Psst: If you're already thinking of getting this straightener by now, I have good news for you at the end of this post!)
Functions
After the very convincing test, I became interested to know just what made the straightener work so well and I sat down to read about the highlights of the straightener.
Advanced Philips H D+ technology + High performance heater
The H D+ technology ensures even heat distribution, even at high temperatures and prevents damaging hot spots and the high performance heater ensures that the plates maintains a more constant temperature to enable consistent styling at a caring temperature.
I normally style my hair using heat up to a maximum of 200°C to avoid damaging hair, even if the straightener can go higher. With a number of other straighteners I've used, my observation is that each time hair comes into contact with the plates, the plates cool down a little and this, more often than not, results in uneven styling.
The maximum temperature setting for this straightener is 199°C. Sufficient. There does not seem to be any noticeable drop in the temperature of the heating plates. Good.
Ceramic Plates
Ceramic is microscopically smooth and durable, making it one of the best materials to be used for straightening plates. Ceramic plates are known to give a finish that has more shine. I'm not a subject matter expert on the plates but oh boy do I see the shine!
Fast heat up time
Philips indicated that the heat up time is 15 seconds. My personal experience is around 10-12 seconds. I turn the straightener on, put on my sunblock and viola ready. Very quick.
Automatic setting for re-styling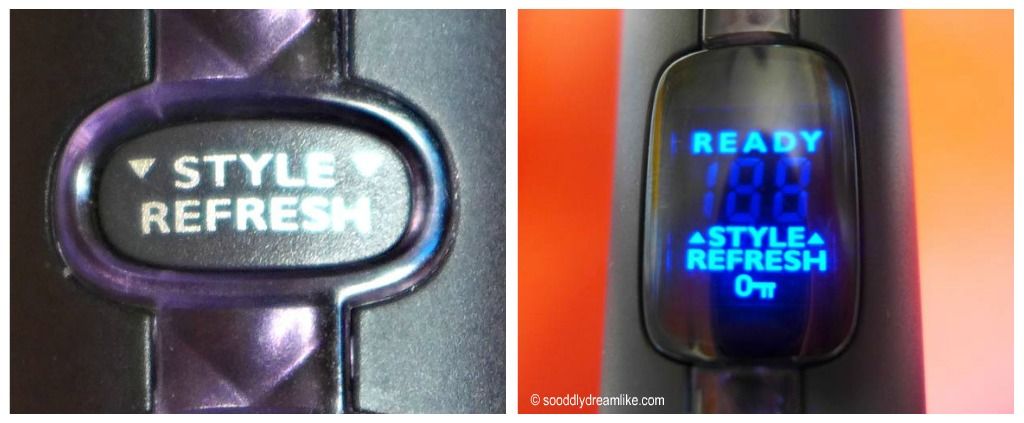 When you indent the Style Refresh button on the Philips ProCare straightener, it automatically adjusts the straightener to a gentler temperature treatment of hair that has already been heat treated before. This enables restyling with a peace of mind, knowing that you are not overheating your locks. Philips is very thoughtful in this aspect.
Temperature Lock
This function on the Philips ProCare straightener enables you to lock the desired temperature you have set and prevents you from accidentally increasing or decreasing the temperature. I find it very useful, especially in curling hair because I need to hold various parts of the straightener body in curling, the likelihood of accidentally pressing on to other buttons on the straightener is very high, since these buttons are right where I need to hold the straightener.
Universal Voltage
Many countries run anywhere from 220 volts to 240 volts. This straightener can run up to 250 volts. Having a universal voltage appliance means you can take it anywhere in the world without the need to use a voltage converter.
(Tip: Buy appliances that are either universal voltage or at least, dual voltage. The downside of getting a single voltage appliance is that you will need a converter to use it if the voltage is incompatible but this can void the warranty and or damage your appliance.)
Other observations
The Philips ProCare Straighter comes with a closing lock. When locked, the straightener folds up and flattens, making it safe and easy to store away.
The straightener comes with a swivel cord, which makes it easier to use on hard to reach areas and also in curling. There is also a sufficiently large ring hole build into the straightener – you can hang it up somewhere for ease of access.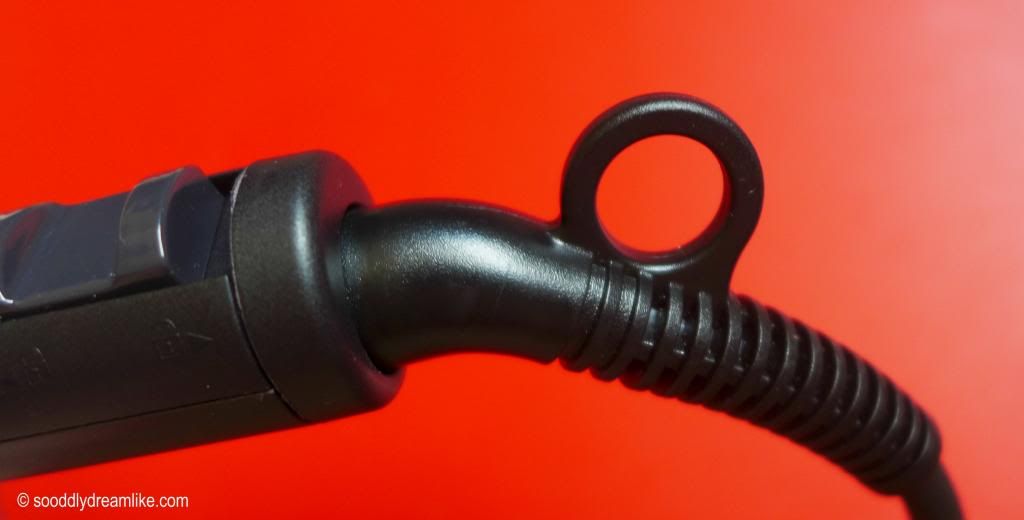 The wiring cover leading to both the plug and the bottom of the straightener are very sturdy. This is one level up in terms of safety.
The cable is pretty sufficient at 1.8metres long.
This product comes with 2 years worldwide warranty.
Conclusion
I wasn't expecting the Philips ProCare Straightener to be such a good straightener but the experience has won me over. This is one straightener I highly recommend.
PROMOTION!
Other than how well the straightener works, its cost is the part I'm next happiest about. The Philips ProCare Straightener usually retails for $109 but this year during the Great Singapore Sale (GSS) you can get it for a sweet sweet price of just $79!
Whats more, Philips will be running a GSS promotion. From 1 June to 31 July 2013, a minimum spend of $200 on selected Philips products in a single receipt entitles you to a Sure Win Lucky Dip. $30, $60 or $200 shopping vouchers to be won! What a bonus!
Do follow Philips Twitter page at https://twitter.com/PhilipsSG and participate in the Twitter games to win up to $100 shopping vouchers!
You can find out more here.
Disclosure: So Oddly Dreamlike was provided with the Philips ProCare Straightener for review. No other compensation was received and all opinions are my own.