My resolve to breastfeed was very firm – I planted my flag on that hill and persevered with everything I had. The little girl turned 17 months old two days ago and I celebrate that I have been able to provide breastmilk for her for just as long.
14 out of my 17-month long breastfeeding career were spent hugging my breast pump in the executive toilet whilst servicing a demanding job. I pump twice a day, from Monday to Fridays for 15 minutes each time. It took me a lot of trial and errors to get to my current state of comfort with expressing milk at work. By now, its second nature for me and I do not feel that it is an inconvenience.
Philips has recently launched their new range of Comfort Breast Pumps and I was happy to receive their single electric Comfort breast pump for review, based on factors which I find are important to support a busy working mother in providing breast milk for her child.
First Impressions
In the box you will get:
1 Breast pump body including basic tubing unit
1 Standard size massage cushion
1 Natural bottle with an extra soft Newborn Flow teat
1 Sealing disc for milk storage
1 spare diaphragm.
PLUS: 2 breast pad sample packs, 1 day 1 night.
This is hands down the most aesthetically pleasing pump available in the market now. The pump looks very clean and fuss free. I believe that colours have an undeniable effect on our moods and so the choice of calming purple as colour ascent gets a brownie point from me for creating a relaxing mood.
Comfort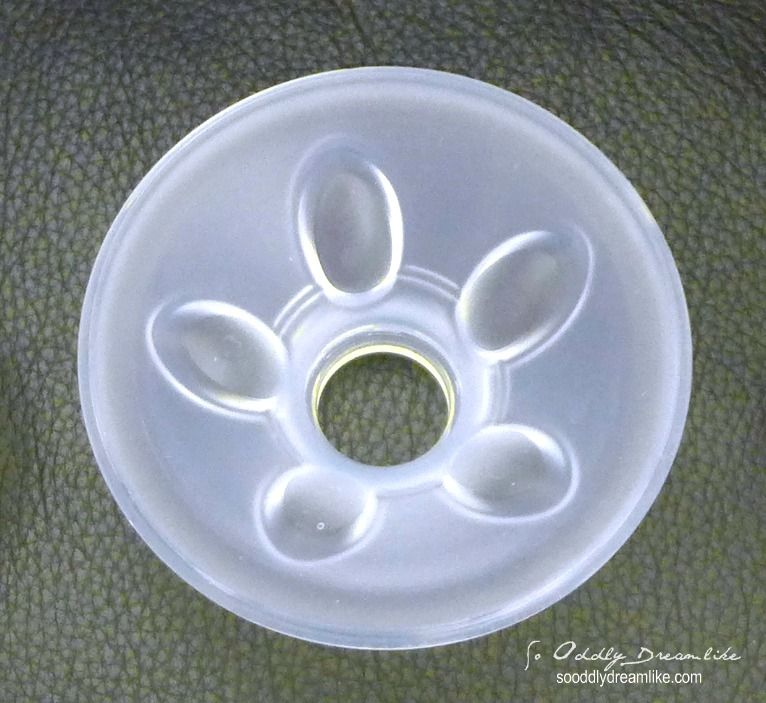 What makes this breast pump truly comfortable to use is that now, I do not need to lean forward when expressing milk. You can rest on a comfortable pillow supporting your aching old back to do the necessary.
Although I was worried that the massage cushion means more real estate in my flange means discomfort means I wouldn't want to use the breast pump, turns out it was very soft and it indeed made pumping comfortable.
Portability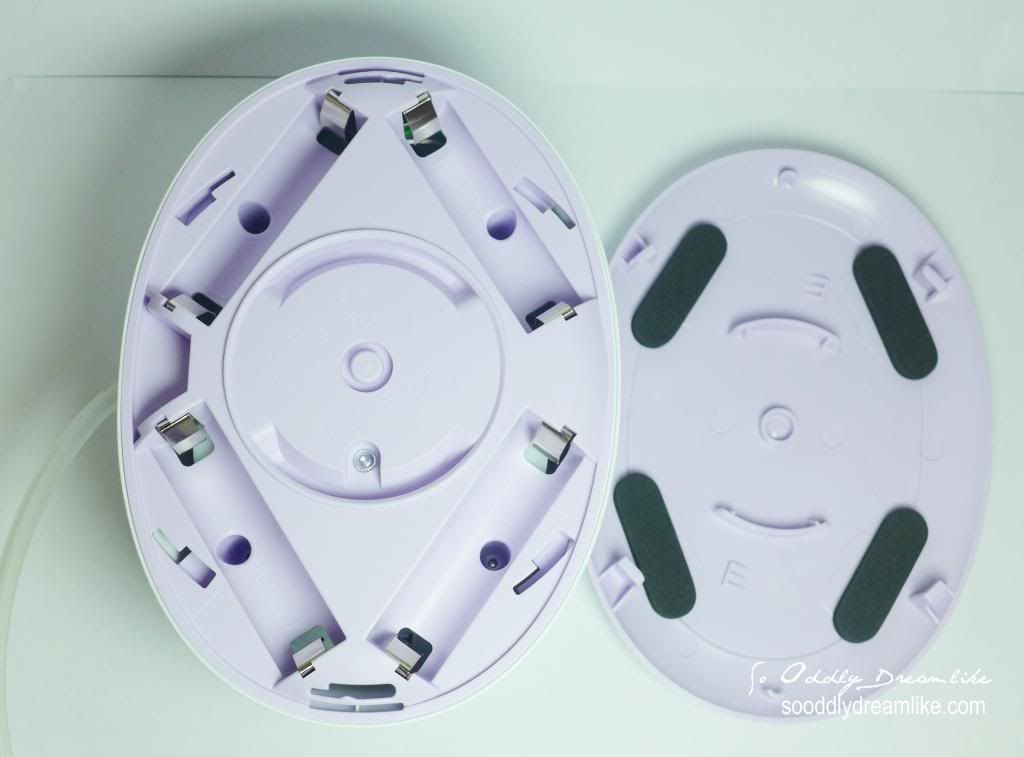 I pump in toilets at the office, in the malls and on planes. To me, portability is not just how big or small, heavy or light the pump is but also how well the breast pump can function without being plug in.
I was very pleased that the new Comfort Breast Pumps can run on 4 AA batteries. The fact that the pump runs on any AA battery which you can buy easily when you are on the go / run out of batteries is, to me, a big plus because I am used to a portable breast pump that runs only on a compatible battery particular to the brand that is not easily available nor cheap. You can only imagine the consequences if I ever get stuck in an airport due to a flight delay and I ran out of battery on my pump.
I did not experience any decrease in power just because the pump was running on batteries, which is good.
Ease of assembly and use
I have no time to fiddle with tiny or too many parts. The assembly of this pump is intuitive and I had no problems fixing it up the first time round without referring to the manual that came with my pump.
Ease of cleaning and drying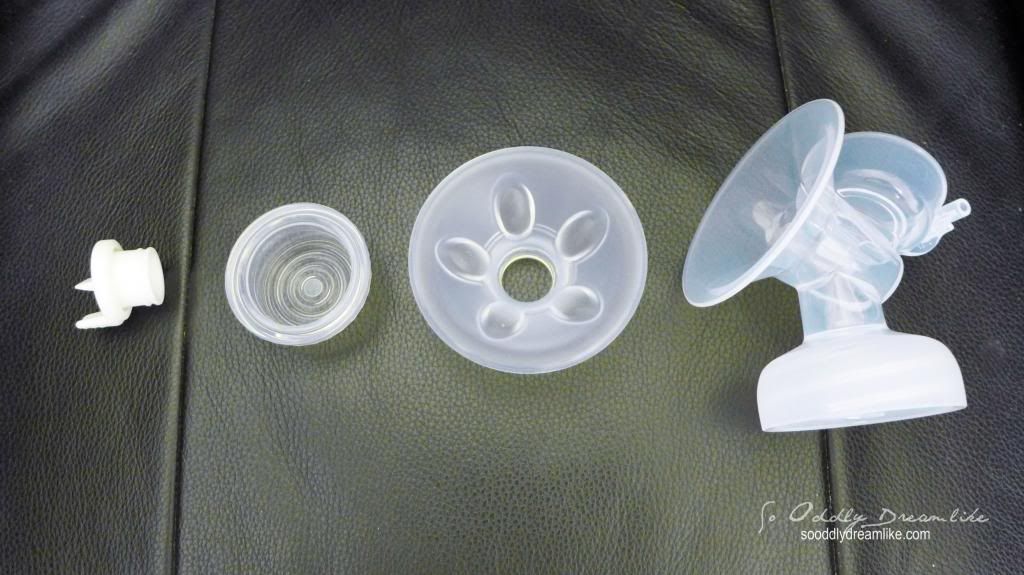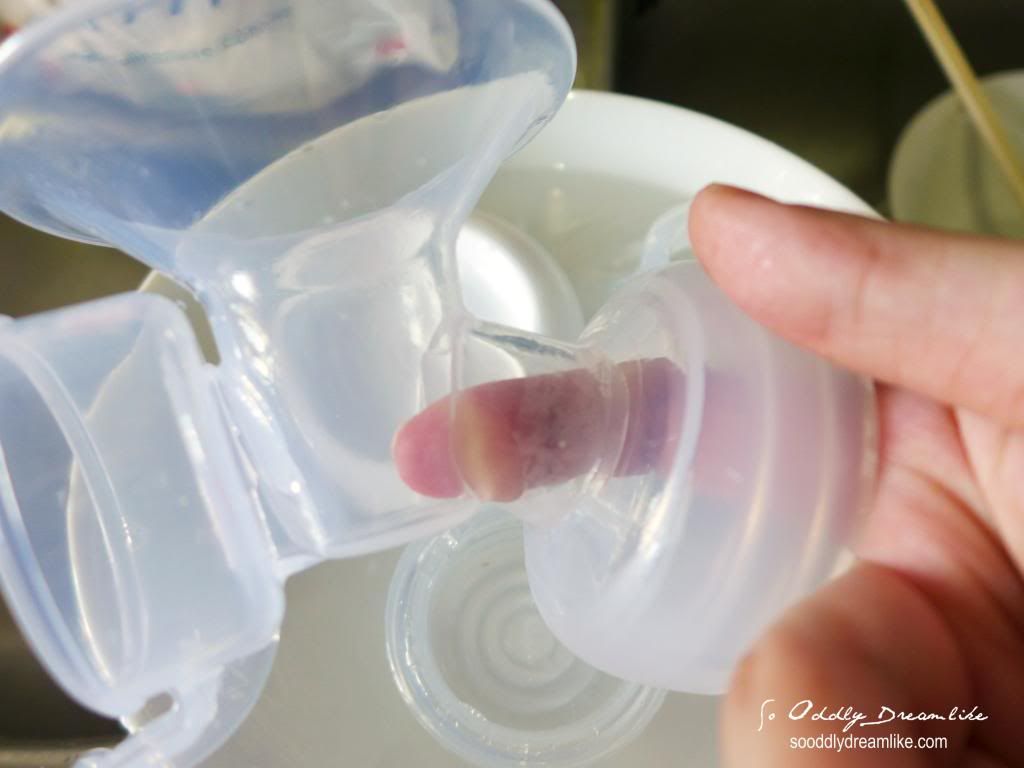 As compared to my regular electric pump, the number of parts that needs to be cleaned has reduced and I can reach the insides of this pump with my fingers. This means that during cleaning, I can feel to determine whether or not the internal bits of my pump are still oily. This also means that drying the pump parts with a tissue / kitchen towel at times when I am in a rush is much easier.
Performance
The pump goes into stimulation mode by default once activated. There is no pre-set time for the stimulation mode so you have the freedom to let it run for as long or as short as it takes to help you achieve let-down.


The pump pressure can be adjusted via three settings.
Post delivery, I used an industrial strength breast pump loaned from the hospital to kick start the milk production. Back home, I own an electric breast pump that had 9 pump settings. Being someone who is used to stronger suction, I pretty disappointed with the suction of this breast pump, it didn't feel right even at the highest setting. So imagine my surprise when I checked the volume of milk extracted – it is comparable to what I usually get.. very pleasant surprise indeed!
To make sure it was not one off / I was not having an unusually productive pump for other reasons, I used the pump a few times over the last month or so at different timings. I consistently got the same result so we're good, it works! :D
Details
Phillips AVENT is, as always, thoughtful. They made this pump easy to keep by designing the pump such that the tubbing can be wound around the pump body and kept neatly.
Note however that the single pump is not convertible to a double pump, which has a slot for another tubbing. This means that at the point of purchase, you will need to already have put in serious thought about whether a single pump (cheaper and for moms who pump occasionally, only one breast at a time)  or a double pump (more than twice the price, for moms who want speed and efficiency) would suit your needs more.
The next thing I appreciate about the Comfort Breast Pump set is the travel cover because I pump and keep my pump in the fridge so that I need not have to clean the pump twice in a day. Having the travel cover means that I can simply keep the bottle plus the pump in the fridge directly, without having to house my pump parts in another container to keep them clean / separate from other things in the fridge. Convenient!
Cost
Single Electric Pump – $309
Double Electric Pump – $799
Factor in the cost of the batteries, I think that the Comfort Breast Pumps are cheaper than equivalents available on the market.
Conclusion
I can only think of one other breast pump that is comparable with the Phillips AVENT Comfort breast pump. There are pros and cons for each pump but this breast pump is successfully designed in many important aspects and priced a few hundreds of dollars lesser than the other one. If budget allows, I would go for the double pump always for speed and productivity but if, for example, you are a stay at home mom who latches on more often than not, a single electric pump might suffice and this one is value for money.
Disclaimer: This post is a part of a series of conversations between Philips AVENT and So Oddly Dreamlike.  I was provided with a set of AVENT Comfort single electric breast pump for purposes of this review, but all opinions are my own.