I feel that being groomed and dressed appropriately is a form of social etiquette. This is why, in Joy's wardrobe, I make sure that we have versatile pieces that she can wear for various occasions.
Recently, I got to pick out some outfits for Joy with compliments from Paley & Love. They carry clothing that feature some kind of interesting detail while still remaining comfortable. I like that a lot.
The very first piece that caught my eye is Paley & Love's Bold Floral Flare Mini Dress. It is a roomy dress with vibrant colors and a happy yellow ribbon feature at the back.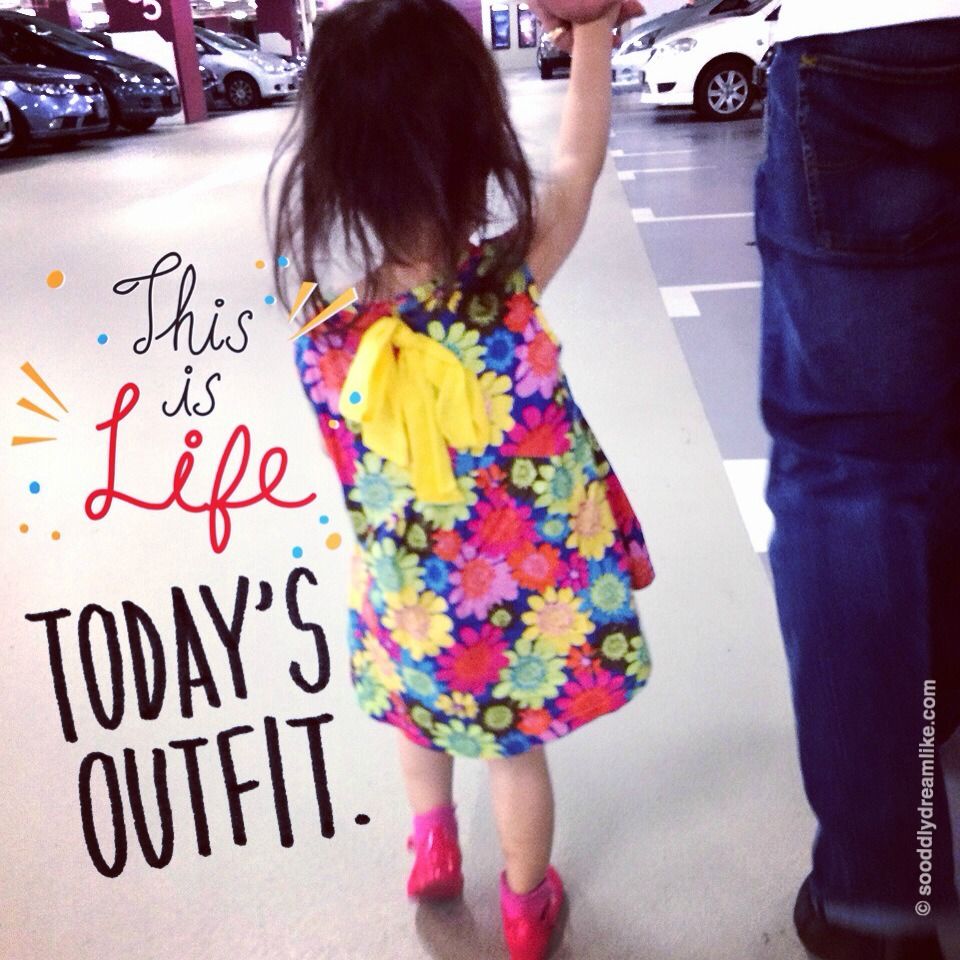 A piece like this brightens up my day whenever Joy wears it because it suits her character to a T. We like this piece so much, Joy wore it for her first ever Disney on Ice treat, dressed not as a princess but as herself.
One thing good about dresses with many colors is that it is easy to match with just about any outer wear. I could pick pink, blue, violet, yellow or I could pick a red cardigan with a Mickey Mouse embellishment to suit the occasion.
This dress is slightly shorter in front than at the back with lots of room for movements. Joy is quite tall but thin so the piece for 2-3yrs old runs a little big for her but short in front. Still, its a beautiful piece for a little girl, the kind I tend to keep for special occasions.
I was in half a mind when deciding whether to pick Paley & Love's Playful Swirls Jumpsuit  because I was concerned about whether wearing a one piece would make diaper changing difficult. After we've gotten it, I've found that diaper changing is not difficult or obstructed. I let Joy wear a cardigan / sweater and undo her clothing from the ribbons on her shoulder then proceed to change her diaper as usual. It's just like changing diapers for her when she's wearing shorts.
This piece is made of flowy batik-like material that proved to be super comfy for Joy so, I'm very glad I added it to my cart.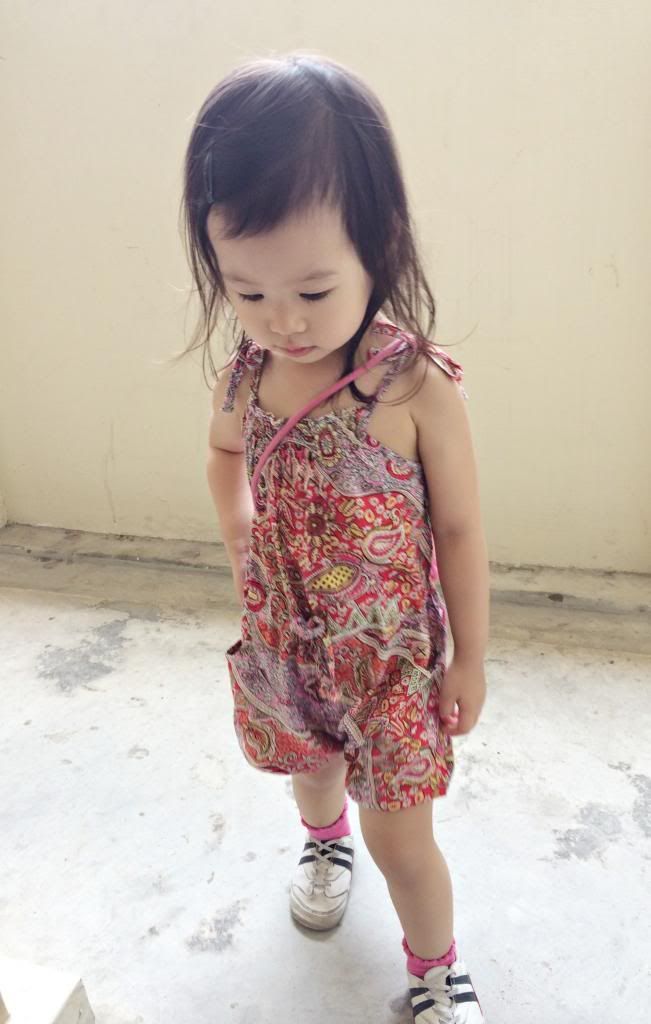 Joy first wore it for our walk at Bishan Park, when the weather was dry and the sun was scorching. The breathable material of this jumpsuit kept her cool. It being a pair of pants in essence, made it easy for Joy to move around comfortably or jump with her hands in the air (which she likes to do) without exposing her belly.
This piece is what I'd call versatile because it's also stylish enough for her to fit right in a restaurant, looking well groomed and ready for quiet activities as well.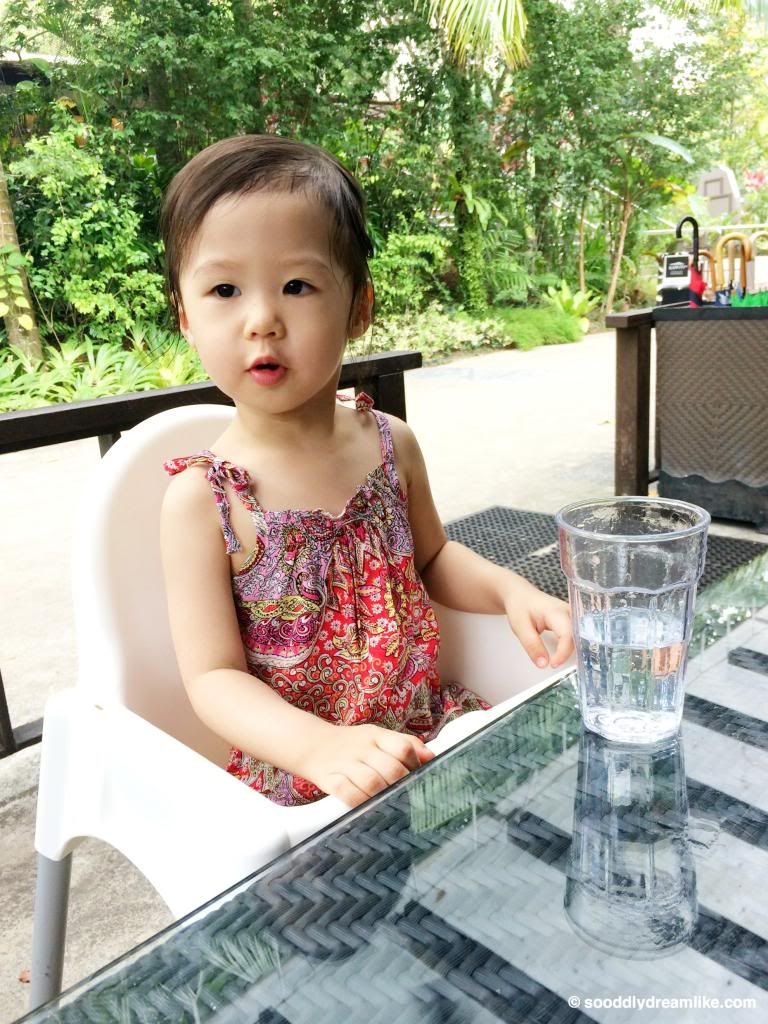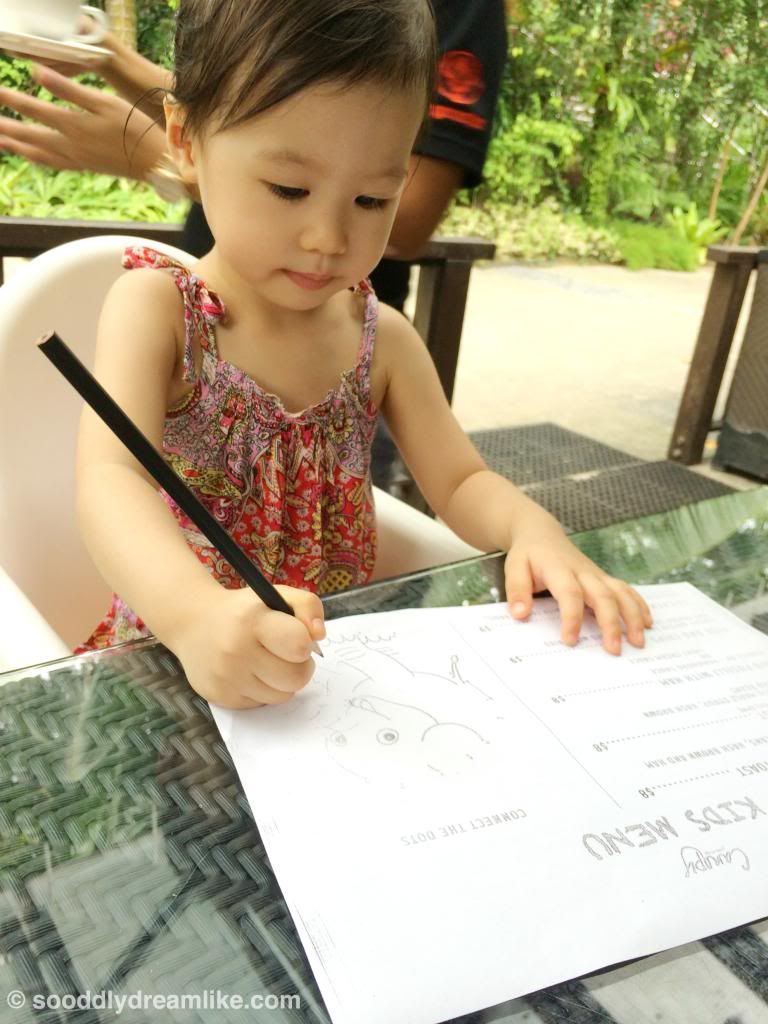 The next piece I picked is Paley & Love's Green Retro Dress With White Petal Collar. just because I love the puffy sleeves, the collar and the retro feel of this dress. How special!
I had expected it to be some cotton dress but no, this dress is made of a wrinkle free, flowy material that is super cooling to wear. I don't worry at all about ironing, comfort and style. #somuchwin
At this back of this cute dress is a single pearl button that makes the whole outfit classy. Details, exactly the kind of thing I like.
Paley & Love's Tri-color Shift Dress is not white but off white, made with a material that feels like my egyptian cotton bedsheets (#truestory) and has intricate embroidered details at the skirt.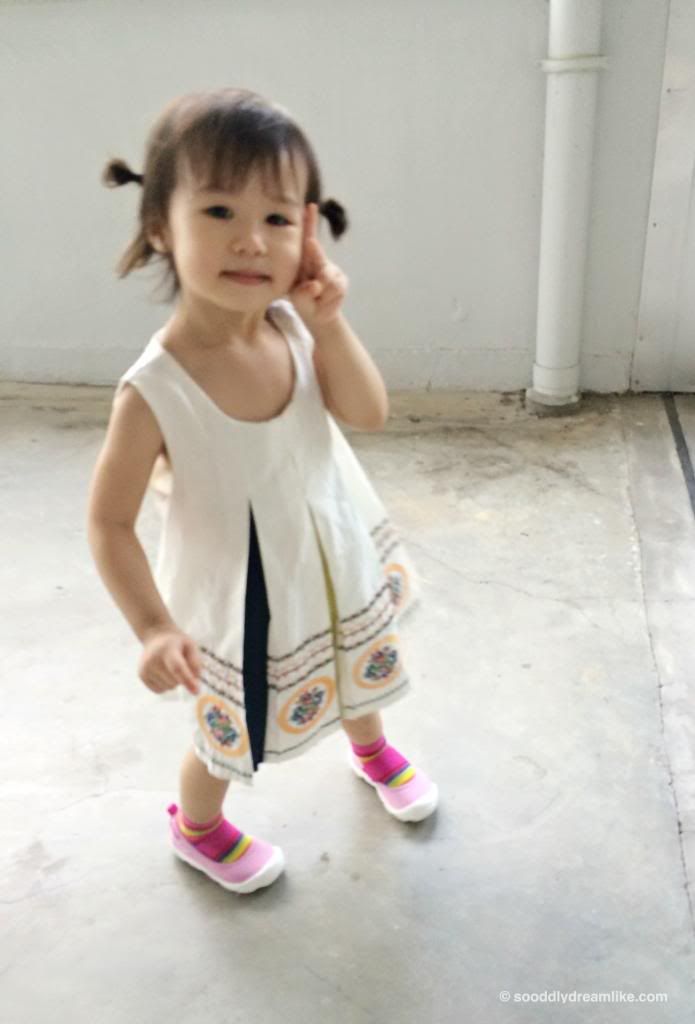 When Joy moves around, her dress shifts beautifully, revealing the tricolour details which caught my eye.
The sleeves are very slightly extended, creating a more stylish look. Although this is a shift dress, the armhole is suitably sized and the tri-color folds in her skirt creates room for her (often) large movements.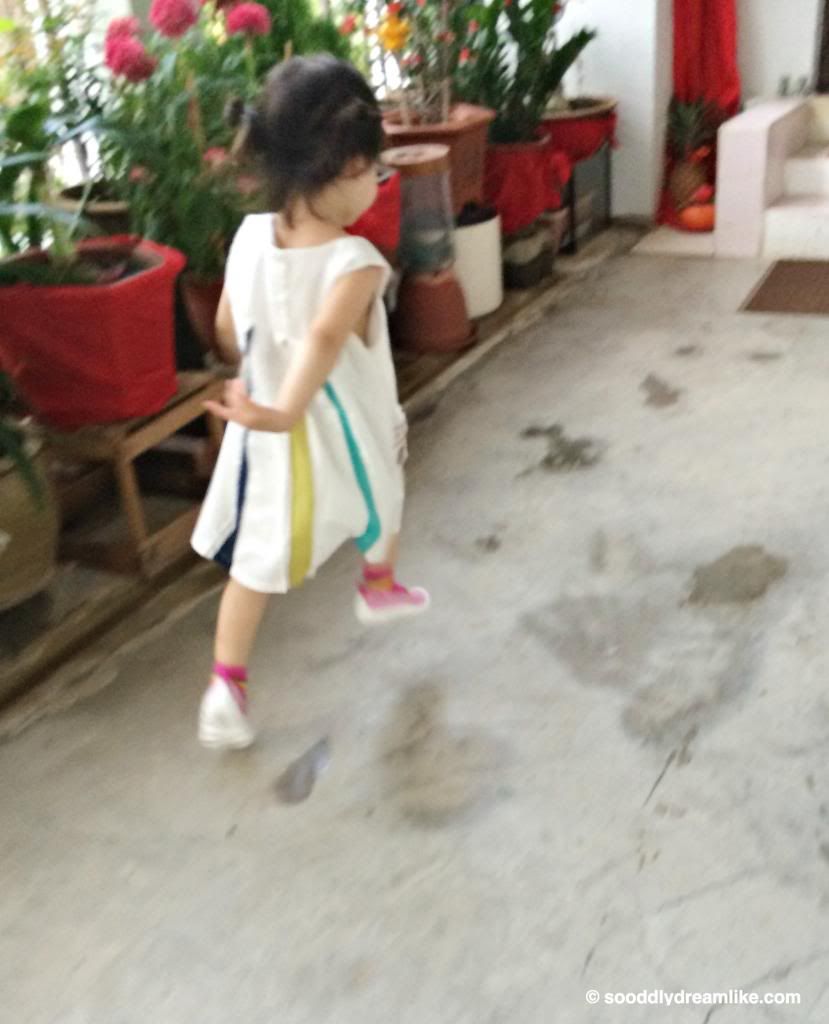 Paley & Love carry plenty of stylish designs for both boys and girls. I like some of their boy's designs as well, such as their New York Print T-shirt, Blue Anchor Printed Shirt, Blue Checkered Long/Roll-Up Sleeved Shirt, White Short Sleeved Shirt With Mandarin Collar and Light Blue Denim Shirt. I think some of them can be worn by both boys and girls so maybe we'll think about getting them for Joy.
Paley & Love

Website: www.paleyandlove.com
Facebook: www.facebook.com/paleyandlove
Twitter: @paleyandlove
Instagram: @paleyandlove #paleyandlove
Email: ask@paleyandlove.com
Disclosure: $100 out of the cost of Joy's clothing in this post was sponsored by Paley & Love. No other compensation was received and all opinions are my own.
****** GIVEAWAY & DISCOUNT CODE ******
Paley & Love is offering all my readers a 10% discount for the month of April 2014. All you have to do is to use the code PaleyIV at checkout to enjoy the discount. Standard shipping and exchange terms apply.
I also have five (5) $20 PALEY & LOVE shopping credits to giveaway! To enter, follow the steps set out in the rafflecoptor below, good luck!
Terms and Conditions:
* Five (5) winners gets to win $20 Paley & Love shopping credits each
* Giveaway ends midnight of 15 April 2014 SGT
* Incomplete or inappropriate entries will be disqualified
* Winner will be randomly selected and announced on my Facebook Page on 16 April 2014, you will have 3 days to respond, failing which the prize will go to another randomly selected winner.
* This giveaway is in no way sponsored, endorsed or administered by, or associated with Facebook
******
When life gets busy, I keep simple records of our daily life on my Dayre. I also use Instagram and update my Facebook Page pretty often. To keep all sorts of ideas, I pin them to my Pinterest. If you enjoyed reading this post, connect with me on the various platforms I'm on and you won't miss an update!