I was out one night with JoyJoy and my friends. It was a joyful evening and we had a really great time.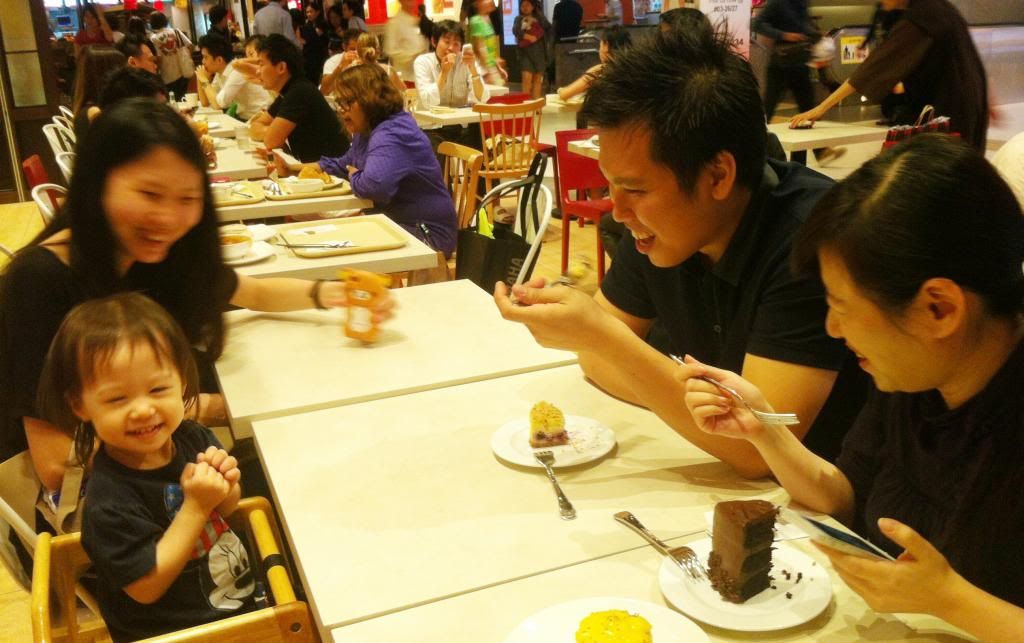 When it was about time to go home, we strolled to somewhere near my friend's bubble tea shop within the mall and there it was, right in front of it, the stall that sold the bag.
I don't normally look at fabric bags of this kind but this one's cute. So I looked at it, and so did one of my friends who said "that one not bad" and consequently, because we all had our attention on it, so did the little girl.
She held my hand and said "so cute!".
Now, what I normally do in such situations is I ask her if she'll like a look. And she says "Yes". And we take it down for a look. And we look at the object of interest more carefully. And I tell JoyJoy that the object of interest does not belong to us, so we should return it. And I usually ask her "OK?", so that she feels that she made the decision to leave it. We usually give it back after saying "bye bye" to it. No tears on the spot, no tears at home, even if we do talk about it. I found this strategy to be much better than "no, we should be going" or "no, you already have something like that" or whatever that starts with a "no".
So we did the same that day. Except, she seemed really in love with the bag. She put it on side ways, she shifted it to the back. She even choose the color (pink) she liked twice. And I liked it too somehow.
So the question comes to mind was naturally, To buy, or not to buy?
I had a simple, clear answer in my mind. At $25, it was a little expensive for such a bag. I bent down and told her "Mummy think about it ok? This belongs to the auntie, can we return it to her?" She nodded her head, removed the sling bag and handed it over to the auntie without any protest.
I was so proud of her.
The little girl didn't ask me nor the hubby for the bag but in the car, on our way home, she asked me "mummy.. bag bag 不是JoyJoy 的 ah?" (Translated: Mummy, the bag does not belong to JoyJoy?) I said yes, it belongs to the auntie, not JoyJoy's. And she kept quiet for just a little while before asking me to sing a song for her.
That night, I discussed this incident with the hubs. And he said we should get it for the little girl. First, because she clearly loved it a lot and he would like it get it for her and also to demonstrate to her that if it is within our means, we will get her something she likes, even if she doesn't brawl her eyes out for it or make a fuss out of not getting it.
So the next day, I brought her back again.
She only realised that we were back at the stall when she saw the bag again. The little girl turned to give me a happy, toothy grin when the stall owner brought the bag down again for her to put on.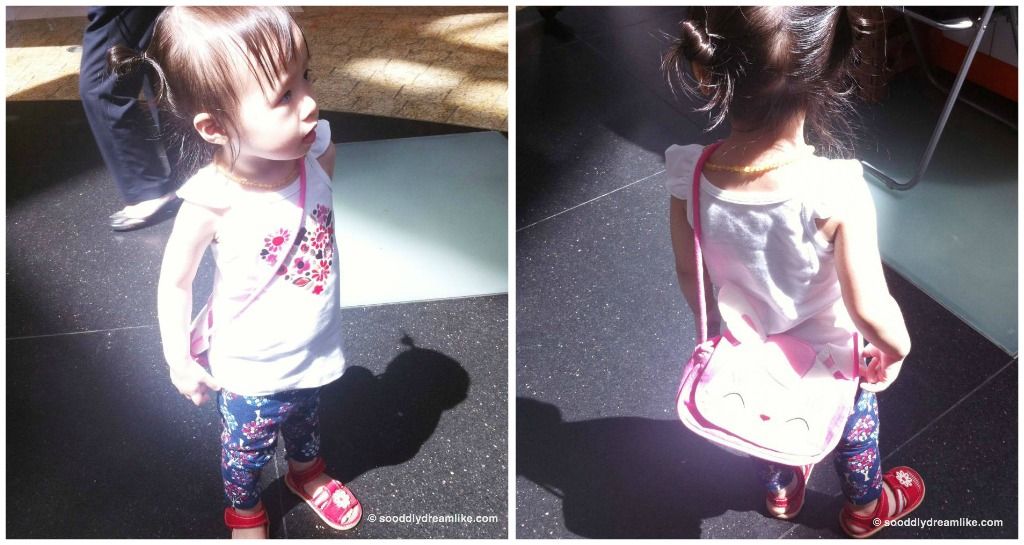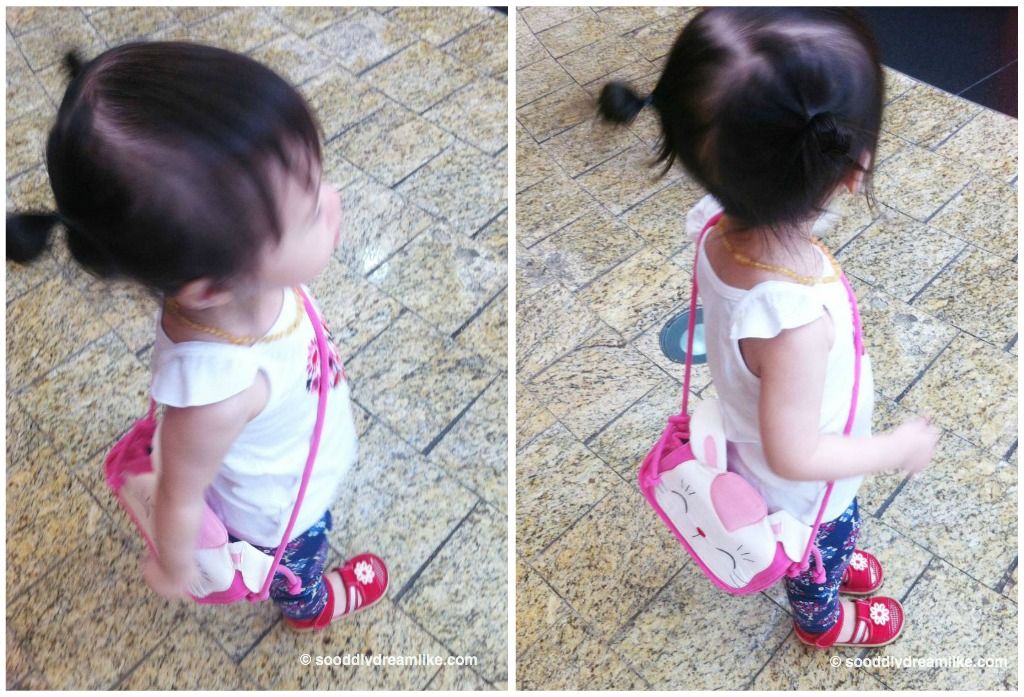 To make sure she understands the real reason behind the purchase, I've been explaining to JoyJoy why we bought the bag for her. I explained to her that we bought it because she didn't fuss over something she liked and gave us time to consider if we would get it, and we decided in the end that we would like to give her a surprise. I also told her, it will definitely not happen every time. Definitely. Does she understand it? She nodded her head, said "yes" and seemed to understand me. But then again, how can I be so sure?
Since the purchase, I've been thinking and rethinking what happened a few times. Sometimes, despite how happy it made JoyJoy, I feel like we shouldn't have bought the bag for her. She didn't need another bag because she has a number of new bags that have been gifted to us and we should teach her to only buy what she needs. Other times, I think its ok to take the chill pill once in a while to indulge in something that makes the little girl happy and to reward her for good behaviour. And then I'll go back to thinking, we shouldn't teach her to associate the concept of reward or happiness with material things.
Sometimes, this parenting thing drives me a little crazy.
As of now, I think we shouldn't have bought the bag. What do you think?
******
If you liked this post, do connect with me on your preferred platform. Keep in touch!