If you follow me on Instagram, you'd know that I've been busy in the kitchen making bentos (or almost bentos)! Here are some I've put together recently:
First "Bento" I've made for JoyJoy. Technically, it is not one but for a start, I decided to suss out the little girl's reaction to cute food before I actually pack one for her. She was thrilled to see it!
Another almost bento. She was learning about animals, so I used animal sticks. Cha soba made with homemade dashi is a winner always, the little girl is a big fan of noodles.
First picnic bento I've made for the family. Simple things and some slightly charred tamagoyaki (not paying attention). Also, the first time the little girl tried Jasmine rice.
We had ample dishes for packing that day. I made only the onigiri and the porridge. This was really too much food for just JoyJoy and I but I felt like eating everything and it looked so colorful when put together.
It's a little challenging to bring a bento out on a field trip if you consider time management issues with a young kid, food safety and sunset times (evenings are our favourite!) but the good news is that JoyJoy is absolutely thrilled when she sees cute food or gets to eat them at the park. So I intend to persevere. My dream is to be able to make nutritious and pretty food for JoyJoy that she would not reject.
I prefer to cook the rice and porridge on the day we consume them because I like these fresh. To save time, I tend to pack veges that are quick to cook or can be eaten after washing. The rest of the dishes that completes the meal in nutritional terms are decided on impulse, which sometimes leads to food wastage and I feel really bad about it.
My weakness is grocery / meal planning but I'm working on this with Plan To Eat, will update on whether it helps!
Linking up with Jennifer for: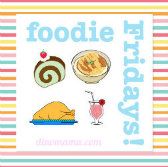 Disclaimer: I was provided with a Plan To Eat membership but this post was not required by Plan To Eat, I wanted to write it to document my bento beginnings.