Lately, Joy has been interested in cooking and asking me if she could help out in the kitchen. I said yes, of course.
We started off with something easy to manage, like this: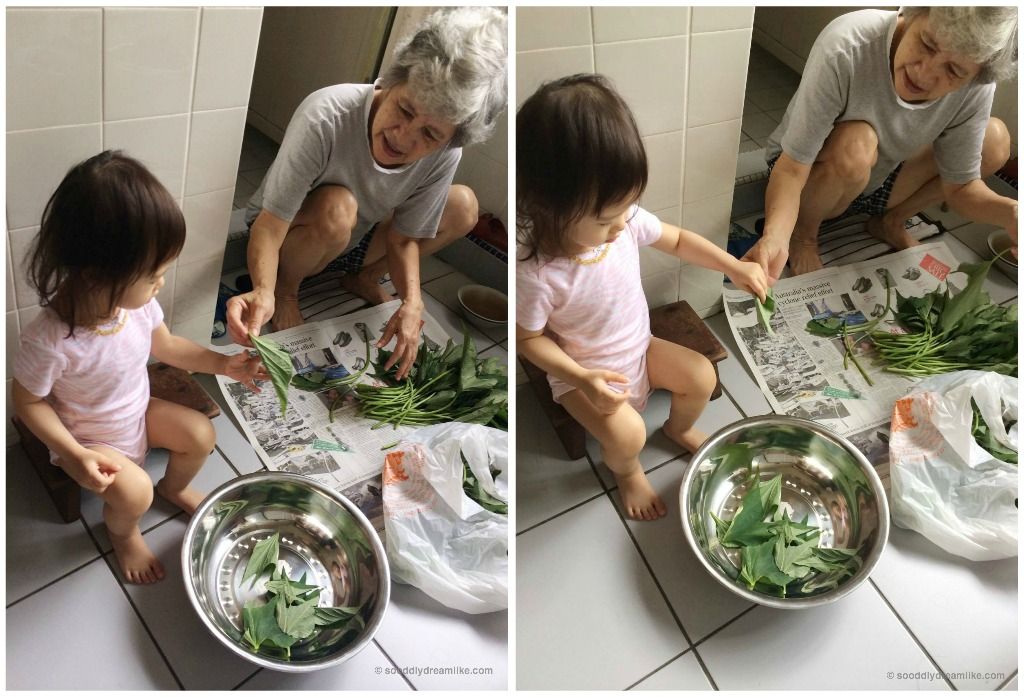 When we ate, we made it a point to mention that she helped with the vegetables and she looked uber happy. The next time I prep a meal, she tells me that "Mummy, 我要帮你煮饭 leh" (yes, she speaks some Singlish) or "Mummy, I want to cook" (yes, she speaks English).
Gradually, she developed a real liking to help me out when I am cooking. So now, whenever I cook, I outsource some of the easier tasks to her. It builds her confidence, makes her feel useful and this is also an opportunity to train her to listen to instructions and work on her motor skills (I don't really know which one though).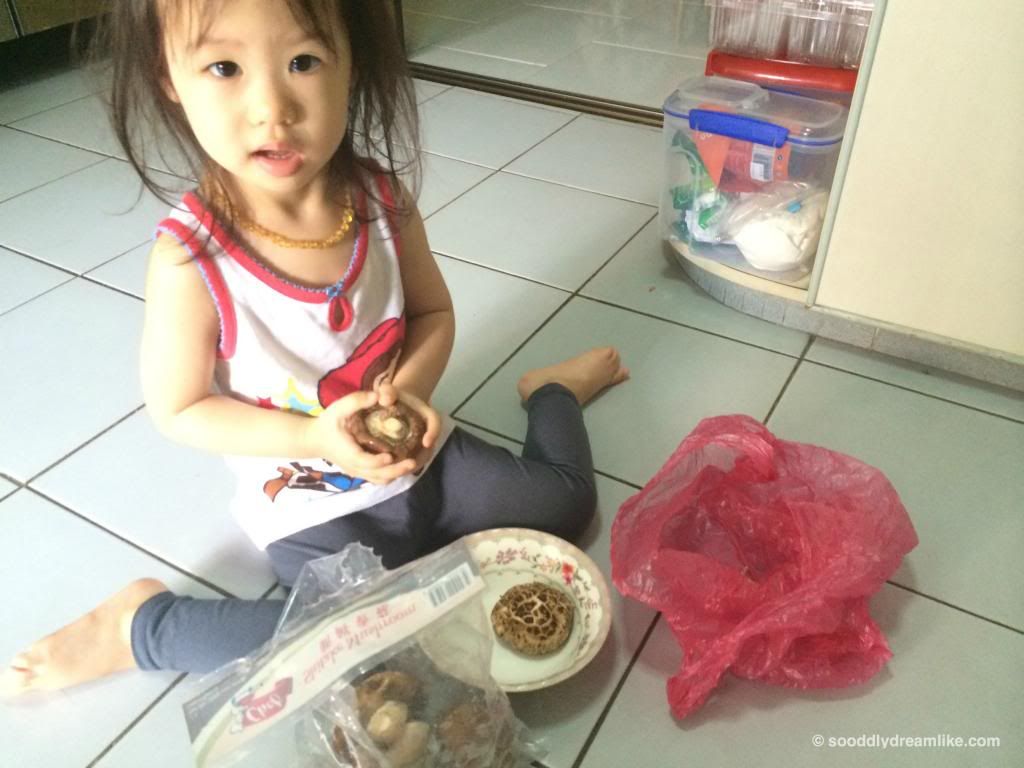 When she became quite adept at helping out in the kitchen and listening to instructions, I decided that we could try making a meal together. As I moved along in the meal preparation, I asked her if she would like to help me with this or that. When she said yes (she didn't say no at all that day), I showed her how to and generally allowed her to do them on her own, only supervising her when she used her children's knife (it's pretty safe, but just to be sure) and when we beat the eggs.
Tasks for cooking rice: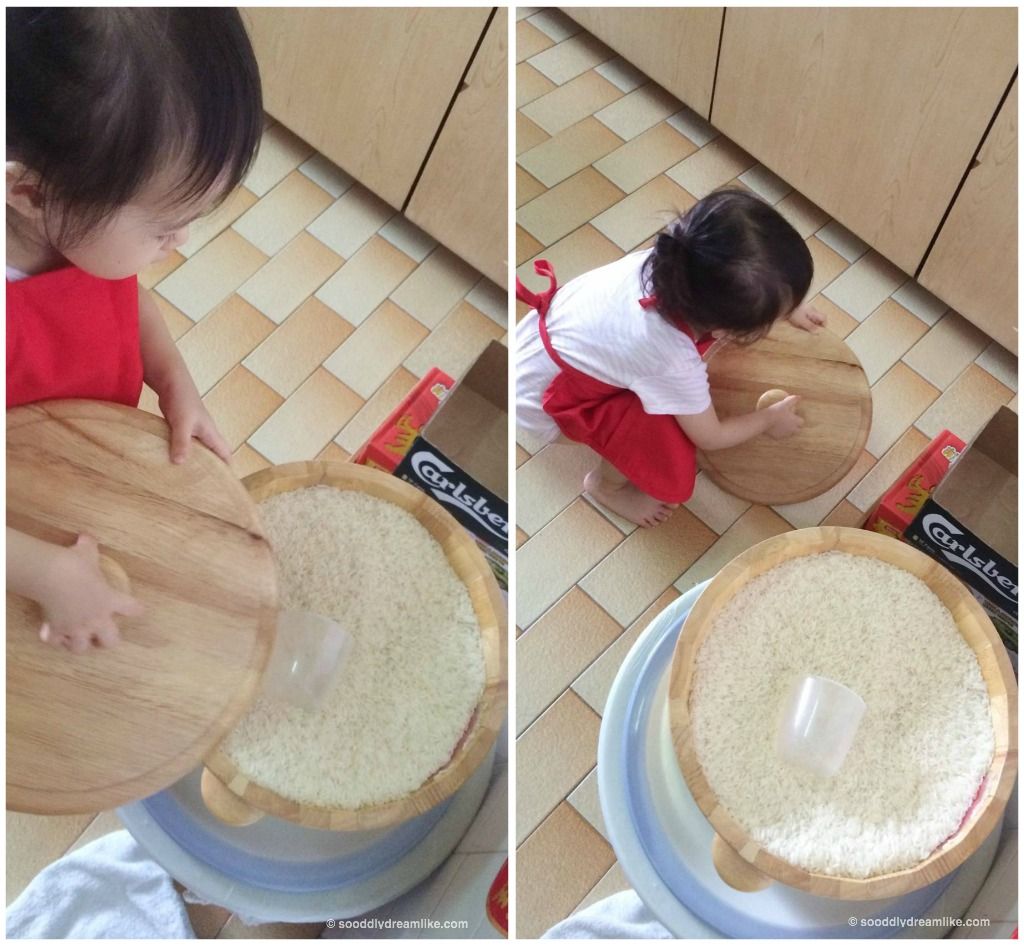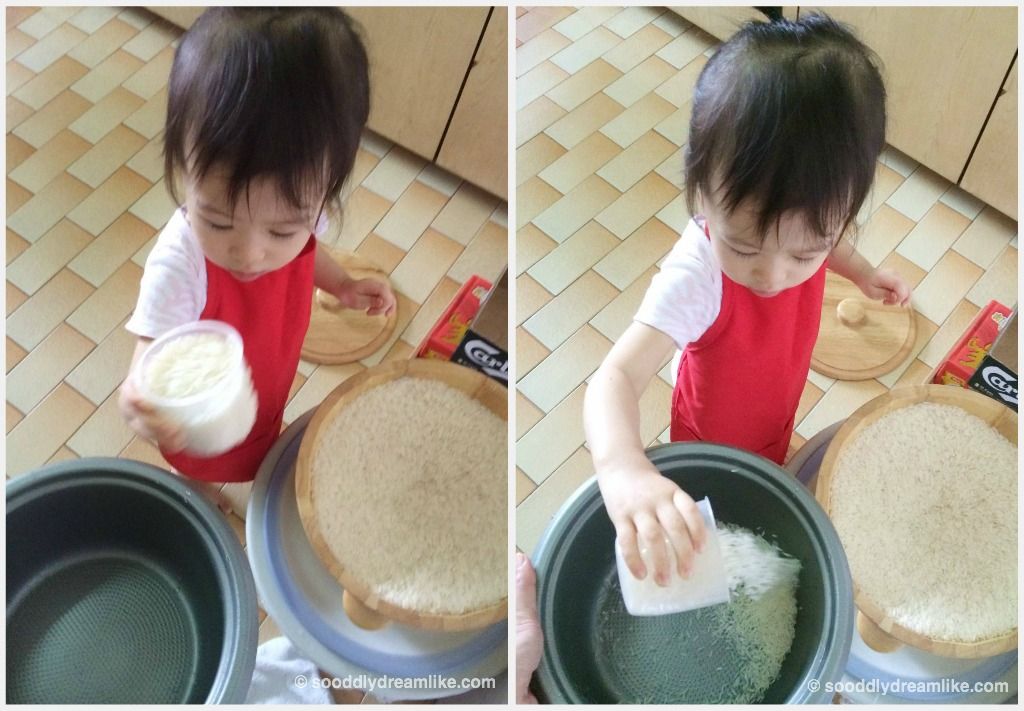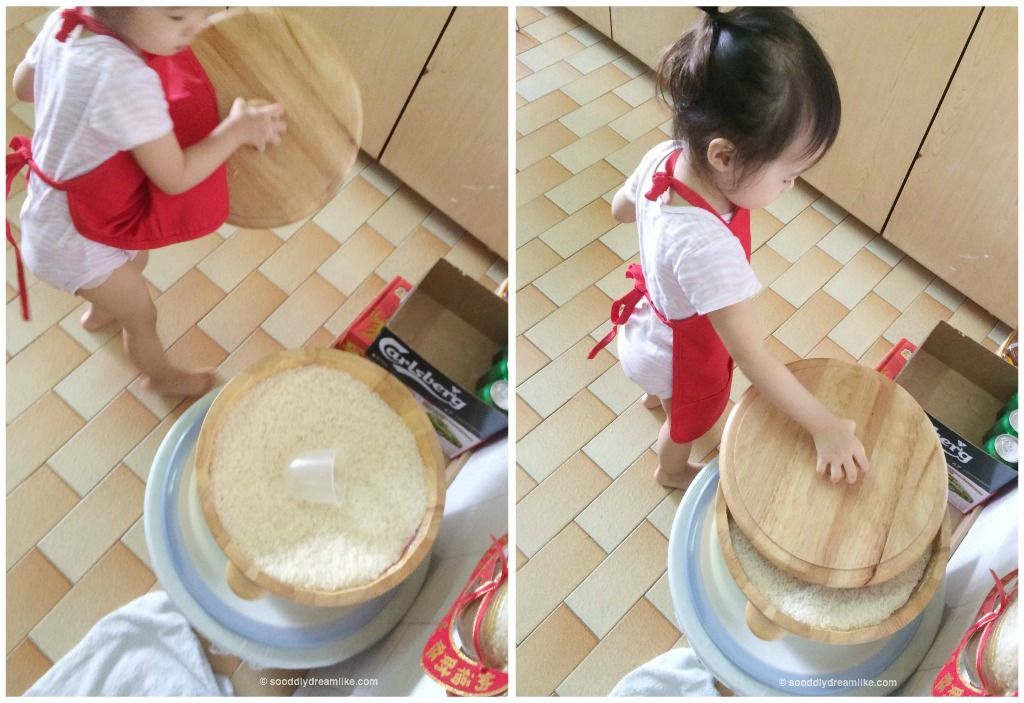 Tasks for Stir-fried Mushrooms: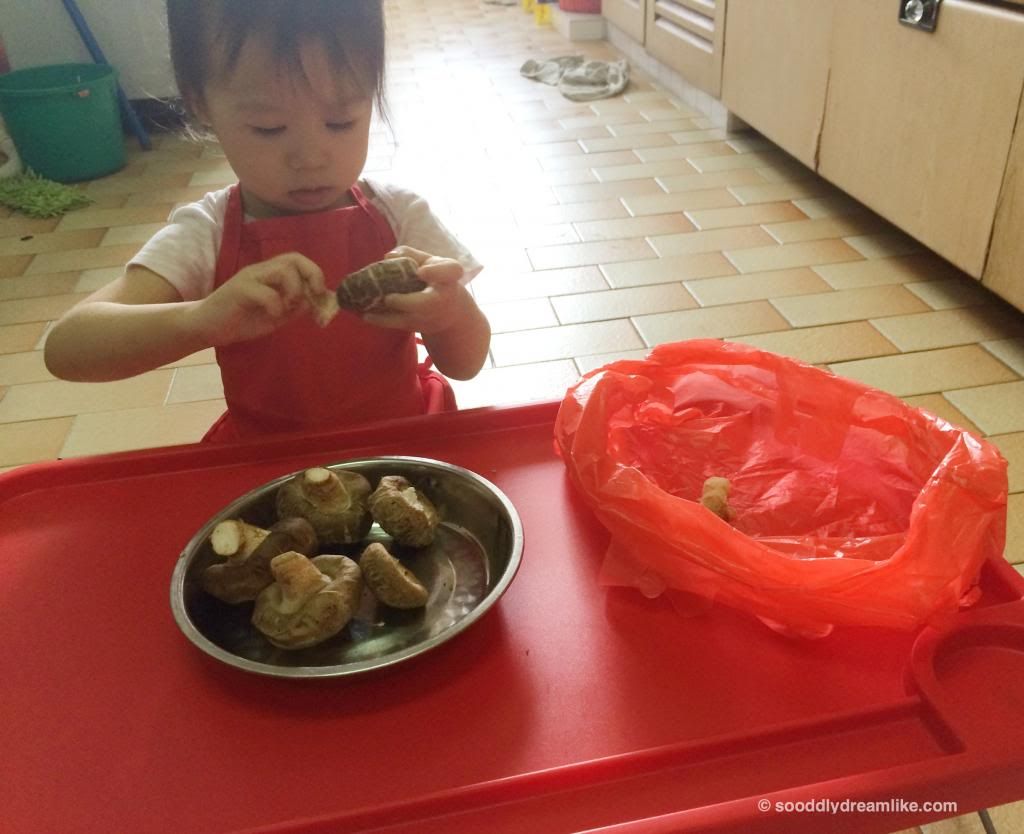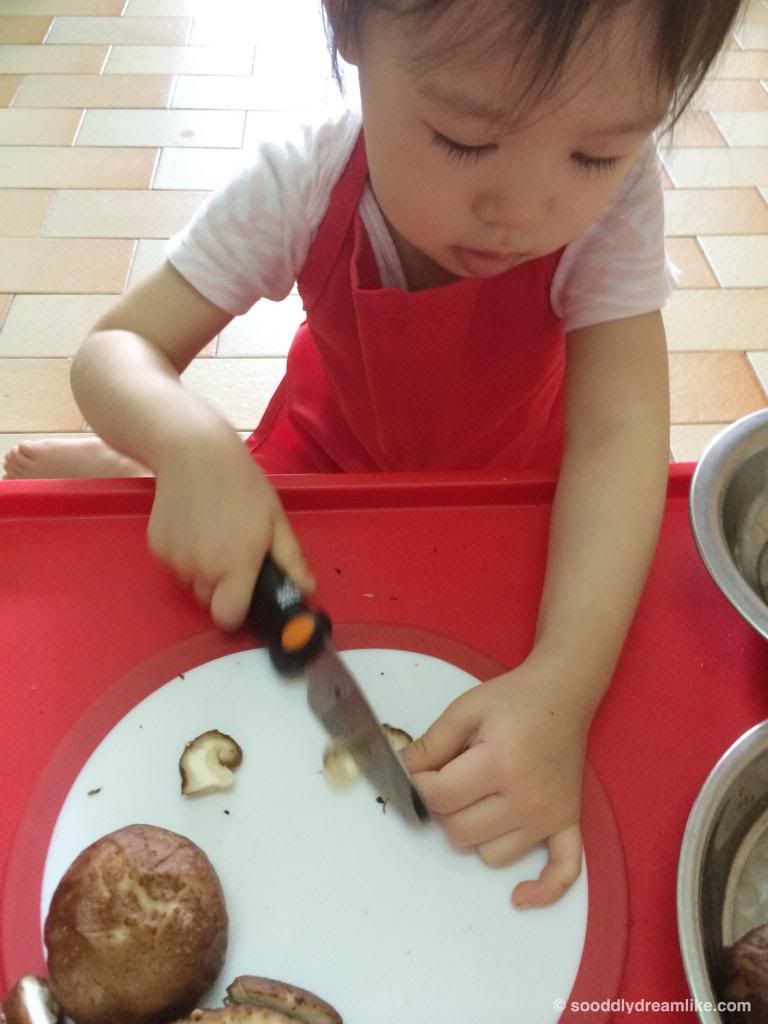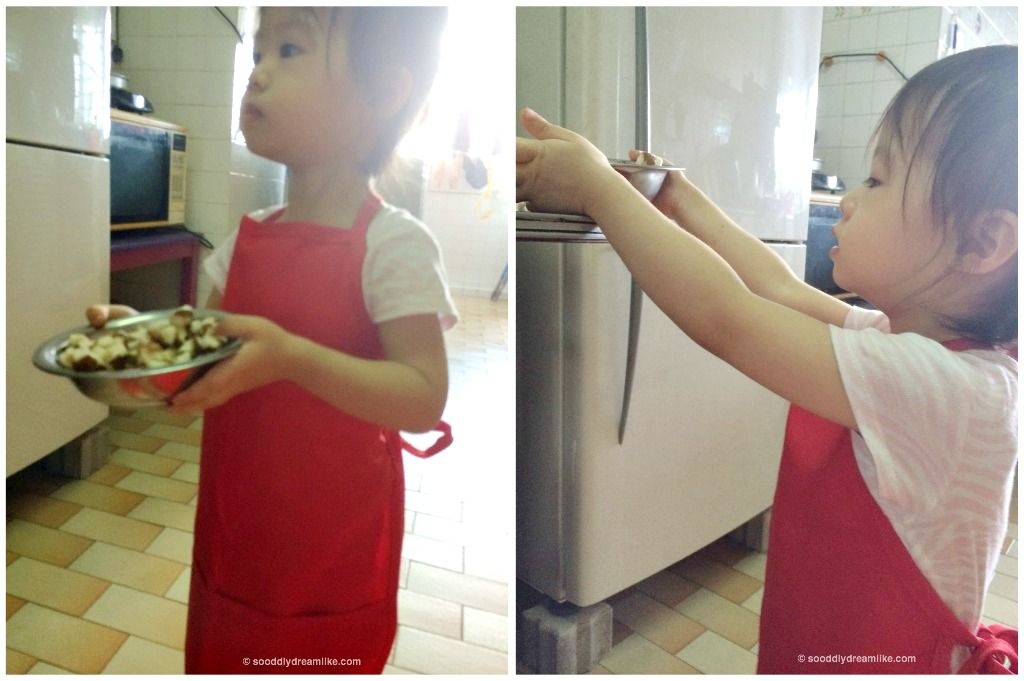 Tasks for silky steamed egg:
She also helped me remove corn silk from corns which were to be steamed and then gave them a light wash after although I was busy guiding her and didn't take photos of that. After that, I thanked her for her help. She said she was hungry while we were waiting and I gave her her a mini soon kueh.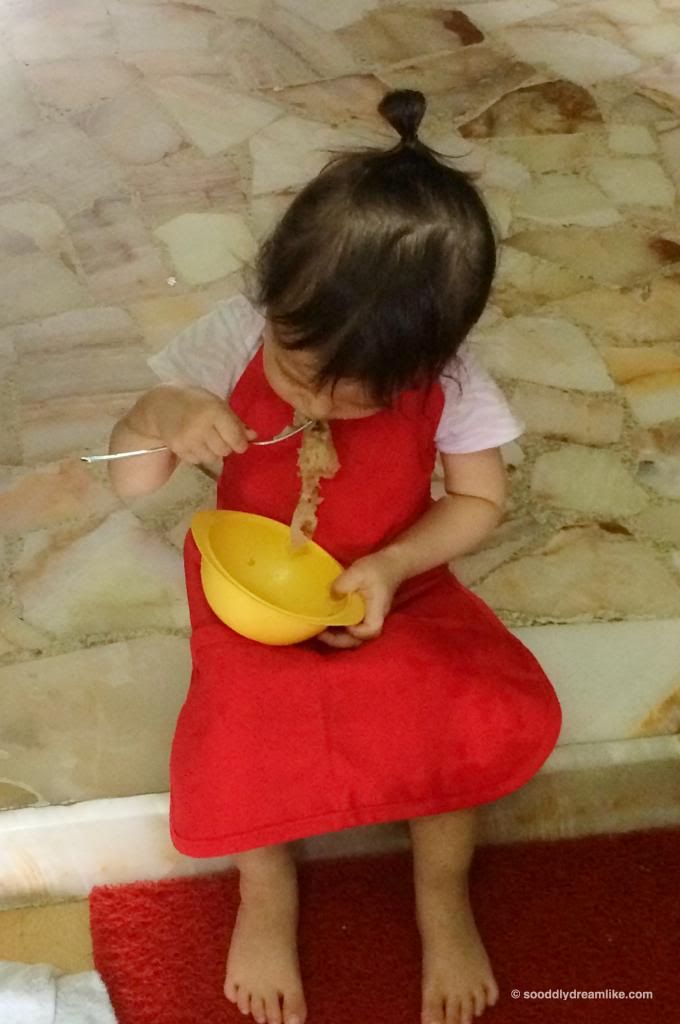 "Isn't Joy too young to hold a knife?"
"What's the hurry in getting her involved in cooking, or even housework?"
I get these a lot, especially from elders.
Before we received the children's knife, Joy asked a few times if she could help me cut up the mushrooms/vegetables and I thought hard about it. My considerations included whether she'll understand safety instructions or not, based on my observations of her. I think she's ready and so we got started.
Did the mushrooms get cut up well? Nope! Its a good thing that doing a perfect job is not important to us at all. Did she cut herself? Nope! She understands the concept of pain and know I mean it when I get into "warning mode" about how the knife can hurt her. Besides, we used a knife specially made for children, it does a good job at cutting food without cutting little hands. That is acceptable to me.
Around here, we learn when she wants to and, Joy initiates learning pretty often. She can be curious about anything and ask me about them. She trusts that I will not write off her questions without really thinking about it, just because she is pretty young. Generally, when she shows interest, I try to see how I can help.
When I have the answer to her curiosity, I explain it to her and then ask if she'll like to learn more about it. She says no, we leave it. She says yes, we go to the library mostly, or we go somewhere that allows her to learn more about it. If I don't have the answer, I tell her that I don't know now, but we could find out together. I like to demonstrate to her that I don't always have the answer and I'd like her to grow up knowing that you can go find out whatever you don't know on your own.
This is my preferred method of learning with Joy and so far, it has worked out well for us. What is your preferred method of teaching or learning with your child? I'll be happy to hear and learn.
Disclosure: Joy's tomato chopping board, Kuhn Rikon Dog Knife with Teeth and Kid's Red Apron were kindly sponsored by Appetotts.
Linking up with Rachel for:
You can also find me here: