Did you know that one of the world's largest indoor skydiving simulators is located in Singapore? Let me introduce you to iFly Singapore (they have the cooooooolest website), our very own one of its kind, state of the art body flight facility, located in Sentosa, where you can experience skydiving without the risks and costs of an actual skydive.
At iFly's Christmas Party last year, flying looked incredibly easy. I saw Santa fly without his reindeers and Snowman fly without wings:
I relaxed immediately (my invite to the Christmas Party includes the opportunity to experience a flight myself) after seeing all these because if Santa / Snowman can fly, what do I have to worry about?
FACTS & TRIVIA
(*cough cough* might have something to do with the flights I'm giving away *cough cough*)
(1) Almost anyone can fly, including those with disabilities, the young and the old, as long as some basic criteria are met. ( See "Are you up for it?" on iFly's website).
(2) Indoor skydiving is not only fun and accelerating but it is also a full body workout, especially if you're interested to perform some of the stunts which you will see later in this post. These feats are the result of intensive training in compliance with the rules and regulations of the International Bodyflight Association. It looked easy enough but after knowing this, I am floored by what some of the children skydivers can do!
(3) The wind tunnel is designed and has undergone rigorous testing by SkyVenture, who have more than 20 wind tunnels worldwide with proven safety records, technologies and systems. The stainless steel elastic safety net at the base of the wind tunnel is strong enough to hold 2 adult elephants (or 200 people of 100kgs each), this together with the wall to wall airflow and its multiple fan technology ensures that flyers will never experience turbulence or fall out of the airflow. The tunnel design has an accident rate of zero.
(4) iFly has developed holistic educational tours for schools in Singapore. Students will have the opportunity to learn about science, physics, aerodynamics and the mechanics of how the wind tunnel works, with the practical component done by flying in the wind tunnel. Some schools that have had the opportunity to experience iFly's educational tours are Dunman High, Greendale Secondary, Telok Kurau Primary and Radin Mas Primary.
(5) iFly plans to develop this internationally recognised sport (indoor skydiving) in Singapore through the Sports Education Programme (SEP). The Sports Education Programme is designed to groom students into professional indoor skydivers, those who display exceptional performance will have the opportunity to participate in Indoor Skydiving Championships, including quarterly competitions in Singapore and Indoor Skydiving World Championships around the world.
(6) iFly hosted it's first Indoor Skydiving World Championships from 13 to 16 December in 2012, the first time that a competition on this scale is held in the Asia Pacific region. The event as covered by ESPN here:
(7) iFly Singapore's Youth Ambassadors are 12-year old Kyra Poh and 13-year old Choo Yixuan whom, together form Team Firefly. Kyra and Yixuan were Singapore's youngest representatives at the Indoor Skydiving World Championships held in 2012. They are unbelievably agile in the wind tunnel, not an easy feat!
GUINNESS WORLD RECORDS
iFly Singapore boasts a total of 4 Guinness World Records, namely…
Most Backwards Somersaults in a Wind Tunnel in One Minute
The most backwards somersaults in a wind tunnel in one minute is 68 and was achieved by Kyra Poh (Singapore) at iFly Singapore, Sentosa, Singapore, on 4 December 2013.
I witnessed the record-breaking feat right before my eyes!
Most Skydiving Wind Tunnel Verticals in One Minute
This record is for the most times for two fliers to swap places in a wind tunnel with one flying above the other, and then vice versa. This manoeuvre is made difficult by the disruption in airflow as one participant flies above the other. The most skydiving wind tunnel verticals in one minute is 25 and was achieved by Kyra Poh and Vernon Quek (both Singapore) at iFly Singapore, Siloso Beach, Sentosa, Singapore, on 4 December 2013.
I also witnessed this!
Longest Indoor Freefall
The longest indoor freefall lasted 4 hr 2 min 5 sec and was jointly achieved by Alson Ooi, Joshua Tay and Muhammad Ezrielshah Bin Rahmat (all Signapore) at iFLY Singapore, Singapore, on 16 December 2012.
Most Skydivers in a Wind Tunnel
The most skydivers flying simultaneously in a wind tunnel is 13 and was achieved by iFly Singapore, in Singapore, on 4 October 2013.
I ALSO CAN FLY
It was awesome! Each of us got to fly two times and on my second time, I got to fly really high up in the wind tunnel. I was strangely calm (why kiddy rides are just the thing for me here), hence able to totally enjoy myself.
A shoutout to the hubs: Been there, done that. Stop laughing at me!
PHOTOS TO SHARE
The must be the post with the most number of media embedded within, but since I'm ticking off an item from my bucket list, I can't not post photos to remember it by! Here are some from the Christmas Party as well as my flight: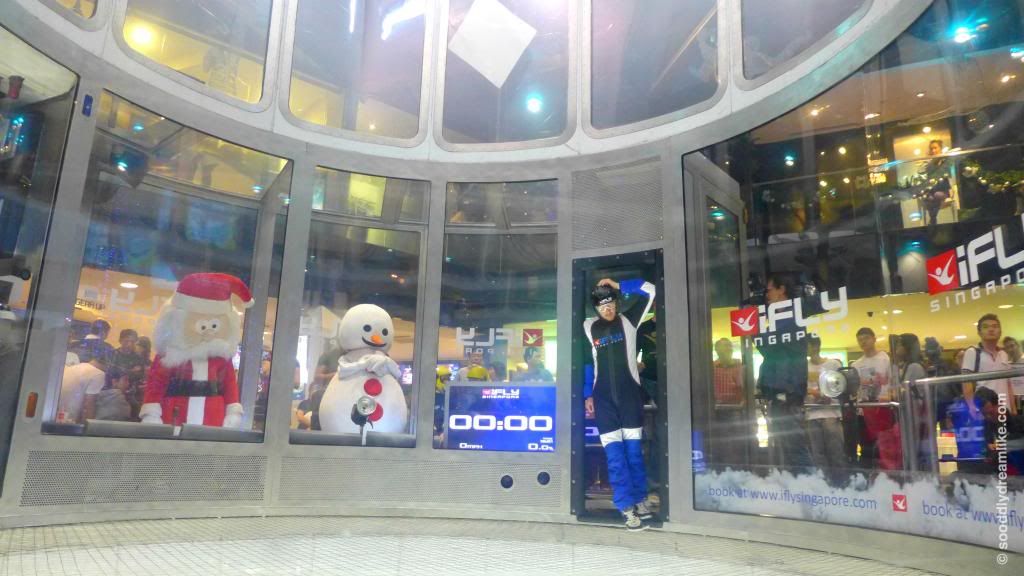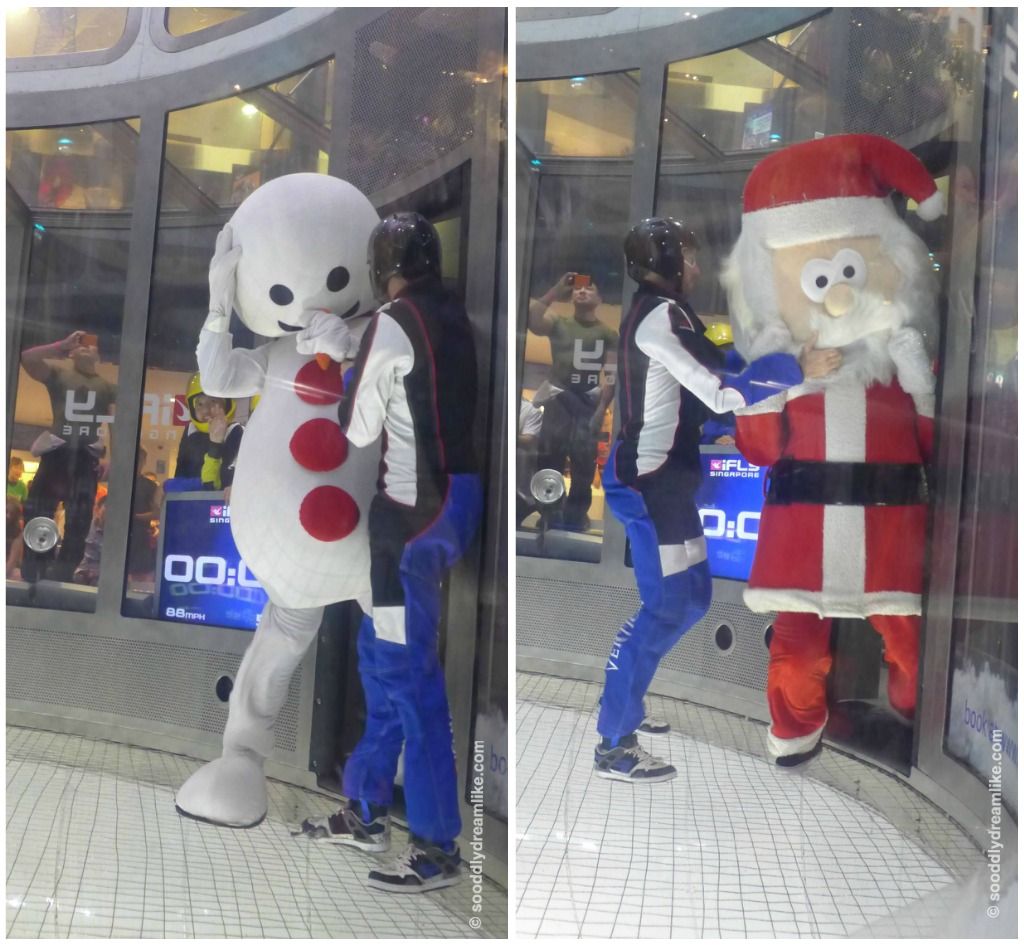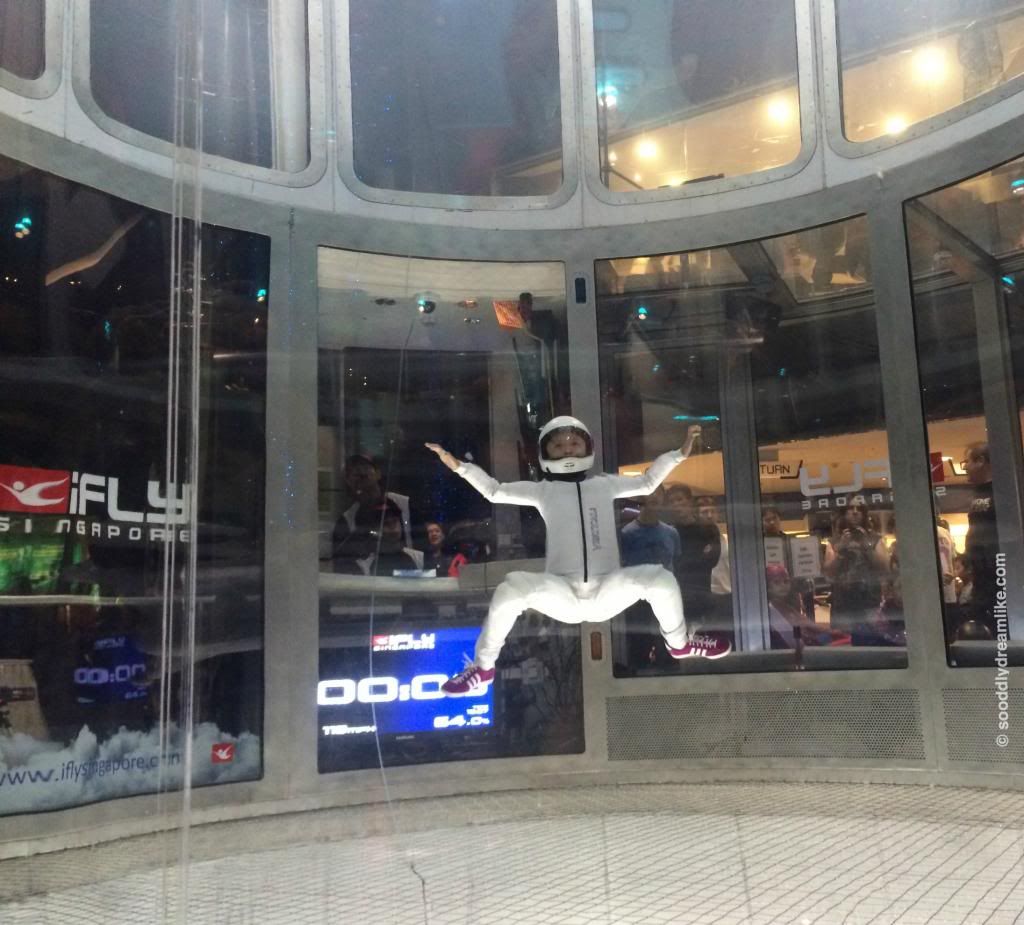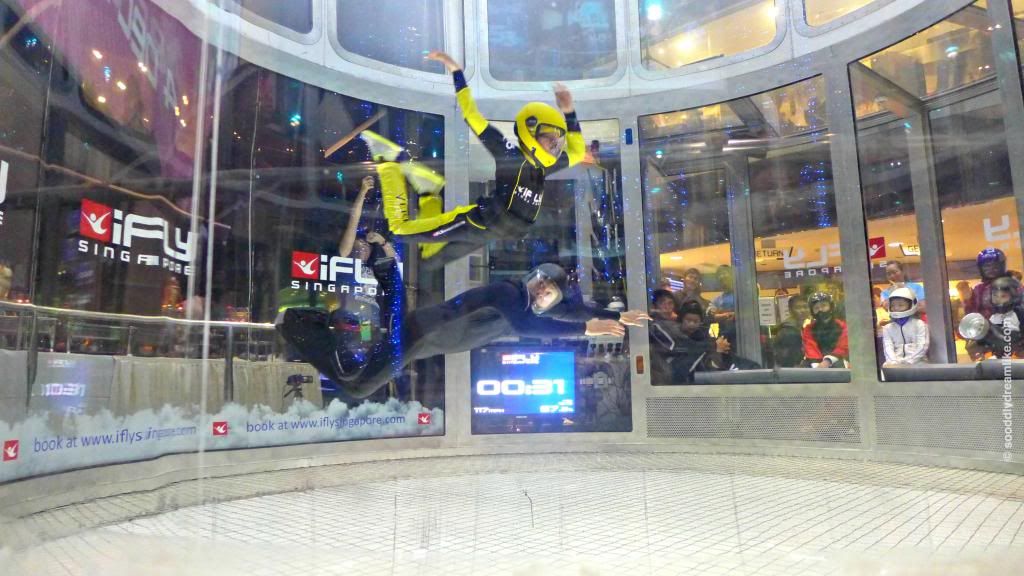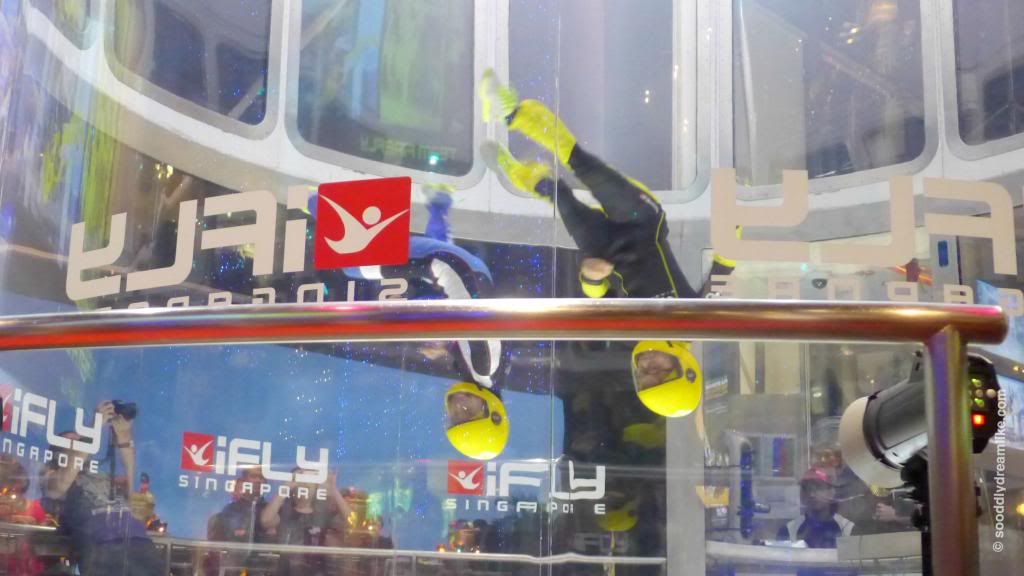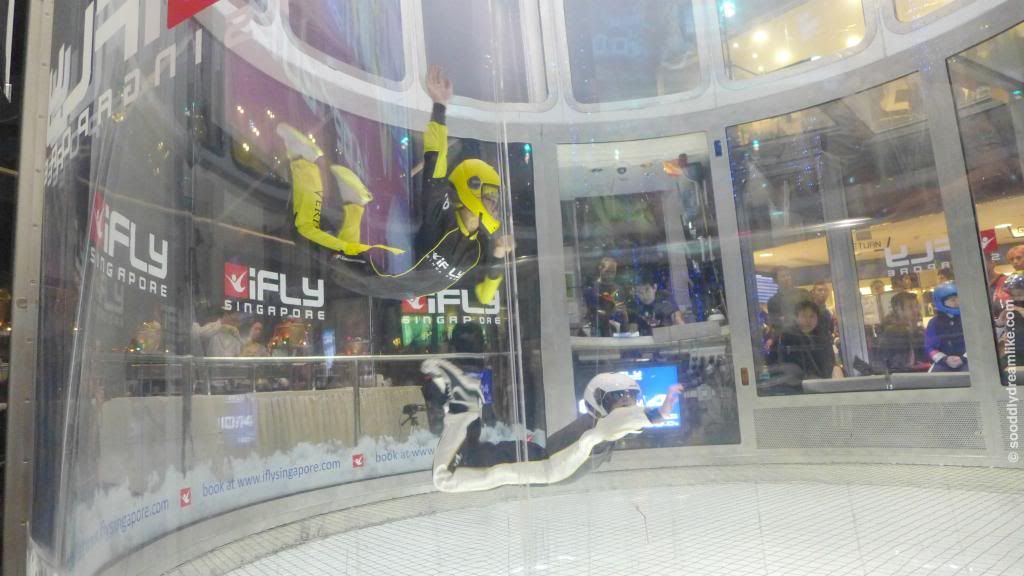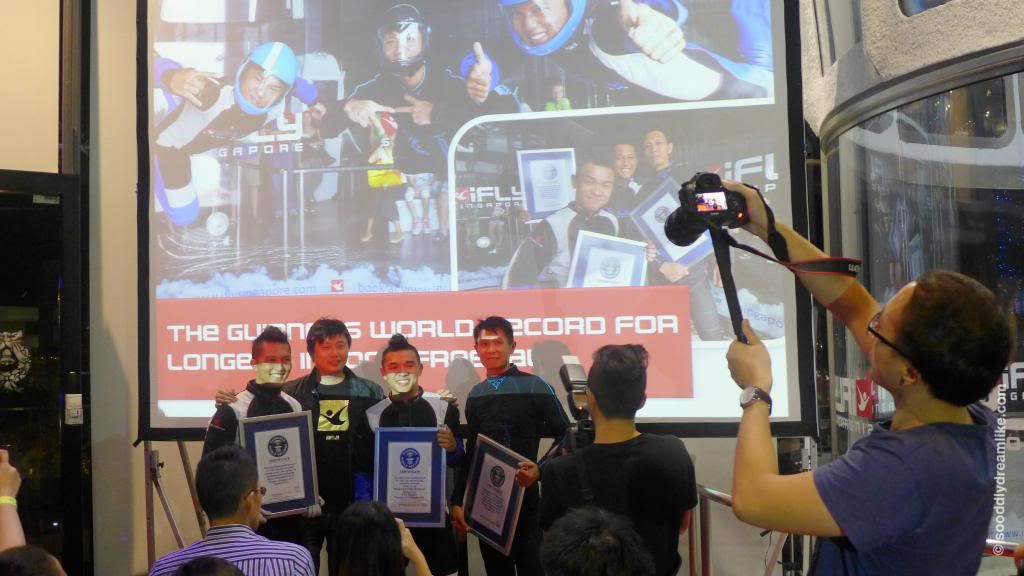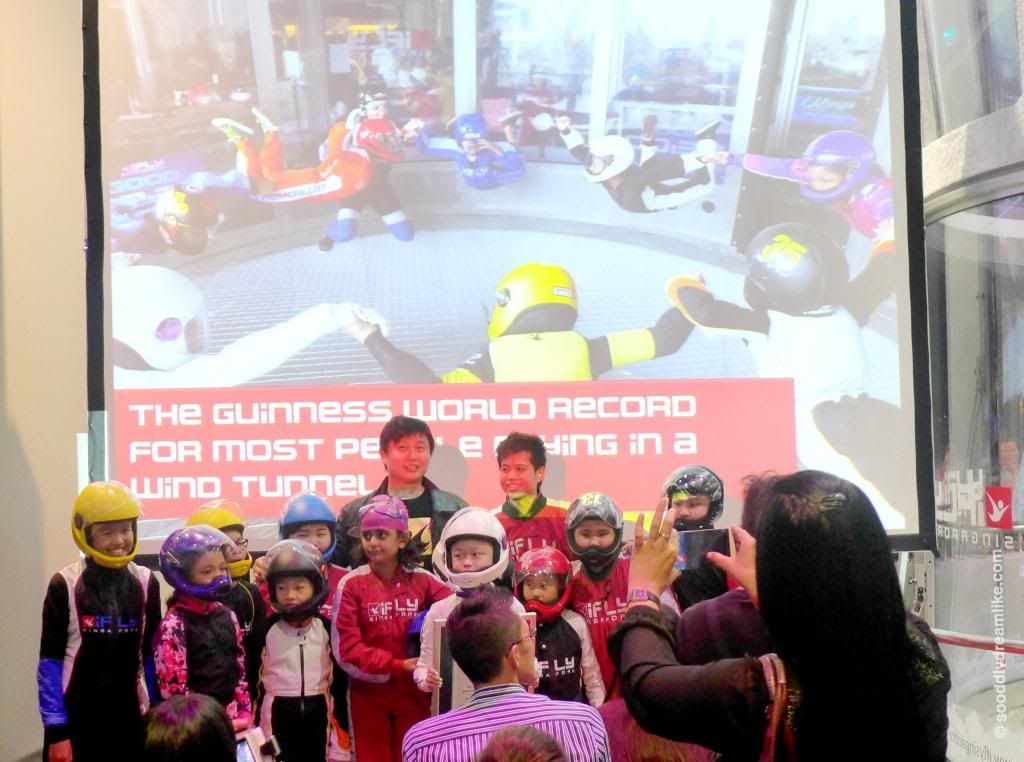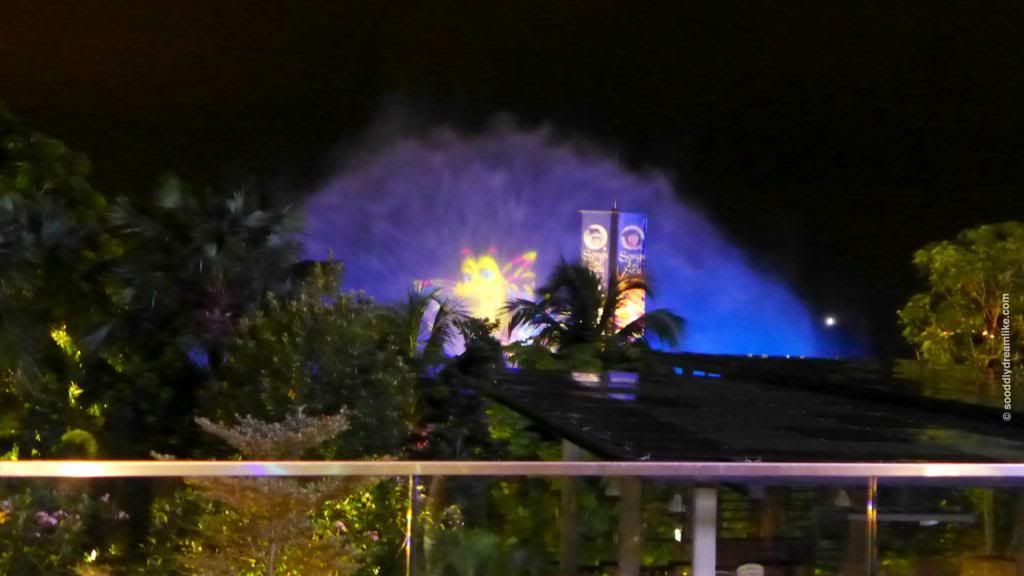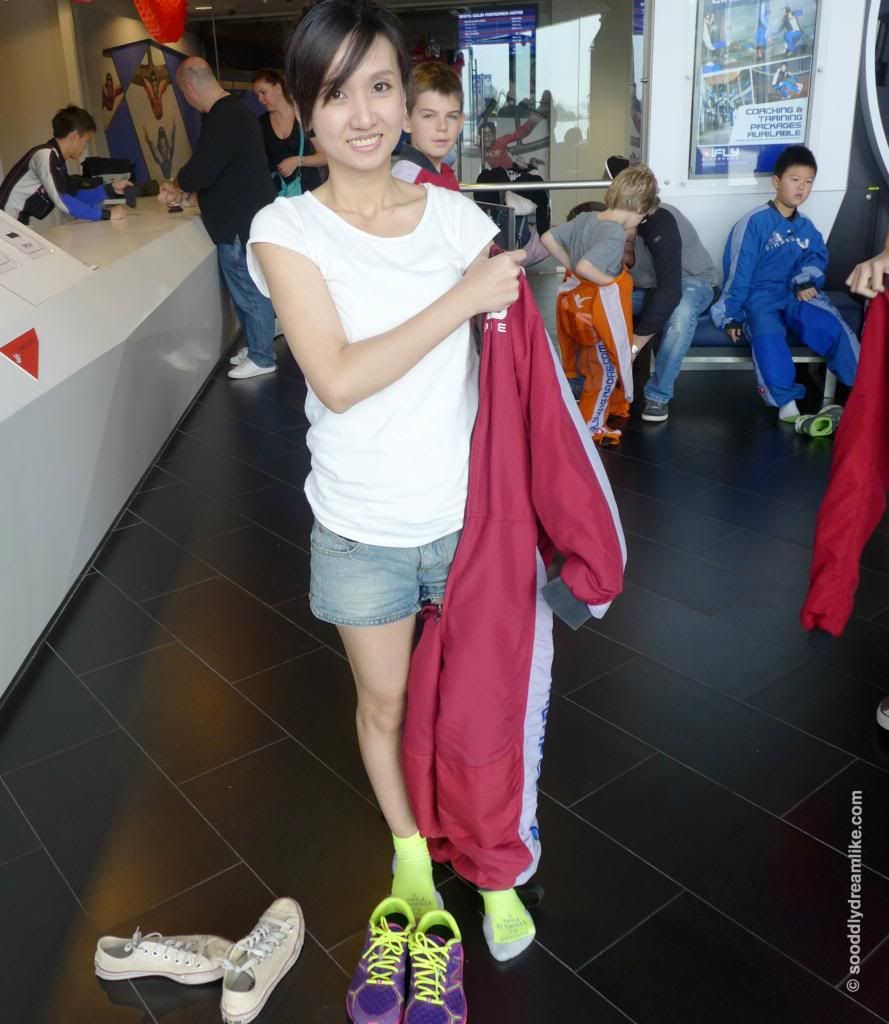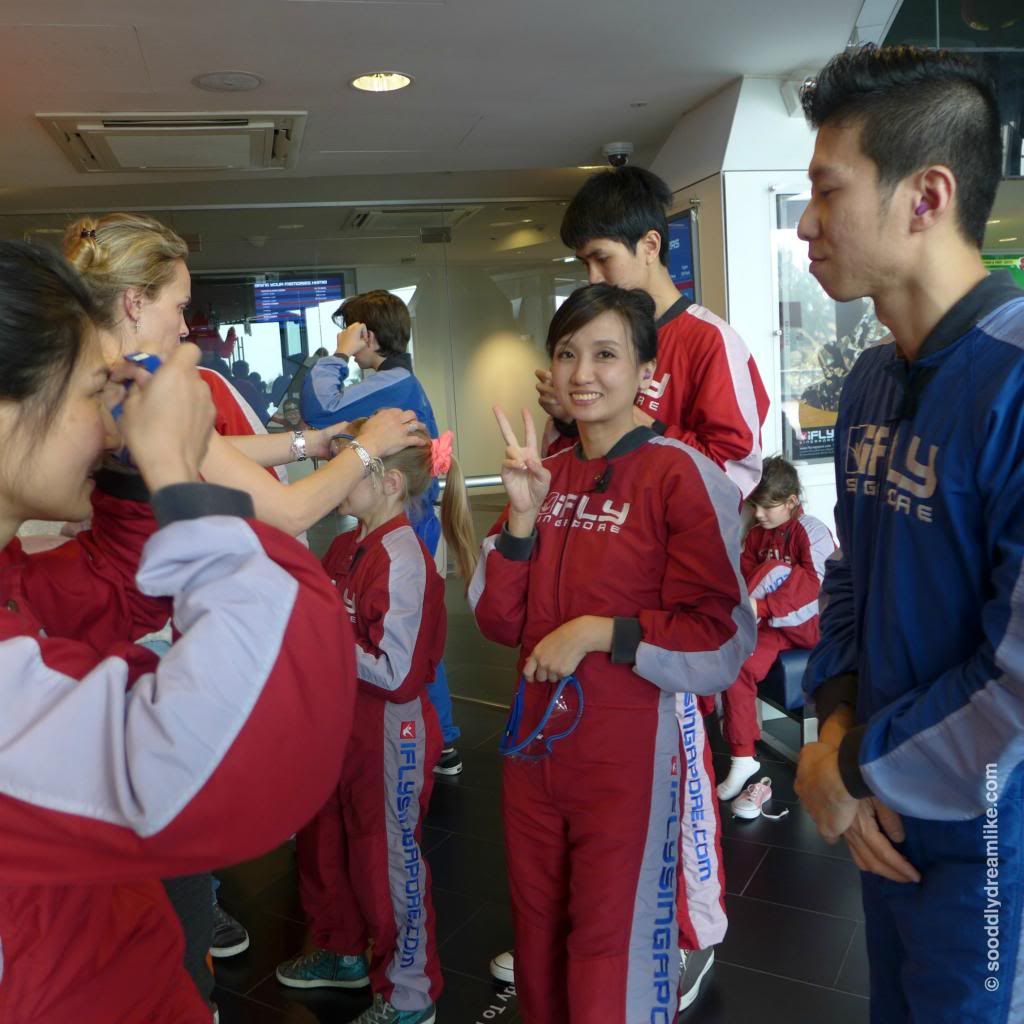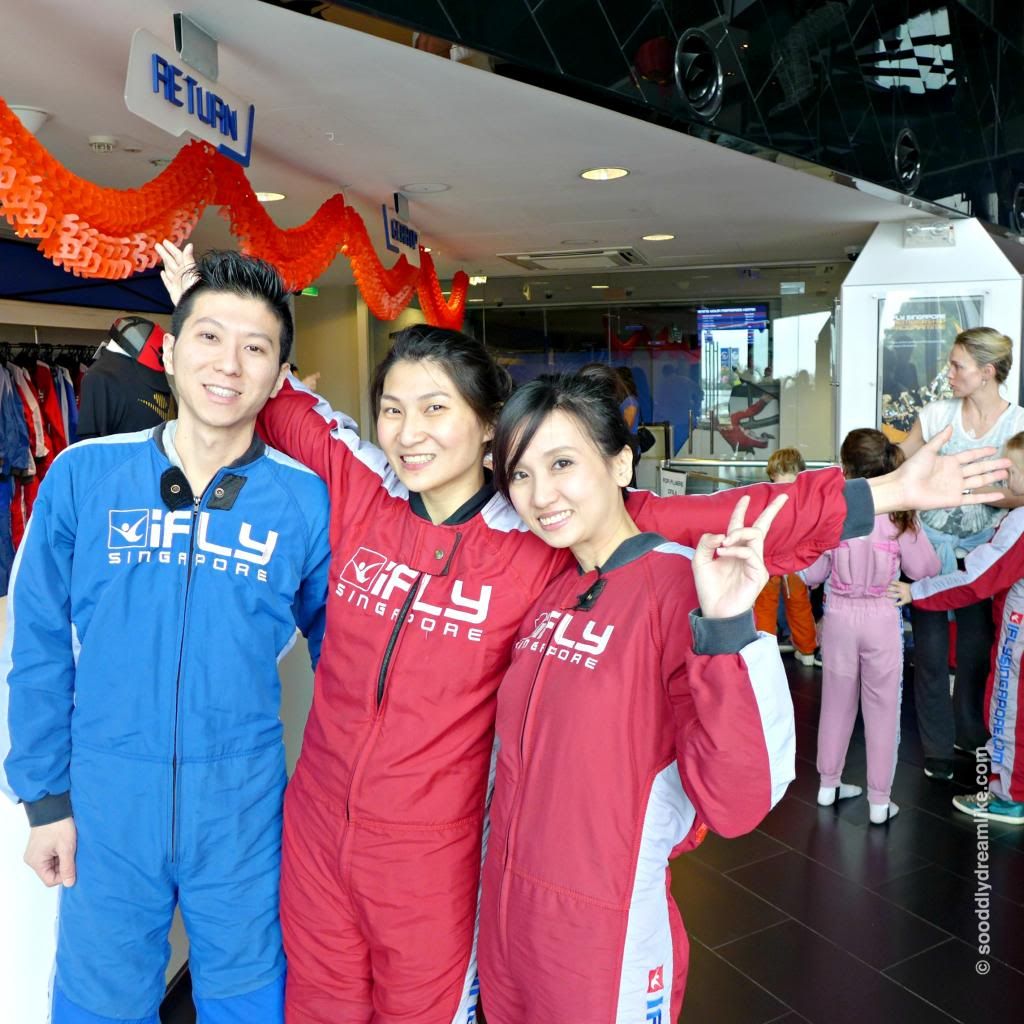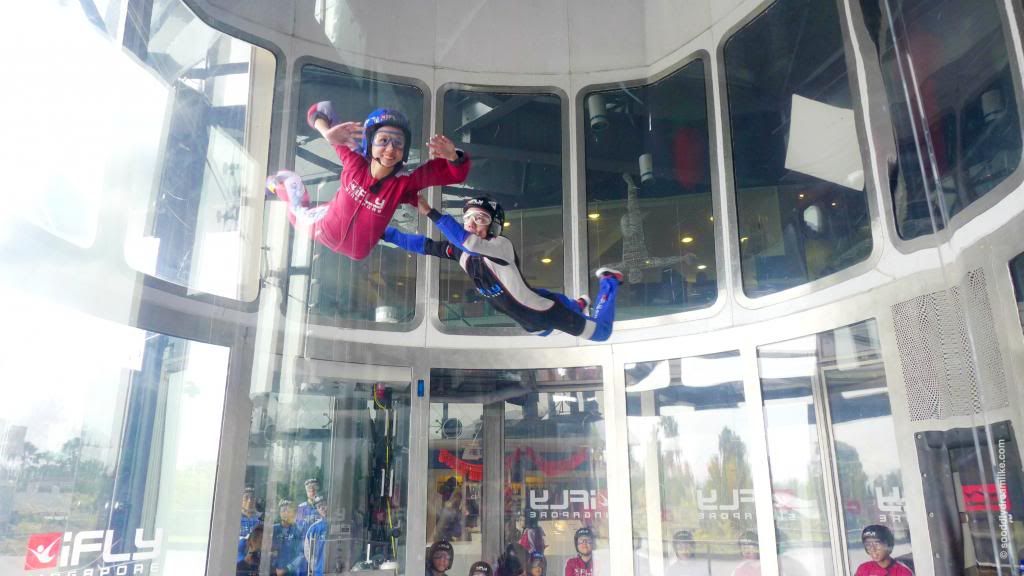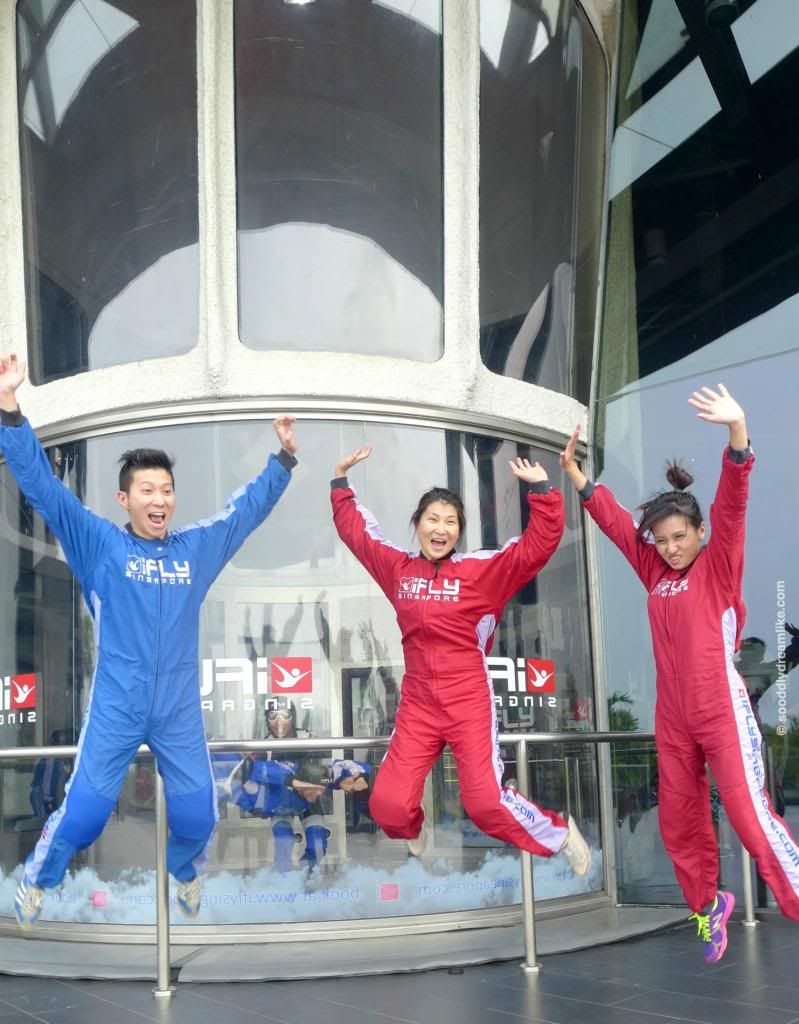 ****** GIVEAWAY ******
Say what? You want to fly too? Now you can!
iFly Singapore has very generously sponsored 2 flights for me to giveaway, complete all 4 steps below to join! (Psst: I'm not sure if the rest of the M.I.C.E set up will be giving away flights as well.. could be..)
1. Be a So Oddly Dreamlike Facebook page fan
2. Be an iFly Singapore Facebook page fan
3. Like & Share this Facebook photo, and tag a friend. (Make sure your post is public!)
4. Leave me with the answer to any one of the three questions below by commenting on this blog post. Remember to provide me with your email address for contacting you, should you be the lucky winner.
(a) How many Guinness World Records have iFly broken so far?
(b) How old will the members of Team Firefly (Kyra & Yixuan) be this year?
(c) What was the competition organized by iFly Singapore in 2012 that saw world class indoor skydivers grace Singapore to pit their skills against one another?
Terms and Conditions:
* One (1) winner gets to win a pair of iFly flights
* Actual flight date(s) are subject to availability and co-ordination with iFly Singapore.
* Open to Singapore residents only.
* Giveaway ends midnight of 9 March 2014
* Incomplete or inappropriate entries will be disqualified
* Winner will be randomly selected and announced on my Facebook Page on 10 March 2014, you will have 3 days to respond, failing which the prize will go to another randomly selected winner.
* This giveaway is in no way sponsored, endorsed or administered by, or associated with Facebook
WINNER ANNOUNCEMENT:
The winner of this giveaway is Andy of SengkangBabies! iFly Singapore will be getting in touch with you shortly! Thanks to everybody for participating, not to worry if you haven't won from my blog, Cherie of Cherieladie is giving away 2 more tickets next, hope on to her blog to join!
Disclosure: I was invited by iFly Singapore to attend their Christmas Party last year and given the opportunity to strike one item off my bucket list. I asked for you to have the chance to fly too. No monetary compensation was received, all opinions are my own.
******
If you liked this post, do connect with me on your preferred platform, keep in touch!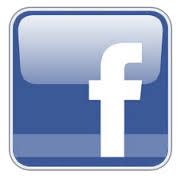 Facebook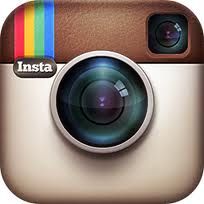 Instagram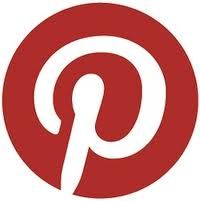 Pinterest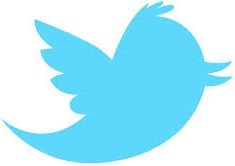 Twitter