It's not a surprise. I knew I'll be getting something because the hubs is bad at keeping secrets and Joy is bad at keeping secrets.
4 days ago, the hubs sent me this message. I thought "wa so sweet ah, want to put our photos on his desk" but that night, I suddenly remembered that he ever told me he'd rather look at our photos in his phone when I asked if he'll like me to print out some for his desk.
3 days ago, he asked me why I took so long with looking for a photo. I was a little taken aback because hello? I only got the "job" a day ago and he should know that we have so many photos, it's tough for me to pick the "most beautiful" one in a day. I started to suspect something.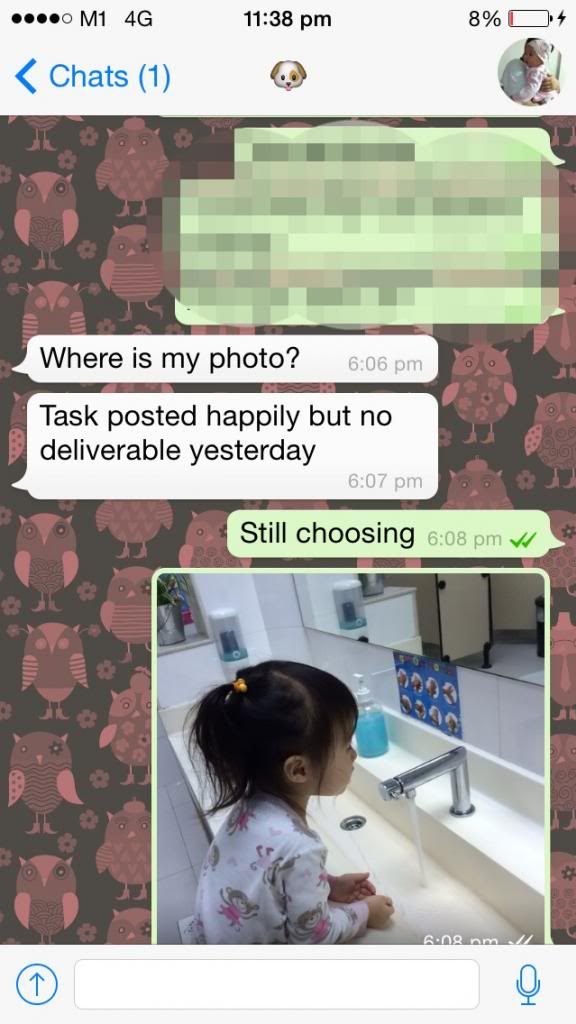 2 days ago, we had this conversation, which kinda confirmed what I was suspecting.
H: "Did you take out anything from JoyJoy's school bag?"
Me : "Yes, her dirty clothes, the glass bottles and her cup"
H: "Nothing else?"
Me: "No ah.. Why?"
Yesterday, he finally couldn't keep the secret…
And Joy, during our bedtime chat suddenly burted out "Mummy, 今天我有做照片给你 leh!"
Since 2 days ago, I've been checking Joy's bag everyday for my gift (hehe) but, I just discovered that it's different, to know that you're getting something and to actually receive it. When I went to pick Joy up from school today, she went to pick out my handmade gift from a pile of similar looking gifts for all the mothers in her class at preschool. I took a good look at her face as she handed it to me, saying "Mummy, 我做给你的!" – her face was so tiny, her smile was so beautiful and her eyes were so earnest. The teacher prompted her and she said "母亲节快乐!" to me with another big smile.
You might not understand but I'll explain why I wanted to cry.
For many reasons, Joy doesn't get to craft much at home so she's not really good at crafting. I imagine her working on it in school, probably in her PJs (she's going through a phase where she refuses to change out of them after nap time in school), hair tied up in a bun, getting glue all over her hands, almost crumbling the photo in the process, teacher watching her to either make sure she doesn't or be around to print a new one when she does, her wanting to stick the caps on the wrong side. Nothing in this scenario is "perfect", she could only have a tiny tiny part to play in making this but still nothing will prevent you from feeling super loved by your kid just because she worked on it with her two little hands.
Of course, it is now my most precious possession, totally one of those things I'll display proudly in our new home, even if it doesn't fit the whole theme. I've kept it somewhere safe now. To be able to see it constantly now and then, I took a picture of it. It is now my wallpaper for whatever needs a wallpaper.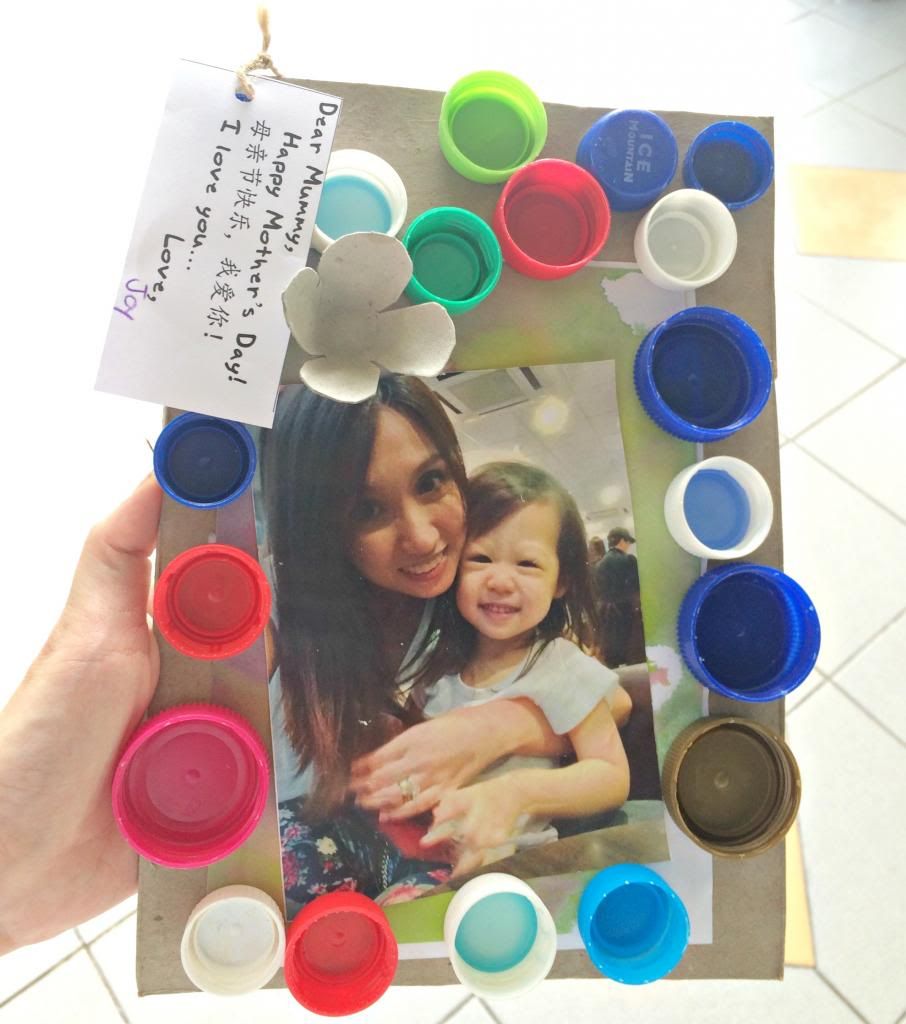 ******
When life gets busy, I keep simple records of our daily life on my Dayre. I also use Instagram and update my Facebook Page pretty often. To keep all sorts of ideas, I pin them to my Pinterest. If you enjoyed reading this post, connect with me on the various platforms I'm on and you won't miss an update!