When the little girl was a baby and right up to her infant-hood I have, once too often, wished that she would grow up quickly – I wished that she could sit, walk, run and talk to me. It dawned on me a little late that it's true, the little ones grow up too quickly.
In the blink of my eye, the little girl has grown much. She can now sit, walk, run and talk to me (a little). Going by her recent ways, it feels like she is now ready and beginning to roam the world on her two little feet. She still returns to the place by my side, which I keep for her all the time and always will but I know, it won't be for long.
These photos were taken at her 3rd visit to the playground. She was too young to play during her first visit, alone with Daddy on her second. So I'm keeping the memories of her third visit.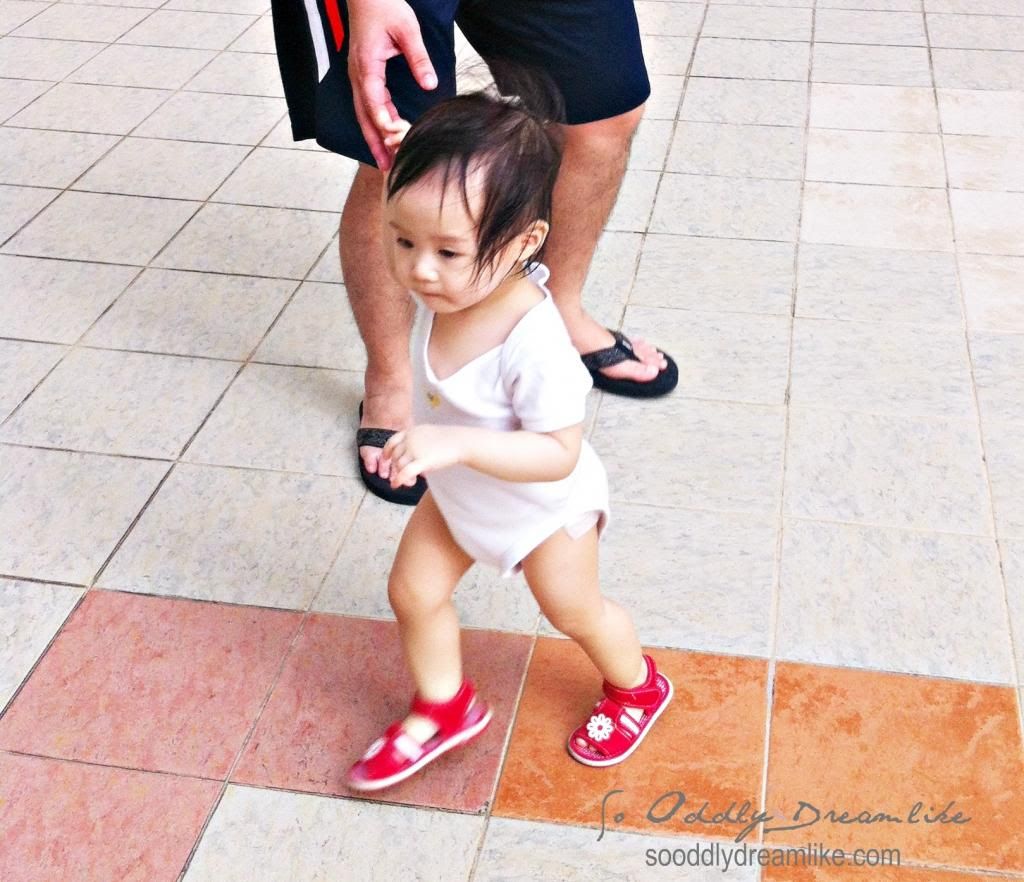 In her universe now, the fun-est thing on earth is… a ball. When she saw a boy bouncing his basketball, she started to say "Ball Ball! Ball Ball!" excitedly. She alternated between mimicking the bouncing and pointing to him.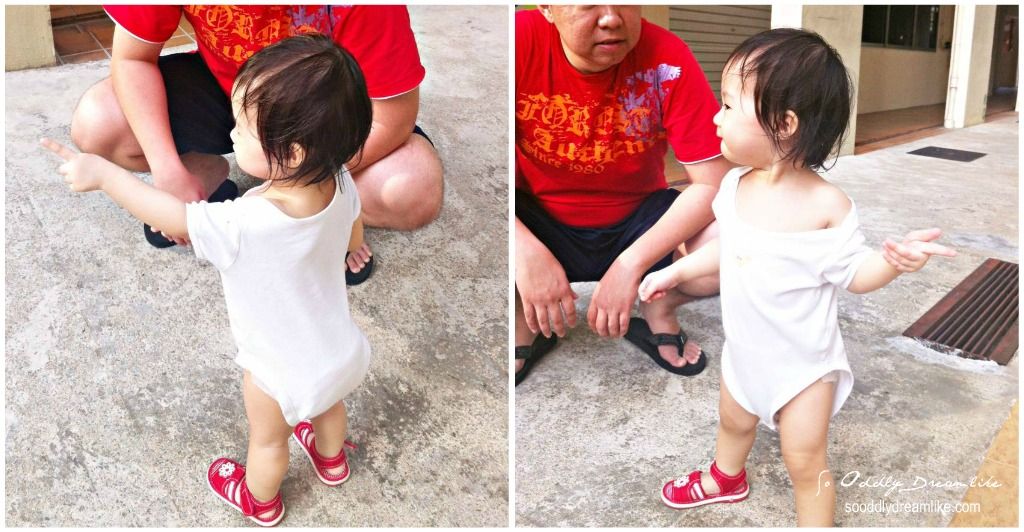 The boy was a passerby who didn't stop for her; he had a destination of his own. She however, derived much joy from their short encounter. When he walked out of sight, she was pretty sad, but life goes on.

When she was brought closer to the playground, she didn't immediately go for it. Her attention was on the flight of stairs leading down to the playground. She wanted to climb!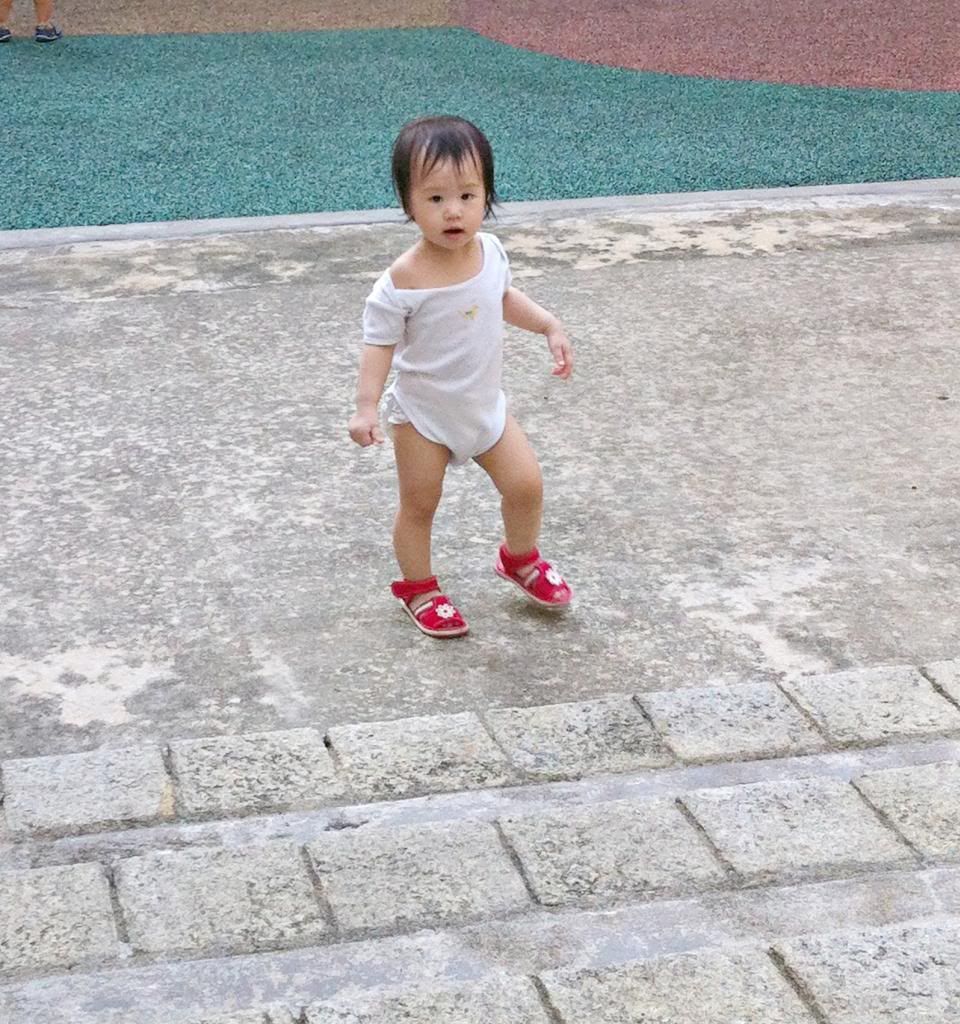 Sometimes in conversations, Daddy and I would say "you know how determined she is right.." That's how she is; really, really determined. She climbed up and down and up and down the stairs, determined to keep on doing it until she did it well. Each time she reached the top of the flight of stairs, she would nod her head in approval and want Daddy to help her down again. Sometimes, too much of that determination makes my heart ache.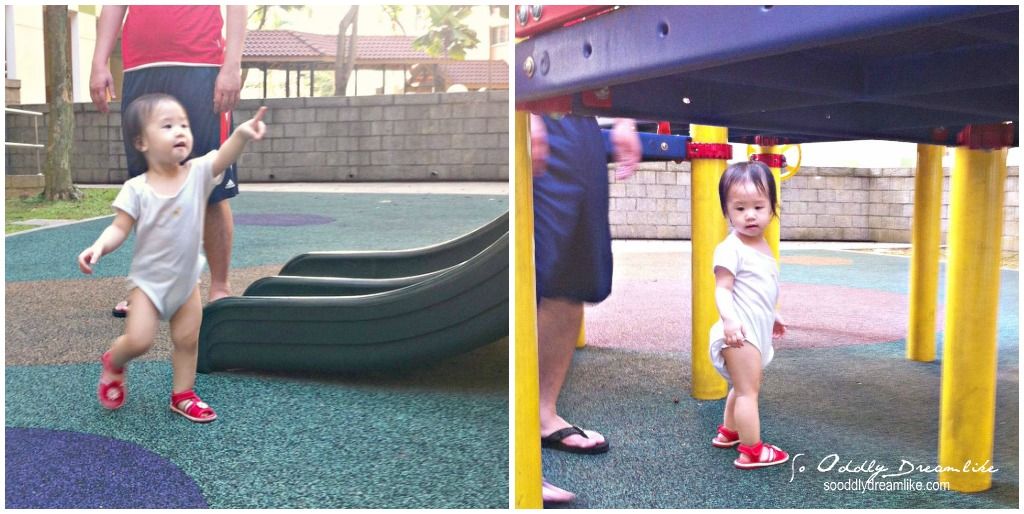 She was still energetic when we finally started on the playground. She walked around and pointed to the things that caught her attention.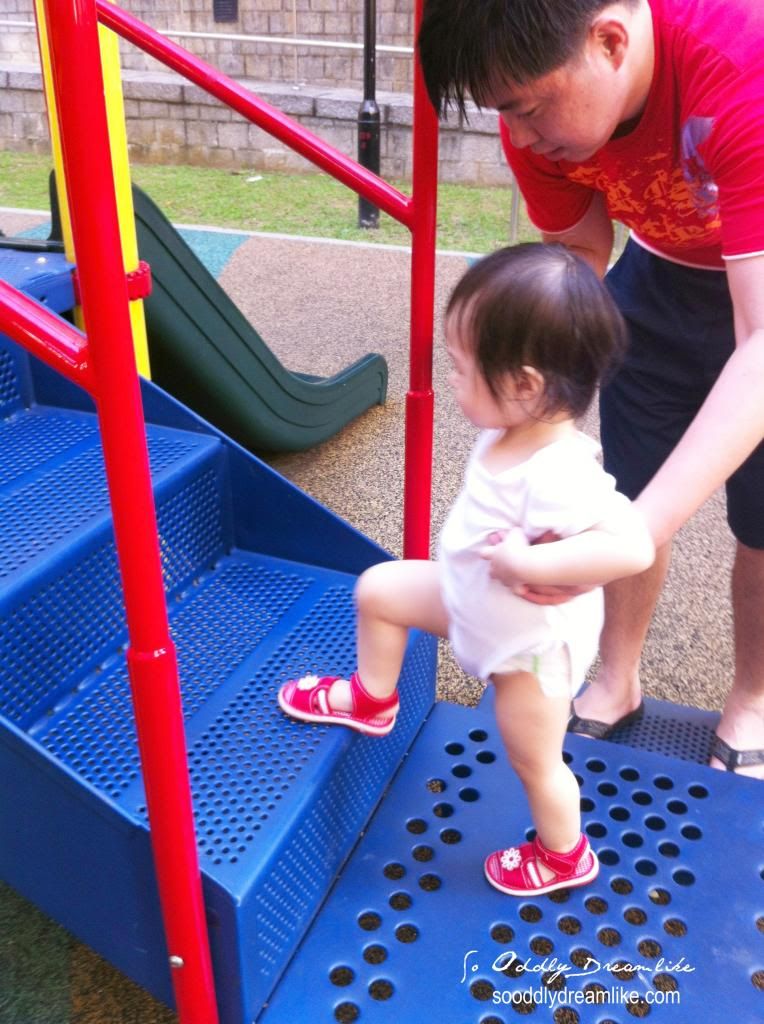 I like looking at her expressions as she wonders around the place. When I was taking the first picture, I was wondering what she was thinking about as she looked out from the railings.


Although she was apprehensive at first, the little girl wasn't as afraid of going down the slides as I thought she would be. After 2 rounds she started to enjoy herself. And then she started to do waht I had hoped she wouldn't – climb the slides.
As she was climbing, Daddy asked me "what if she succeeds" and I was dumbfounded. "Then she succeed lo" I said after a while. He allowed her to climb on her own but was always around to give her a helping hand if she needed, which she did in the end.
After she was done with the smaller slide, she tried climbing up the winding slide. Level Up.
There were plenty of water breaks that day. I love how much she loves water and how she would always offer us her drink.

Whats a trip to the playground if you do not make a friend there right? When I went to the playgrounds as a kid, I almost always do.
Her first playground friend was a boy who was playing alone. He wouldn't climb on the structure when she was in it at first. But slowly…

Daddy and I both couldn't make out what he said his name was but with or without us knowing his name, he played with us until we decided to leave for a short trip to the supermarket.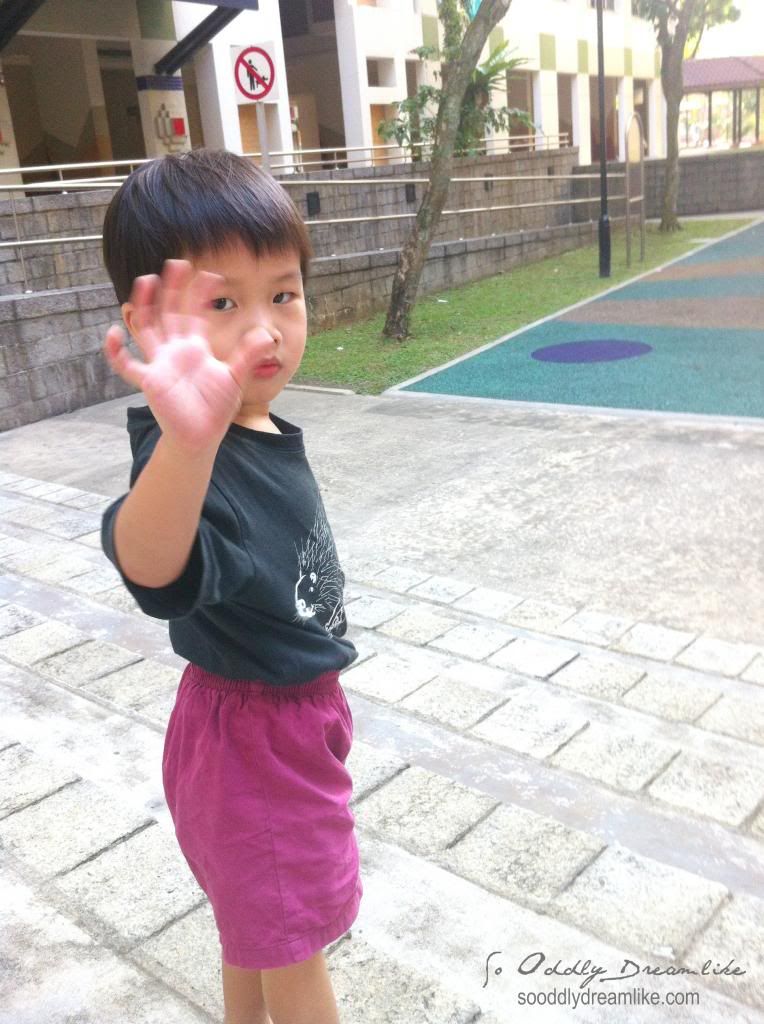 On the way to the supermarket, we had fun being silly. I love her smile in this video. My little sunshine.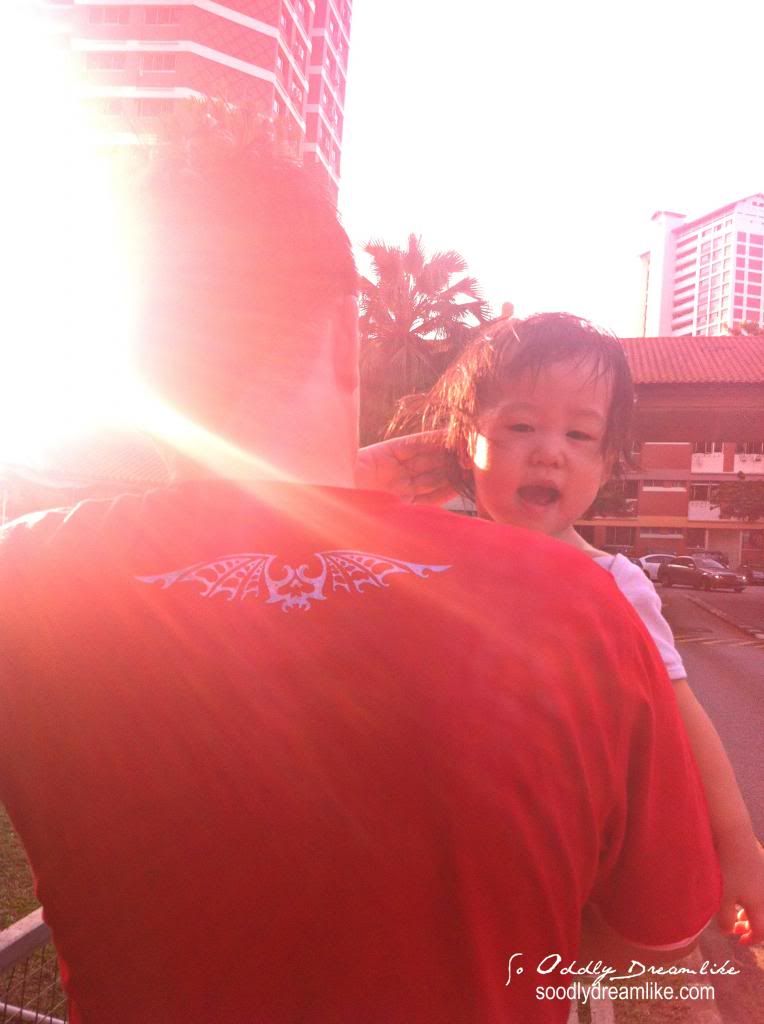 We did get a lot of sunshine that evening, so I got a picture of sunshine + sunshine.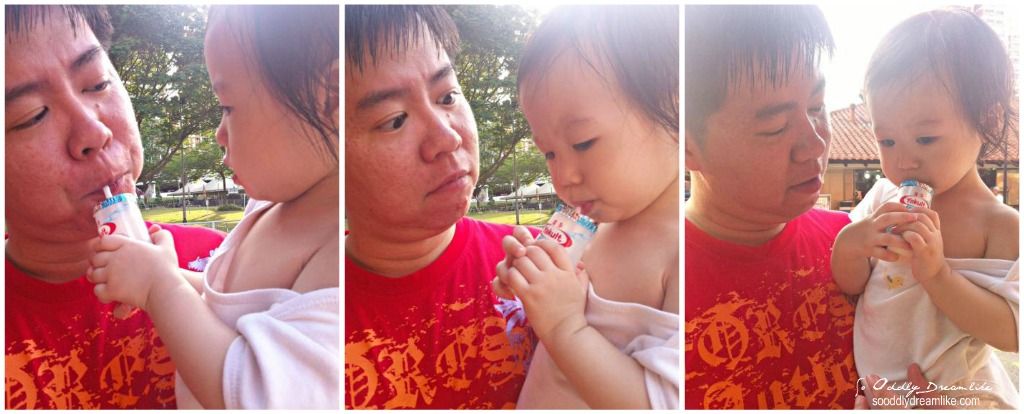 The little girl was pretty happy about her once-in-a-blue-moon Yakult treat. She gave Daddy a tiny sip before she got carried away with the rest.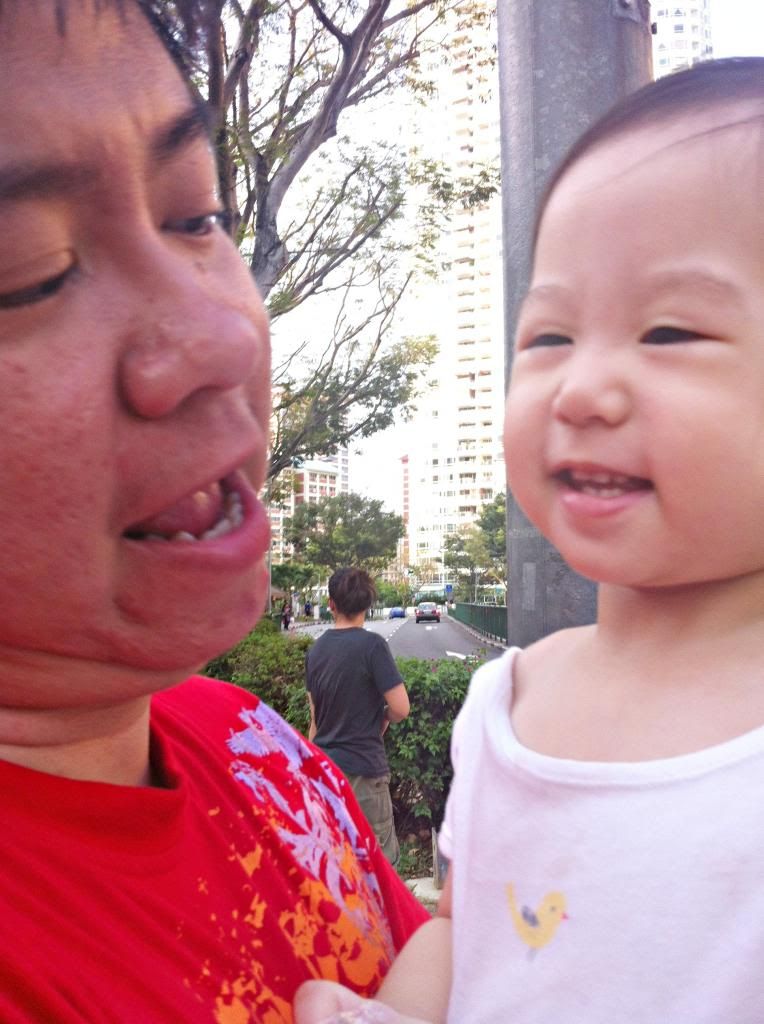 This photo was taken on our way home at the traffic light. The little girl had just given her Daddy a kiss and immediately after, she looked mighty pleased with herself. In that instant, she made Daddy a very happy man.
I always enjoy looking at the two of them from behind. Love that tiny hand in that great big one. Love the way they walk together.