When someone mentions the word "Yakult", those of us in Singapore will surely think of this: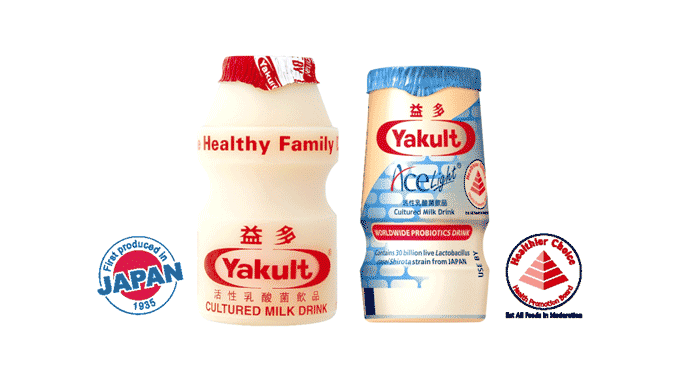 But did you know, Yakult has now launched their health foods range in Singapore! I attended their launch event in March to understand what the hype is all about.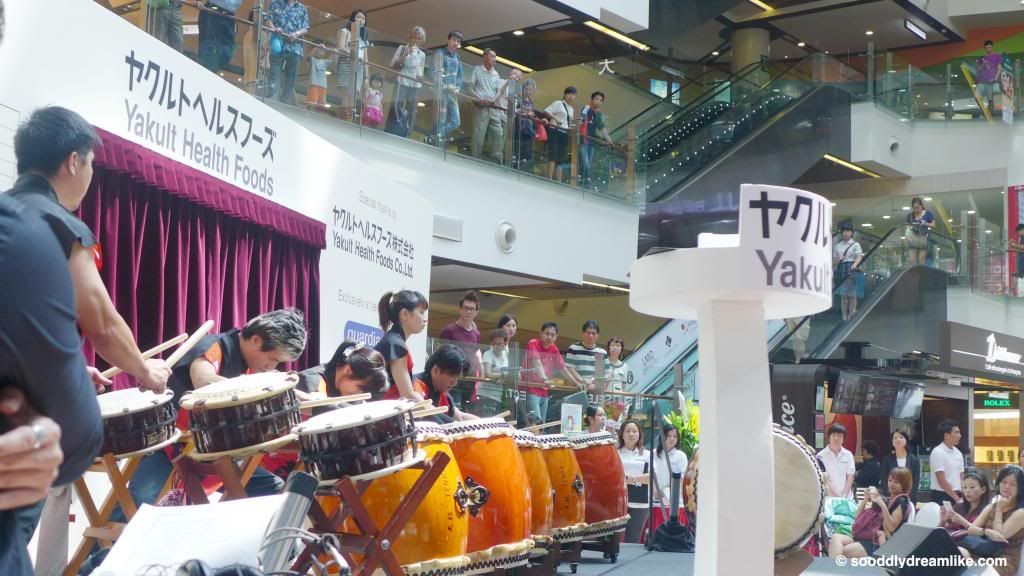 At the launch, Yakult and Abeille d'Or Singapore walked us through how Yakult's Maroyaka Kale is cultivated without the aid of agrochemicals, chemical fertilizers or pesticides for the sake of consumer safety. The Yakult Maroyaka Kale powder, which used to be only available in Japan, is derived using an integrated manufacturing process. The large, dark green leaves are plucked at dawn and delivered to the factory in its freshest state where it is powderized using minimum heat. The enormous leaves are comparable in size to our local banana leaves and are grown in the rich soil of Kunisaki Peninsula area of Oita-Ken Prefecture of the Kyushu region.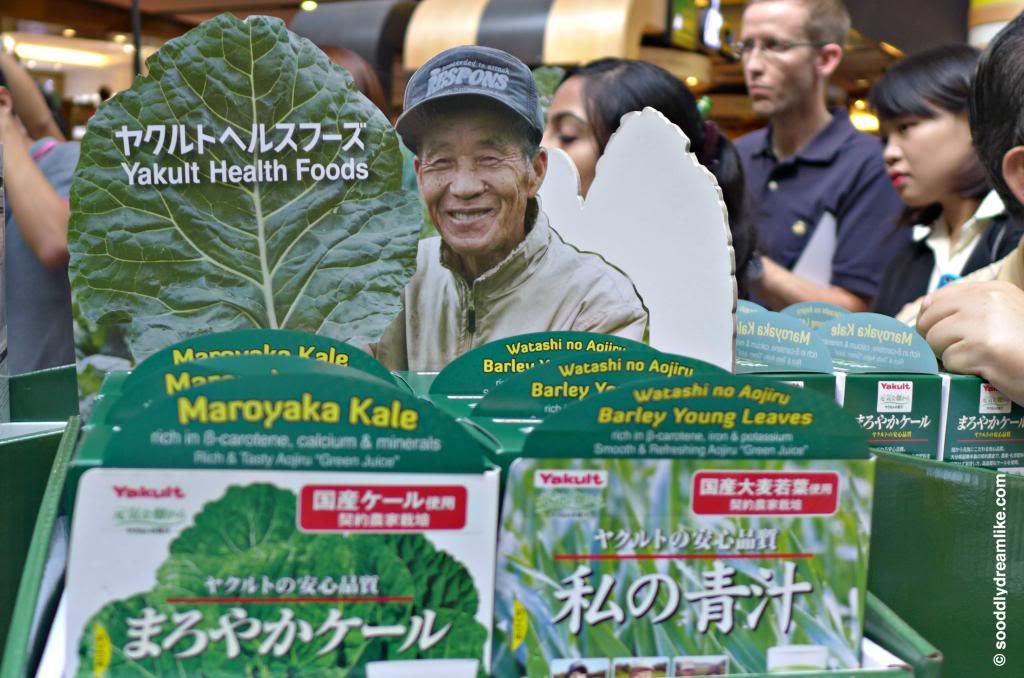 I received an entire month's supply, so that I can review the Yakult Maroyaka Kale. I originally imagined that an entire month's supply must mean a whole lot of products, but turns out, that's all you need for a whole month. Super compact, and not as many things to fumble with as I thought.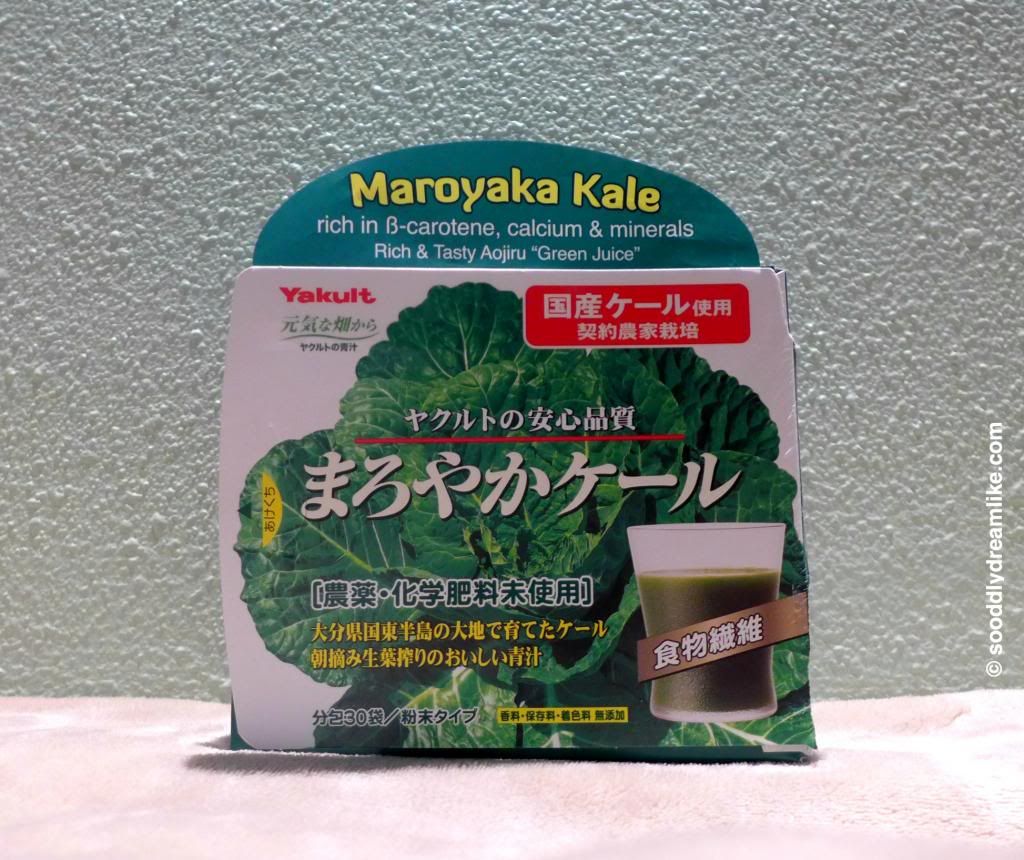 The Japanese will always be well, Japanese. Super thoughtful and environment consious. The box has a perforated portion which you can detach along to turn it into a container for your sachets of Maroyaka Kale.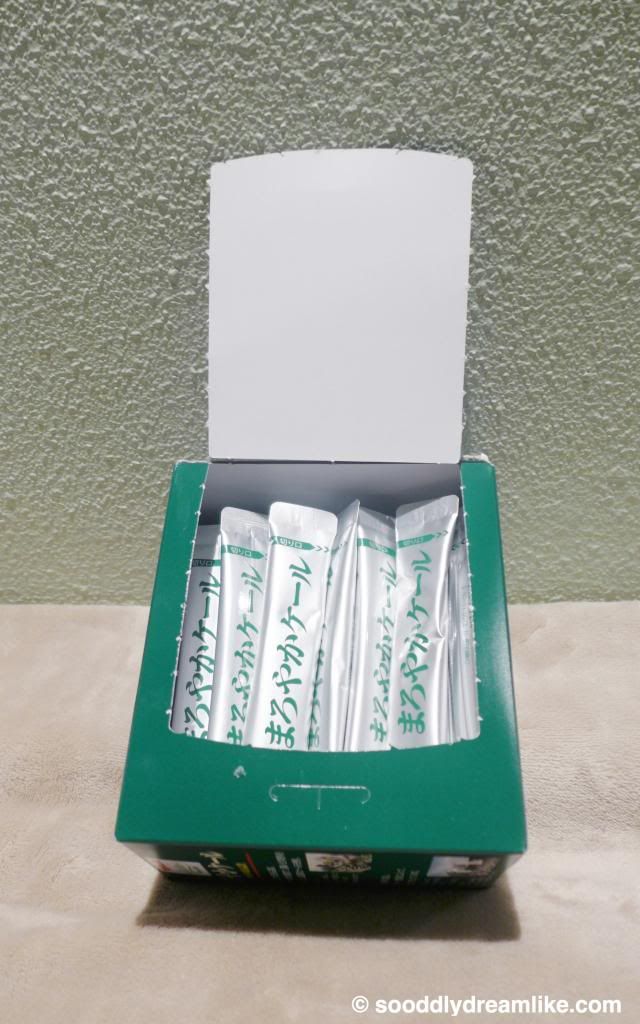 There are thirty sachets in a box, just right for months with thirty days (12 boxes will contain 360, so you are officially allowed to forget to take your supplement a total of 5 days in a year …not!). Sachets are of course super convenient to bring around – you can leave some in your bag, some in your office and also bring them along on travels easily.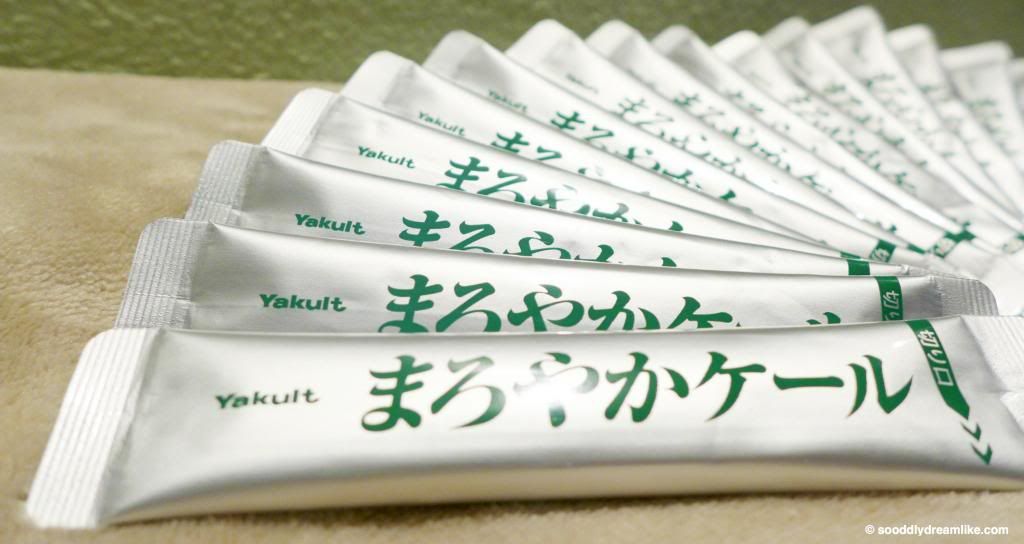 Each sachet is very easy to handle, you don't need to be mad skilful and you don't need a pair of scissors to ensure that you tear them up without spilling. Simply tear along the green line shown in the direction of the arrows!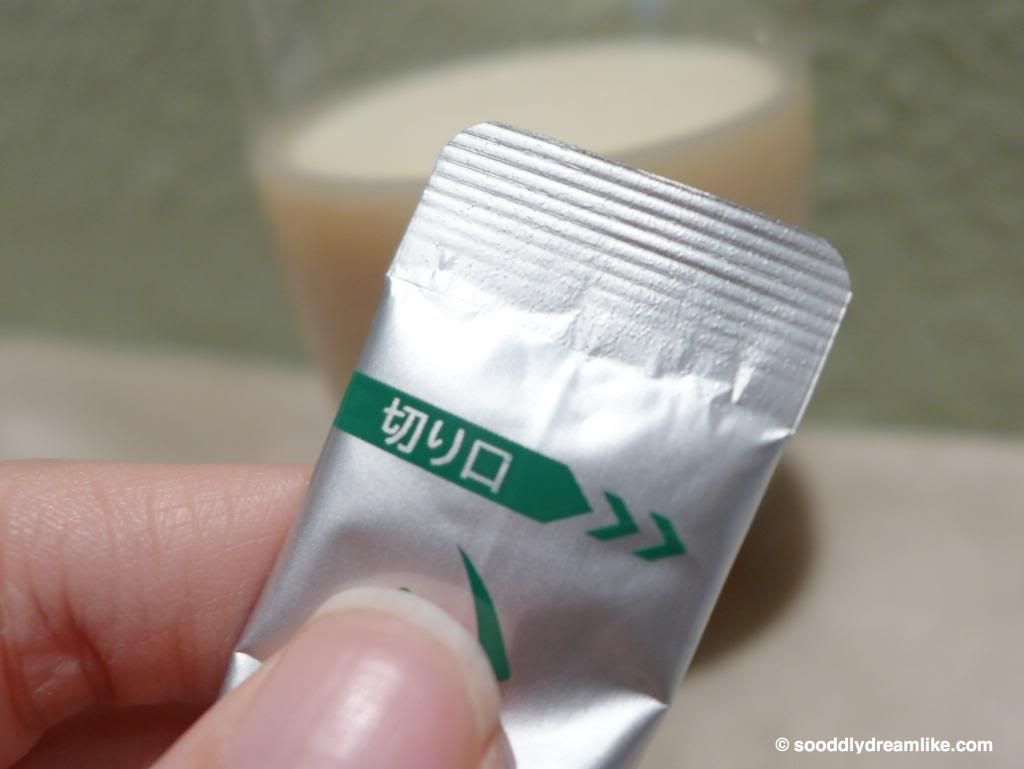 What you get in each sachet of Yakult Maroyaka Kale is 9grams of a powder supplement that has a green colour reminiscent of fresh green vegetables.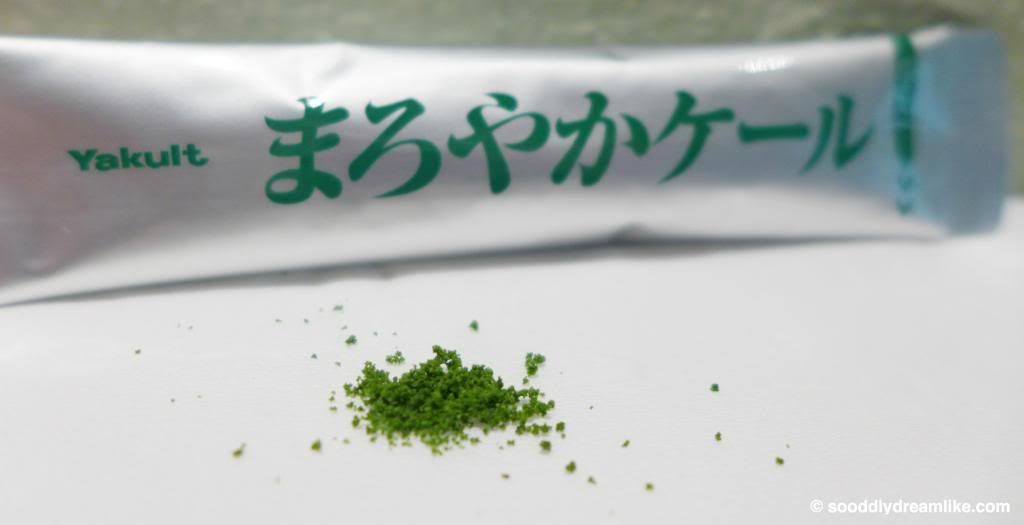 The Yakult Maroyaka Kale powder dissolves easily. Here, I'm having it with a cold soya bean drink but you can also take it with water, milk, yoghurt, juices or even ice-cream (I think Irene tried it with Ice-cream) but the key thing to remember is to have it cold.
This is how my soya bean drink looks like when the Yakult Maroyaka Kale is completely dissolved. My soya bean drink with Yakult Maroyaka Kale tasted like boiled broccoli. It didn't make me gag.
I am someone who loves my greens so the rest of my supply went to my non-vegetable loving sister in law. In my opinion, a vegetable supplement like this is more suitable for people who detests their greens but need to get some of their benefits into their diet.
Kale (the vegetable) is rich in B-carotene and calcium, as well as vitamin B6, vitamin C, calcium, potassium, magnesium and chlorophyll. According to Yakult, their Maroyaka Kale powder offers consumers the goodness and benefits of premium kale, readily available for easy consumption, so you could try if you feel that you're lacking in this department.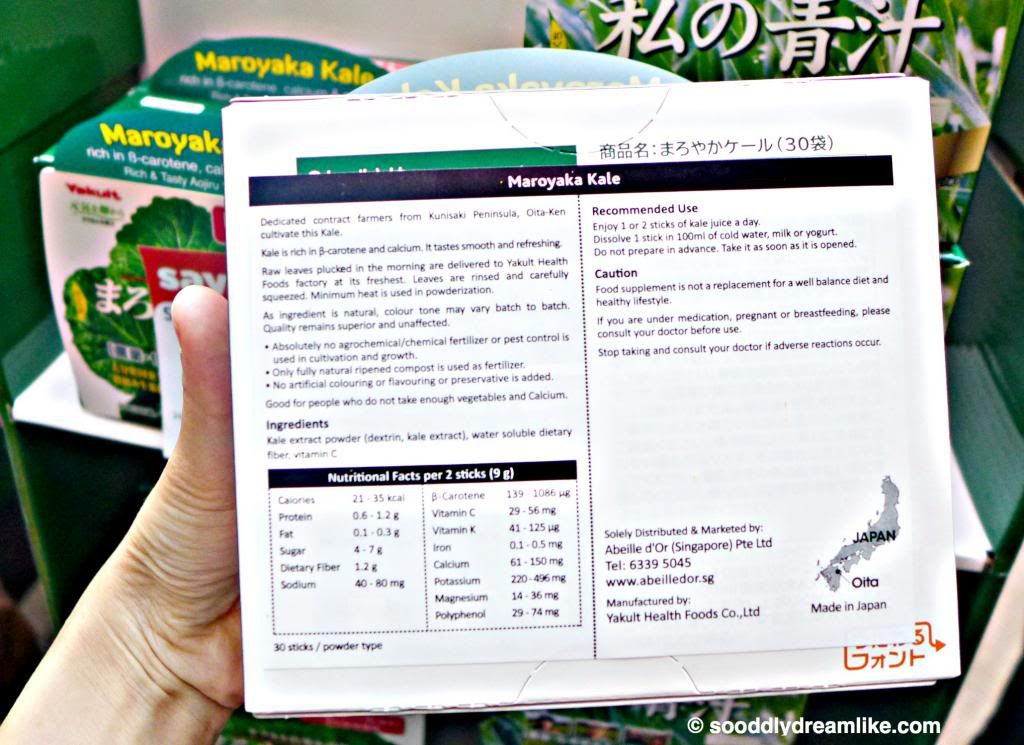 The Maroyaka Kale powder is just one in Yakult Health Foods newly launched range of supplements made available by Abeille d'Or Singapore. Other products includes Watashi No Aojiru (juice of young barley leaves in powder form), glucosamine, CoQ10, royal jelly, bilberry extract and collagen supplements are some of the products also available under the Yakult Health Foods range, as well as DHA + EPA soft capsules,a type of poly unsaturated fatty acid important for optimal brain function. The complete range of Yakult Health Foods are available at Guardian Pharmacy outlets with prices starting from S$43.90 to S$119.90. The Yakult Maroyaka Kale powder retails for an introductory price of S$79.90 from now till 30th September 2014, after which the usual price of S$87.90 applies.
Colon Health Seminar by:
Dr, Haresh Kumar Kantilal (Ph.D Medical Science, M.Sc. Microbiology.
A Medical Microbiologist and Speaker in Nutrition
Date : 19 April 2014, Saturday
Time : 2pm
Duration: 2 hrs
Venue : Peninsular Shopping Centre #03-14
Ticketing : S$10/- (fully redeemable on 19/4 for any Yakult Health Foods product)
To reserve: Call 6339 5045
Abeille D'Or website | Yakult Health Foods Facebook Page
Disclosure: I was invited by ATMC to attend the launch of Yakult's health foods product range, provided with one month's supply Yakult's Maroyaka Kale powder and also compensated for this post. All opinions are my own.
******
When life gets busy, I keep simple records of our daily life on my Dayre. I also use Instagram and update my Facebook Page pretty often. To keep all sorts of ideas, I pin them to my Pinterest. If you enjoyed reading this post, connect with me on the various platforms I'm on and you won't miss an update!