I admit, I was apprehensive.
The only other run we had participated in was a stroller run where Joy was, well, comfortably resting in her stroller. Regardless, I figured we had to start somewhere before I would be able to know just how Joy would take to runs – I was more hopeful than not, since she enjoys running a lot.
I was zombified that morning from lack of sleep the night before but Joy was ever so cheerful, even if we woke her up earlier than usual. We were running really late to reach the gathering point for our race due to the parking situation. In the end, I asked the hubs to drop Joy and I off and left him to fend for himself to get a lot. He did in the end find one that was about 20 mins walk from the event grounds.
While waiting for our run to start, I got a little worried because it looked like it would pour anytime but, partly because we were invited to participate in the run, I decided that we would wait and see.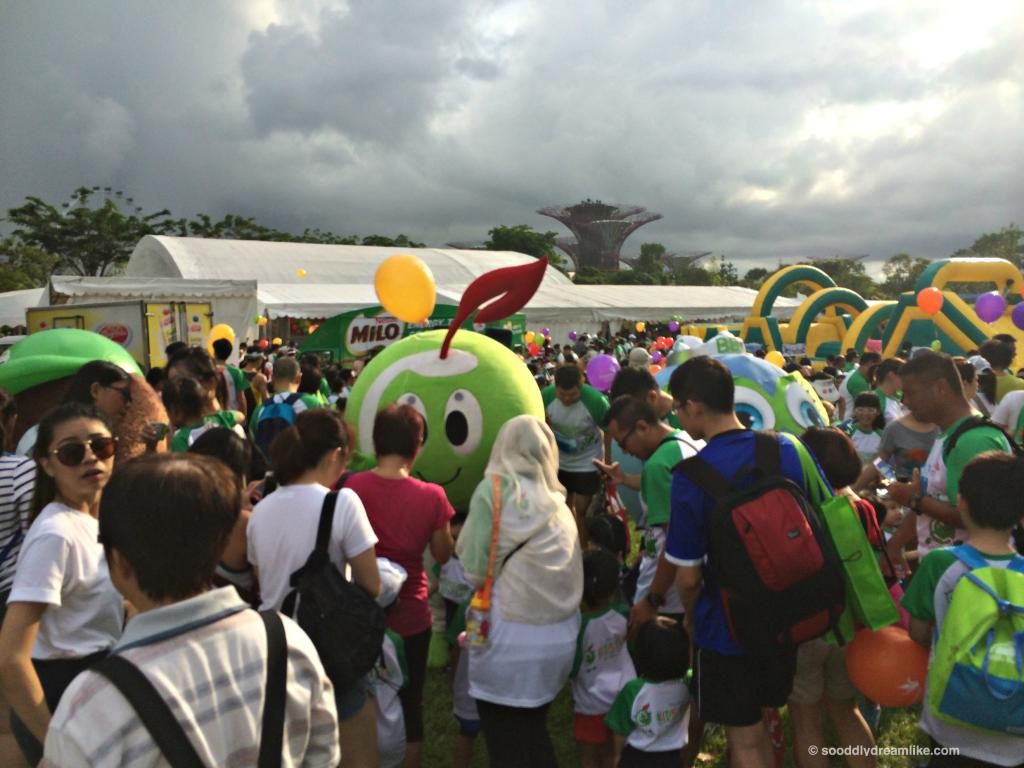 We hid in the tent at the waiting area where I bumped into bandmate, Yong Shun, and finally got to meet his little girl. For some unknown reasons, the girls didn't seem too pleased to be taking pictures.
Joy met up with childhood sweetheart, Jerry (Cherie's son), who was also participating in the same race, accompanied by his dad, Derrick.
We all stood in the queue together, waiting for the run to start. Each time we moved towards the start line, Joy would ask me "可以跑步了吗?" ("Can we run now?"). So I could tell, she was really excited about the race.
The 1 hour wait under intermittent sun and light drizzle somewhat drained her patience but we managed to get by when the hubs arrived with ammunition of food, water and shelter in the form of an umbrella. I think that day, he ran more than we did, following us from outside the barricade and attending to our needs.
I know about sportsmanship but I was was contemplating whether it is worth going ahead with the run as Joy had only just recovered from illness. We went ahead in the end because the sun came out just as we reached the start line.
Joy as soooo happy as they were counting down to the run. She counted down excitedly with the emcee, flinging her hands up and down as she counted. And off we went!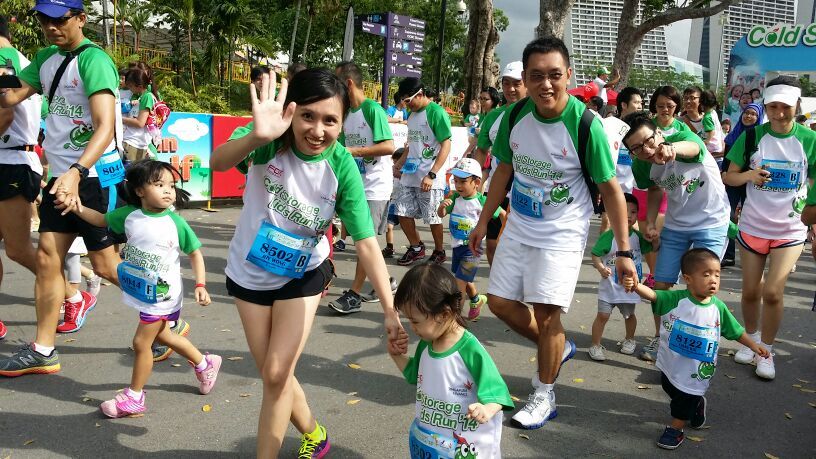 As luck would have it, a light drizzle started not too long after our race commenced, and then some moments later, I saw it coming from in front, imposing upon us and seemingly threatening to swallow us whole. A terrible, terrible downpour.
Parents of older children asked them to "Run as fast as you can!", parents of the younger children started picking up their kids and running for dear life. I did the same as well and that's when the helplessness set in. I heard YongShun shouting out "Go Estella Go!" from behind, it was very motivating but no matter how hard I pushed myself, all I could manage was to jog on the ground something between a slow jog and a brisk walk. Couldn't help but wonder what would have happened to Joy if she depended on me for her life in a disaster.
I used the finish line as a motivation for me to keep going. As Joy and I moved towards it, I looked out for the hubs. Sure enough, he was there with a huge umbrella waiting for us – he ran towards us with the umbrella when he saw me struggling to go on. Both Joy and I were totally drenched by then and super super grateful to have him around.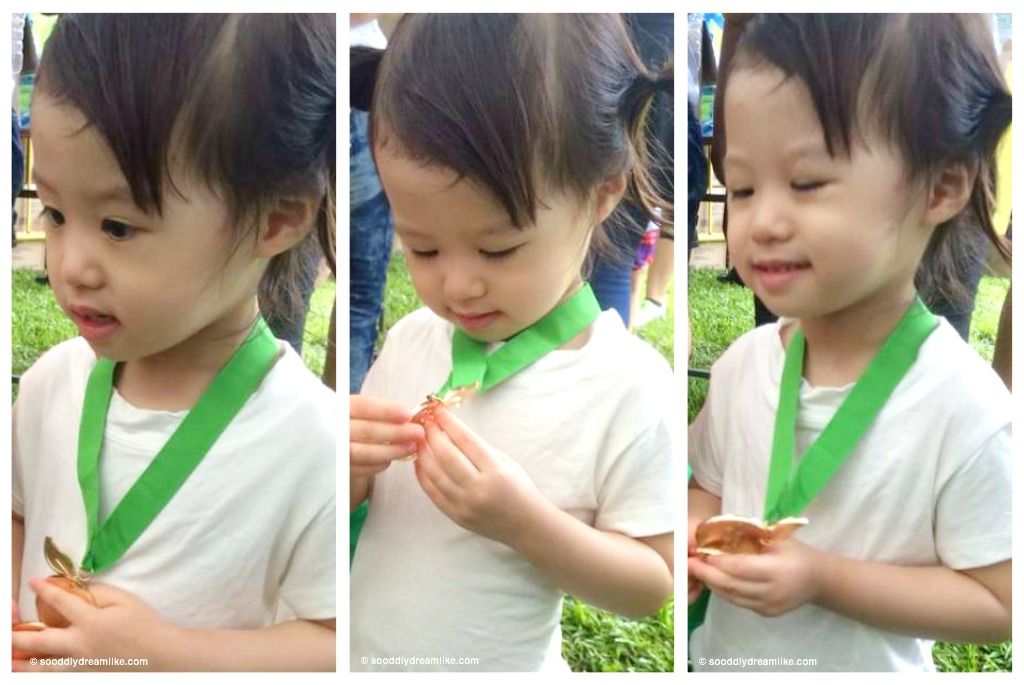 It was storming and many got stuck in the tents around the event area. We gave Joy a change of clothes on the spot, never mind that it was in public, to try and prevent her from getting sick (although she did fall sick with pneumonia in the end). We could see many children who didn't have this luxury because they didn't have their belongings with them – its a good thing some of them received a goodie bag of cheese and chocolate pudding. People were sharing and helping each other all around us.  I was glad we have some extra food to share with Derrick and Jerry.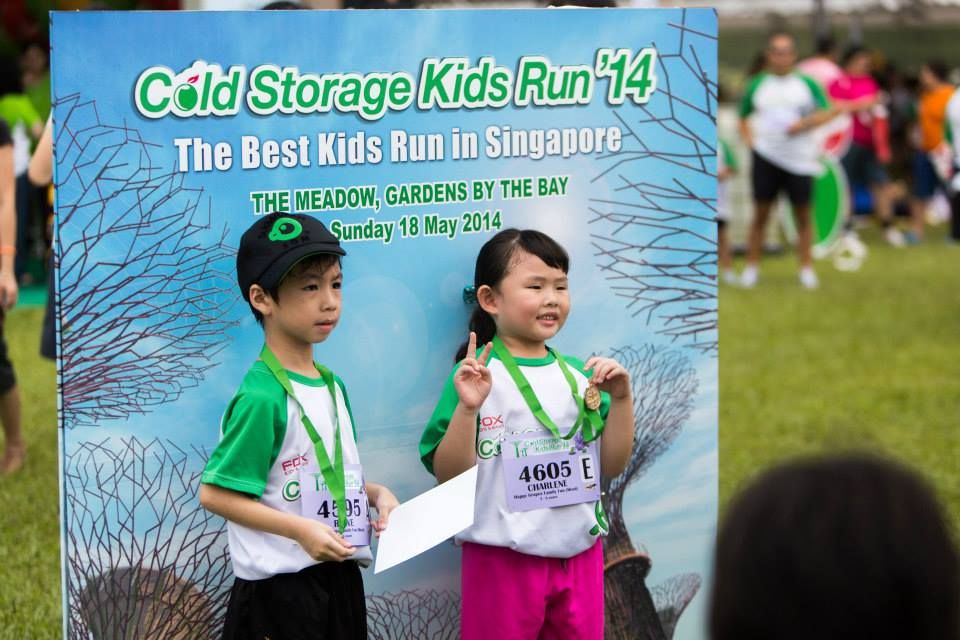 The Cold Storage Kids Run 2014 would have been a lot more enjoyable with:
Better co-ordination For our run, parents were kept waiting for over an hour without a clue as to what was happening, it would have been good to be updated on what to expect.
A more tactful emcee One who doesn't repeatedly inform a group of parents with impatients toddlers about what a long morning he's had, perhaps? I was pretty irritated, and so were a few other parents in my group.
Kid and adult sized ponchos in the goodie bag It'll be a very thoughtful item to have since we're talking about a kids run here.
But hey, the sun won't always shine on you and that's life isn't it? I  chatted with Joy about how she felt about the run and she told me she loved it, except "可以不要下雨吗?" ("can we not have rain?"). Overall, I think we still had fun and an unexpected experience of a lifetime (#dramamuch) relying on each other.
Would I go for the same run again?
Yes definitely! (with ponchos in our bag).
Disclosure: We were invited to participate in Cold Storage Kids Run 2014 by Full Circle PR, no other compensation was received. All life experiences and opinions are my own.
******
When life gets busy, I keep simple records of our daily life on my Dayre. I also use Instagram and update my Facebook Page pretty often. To keep all sorts of ideas, I pin them to my Pinterest. If you enjoyed reading this post, connect with me on the various platforms I'm on and you won't miss an update!