When I arrived at the location of the heART Studio at 101 Soo Chow Walk (directions here), I was very happy for greedy reasons because along the way there, I saw that the place is very near some of my favourite eating places along Upper Thomson Road. If I put Joy Joy there for art class in future, I'd have no lack of food whilst waiting. :9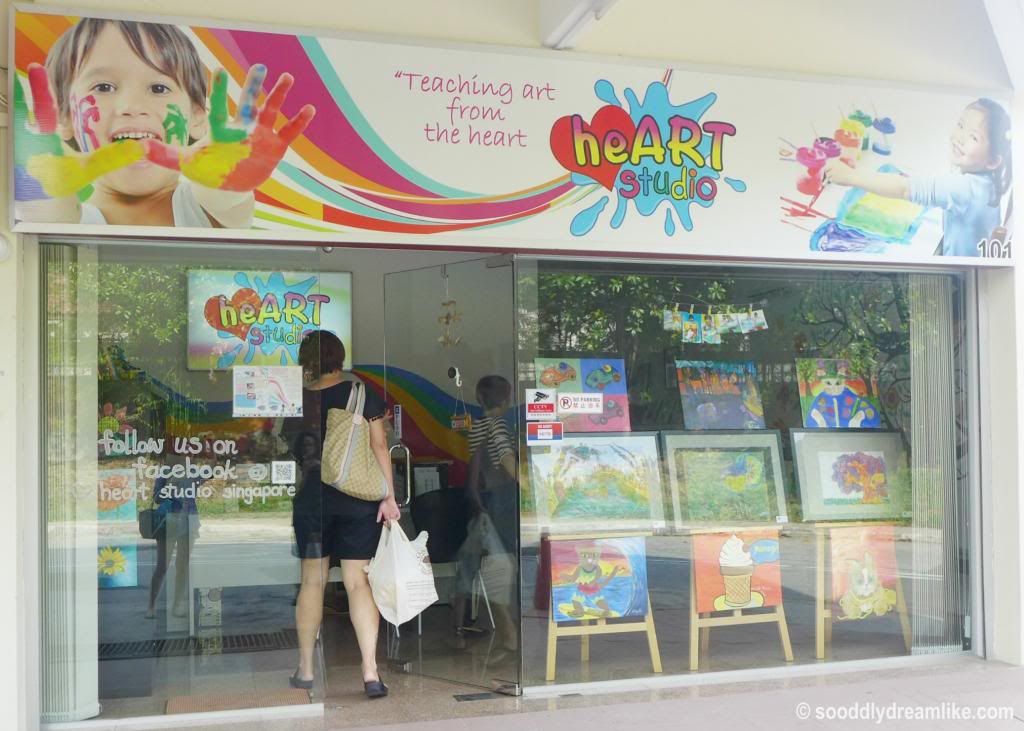 Food aside, my being there was to join other mum bloggers in the third activity in celebration of the Singapore Mom Blogger group's first birthday bash and lesson for the day was to paint my version of The Sunflowers by Van Gogh.
Before that art session started I looked around and spotted pieces which I enjoyed. Were they done by the kids who go to heArt? If so, I'm impressed!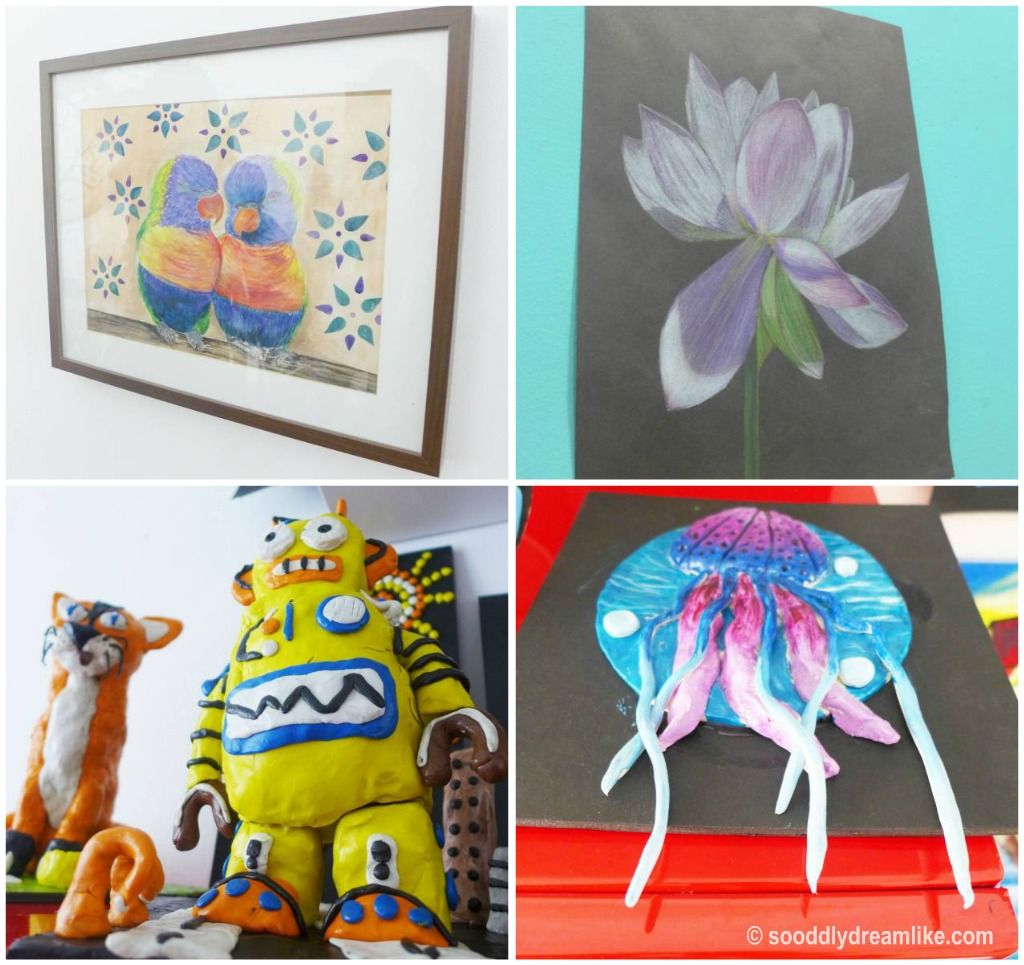 The medium we used that day was acrylic, something I have never handled before although I was an art student in school. The oil pastels were used for outlining the sunflowers.
The paint brush bucket reminded me of the many art classes I enjoyed as a child.
When the session started, I felt really at ease with the teacher Gaz. He was all smiles but, I realised, knowledgable and clear when guiding us on how to approach the drawing.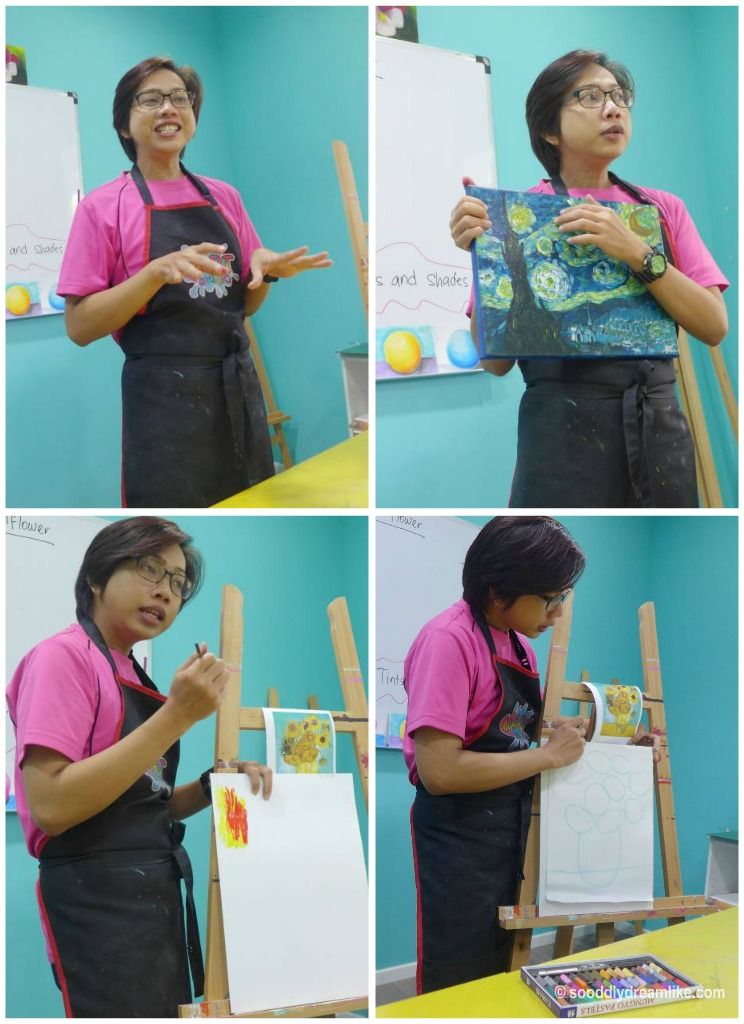 We learnt to approach the drawing systematically but was not taught to draw in any particular way or color. Freedom in art always makes it enjoyable yet challenging because The Sunflower is such a famous piece.
Besides drawing, we were also educated about Van Gogh's painting style. I found this bit of the session very interesting.
We were spilt up into two classes and everyone were saying how drastically different the atmosphere of the classes were. One was silent and focused other was noisy chatty and cheerful. When I looked back at the pictures, I felt that maybe, the colours of the room played a part?
I was in the Teal room (they don't name the art rooms like that btw) and we had music by pianist Yiruma played in the background whilst we painted, some of my favourites. So for me, the environment was very peaceful and I enjoyed the quiet.
At my request, teacher Gaz helped me quite a bit with the painting of some of the petals but through his demonstration before my eyes, I certainly understood what he meant when describing Van Gogh's painting style more, and learnt to appreciate the style more as well.
Heres's me with my artwork.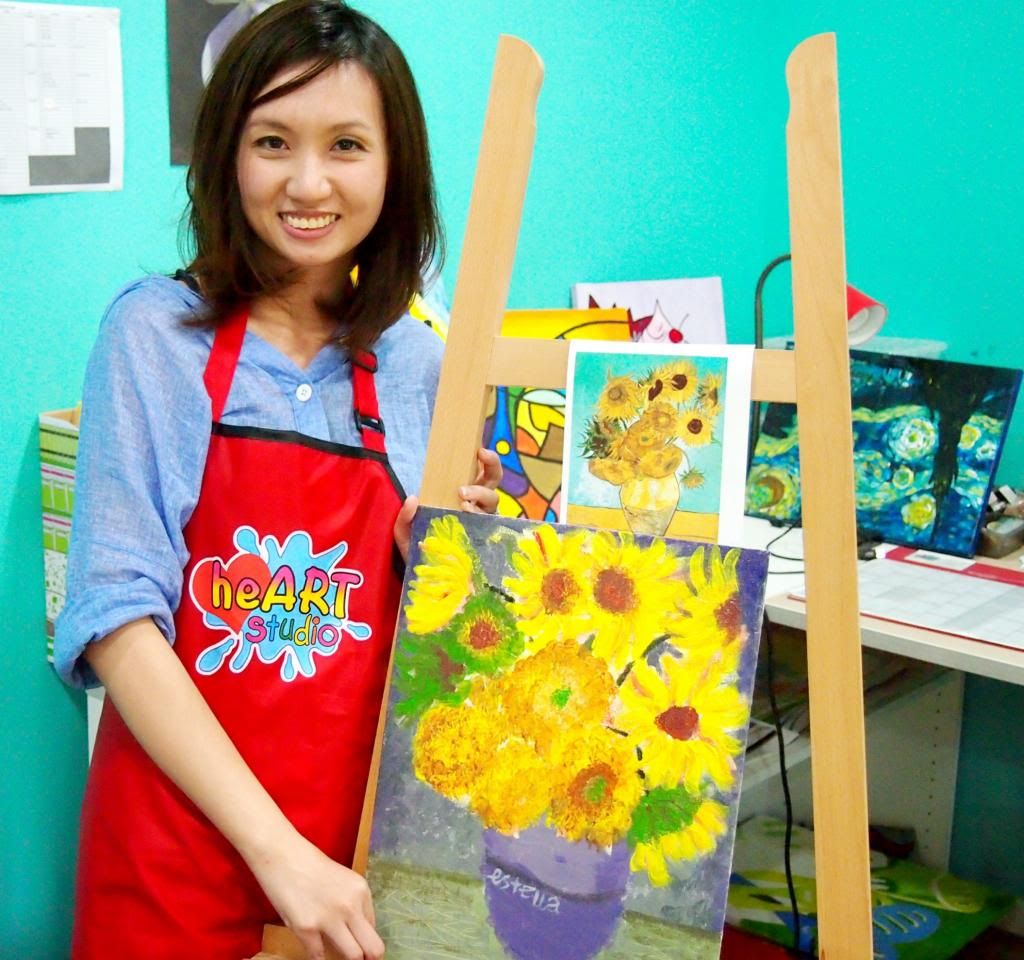 When I got home, Joy Joy was napping but when she woke up and saw the painting, she rubbed her sleepy eyes, said "美美" and gave me a silly smile. Made me super happy.
The session was therapeutic and totally enjoyable although I had to leave earlier and missed catching up with some of the moms I wanted to meet. I'm really grateful for the chance to paint. It is addictive and I'm yearning for more. Maybe when the little girl is ready for art classes, i'll enroll both of us and relive the experience.
Many thanks to SMB and heART Studio for this opportunity!
In celebration of:
Disclaimer: I experienced an acrylic painting session at heART Studio in celebration of the Singapore Mom Blogger group's first birthday. I received no monetary compensation and all opinions are my own.