After JoyJoy had the first encounter with her new ride at the launch, she was clearly besotted with it. When Daddy and I were getting familiarised with the stroller before we take it out for a spin, Joy Joy was eyeing it non-stop.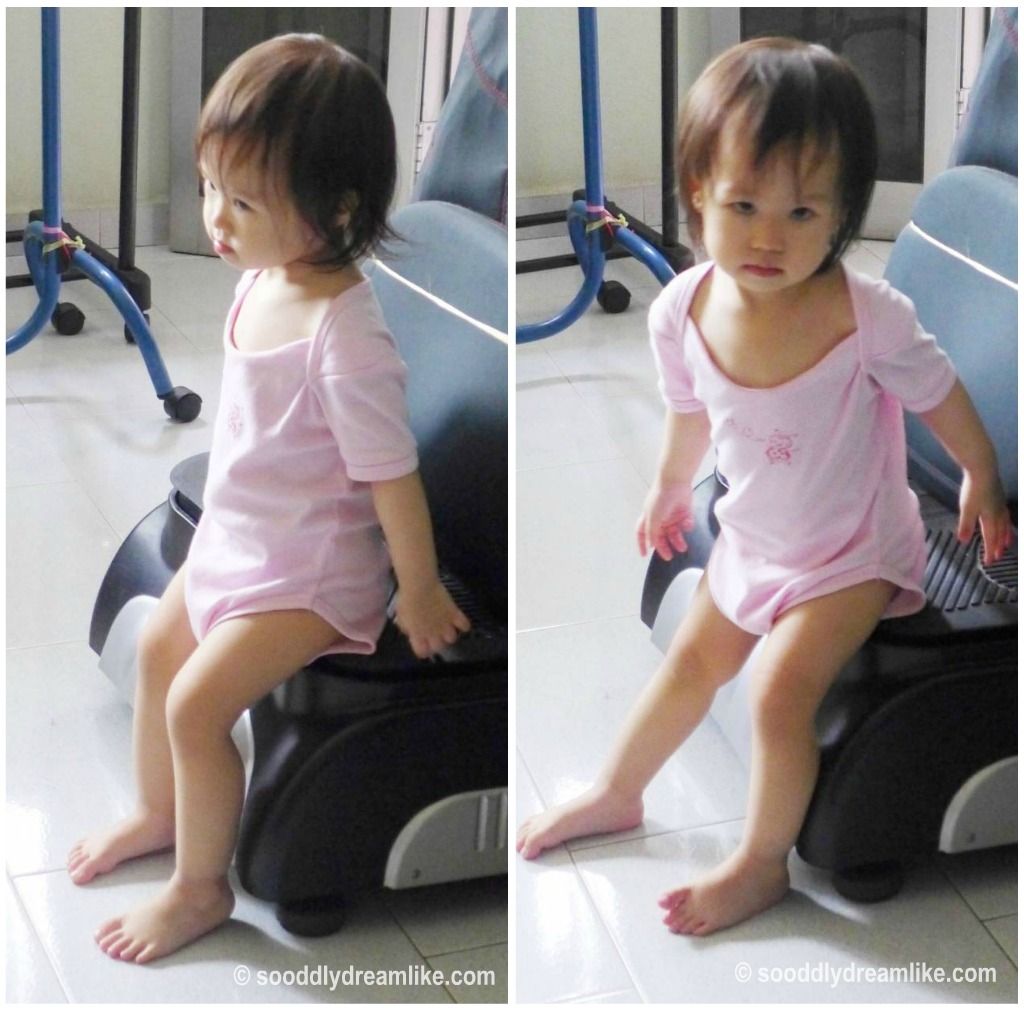 She was very happy when I said, "Ok darling! Come!".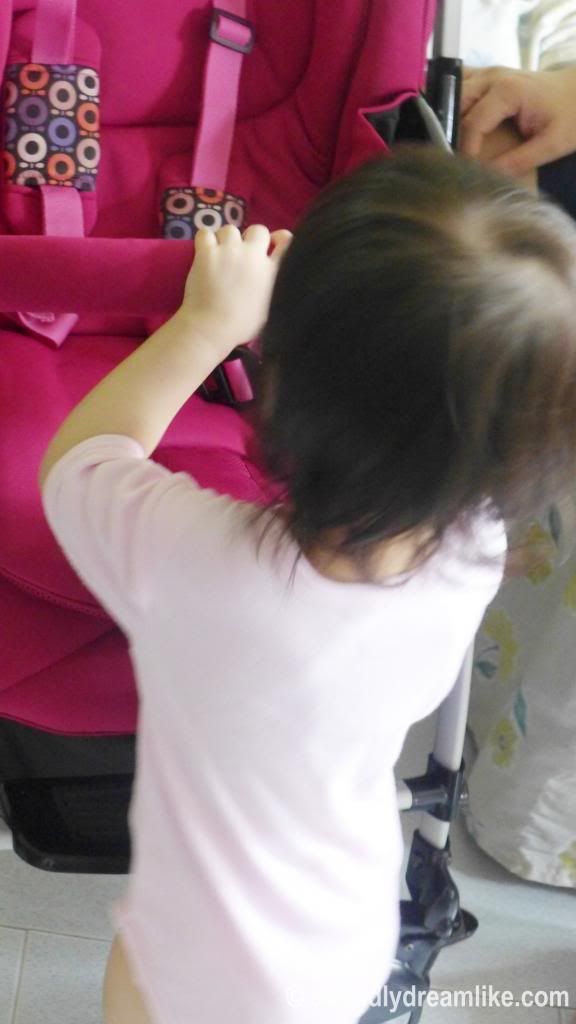 I have a confession to make — I hardly used our stroller of European make. Almost never. Although our own stroller is very sturdy and the ride very smooth, it is too big and too heavy for me to handle on my own with a very active toddler in tow. So much so that it has now been moved to my mother's place because they live at the lift landing level over there. You can imagine, I was very happy to see that the specifications of the Capella Cony S230T-13 might change it all.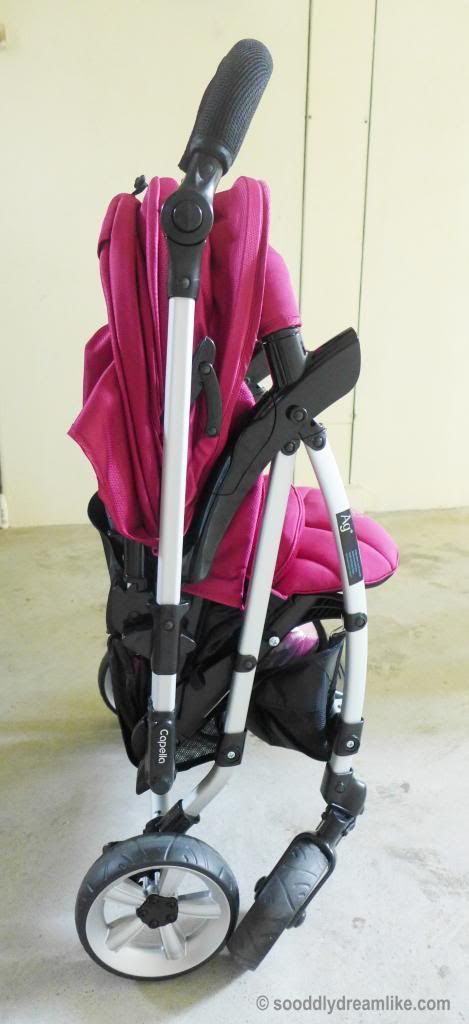 JoyJoy's new ride weighs 7.3kg so it is a mid-weight stroller. Although i was not able to carry Joy in one hand and carry the stroller with the other ( the last time we checked Joy is 12kg and I am not very strong to begin with), but I agree with Capella that it is not light weight but the right weight that matters. The weight of this stroller is intentional for stability, this is very important for safety and shopping (ahem)!
The stroller is also compact and easy to stow away in the car boot. Daddy was so happy about this that he commented on my post (see Alex Wong). Not staged, really. He did it out of the happiness he experienced at not having to lug around another heavy weight.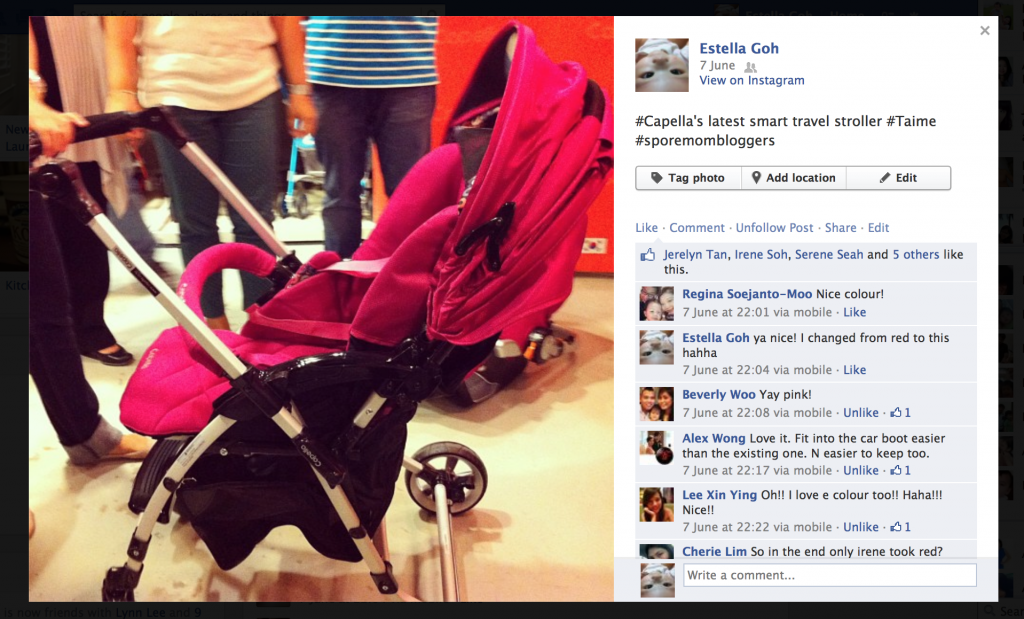 Its a good thing that the stroller is self-reliant. It stands on its own when folded and can be folded with just one hand. This means that I can ask the little girl to stand aside and wait for me whilst I quickly fold up the stroller and then get her in the next moment. Very happy with this feature.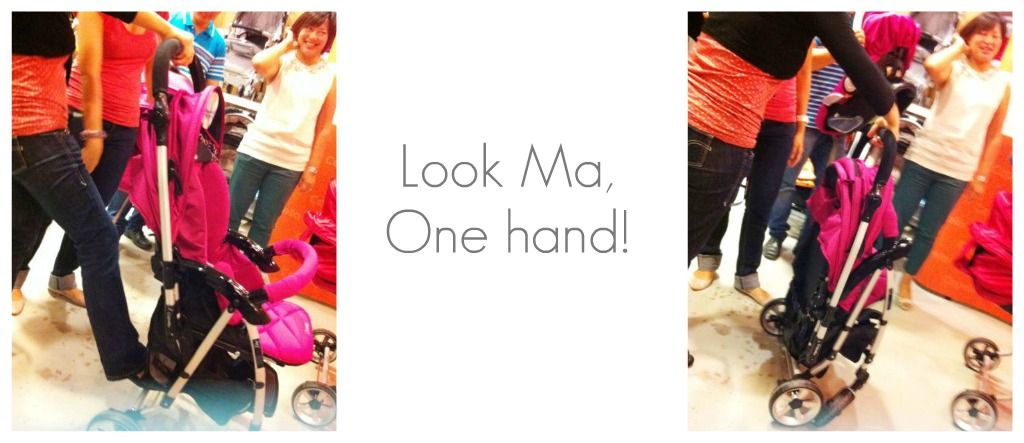 The one hand system is activated by pressing a button at the handlebar. For safety, you can lock the button with a push of a slider at the handle, to prevent accidentally depressing the button.

Capella has purposefully made the stroller wider than its previous releases. It can't just go out of the gate of our home but it also means that JoyJoy is not squashed in her ride. I'm fine with that. Anyway, you can just fold up the stroller before getting out of the gate.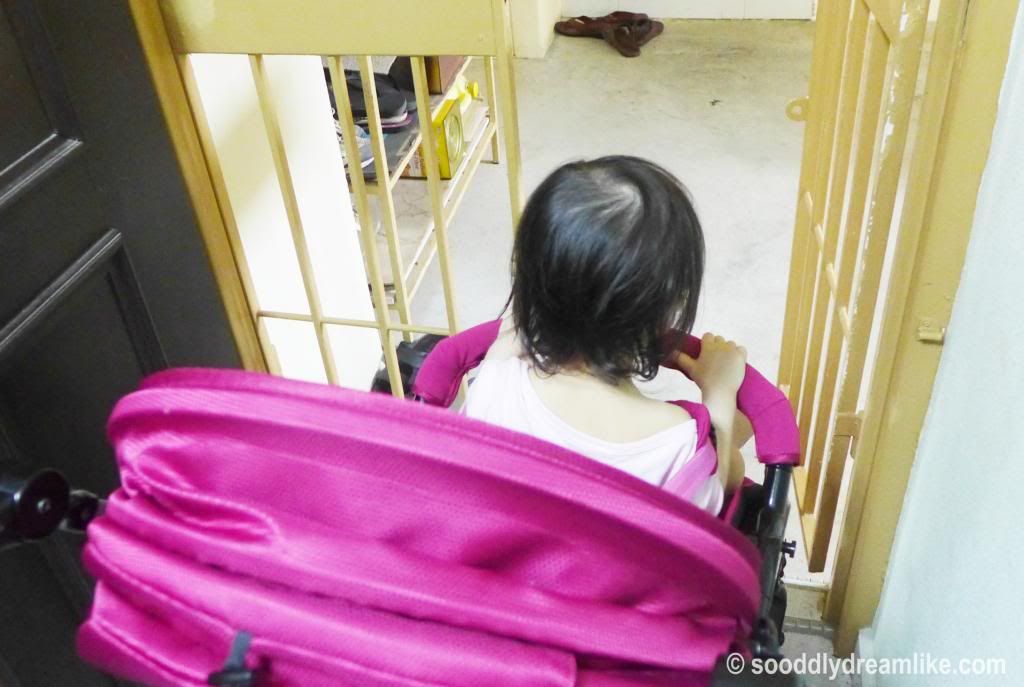 Looking at the stroller, I didn't think that there would be any shock absorber but according to Capella, the stroller boasts a 0.3 shock absorber. Having being used to the cushy wheels of a european stroller, the wheels of the new Cony appeared puny to me but we'll see it if can take different terrains in a while.
Handles of the stroller are easily adjustable by pressing the buttons located at the side of the handles simultaneously. The button can be depressed easily but the handles do not move easily without the buttons being depressed. Unlikely to have the situation where you have to keep re-adjusting the handles.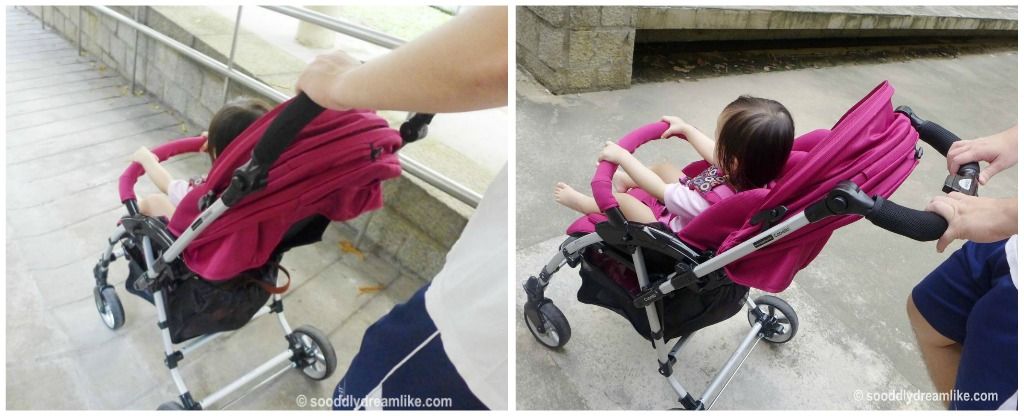 The handlebars are covered with mesh. Its a god sent for people like me with pretty bad sweaty palms. Firmer grip = safety.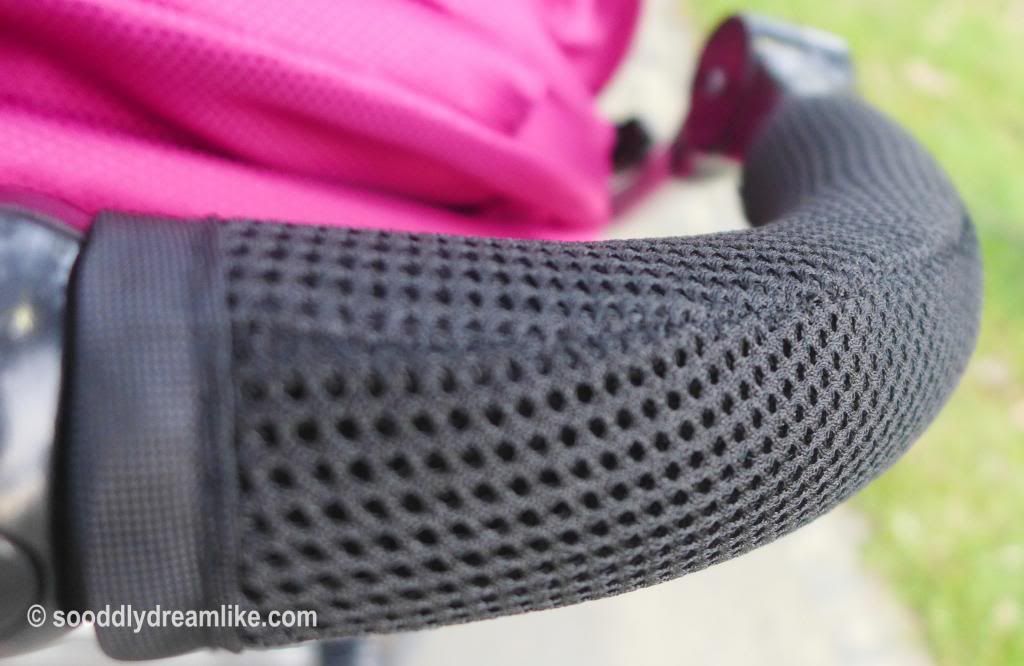 Next comes something I normally mention right up front. How pretty is the colour!
I originally chose to receive the stroller in red because I think the contrast is striking (no coincidence that our other stroller is in red too) but after seeing the ride up close, the wine coloured version won my heart.. and JoyJoy's heart too. My switch was just before we left the launch event, when the little girl saw a wine coloured version of her ride at the waiting area. She turned to me and said "Mummy take! Mummy take! Pleeeease!"
Aesthetics aside, I noticed that the canopy and other areas clothed in the beautiful dark fuchsia material is built with "reflective bits". I checked the media kit given to us and was very happy to know that the stroller boasts 99% UV protection.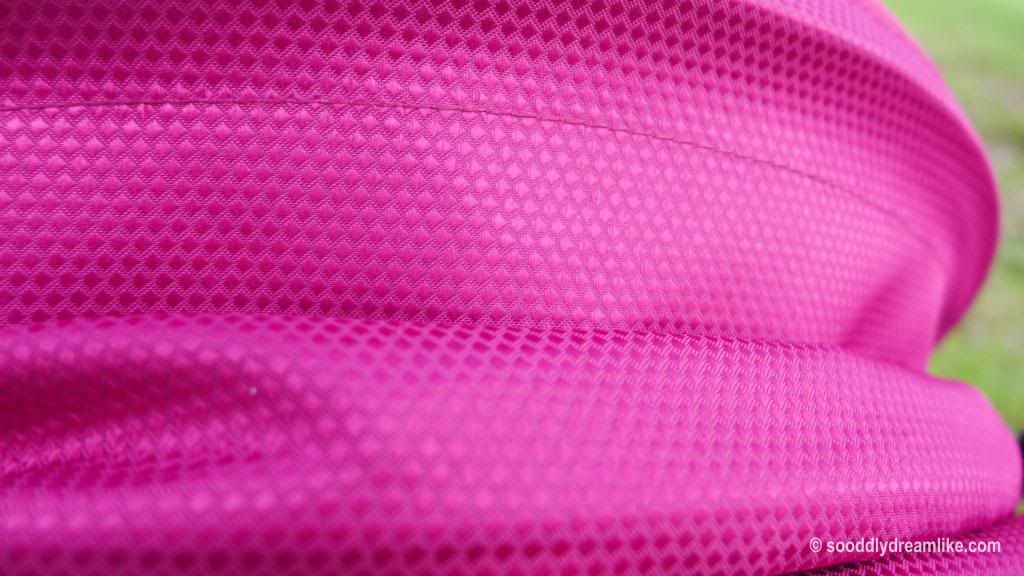 A good part of the 99% UV protection probably comes from having a fully covered canopy. JoyJoy is afraid of confined spaces but when I put the canopy on and lift up the shade so she could see me through the sunshade she was happy.
Didn't stop her from trying to escape a while later though. I liked that the canopy is not locked up so JoyJoy knows she can move it away if she doesn't like it. Not claustrophobic.

The back pouch located behind the canopy is a surprising find (thanks to Mabel who took a picture of her discovery to show us). I put in a packet of hand & mouth wipes, tissue, sweets for myself and a packet of snack for JoyJoy and it still had a lot of space. I like that it can be closed with velcro as well.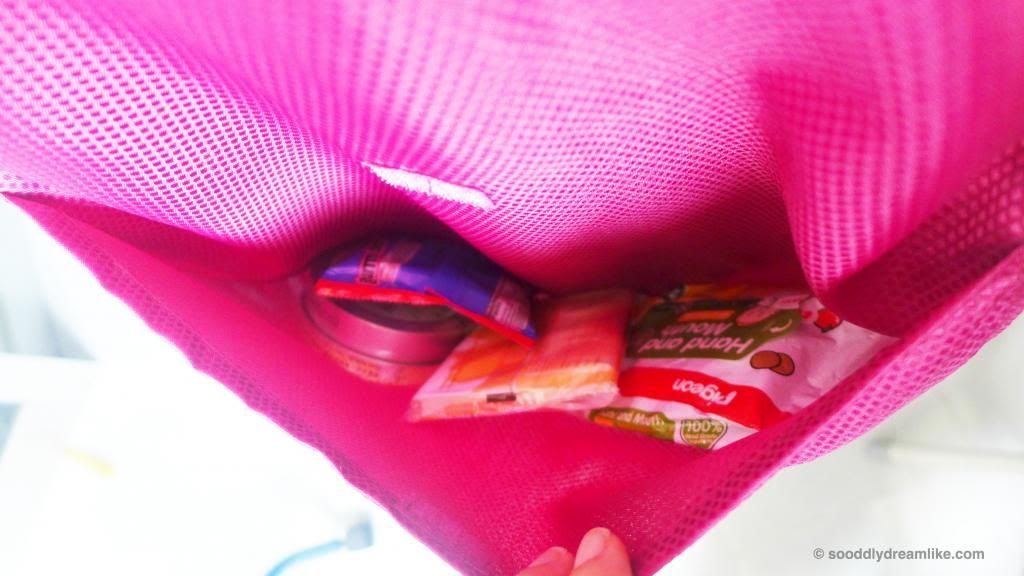 The pouch is located at the back of the stroller, convenient for parents to reach for things but does not affect the recline lever adjuster.
The next thing is what I call the "top vent" of the stroller. It is good for checking on your kid and the plus point is that it is secured by magnets so you don't disturb the kiddo when he/she is asleep. Magnets! How cool is that!

I next discovered that the flap at the back of the stroller can be lifted up to reveal a mesh back. In our type of weather, this is a god-sent feature.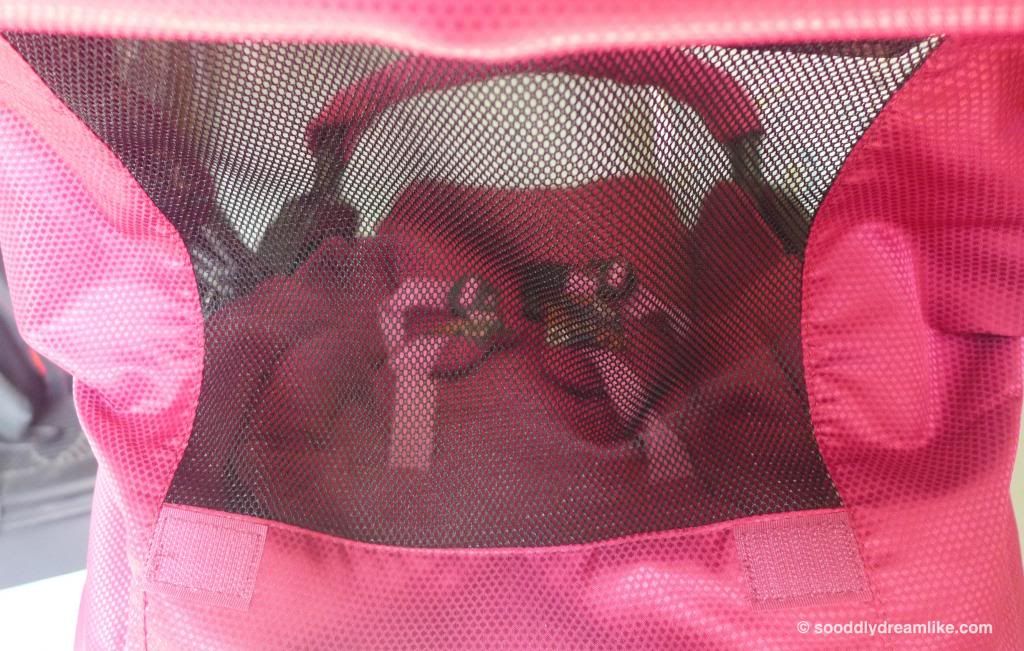 The stroller can be reclined at 3 settings, the lowest one can accommodate an infant, if you add proper padding to the stroller. The media kit says that this stroller can seat babies from newborn to 48months or up to 18kg.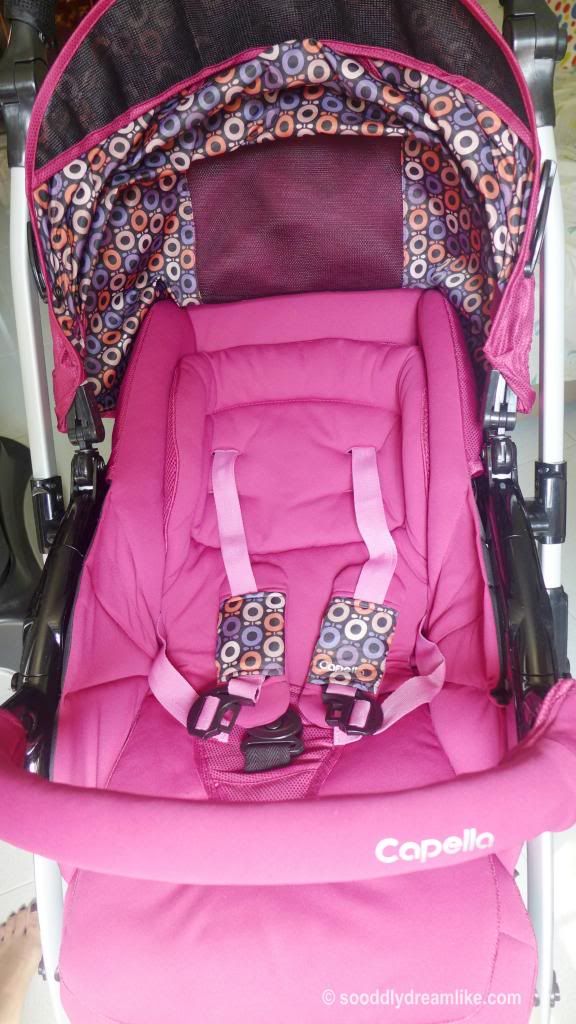 I have a little girl who likes to look at her parents once in a while. This is sweet but I don't like how she turns her head backwards in the stroller.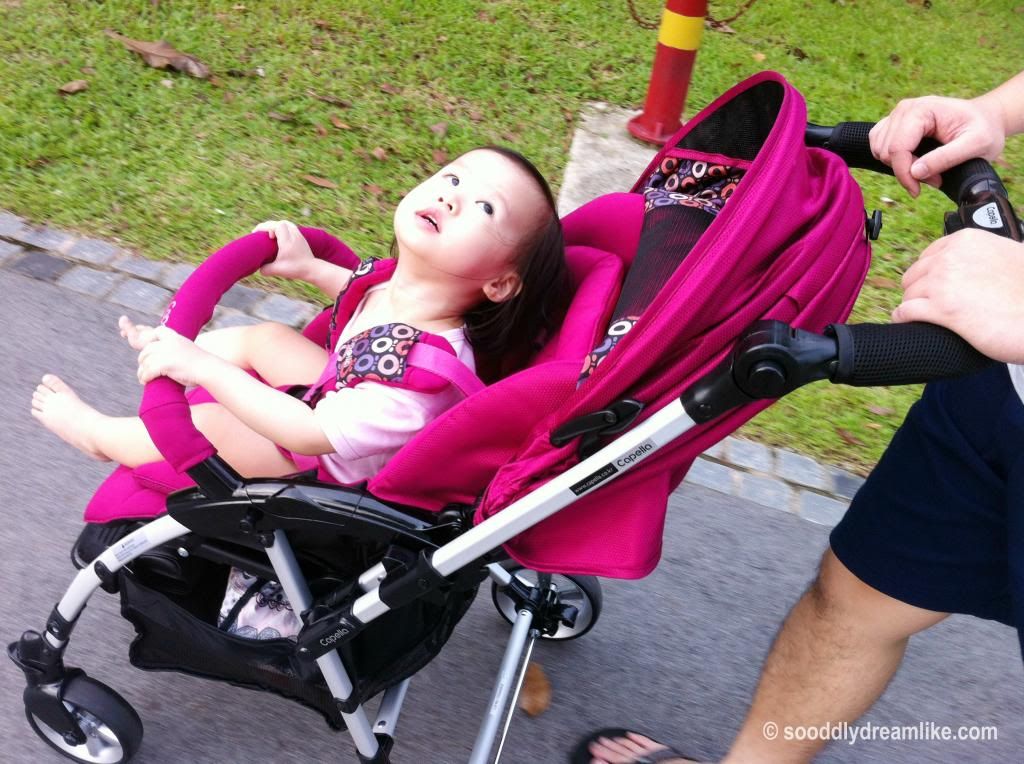 That's why, one thing I'm very happy about is that the new Capella Cony stroller has the forward-facing function. Easily adjusted by pulling up a lever by the side of the handles. LOVE.
I am pretty surprised at the roominess of the stroller basket. It fitted my diaper bag (I use a longchamp backpack as a diaper bag because JoyJoy is still fully breastfeed and we always feed her before going out, there is no need for a giant bag), my bulging sling bag, the stroller cover with space to spare. Towards the end of our trip out, I just left the water bottle and my camera housing in the basket for ease of retrieval.
It was still easy for me to squat down and reach for my wallet when we wanted to get some ice-cream. I don't really worry about theft because you need to be close to the stroller when retrieving anything so, anyone manning the stroller would notice immediately. If no one is manning the stroller, I just wouldn't have valuables in the basket.

Now comes the big question. Is the ride smooth?
It wasn't intentional, all I wanted was to bring the stroller to the park near our place to test it out but turns out, we pretty much had the chance to try the stroller on most, if not all, the terrain you are likely to encounter in Singapore.
First up, steep slope. Daddy was navigating and he said it was a very smooth ride. He didn't feel like the stroller was leading him to move faster than he wanted to. JoyJoy was also not affected by the steep slope, she was just sitting in the stroller without showing signs of distress.

Next we encountered shallow drains and uneven ground. It was a tad heavy to lift the stroller and Daddy said at this point, he preferred our other stroller because he feared the stroller would break under the weight but I tried myself and found it acceptable. The stroller didn't feel like it was going to break apart although it took some effort to lift. I don't expect effortless lifting anyway, considering the weight of the little girl + our barang barang.
Then we come to a S-Bend. Navigation was smooth and effortless.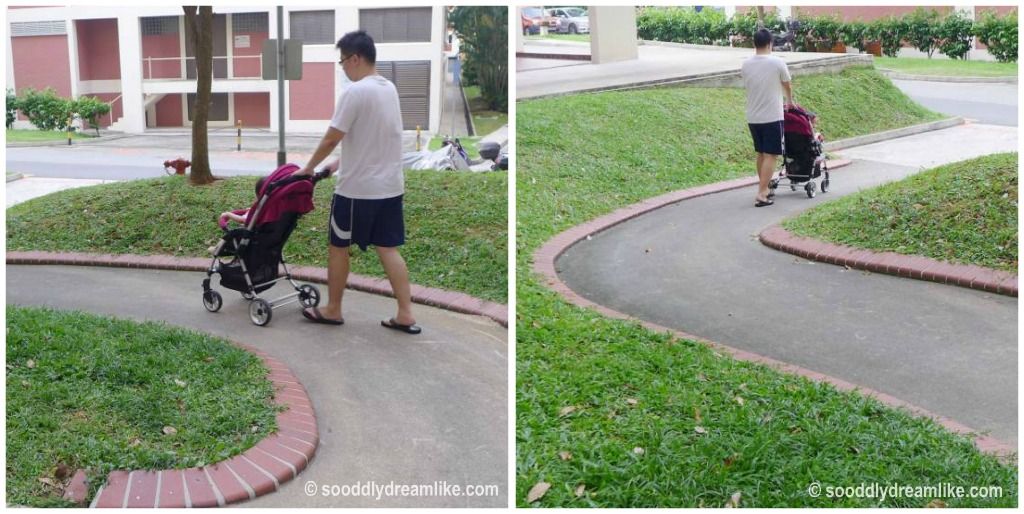 We tried the stroller on tougher terrain like pebbled grounds and grass. The ride was bumpy on pebbled ground but not enough to affect the little girl so I find it acceptable for the type of wheels that it has. As for grass, Daddy said he would avoid using the stroller on grass because it is not easy to maneuver. Other mommies whom I talked to didn't seem to have this problem though.

Not to worry if you are transiting between short bits of different terrain, the change in terrain was not really noticeable, or at least, we didn't get any complains from the little girl.
We also happened to run over some items on the floor, including a clothes kiap (sorry, forgot the name at the moment). You'd notice that you just went over something but it didn't make the stroller jump and JoyJoy barely noticed it.

Don't try to bring the stroller up the stairs, not stairs that are too wide anyway. We couldn't and I also think it is unsafe to do that.
Overall, navigation was smooth and effortless other than on really rough terrain (which we don't encounter much of anyway, here in singapore). I even caught Daddy navigating with just 2 fingers (this is not staged, sompah!)
OTHER OBSERVATIONS
I didn't like the straps. Although this is a 5-point harness, the straps are way too loose even for my big girl and we have already adjusted it to the very tightest setting. The only good thing that came out of it is that it doesn't strap the child in when he/she wants to sit up and watch the world.

The strap ends also kept falling out each time we lock and unlock the harness. Once locked however, the ends stay secured and we had no problems.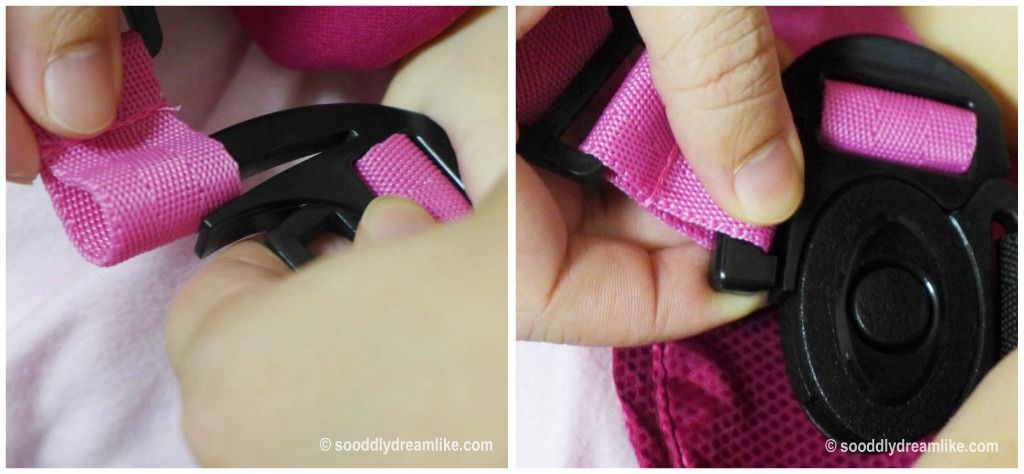 Although the removable handlebar cover is an invitation for the child to play with it, I think it is a good idea to be able to wash something the child touches all the time for hygiene.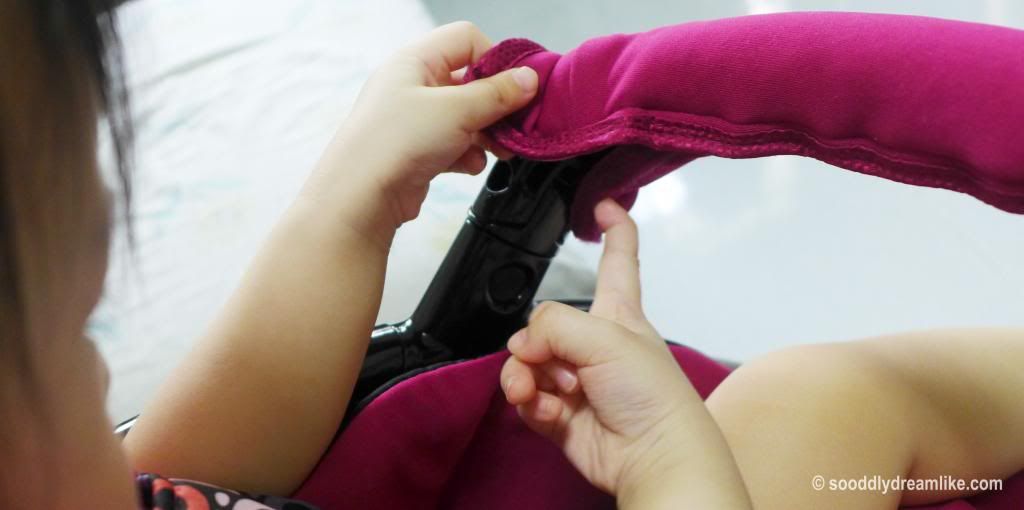 I happened to get a set that was not well made and it irks me to no end to see this. We tried to see if it was due to misalignment of the padding but it was not. To be fair, I could see that other sets did not have this problem, it is pretty obvious from the group photo taken at the launch as well ( I was still holding the red set then). Perhaps I was just unlucky to get one that is flawed. Be sure to check before buying.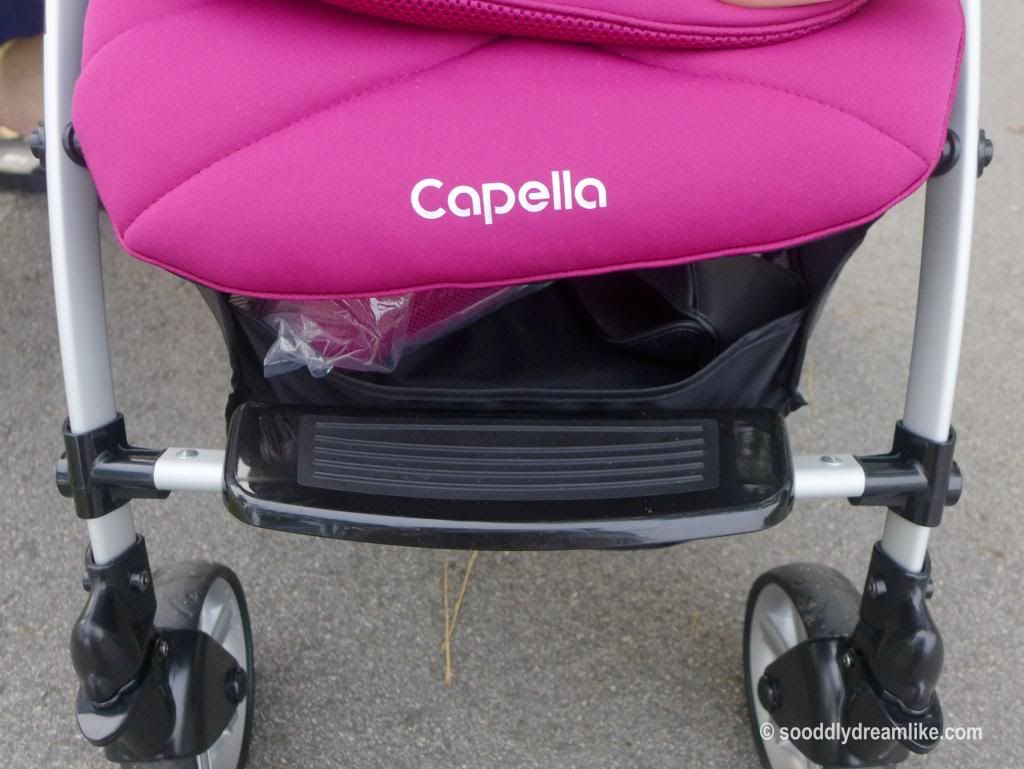 It would be good if the stroller was installed with a spring step lock instead of this. The wheel lock failed our flip flop test.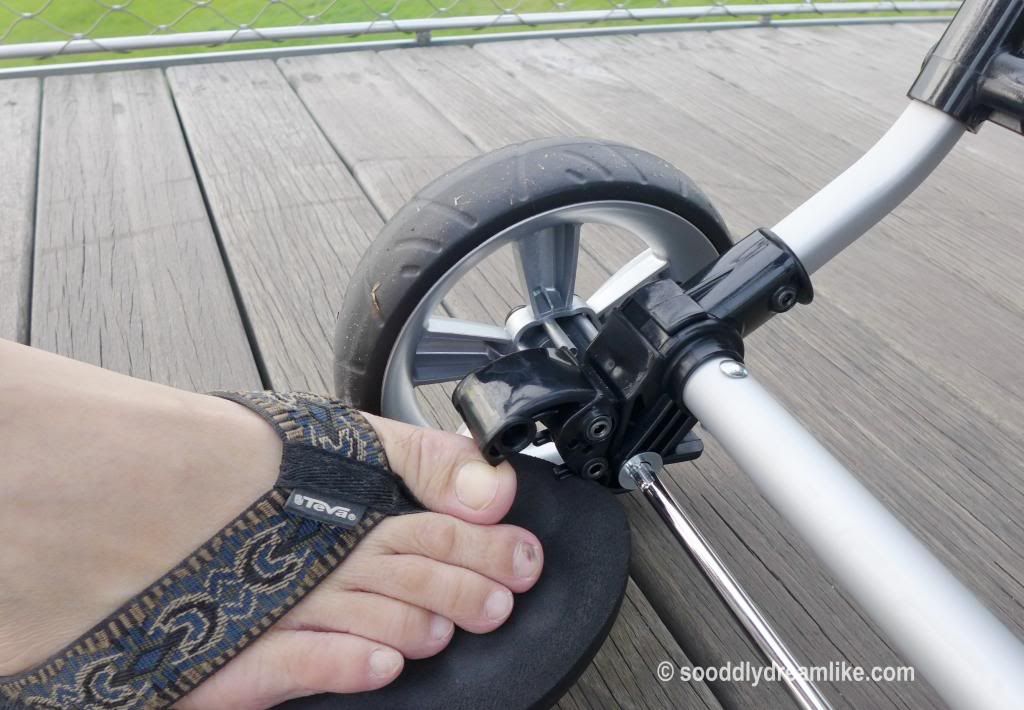 After the test session at the launch and a day out at the park, this is the wear and tear on the wheels. I think it would be a good thing if the wheels can have a deeper groove (just preference), although I didn't feel that there was not enough friction.

I like that the stroller is really built for the growth of the child. When we last measured 2 months ago, the little girl was 83cm tall. Now, she is definitely taller but her legs are not even long enough to touch the footrest of the stroller. Another thing I noticed is that, even though the stroller is build for a child's growth, it doesn't obstruct my view, even though I am pretty short petite.

The height of the stroller is much higher than others of this make that I have seen. I like it because JoyJoy can watch the world better when she is in the stroller and not miss out on the action just because the stroller sits too low.
I noticed the side cushioning definitely. If your child, like mine, is easily excitable and likes to lean to the sides to look at things, you don't have to worry, he/she is well cushioned.

All in all, I think this is a really comfortable ride for the little girl, as you can see. In fact, right at the launch, JoyJoy refused to get off the stroller.
I am happy with this stroller except for some of the points mentioned in this post. Overall, I think the Capella Cony S230T-13 Smart Travel System has features found in more expensive european makes but retains specific features suitable for use in countries like Singapore. For the price, especially the introductory price, this is still a good buy.
Note
The stroller can be fitted with an infant car seat adaptor for a complete travel system. Pictures taken at the launch here.
Price
Now available at $399 (Usual Price: $539)
Where to Buy
The new Capella Cony S230T-13 Smart Travel Stroller will be available at Isetan, Metro, John Little, robinsons, BHG, OG, Kiddy Palace, Cheri Kids, NTUC Xtra AMK and Toys R'US or you can choose to buy directly (do contact them before going to ensure that they have stock) from:
TAIME PTE LTD
Blk 514 Chai Chee Lane
#06-06
Singapore 469029
Website: http://www.taime.com
Email: main@taime.com.sg
Facebook : Capella Strollers
Disclosure: I was invited for the soft launch of the Capella Cony S230T-13 Smart Travel System with transport allowance and gifted with one set for the purposes of test and review. No other compensation was received and all opinions are my own.